Strawberry Chocolate Cake pairs all the joy of a chocolate covered strawberry with the moistness of your favorite sponge cake. Whether you are celebrating a Special Day or just looking to bake something to "wow" the crowd, this decadent treat never goes out of style.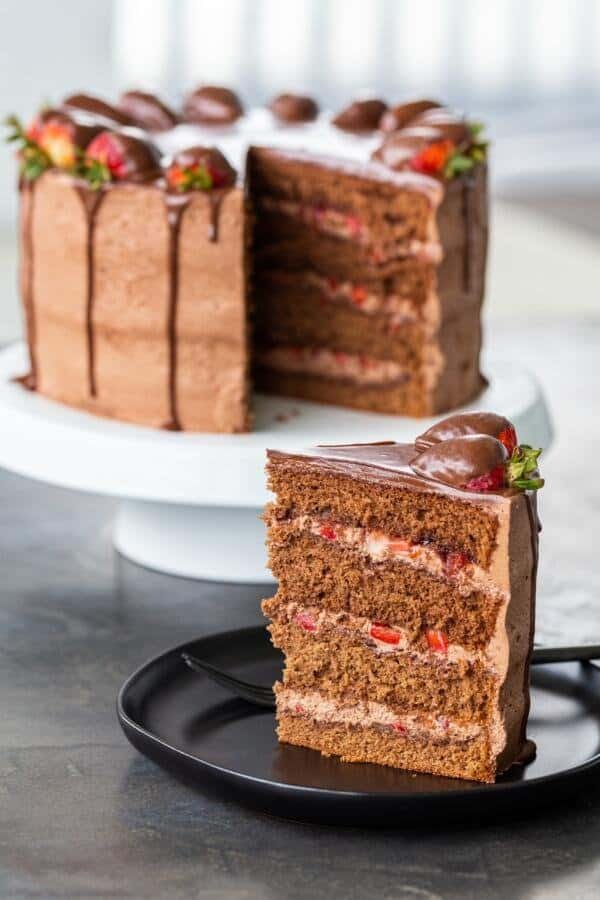 Who doesn't love a heaping slice of chocolate cake? Add some strawberries in the mix and it's game over. The first time I made this cake was for the Super Bowl and it got gobbled up before I could even finish passing out the slices. I like to think it stole the show!
Before you hop in and start baking, I do recommend taking two days to bake this cake to make your life a bit easier. You'll need to prepare two 11-inch Sponge Cakes (click the link for a recipe) for the layers and I always find it convenient to take care of this step the day before serving. It's not the end of the world if you pack the whole process into one day, but I'm always a fan of working just a bit ahead to bring more joy to my cooking.
How to Make Strawberry Chocolate Cake
This Strawberry Chocolate Cake looks straight out of the fanciest of bakeries. But, don't get discouraged! It's actually quite simple to make, with the "toughest step" being to ensure you don't overbeat the cream.
Bake two 9- or 11-inch sponge cakes. Slice each cake into two layers for a total of four.
Spread strawberry jam on each layer.
Sift powdered sugar and cocoa powder into your two cups of cold heavy whipping cream.
Beat on high-speed until the mixture doubles in volume, paying special attention to not over beat.
Carefully spread cream on top of your jelly layer. Sprinkle on sliced strawberries. Apply remaining cream to the outside of the cake.
To make the ganache, place chocolate chips into a bowl. In a sauce pan, heat the remaining cup of cream just until it simmers (do not let it boil or it will burn!) and immediately remove from heat. Pour hot cream over the top of chocolate chips and stir rapidly until smooth and completely incorporated. For more tips on making and using ganache, check out this post.
Place ganache in a Ziplock or piping bag. Drizzle chocolate on the edges of the cake, letting it drip off the sides. Apply ganache to the top of the cake, forming one smooth layer. Refrigerate cake for 15 minutes or until the ganache hardens.
Dip strawberries into the remaining ganache. Place alongside the edge of the cake.
Allow cake to set overnight in the refrigerator for the best texture.
Tips for the Best Strawberry Chocolate Cake
After trial-and-error, we've pulled all of our best tips together to ensure your cake comes out with a bang.
Sift Dry Ingredients. If you're an avid baker, you've probably heard that you should be sifting your dry ingredients to yield the best taste and texture. Why? Sifting ensures all your dry ingredients are lump-free and fully incorporated with one another before you add any wet ingredients.
Use Very Cold Heavy Whipping Cream. To get the fluffiest, most rich whipped cream, use very cold heavy whipping cream. Cold dairy emulsifies much quicker and gives you that luscious, spreadable texture.
Nail the Drizzle. I've seen a couple chefs nail the ganache drizzle with a mere spoon, but I like to take no risks and use a piping or Ziploc bag with a tiny hole cut at the very tip. Using a slow, pulsing motion, squeeze out just a tiny bit of ganache, altering the pressure you apply to get your desired thickness as you drizzle around the outer edges of the cake.
Get a bakery-worthy flat cake top. The key to a perfectly flat cake top? Use the bottom side of your sponge cake. Yes, it's as simple as that! Bonus: If your cake sticks or falls apart on any one side (it happens!), simply flip and use for the inner layers.
Use Quality Chocolate. Use the best quality chocolate you can get your hands on for the ganache. Since this frosting is made with just two ingredients, skimping on quality isn't an option.
Perfect Ganache Texture. Your ganache may be seen runny and inconsistent at first, so you'll want to continue stirring until the chocolate is fully melted. Still too runny? Allow it to sit for a few minutes and it will thicken.
Hot Tip: Not a fan of strawberries? It's okay, we can still be friends. Feel free to swap in a different berry or fruit. Cherries, peaches, blueberries, raspberries, blackberries, and apricots will work particularly well.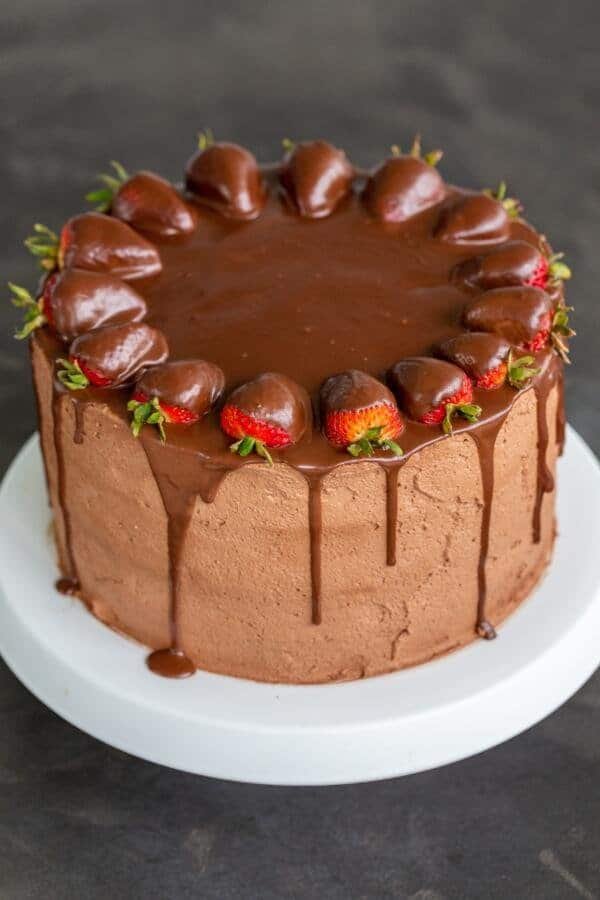 Making Chocolate Strawberry Cake In Advance
Above, I shared my recommendation for breaking the baking process up into two days. If you really like to get ahead of the curve, feel free to make your sponge cakes up to five days in advance. Just make sure to keep the layers stored an an airtight container to prevent them from drying out.
Additionally, you can assemble your cake up to three days in advance. The longer you let it set, the more flavorful it will turn out and the better it will hold together upon serving.
FAQ
How do you keep chocolate cake moist?
The key to keeping chocolate cake moist is spreading each layer with the strawberry jam. The juices and sugar will soak into the sponger layers, ensuring each bite is as good as the last.
Can you freeze chocolate strawberry cake?
It's not recommended to freeze the chocolate strawberry cake. It's best to store extra slices in the refrigerator in an airtight container. I've always found that fresh strawberries don't defrost very well after being frozen and will turn watery and mushy.
What flour should you use for sponge cake?
All-purpose flour works the very best. Try to find a high-quality, European or Canadian flour if you can. They tend to have a higher protein content and result in the best cake texture.
What makes a sponge cake light and fluffy?
They key to light and fluffy sponge cake is to not overmix the dough. If you do, it will turn out flat.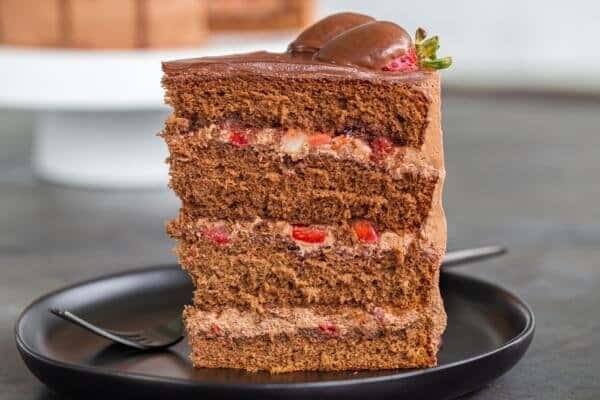 More Chocolate Cakes
Recipe
Strawberry Chocolate Cake pairs all the joy of a chocolate covered strawberry with the moistness of your favorite sponge cake. Whether you are celebrating a Special Day or just looking to bake something to "wow" the crowd, this decadent treat never goes out of style.
Ingredients
Nutrition Facts
Strawberry Chocolate Cake
Amount Per Serving
Calories 594
Calories from Fat 297
% Daily Value*
Fat 33g51%
Cholesterol 117mg39%
Sodium 268mg11%
Potassium 345mg10%
Carbohydrates 72g24%
Protein 6g12%
Vitamin A 855IU17%
Vitamin C 22mg27%
Calcium 94mg9%
Iron 4mg22%
* Percent Daily Values are based on a 2000 calorie diet.