Honey wheat bread is super healthy and loaded with vital nutrients. As soft and airy as a bakery-fresh loaf, this recipe comes together so easily and is sure to impress.
If you love baking breads, you will love our Easy No Knead Bread.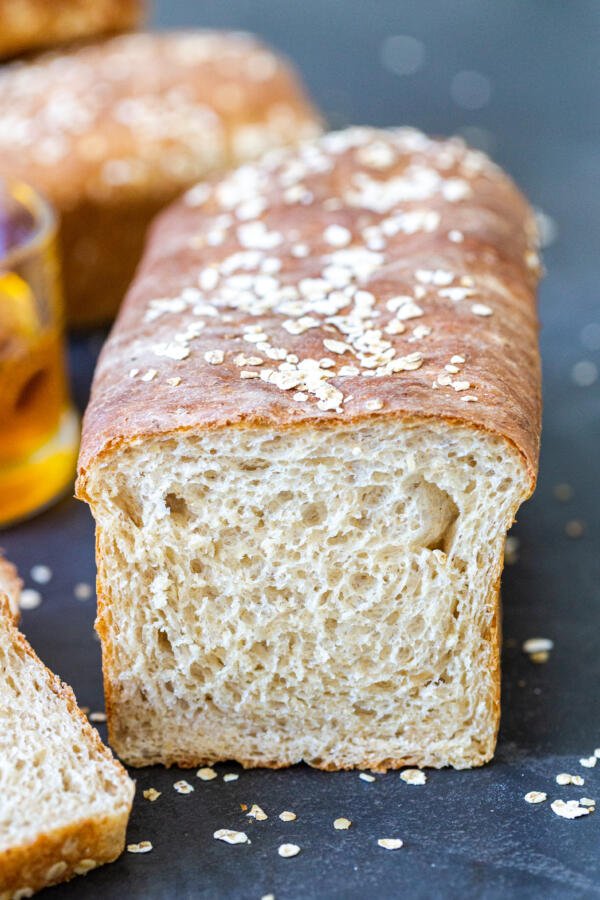 Honey wheat bread is perfect for sandwiches. Slather on some peanut butter and your favorite jelly or make a classic turkey and cheese. This hearty bread is also perfect for soups or homemade french toast.
Homemade bread is worth its weight in gold. It's not only cheap to make, it also fills your house with a priceless aroma. Let's get started!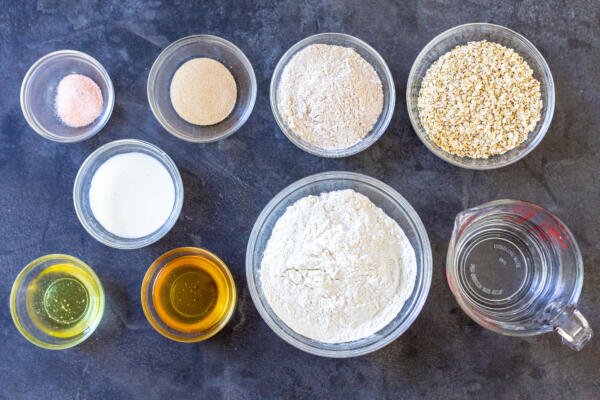 How Do You Make Honey Wheat Bread From Scratch?
Baking doesn't have to be intimidating. Follow these straightforward steps to bring the bakery directly into your kitchen:
Soak oats in half of the water for 15 minutes.
Allow milk and yeast to sit for one minute. Mix in the other half of water, honey, oil, salt and oats. Mix the white and wheat flour together. Slowly add flour into your wet ingredients in small portions.
Mix with an electric mixer and dough hook. You can also knead the dough by hand, but be prepared to work! Kneading by hand takes about 25 minutes versus around 8 minutes in an electric mixer.
Mix on medium speed for two minutes. Allow the dough to rest. Mix on medium speed for an additional three minutes.
Cover the bowl with plastic wrap. Allow the dough to rise for an hour-and-a-half.
Divide the dough in half. Roll each portion into a rectangle and fold it over like a jelly roll. Pinch seams to seal.
Spray a baking pan with oil and sprinkle some oats on the inside. Place loafs on the inside and allow to rise in a warm place for 40 minutes.
Brush the tops with water. Sprinkle the loaf with oats.
Bake at 375 ℉ for 35-45 minutes or until golden brown.
Tips for The Best Honey Wheat Bread
Use active dry yeast. Many baking recipes allow you to use active dry yeast or instant yeast. So, why use the active variety? Active dry yeast needs to "bloom", or interact, with water before you add it to the rest of the ingredients. Once the active yeast begins to bubble, you know it's still living and working to its full potential. Instant yeast could be completely inactive and you won't know it until your bread refuses to rise and/or turns out flat! Err on the safe side and always use active.
Hot tip: Always check the expiration date of your yeast before you start baking. Store your yeast in a dark, cool place completely sealed in an airtight container to keep it active longer.
Dissolve active yeast in 110℉ milk. Once again, yeast is a living and breathing organism. When mixing it with liquid, you must do so at the right temperature. If you mix the dough in too hot of liquid, you risk over activating (or killing!) the yeast and causing the bread to rise inconsistently. If you mix it in too cool of liquid, your yeast will not activate fully and your bread will turn out sad and flat.
Choose high quality flour. Bob's Red Mill is the best flour for baking that requires yeast. It has a high protein content which makes for a "stronger", chewy texture.
Allow your bread to proof in a warm place. Proofing refers to the final resting time for your dough. Right before your bread goes into the oven, cover it and allow it to rest in your oven (make sure it isn't on!). In around 30-40 minutes, it will have doubled in size.
Make it pretty. Brush the tops of your loaves with water and sprinkle oats on top for a bakery-worthy touch. That's right — professional baker-style. 🙂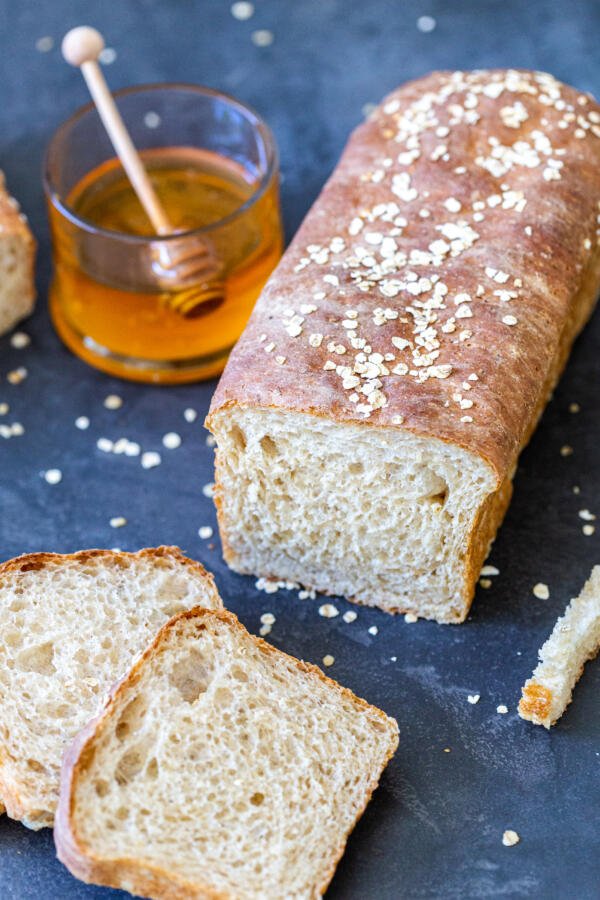 Storing Honey Wheat Bread
If you plan to eat your bread within a few days, store it on the counter in an airtight container. If it lasts any longer than that, follow the instructions below:
Refrigerating Bread: Refrigerate your bread for up to a week. Wrap it tightly in plastic wrap or store it in an airtight container to prevent it from hardening. Reheat it in the microwave for 15-20 seconds or crisp it up in the toaster oven for a few minutes.
Freezing Bread: After you bake your loaves, you can freeze them for a later date. Allow them to completely cool, then wrap them tightly in plastic wrap and freeze. When you are ready, place frozen loaves in the fridge to thaw overnight. Reheat them in the oven until warmed through and enjoy!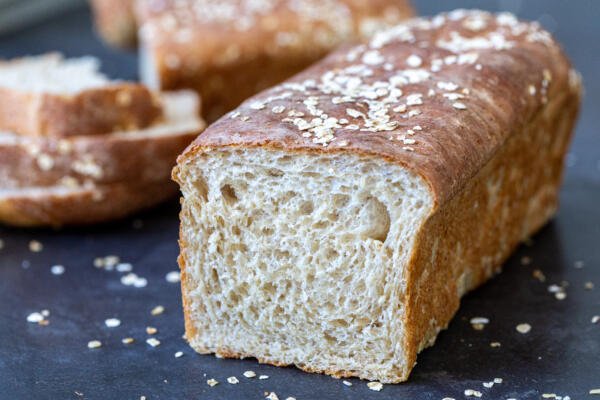 Other Bread Recipes
Recipe
Honey wheat bread is super healthy and loaded with vital nutrients. As soft and airy as a bakery-fresh loaf, this recipe comes together so easily and is sure to impress.
Nutrition Facts
Honey Wheat Bread
Amount Per Serving
Calories 164
Calories from Fat 36
% Daily Value*
Fat 4g6%
Cholesterol 1mg0%
Sodium 392mg16%
Potassium 99mg3%
Carbohydrates 28g9%
Protein 5g10%
Vitamin A 5IU0%
Calcium 15mg2%
Iron 1mg6%
* Percent Daily Values are based on a 2000 calorie diet.