No-knead bread is extra crispy on the outside and bubbly on the inside. With very little effort, you'll get an amazing outcome each and every time.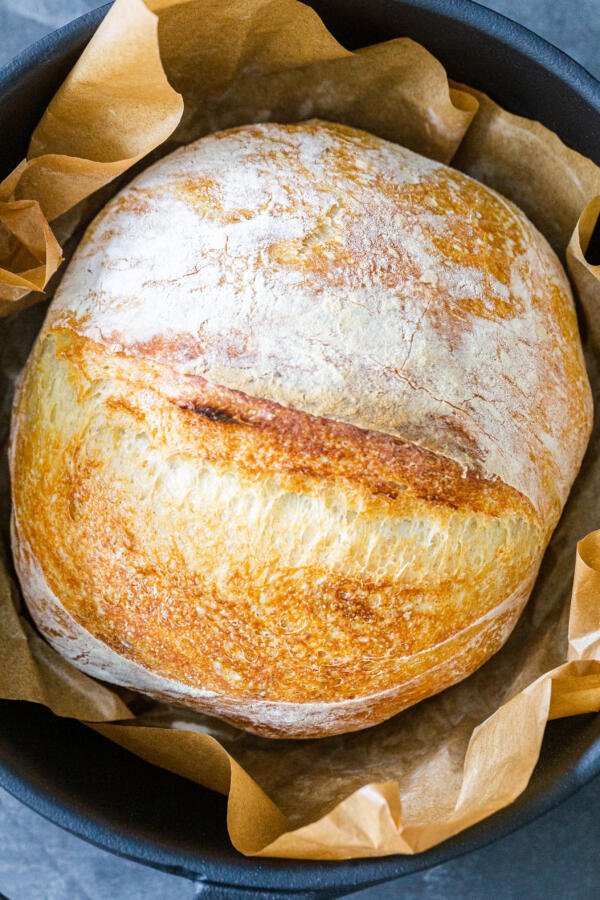 No-knead bread is a staple that we make on a weekly basis. Whether we pair it with soups or make fresh sandwiches with it, we find it so easy to make that we rarely buy packed bread anymore.
Dutch Oven No-Knead Bread has been highly requested by so many of you. So here we are, answering your call!
The difference between knead bread and no-knead bread is pretty straightforward — one requires you to do the kneading and the other doesn't. There has been much debate about whether or not bread can be made by skipping this essential step. But, through the powers of the dutch oven, it's hard to argue that it can't be done! It works every single time!
How to Make No-Knead Bread
Mix the dry ingredients together and add water. Stir until you form a sticky ball.
Cover and let it set for 24 to 48 hours.
Flour your hands and press down on the dough ball. Reform the dough into a ball shape. Let it rise on a parchment paper.
Preheat your dutch oven. Move the bread dough with parchment paper inside.
Bake in a dutch oven covered for the first 30 minutes and for 15 minutes without a lid.
Remove the bread from the dutch oven and let it cool on a wire rack. Serve and enjoy!
If you are looking for a great Dutch oven, I have two favorites. I use the Cravings or Staub. Le Creuset is a great option too.
Dutch Oven Alternatives
If you don't have a dutch oven, use our other no-knead bread recipe. This is the method that I used for over 10 years and it works amazingly.
Basically you need two baking sheets, one with bread on it and a second one with water. On a bottom rack, you place water, it creates a steam bath for the bread to rise on a middle rack. The result is very similar and just as good!
No Knead Bread Rising
No-Knead Bread needs 12-48 hours to rise. This slow rising method allows the bread to create the extra airy bubbles in the bread. After shaping the dough into a loaf, you want to give the dough 30 to 60 minutes of rising time.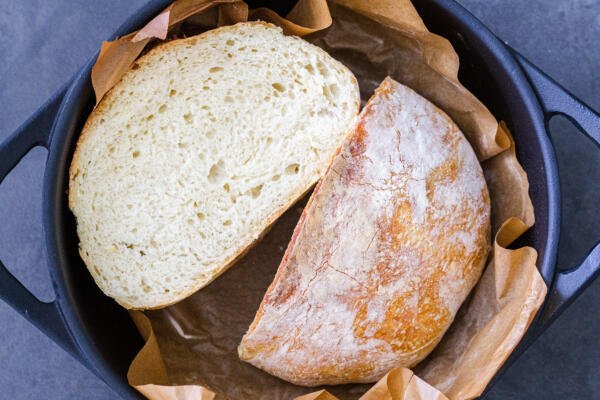 Troubleshooting – Bread Too Dense
There are several different reasons why your bread came out dense. Here's a couple pitfalls and how to avoid them:
Adding too much flour. This recipe calls for strict measurements when baking.
Using improper flour. Try using flour with higher protein content to get the best texture. A couple of my favorites include King Arthur or Bobs' Red Mill. Any Canadian brand will typically fit the bill.
Using old yeast. This common mistake happens to the best of us. Over time, active yeast deactivates and loses its ability to make your bread rise and fluff.
Ending the fermenting process too early. No-knead bread saves you from a lot of arm work, but it still requires a good chunk of time to set. Ending the fermenting process too early will likely cause you to get dense bread. 12 hours or more is the sweet spot for a light and fluffy texture.
Not allowing the bread to rise in a warm place. After you form your loaves, it is essential that you let your bread rise in a warm place.
Other No-Knead Treats
Recipe
No-knead bread is extra crispy on the outside and bubbly on the inside. With very little effort, you'll get an amazing outcome each and every time.
Nutrition Facts
Dutch Oven No Knead Bread
Amount Per Serving
Calories 172
Calories from Fat 9
% Daily Value*
Fat 1g2%
Sodium 294mg12%
Potassium 55mg2%
Carbohydrates 36g12%
Protein 5g10%
Calcium 8mg1%
Iron 2mg11%
* Percent Daily Values are based on a 2000 calorie diet.