This Easiest Brioche Bread is so airy and flaky that it literally melts in your mouth. It works perfect for jelly sandwiches or French toast.

Use the same dough to make brioche buns.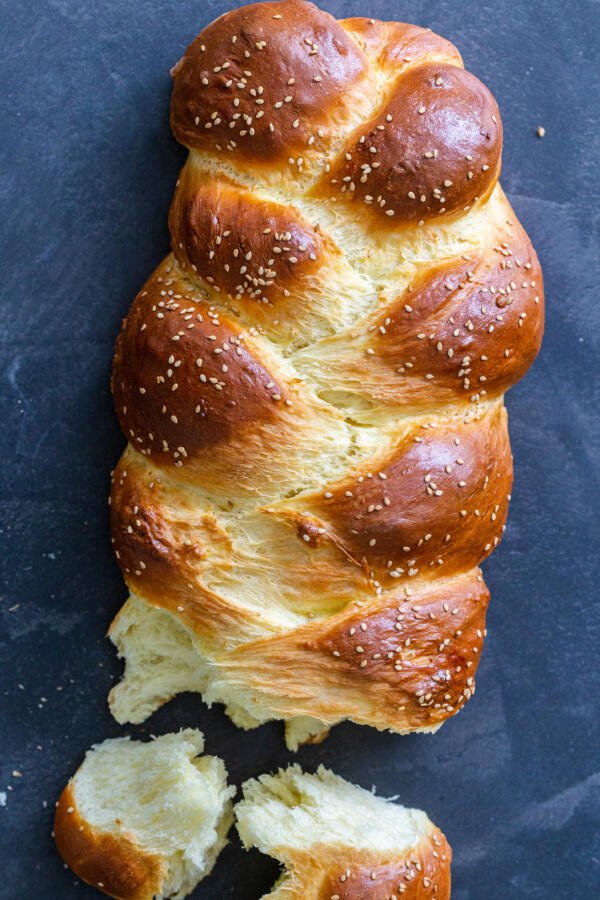 Brioche bread is actually quite simple to make. The most time-consuming part of this recipe is waiting for the dough to rest and rise. But, when you open your oven and your house is filled with the smell of fresh brioche, you'll be happy you put the time in!
What I love most about brioche is how forgiving the dough is! Depending on the brand of flour you use, the dough will come out a touch different. If it's too sticky, add a bit more flour until it's not. Brioche is hard to mess up, making it one of my favorites to bake :).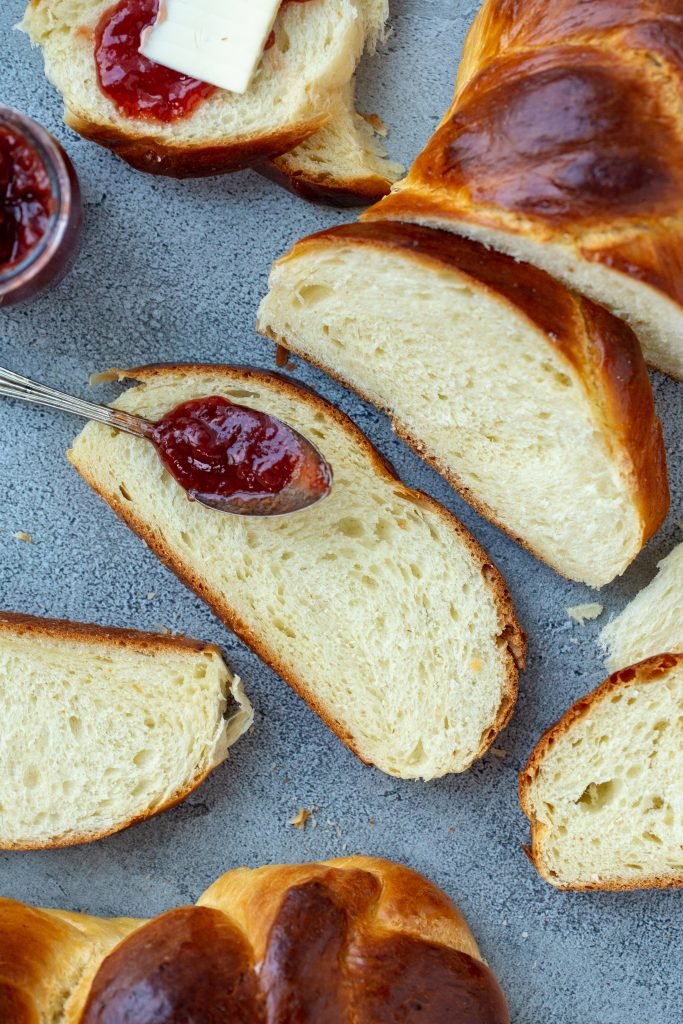 What is Brioche?
Brioche is a French yeast bread with high amount of eggs and butter. This combination makes the bread yellow light and fluffy on the inside, and golden brown on the outside.
Brioche comes in many different shapes, but most commonly you'll see the bread made into a braid.
What Makes Brioche Different than Most Breads?
So, what's the difference between brioche and other breads? Brioche is a French yeast bread that uses a TON more eggs than other breads, giving it a pretty, yellow color on the inside and a golden brown color on the outside. The end result is a light and fluffy texture that is to-die-for.
What is Brioche Used for?
Enjoy it with jam and butter. Brioche has a perfect egg-y taste that goes great with jam and butter. My favorite combination is apricot jam and a European butter like Kerrygold or Pulgra.
Make brioche french toast with your leftovers. You have probably seen brioche french toast on a brunch menu before, or you are already in love with it. Put those leftovers to good use and make a batch!
Make brioche sandwiches. Grab your favorite cured meat (prosciutto, mortadella, salami, etc.) and some swiss cheese. Spread your brioche with a bit of dijon mustard and have yourself a perfectly simple European-style sandwich.
Brioche Buns can be used for burgers. If you like a sweeter bun, brioche is easily formed into a hamburger bun. They are also great for when you are hosting brunch or if you just prefer to have small personalized breads.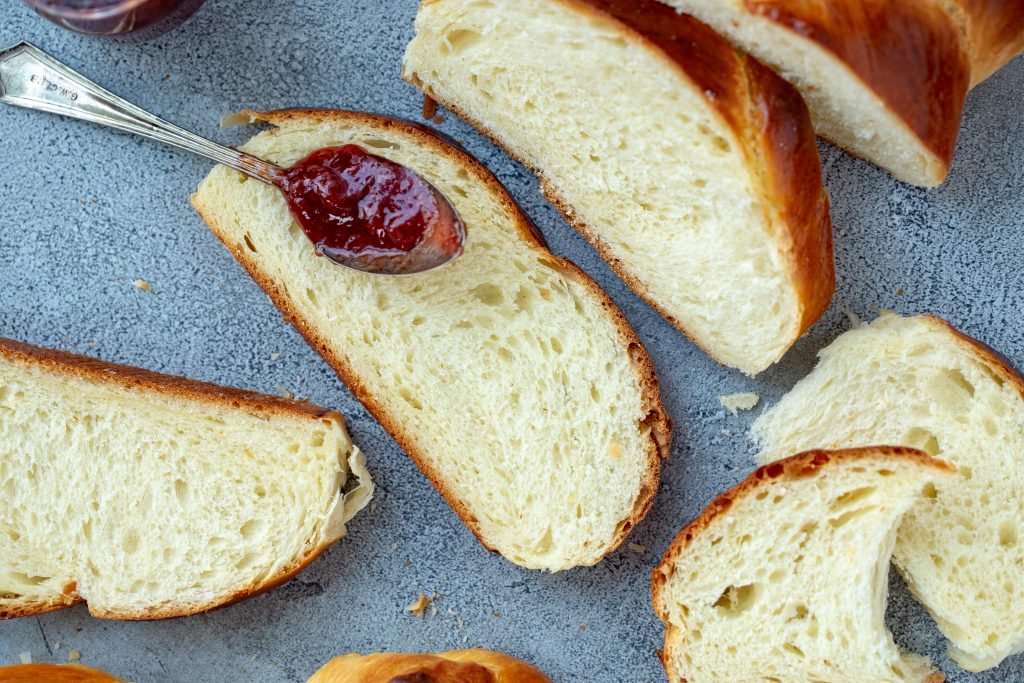 Storing Brioche Bread
Keep your brioche fresher for longer by following these storage tips:
Refrigerating Brioche Bread
Refrigerate your brioche by wrapping it tightly in plastic wrap or placing it in a Ziploc bag. It will stay fresh for up to a week when stored in the fridge. Since this bread is heavy on the eggs, it is not recommended to store it at room temperature.
Freezing Brioche Bread
Brioche bread can be frozen for up to a month. The best way to keep it fresh is by wrapping it tight with a plastic wrap before placing it in the freezer. Thaw to room temperature before serving. Reheat as desired.

Other Similar Recipes to Try
Recipe
This Easiest Brioche Bread is so airy and flaky that it literally melts in your mouth. It works perfect for jelly sandwiches or French toast.
Note: The dough texture should still be soft and slightly sticky. You may need to add more flour, depending on the brand you use.
Hot Tip: Use Bob's Redmill flour or Canadian brands, they will give you the best result.
Nutrition Facts
Easy Brioche Bread
Amount Per Serving
Calories 2697
Calories from Fat 855
% Daily Value*
Fat 95g146%
Cholesterol 321mg107%
Sodium 161mg7%
Potassium 863mg25%
Carbohydrates 402g134%
Protein 53g106%
Vitamin A 3015IU60%
Calcium 368mg37%
Iron 18mg100%
* Percent Daily Values are based on a 2000 calorie diet.