This easy brioche bread is so airy and flaky that it literally melts in your mouth. Perfect for everything from jelly sandwiches to classic French toast.
Hosting a burger night? Use the same dough to make brioche buns.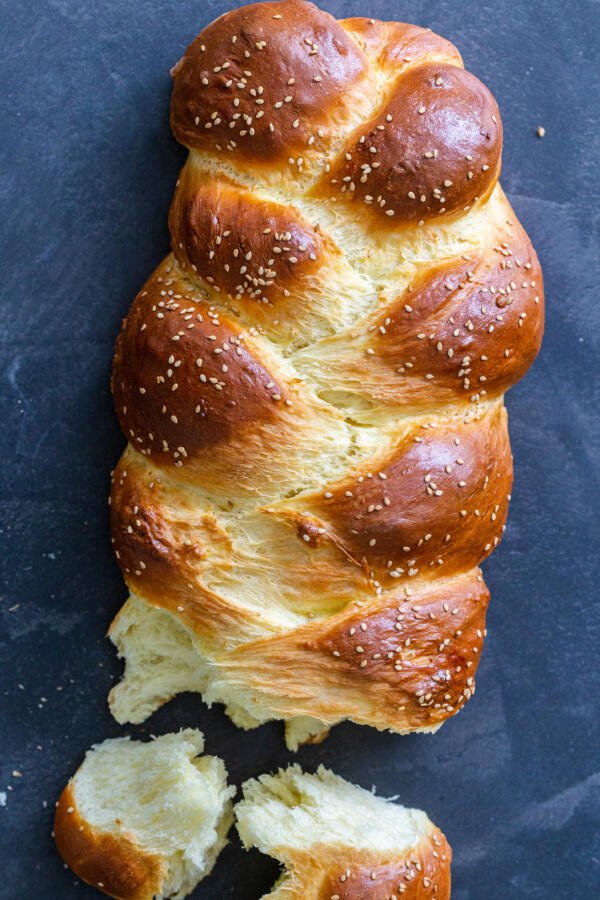 This French brioche recipe is quite simple to make. The most time-consuming part is waiting for the dough to rest and rise. But, when you open your oven and your house is filled with the smell of fresh brioche, you'll be happy you put the time in!
What is Brioche?
Brioche is a classic French yeast bread with a high amount of eggs and butter. This combination makes the bread light yellow and fluffy on the inside, and golden brown on the outside. Below, find an overview of the flavor, texture, and time it takes to make our rendition.
Flavor: The flavor of brioche is the perfect balance of savory butter and eggs with a slightly sweet note from the sugar.
Texture: The texture of brioche is airy, fluffy, and soft. Unlike traditional bread, the high level of eggs and butter makes it sweeter and denser.
Time: From start to finish, this recipe takes just over an hour of prep and cook time. That said, you'll need to account for 2 total hours of rising and resting in addition.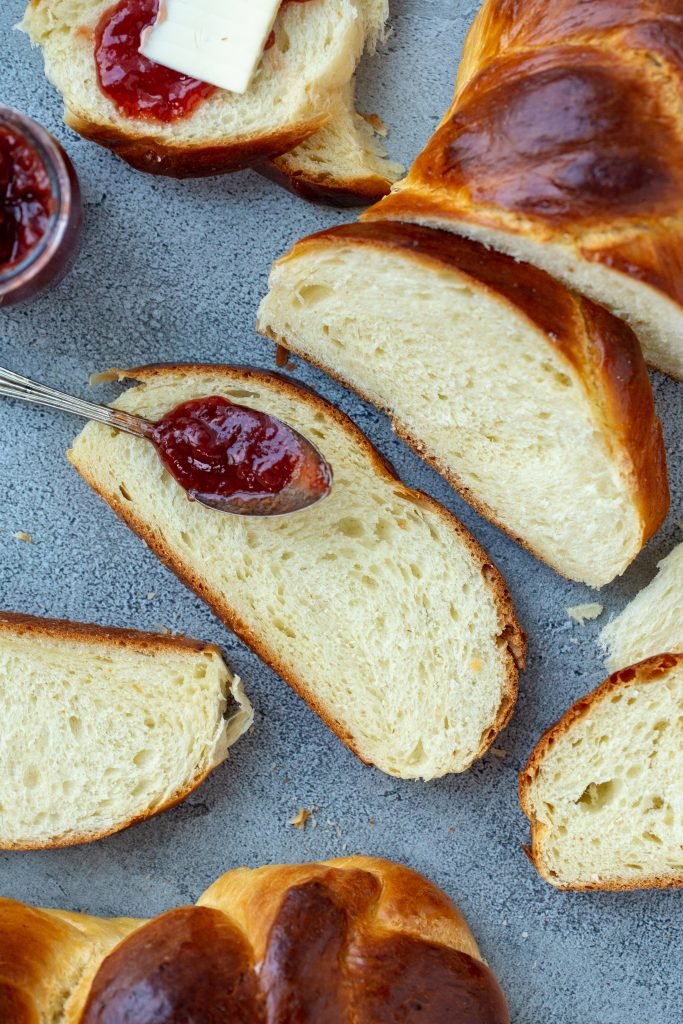 How to Make Brioche Bread from Scratch
Making homemade brioche bread is quite a forgiving process – the dough can be tweaked until it's the perfect texture and the braiding process is no different than braiding hair!
Activate the Yeast: First, whisk the warm milk with yeast, sugar, and two cups of flour. Cover the bowl with a towel and allow it to rest in a warm place for 30 minutes.
Build the Dough: Next, whisk the eggs in a medium bowl. Add the whisked eggs, vanilla extract, and melted butter to the dough mixture. Whisk in the remaining flour in small portions. The brioche dough should be soft and slightly sticky.
Knead the Dough: Knead the dough by hand on a floured work surface or in a stand mixer with a dough hook until elastic. Cover it with a towel and let the dough rest and rise for an hour.
Divide & Braid the Dough: Next, divide the dough into two pieces. Then, divide each half into 3 equal pieces and roll each of them into a long rope. Connect the ends of the ropes and braid them.
Bake the Brioche: Place the braided brioche on a baking sheet lined with parchment paper. Allow the bread to be proof for 30 minutes and brush the tops with egg wash. Bake the brioche at 350°F for about 30 minutes or until the bread is golden brown. Enjoy!
3 Tips for Perfect Brioche Bread
Like all bread-making, there's a little science and technique at the core of the process. To nail this simple brioche bread recipe, follow a couple of simple tips and tricks along the way.
Use warm milk. You'll want to use warm milk to help activate the yeast. You'll want it to be around 110°F. To take the guesswork out, check the temperature with a candy thermometer.
Adjust the flour as needed. The dough texture should still be soft and slightly sticky. You may need to add more flour, depending on the brand you use. Depending on the brand of flour you use, the dough will come out a touch differently. If it's too sticky, add a bit more flour until it's not. Brioche is hard to mess up, making it one of my favorites to bake.
If your flour is on the older side, sift it first. If your flour has been sitting in the pantry for a while, sift it in a fine-mesh sieve to remove any lumps and clumps. You don't want these to bake into the bread and ruin the texture!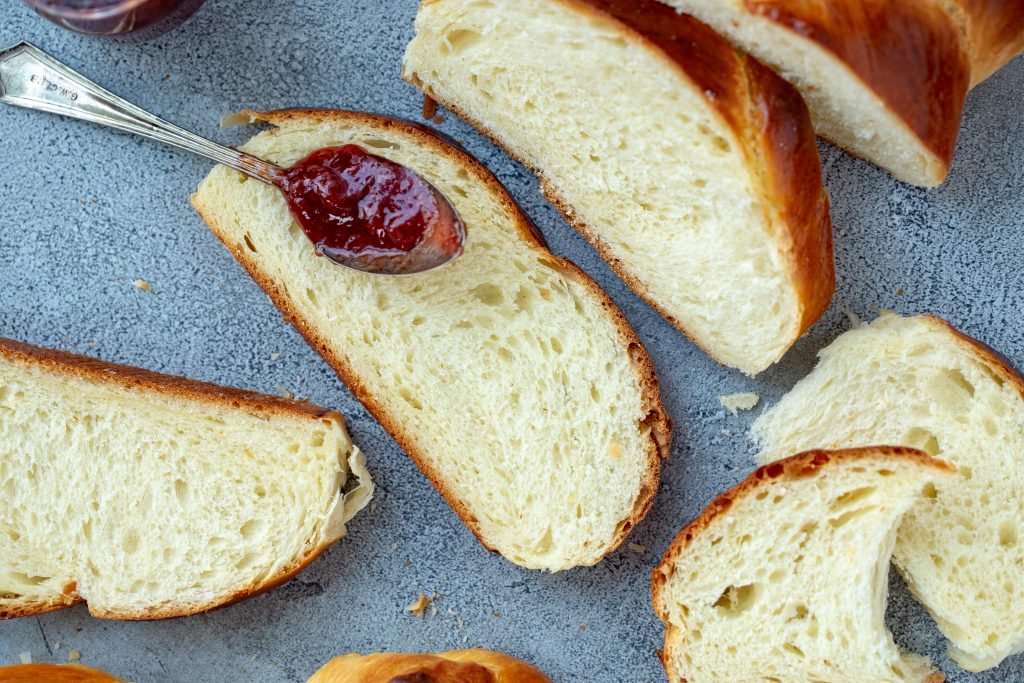 Different Ways to Use Brioche Bread
Now for the fun part – figuring out how to put your brioche bread to work! Here are a couple of our favorite ways to use this decadent bread.
Enjoy it with jam and butter. Brioche has a perfect eggy taste that goes great with jam and butter. Our favorite combination is apricot jam and European butter like Kerrygold or Plugra.
Make brioche french toast with your leftovers. You have probably seen brioche french toast on a brunch menu before, or you are already in love with it. Put those leftovers to good use and make a batch!
Make brioche sandwiches. Grab your favorite cured meat (prosciutto, mortadella, salami, etc.) and some swiss cheese. Spread your brioche with a bit of dijon mustard and have yourself a perfectly simple European-style sandwich.
Bake a decadent brioche bread pudding. The combination of sliced pears and chocolate chips in this recipe is to die for. The perfect item to bring to brunch!
Storing Brioche Bread
Keep your brioche fresher for longer by following these storage tips:
Refrigerating: Refrigerate your brioche by wrapping it tightly in plastic wrap or placing it in a Ziploc bag. It will stay fresh for up to a week when stored in the fridge. Since this bread is heavy on the eggs, it is not recommended to store it at room temperature.
Freezing: Brioche bread can be frozen for up to a month. The best way to keep it fresh is by wrapping it tightly with a plastic wrap before placing it in the freezer. Thaw to room temperature before serving. Reheat as desired.
FAQ
What makes brioche different from other breads?
So, what's the difference between brioche and other breads? Brioche is a French yeast bread that uses a lot more eggs than other breads, giving it a pretty, yellow color on the inside and a golden brown color on the outside. The result is a light and fluffy texture that is to die for.
Is brioche just white bread?
While brioche is technically made with white flour, it isn't considered a standard white bread. This is because it's fortified with eggs and a ton of butter to give it that light and flakey crumb texture.
Can brioche bread be made in a bread machine?
You can make brioche bread in a bread machine, but it doesn't turn out as golden brown as it would in the oven. For best results, bake it straight on a baking sheet to get the right coloring and texture.
Is brioche bread healthier than white bread?
Brioche is more decadent than typical white bread. It contains more butter and egg, making it higher in calories.
Other Similar Recipes to Try
Recipe
This easy brioche bread recipe will help you make bakery-worthy brioche with ease. Fluffy, airy, and perfect for everything from sandwiches to French toast!
Nutrition Facts
Easy Brioche Bread
Amount Per Serving
Calories 2697
Calories from Fat 855
% Daily Value*
Fat 95g146%
Cholesterol 321mg107%
Sodium 161mg7%
Potassium 863mg25%
Carbohydrates 402g134%
Protein 53g106%
Vitamin A 3015IU60%
Calcium 368mg37%
Iron 18mg100%
* Percent Daily Values are based on a 2000 calorie diet.