This homemade flatbread comes together in 30 minutes' time and squashes the stereotype that working with dough has to be hard. Whether you're looking for a carb to dip into soup or to make a batch of flatbread pizzas, this fantastic recipe will be your new go-to.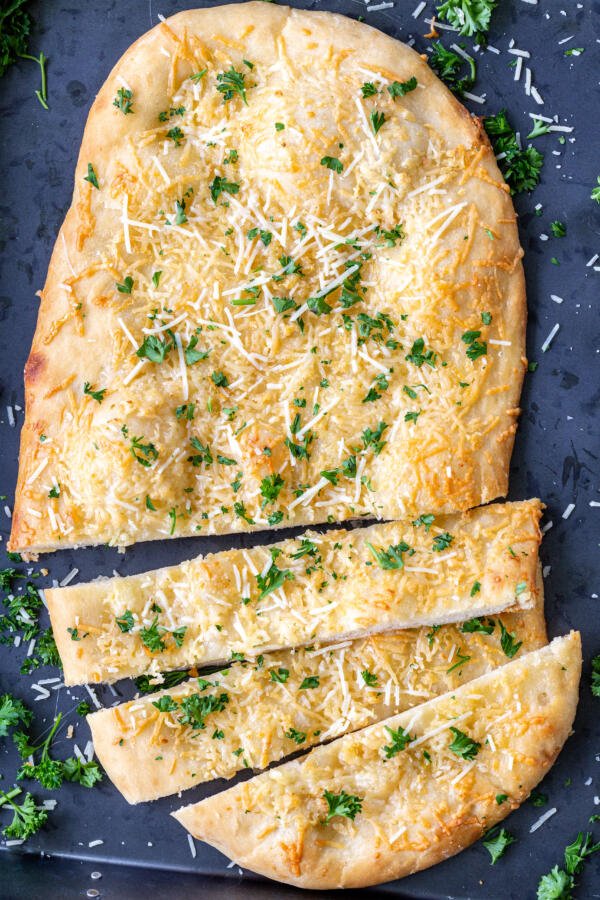 Flatbreads are perhaps the most universal and simple style of bread. Nearly every culture has some rendition of the flatbread, tapping its endless potential for dipping and topping. Typically touting very minimal ingredients and legwork, flatbread can easily be whipped up on a busy weeknight. For folks who don't want to spend several days tending to dough, this recipe puts bread on the table without all the fuss.
Flatbread is also a meal-preppers dream. You can double or triple the recipe and have fresh, golden brown flatbreads on hand for a variety of easy meals. Extremely versatile, you can substitute flatbread in any dish where you would typically use pita bread, Indian naan, or even pizza dough.
For this recipe, you have two options: make your own flatbread using our pizza dough recipe or purchase a pre-made store-bought version (no judgment here).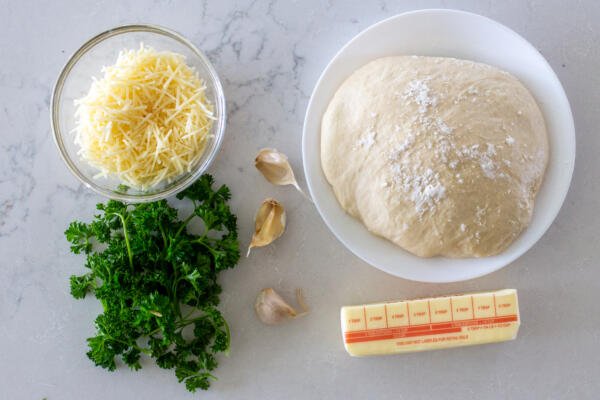 How to Make Flatbread From Scratch
Making homemade flatbread only requires a handful of wholesome ingredients and a bit of elbow grease. In no way, shape, or form does this recipe require as much attention as traditional bread baking!
Prepare the Dough: If you're going the homemade route, reference our easy pizza dough recipe to quickly whip up the dough. If you're not in the mood to make pizza dough from scratch, Trader Joe's (and most other grocery stores too) sells awesome premade dough in the refrigerator section.
Shape the Dough: Bust out your rolling pin and smoothen the dough out into a thin, flat piece. You don't need to be perfect here, but keep the thickness as consistent as possible to promote even baking.
Season the Dough: Melt a high-quality, European-style butter (Kerrygold and Pulgra are both great options) and press fresh garlic cloves directly into it. Spread the garlicky butter mixture atop your dough and finish with a sprinkling of shredded parmesan cheese.
Bake Flatbread: Bake in the oven until the dough turns golden brown and bubbly. Sprinkle with more parmesan cheese and roughly chopped, fresh herbs. Serve hot and enjoy!
Hot Tip: If you're making your pizza dough from scratch, opt for a European or Canadian brand of all-purpose flour. They tend to have a higher protein content and yield an overall richer flavor, all while being easier to digest.
Flatbread Pizza Toppings
Flatbread pizza toppings are a never-ending wormhole of possibility. Below, you'll find a couple awesome flavor combinations, but feel free to get creative and make your own masterpiece.
Chicken with alfredo sauce and mozzarella cheese
Marinara sauce, over-easy eggs, mozzarella cheese, and bacon bits (breakfast pizza!)
Pesto, heirloom tomatoes, and fresh mozzarella balls
Olive oil, fresh figs, and goat cheese
Mini-Flatbread Pizza Hack: Make a beautiful appetizer tray of mini-flatbreads using this fun hack. Divide the dough into 3-4 equal pieces, shape each piece with a rolling pin, and bake. You could also pan-fry each mini-flatbread by heating a cast iron skillet with olive oil over medium-high heat. Once the first side begins to bubble (much like when you're cooking pancakes), flip and cook for an additional 1-2 minutes. Top each flatbread to your liking and assemble on a large party platter.
Serving Flatbread
Serve your flatbread alongside a steaming bowl of minestrone or turkey neck soup on a cold winter day. During hotter months, pair it with shuba salad, a fancy Russian-style salad of pickled herring and root veggies that tastes as delicious as it looks.
FAQ
What is flatbread made of?
Flatbread is made of flour, dry yeast, lukewarm water, salt, sugar, and olive oil. Some recipes for flatbread won't call for yeast, but it's a nice addition if you want some extra fluff.
Are flatbread and naan the same?
Flatbread and naan are very similar, but they are not the same. While flatbread is made with mostly dry ingredient and a bit of water and oil, naan typically has eggs or yogurt in the batter to make it extra dense.
Is flatbread the same as pizza?
Flatbread and pizza are nearly the same. You can interchange flatbread for pizza dough in most recipes so long as the flatbread dough you are using is leavened.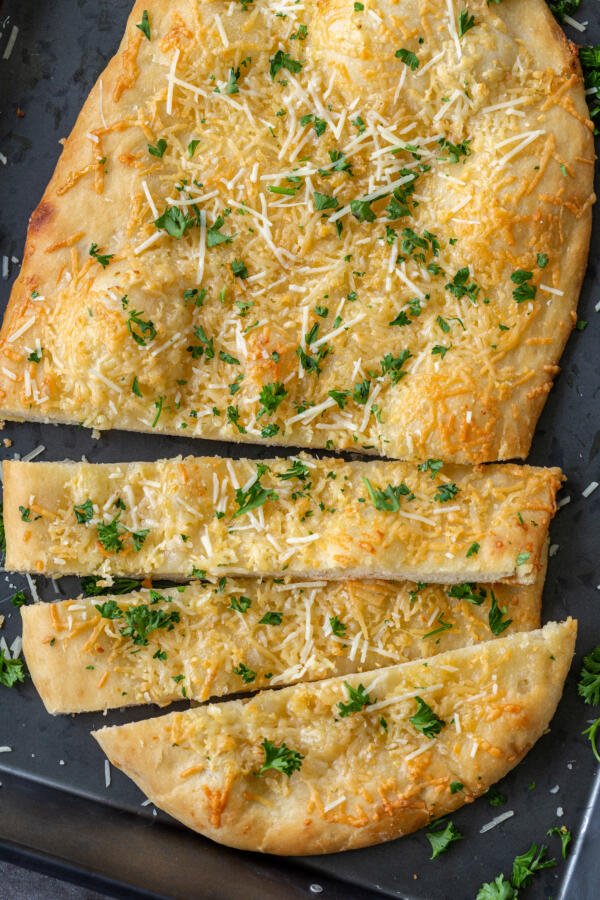 How to Store Flatbread
Refrigerating – This recipe makes three flatbreads. If you end up having leftovers, store them in an airtight container for up to a week and a half.
Freezing – To freeze your flatbreads, allow them to cool completely. Place flatbreads in a single layer on a baking sheet. Pop in the freezer. Once frozen, transfer to a freezer-safe plastic bag. Frozen flatbreads will stay fresh for up to 3 months.
Reheating Leftover Flatbreads: Use an air fryer, conventional oven, or microwave to reheat your flatbreads. Just a minute or so should do the trick.
More Bread Recipes:
Recipe
This homemade flatbread comes together in 30 minutes' time and squashes the stereotype that working with dough has to be hard.
Ingredients
1/2

batch

pizza dough

1/2

cup

salted butter

3

garlic cloves

2

tbsp

chopped parsley

(dry or fresh)

2

cups

parmesan cheese
Nutrition Facts
Easy Flatbread Recipe
Amount Per Serving
Calories 697
Calories from Fat 450
% Daily Value*
Fat 50g77%
Cholesterol 127mg42%
Sodium 1810mg75%
Potassium 82mg2%
Carbohydrates 34g11%
Protein 29g58%
Vitamin A 1466IU29%
Vitamin C 1mg1%
Calcium 804mg80%
Iron 2mg11%
* Percent Daily Values are based on a 2000 calorie diet.