Want to make aneasy bread recipe? This bread recipe involves no kneading and makes it much easier to make fresh bread at home.
I think so highly of this bread recipe that I think every person out there should try it!
And if you like this recipe, you are going to LOVE my No Knead Cinnamon Rolls Recipe.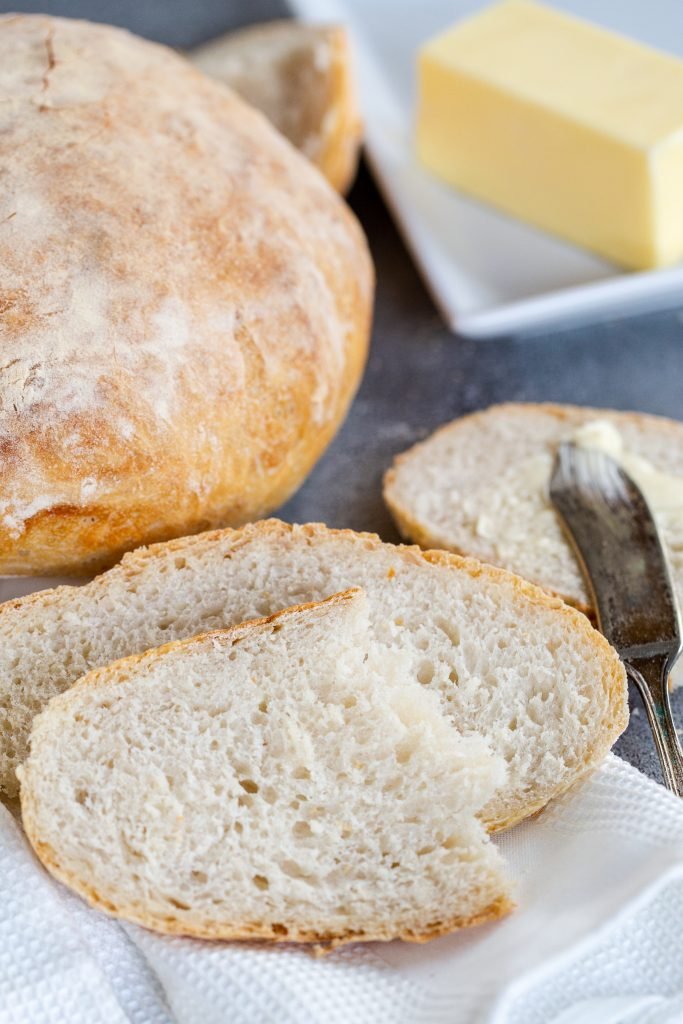 Making bread at home doesn't have to be hard or difficult. When you make this easy bread recipe, you can take the work out of making bread at home. While this is an easy bread recipe, it does still take time.
I've adapted to leaving the dough overnight or making it early in the morning and letting it sit through the day. And if for any reason, you happen to want to delay the project, you can safely refrigerate the dough for up to four days.
What to Serve this Easy Bread Recipe With
Bread can be used for many things. I like to use bread as a side dish for many of my favorite recipes. I think this no knead bread goes great with:
Ingredients for this Easy Bread Recipe
Flour
Dry Yeast
Salt
Luke Warm Water
How to Make No-Knead Bread
As always, read over the recipe before making. In this case, you will find that this recipe needs to be prepared a day in advance to allow it to properly rise.
Follow the directions for preparing the dough and allowing it to rise again before you bake. You will prepare your pans or baking sheets and cook s directed before serving with a pad of fresh butter fresh out of the oven.
Other Easy Bread Recipes to try:
Recipe
One of those staple recipes that you need in your kitchen is this Easy Bread Recipe.
Nutrition Facts
No Knead Easy Bread Recipe
Amount Per Serving
Calories 1482
Calories from Fat 36
% Daily Value*
Fat 4g6%
Sodium 2334mg97%
Potassium 434mg12%
Carbohydrates 310g103%
Protein 42g84%
Calcium 61mg6%
Iron 18.8mg104%
* Percent Daily Values are based on a 2000 calorie diet.