This no-knead bread requires only 15 minutes of your time and does the rest of the work on its own! That's right, you can have fresh baked bread on the table without the hassle.
I think so highly of this bread recipe that I think every person out there should try it! And if you like this recipe, you are going to LOVE my No Knead Cinnamon Rolls.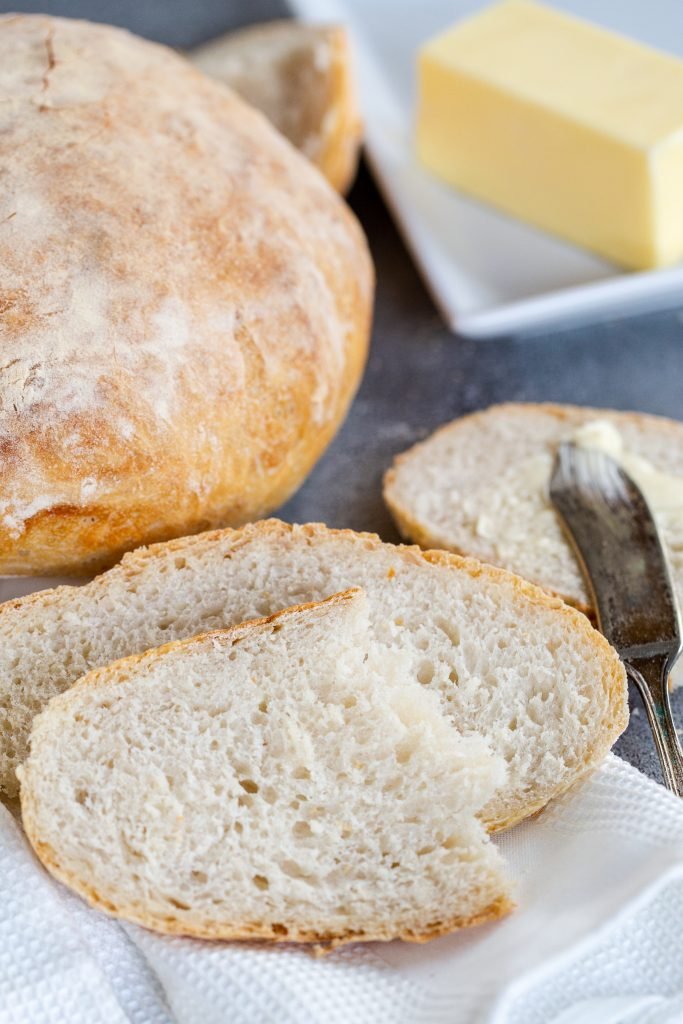 This recipe has proven itself time and time again. I've made it over 100 times for my family and I usually whip it up once a week. When the bread is this easy, why not?
You might be wondering what nixing the kneading does to the texture of the bread. I find that no-knead bread is chewier, while still having a nice and crispy crust.
How to Make No-Knead Bread
No-Knead Bread Without Cast Iron Pot
If you don't want to go through the hassle of baking bread in a cast iron pot, you can always make it on a flat baking sheet. The trick here is to create steam for bread while it is baking. To do this, add an additional baking sheet with water on the lower rack and keep it there for the first 10-15 minutes of baking. This steam bath will give you a similar effect as the cast iron pot!
Remember to remove the water carefully from the oven because it will be hot!
How Does No-Knead Bread Work?
This goes against everything your grandma taught you about making bread. But, trust me, you don't have to always play by the rules to get a great result. Instead of spending time kneading your forearms into submission, you will simply combine all the ingredients for your dough in a bowl, cover it will plastic wrap and let it set for a full day. In the morning, you will simply form the dough into loaves, bake and enjoy. Seriously, it is that easy.
Serving the No-Knead Bread
Bread can be used for many things. I like to use bread as a side dish for many of my favorite recipes. I think this no knead bread goes great with:
Ingredients for this No-Knead Bread
Flour – King Arthur or Bob's Red Mill Flour.
Dry Yeast – active dry yeast.
Salt – adjust to taste.
Water – Lukewarm, at about 120 °F.
How Long Can You Let No-knead Bread Rise?
I would highly recommend you allow the dough to rise for at least 24 hours. Theoretically, you could bake after about 6 hours, but you will not likely get that fluffy, airy texture. I have found that the sweet spot is 24 hours.
Why is My No-Knead Bread So Dense?
There are several factors that can contribute to making your bread dense. Below I will attempt to help you avoid the common pitfalls and provide a bit of troubleshooting:
Adding too much flour. Adding too much flour results in dense bread. It's important to make sure you take your measurements seriously when baking. Also, using a flour with a higher protein is your best bet for great texture. I like using King Arthur, or any other Canadian brand out there.
Using old yeast. If you use old yeast, you are likely to have flat and dense bread. Over time, active dry yeast deactivates and loses its ability to make baked goods rise and fluff.
Ending the fermenting process too early. No-knead bread saves your arms some work, but it does take a good chunk of time to set. If you end the fermenting process to early, you will likely get dense bread. 24 hours is the sweet spot.
Not allowing the bread to rise in a warm place. After your form your loaves, it is essential that you let your bread rise in a warm place. I like to turn the oven on to the lowest temperature for a couple of minutes and then turn it off and let the dough rise inside the oven. Why? The rising process is accelerated in warm temperatures.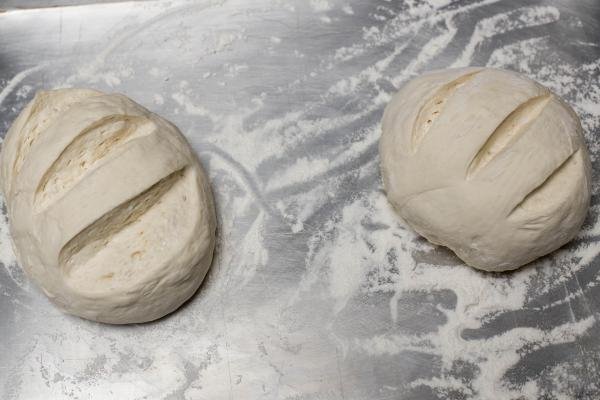 Other Easy Bread Recipes to try:
Recipe
This no-knead bread requires only 15 minutes of your time and does the rest of the work on its own! That's right, you can have fresh baked bread on the table without the hassle.
Nutrition Facts
No Knead Easy Bread Recipe
Amount Per Serving
Calories 124
Calories from Fat 9
% Daily Value*
Fat 1g2%
Sodium 195mg8%
Potassium 36mg1%
Carbohydrates 26g9%
Protein 4g8%
Calcium 5mg1%
Iron 2mg11%
* Percent Daily Values are based on a 2000 calorie diet.