These coconut granola clusters are sweet, crunchy, and absolutely addicting. Perfect for an on-the-go breakfast or wholesome lunchbox snack!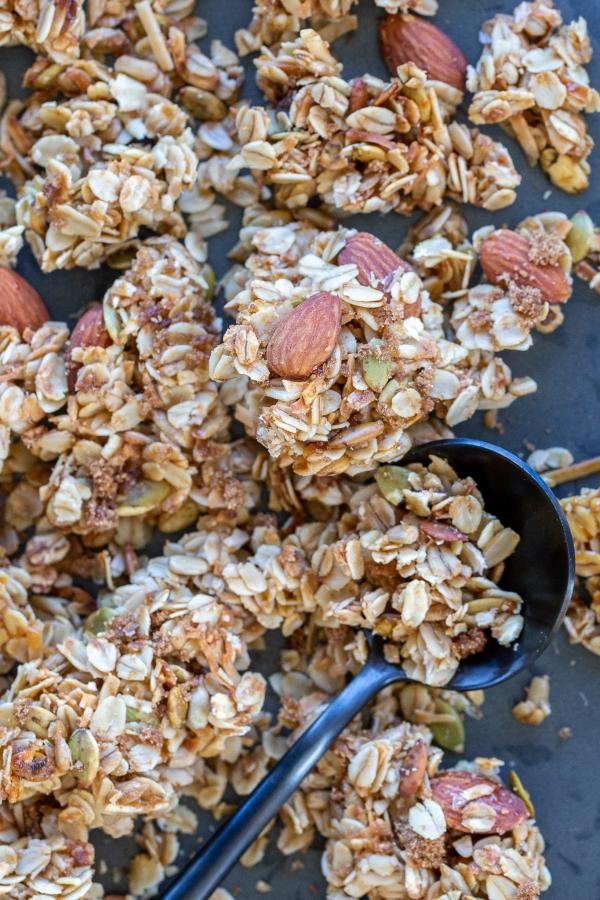 These coconut granola clusters are one of my favorite granola recipes. You'll be hard-pressed to find a moment when they aren't hanging out in my pantry. From quick breakfasts to snacking on the couch, they're a healthy way to satisfy a sweet tooth. What's better? They're packed with fiber and protein from sunflower seeds, rolled oats, and almonds. YUM!
Whether you're looking to cut down on the amount of packaged goods you buy at the grocery store or are just simply obsessed with granola, these coconut granola clusters are so simple to make and always a crowd-pleaser. It's also a super versatile recipe that you can tweak in so many different ways depending on your mood or the season.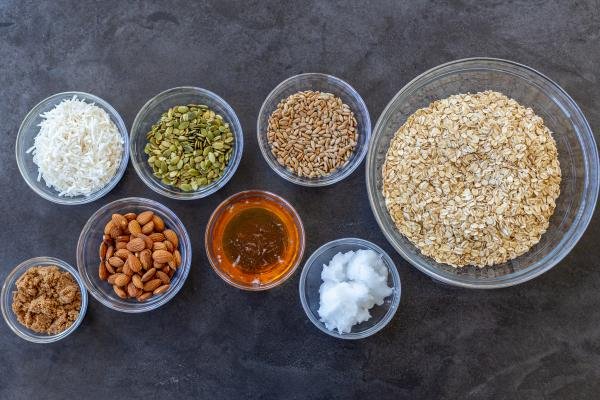 Are Coconut Granola Clusters Healthy?
There's a lot of chatter out there about whether or not granola is actually healthy for you. To be honest, a good amount of store bought granola has just as much sugar as cookies or ice cream. However, homemade granola allows you to control the amount of sugar and oil you use, making it a great addition to any healthy diet. Not only are these granola clusters packed with fiber, they are also bursting at the seams with protein from the nuts and seeds.
How to Make Coconut Granola Clusters
Making these coconut granola clusters is so easy, you can hardly call it a recipe. Below, find a quick rundown of the recipe before you get to it.
Melt the Honey & Oil: In a small bowl, melt the honey and coconut oil in the microwave until it's smooth and runny.
Combine the Dry Ingredients: In a large bowl, combine all the dry ingredients.
Toss in the Honey & Oil: Next, toss the dry ingredients (rolled outs, brown sugar, pumpkin seeds, sunflower, coconut flakes, and almonds) with the wet ingredients (melted honey and coconut oil), stirring until the oats are evenly coated.
Bake the Granola: Flatten the oat mixture onto a baking sheet with parchment paper. Bake it at 325°F for about 30 minutes or until the granola has turned golden brown.
Cool and Break the Granola: Allow the granola to cool at room temperature. Then, break the granola into small or big clusters depending on your preference. Store the granola in an airtight container, sealable canning jar, or plastic bag. Enjoy with yogurt, chia pudding, milk, or even on top of an acai bowl!
How to Eat Granola Clusters
These coconut granola clusters are wonderful sprinkled on top of greek yogurt or chia pudding. You can also have them in a bowl with your favorite milk. Another fun way to use them is in acai bowls. That all said, there's nothing wrong with snacking on them straight out of the jar…
Tips & Tricks
Below, find a handful of tips and tricks to help you make the best coconut granola clusters on the planet.
Make sure the granola is evenly coated. The key to getting granola that will "clump" together is ensuring that you cover all the oats in the melted oil and honey. This will not only make each bite taste delicious, but will also ensure that you can break the granola into your desired snacking size.
Bake the granola in a tightly packed, single layer. If your granola is spread too far apart, you won't get those signature clusters. On the other hand, if the granola is stacked too high it will cook unevenly.
Experiment with different nuts, dried fruit, etc. Consider this recipe a foundation for you to play around with. If you want to add some tartness, toss in some dried cranberries, raisins, or goji berries. If you prefer a different nut than almonds, use it! Additionally, you can toss in some chocolate chips, vanilla extract, chia seeds, or any other granola-worthy ingredient.
Fall Granola Hack: To make these clusters taste more like fall, substitute the honey for pure maple syrup.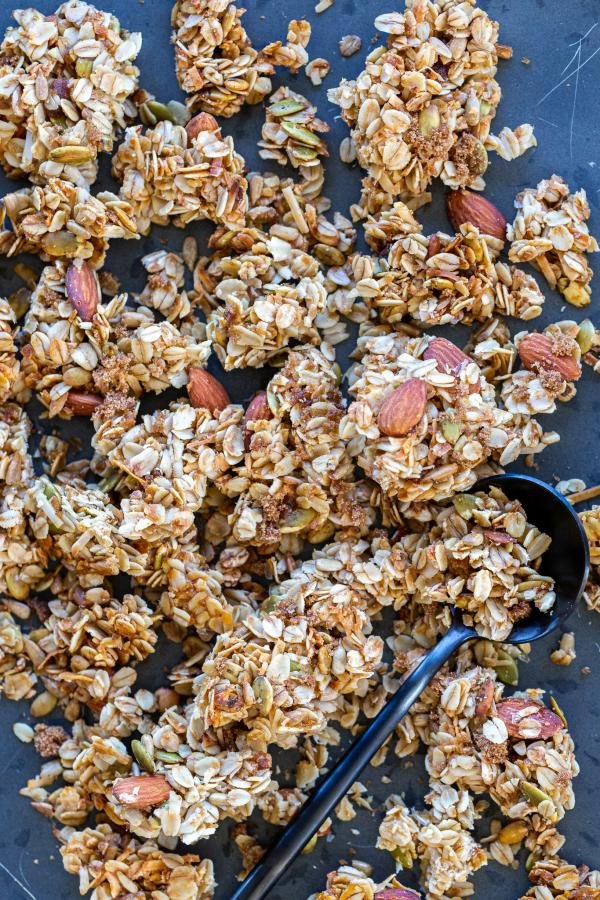 Storing Leftovers
The great thing about granola is that it has a super long shelf life. Whether you want to keep it on hand in the pantry or freeze a bag for a rainy day, here you'll find all the storage tips you need.
Room Temperature: If you want to keep granola on hand for up to 6 months, store it in an airtight container, sealable plastic bag, or canning jar. This will prevent the granola from turning stale and softening.
Freezer: If you'd like to keep some granola on hand in the freezer, pop it into a sealable plastic bag for up to a year. When you're ready to snack, simply remove a portion of the granola from the bag and let it thaw on the counter.
FAQ
What is granola typically made of?
Granola is typically made with a foundation of oats, honey, sugar. From there, you can add in an assortment of nuts, seeds, dried fruit, and chocolate.
What makes granola clump together?
The melted coconut oil and honey are key to getting the granola to clump together.
How do you get more clusters in granola?
To get more granola clusters, make sure to make the granola in a tightly packed single layer. This will allow the granola to bake together like a cookie and give you more flexibility in how big you break apart the clusters.
What's the best way to store granola?
The best way to store granola is in a sealable canning jar or airtight container at room temperature.
Can I use different nuts in this recipe?
Yes, you can use macadamia nuts, cashews, pecans, or even pistachios instead of almonds. Also, feel free to mix and match a couple of different kinds. This recipe is very forgiving!
Other Similar Healthy Treats
Recipe
These coconut granola clusters are sweet, crunchy, and absolutely addicting. Perfect for an on-the-go breakfast or wholesome lunchbox snack!
Nutrition Facts
Coconut Granola Clusters Recipe
Amount Per Serving
Calories 255
Calories from Fat 108
% Daily Value*
Fat 12g18%
Sodium 3mg0%
Potassium 74mg2%
Carbohydrates 32g11%
Protein 7g14%
Vitamin A 2IU0%
Vitamin C 1mg1%
Calcium 30mg3%
Iron 2mg11%
* Percent Daily Values are based on a 2000 calorie diet.