This recipe for overnight oats is your new favorite make-ahead breakfast. Requires no cooking whatsoever and comes out irresistibly creamy!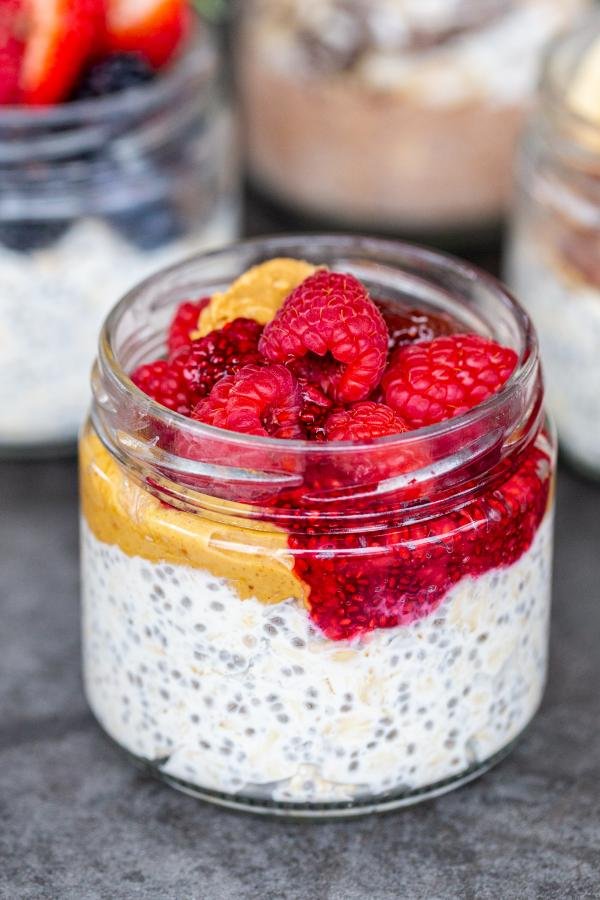 If you're a health food junkie or meal prep guru, you've likely heard about overnight oats by now. If you haven't yet, welcome to the party! Whether you're trying to find a new healthy breakfast to add to your regular rotation or are wanting to save time on hectic weekday mornings, this simple no-cook recipe is about to become your secret weapon for AM glory.
What's So Special About the Overnight Oats Trend?
The overnight oatmeal trend is sweeping the internet and for good reason! Here's a couple of reasons to give them a try:
They're a healthy way to start the day. The whole grain fiber will keep you full for hours!
The require no heat and barely any prep. All you have to do is stir the ingredients together and allow them to sit overnight.
The creaminess is unparalleled. The starch from the oats combines forces with the milk and yogurt for one decadently creamy breakfast (or dinner if that's your thing)!
They are endlessly customizable! You can unload whatever you have hanging out in your pantry and produce drawer and create your idea of the perfect bowl.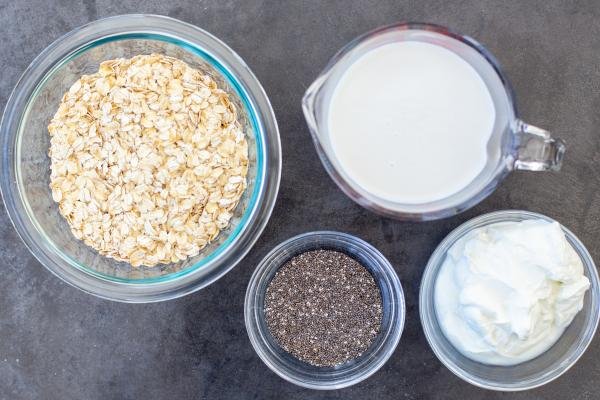 Overnight Oats Video
How to Prepare Our Easy Overnight Oats
Like most overnight oats recipes, all you need to do is stir the ingredients together and stow them away in the fridge until morning.
Combine the Ingredients: First, toss the oats, milk, Greek yogurt, and chia seeds in a large bowl and give them a good stir until well-combined.
Cover and Refrigerate Overnight: Next, cover the bowl with plastic wrap or a lid and pop it in the fridge for 6-8 hours.
Customize with Toppings: Lastly, add in your favorite fruits, nut butters, seeds, nuts, sweeteners, and beyond. Enjoy!
3 Tips for the Creamiest Overnight Oats
Whether you're a first-timer or an overnight oats veteran, these 3 tips will help you yield the creamiest batch possible.
Use dairy milk or dairy-free milk versus water. Sure, you can always use equal parts water, but why would you when your favorite milk will make the oats so creamy?! Our top choices are oat milk (yes, oats on oats!) or coconut milk. Cashew milk, almond milk, soy milk, and traditional dairy milk are also great options.
Opt for rolled oats over steel cut oats. Because they are steamed during processing, rolled outs yield a much creamier texture than steel cut oats. If all you have on hand is steel cut, you'll need to add an additional cup of liquid to compensate.
Give the oats at least 6 hours to soak. For optimal taste and texture, give the oats at least 6 hours to soak in the fridge overnight (8 hours preferred).
Hot Storage Tip: Divide your overnight oats into single-serve Mason Jars for quick grab and go breakfasts.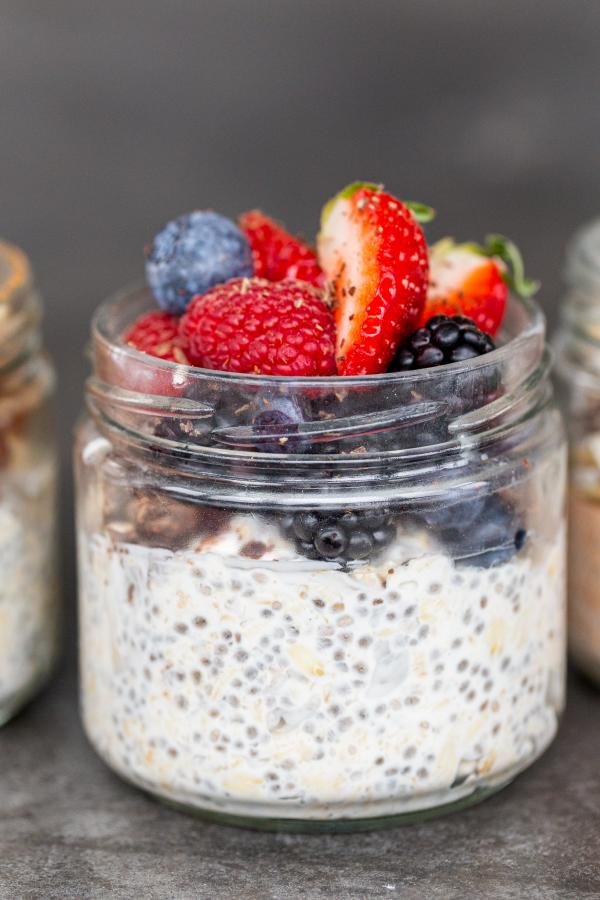 Different Flavor Combinations (They're Endless!)
When we say the flavor combinations are endless, we mean it! Here's just a couple of ideas to inspire you, but feel free to experiment and use your favorite traditional oatmeal toppings.
Classic & Lightly Sweet – Add in 4 tablespoons of your favorite maple syrup, honey, or agave and allow the oats to sit overnight.
PB&J – Top your finished overnight oats with a scoop of peanut butter or almond butter and a dollop of jam or jelly.
Protein Powerhouse – Mix in 2-4 tablespoons of your favorite protein powder into the oats mixture and allow it to sit overnight.
Chocolate Lover's – Add 4 tablespoons of cacao powder and let the oats sit overnight. In the morning, top it off with chopped chocolate or chocolate chips right before serving. Optionally, add in some chopped hazelnuts and fresh raspberries, blueberries, or strawberries.
Apple Pie – Add in 1/3 cup chopped apple, 1/4 cup of chopped pecans, and 1/2 teaspoon of cinnamon right before serving.
Banana Bread – Add in sliced rice banana, 1/2 teaspoon of cinnamon, and 1/4 cup roasted walnuts.
"Oatmeal Cookie" – Add in 1/3 cup of raisins, 1/4 cup of chopped roasted walnuts, and 1/2 teaspoon of cinnamon right before serving.
Tropical Coconut – Use coconut milk as the base and allow the oats to soak overnight. Add in 3 tablespoons of coconut flakes and mango chunks right before serving.
Almond Joy – Mix in 1 tablespoon of cacao powder to the oats before soaking them overnight. Add chopped almond, 3 tablespoons of shredded coconut, and a drizzle of maple syrup before serving.
Savory Oats (Think: Grits!) – Add in a pinch of salt to the mixture before soaking overnight. Serve with a fried egg on top and a drizzle of hot sauce.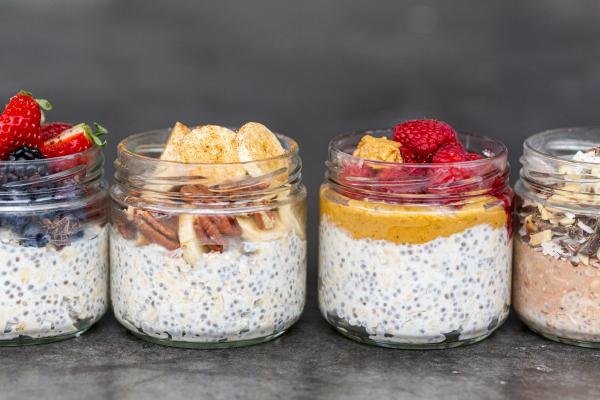 How to Store Your Overnight Oats
Keep your oats stored in an airtight container, a bowl with a lid, or in individual serving-size Mason Jars to keep them fresh and from drying out. When stored properly, they should stay fresh for up to 5 days. Avoid freezing the overnight oats, as they don't thaw well.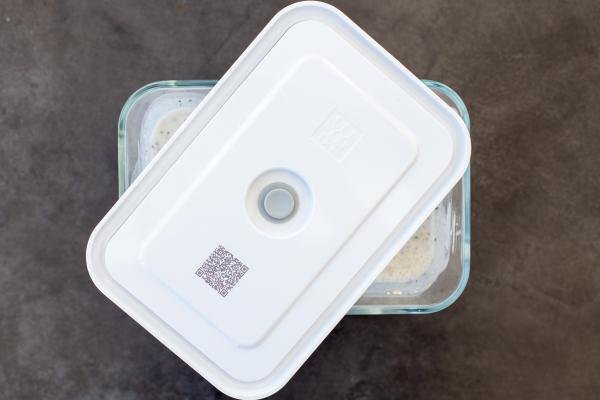 FAQ
Are overnight oats eaten hot or cold?
Overnight oats are typically eaten cold, but there's nothing holding you back from zapping them in the microwave to warm them up.
Can overnight oats be made with water?
You can make overnight oats with water, but they won't come out nearly as creamy.
Can you skip the yogurt all together?
The yogurt adds a nice thickness to the oats and really improves the overall taste and texture. If you're not a fan of greek yogurt, feel free to use regular yogurt or your favorite dairy-free variety.
How much will the oats expand overnight?
The oats will expand by about a quarter so be sure to use a big enough bowl so the oat mixture doesn't spill over.
More Crazy Easy Breakfast Recipes
Recipe
Overnight oats are the perfect grab and go healthy breakfast. They're so customizable and require absolute no heat to make!
Instructions
Nutrition Facts
Easy Overnight Oats (10 Flavors)
Amount Per Serving
Calories 316
Calories from Fat 90
% Daily Value*
Fat 10g15%
Cholesterol 15mg5%
Sodium 75mg3%
Potassium 427mg12%
Carbohydrates 40g13%
Protein 16g32%
Vitamin A 206IU4%
Vitamin C 1mg1%
Calcium 290mg29%
Iron 3mg17%
* Percent Daily Values are based on a 2000 calorie diet.