Acai Bowls are light and refreshing breakfast or snack. Smooth and creamy with chunks of fruits and seeds on top, it's one of the healthiest treats you can eat year-round.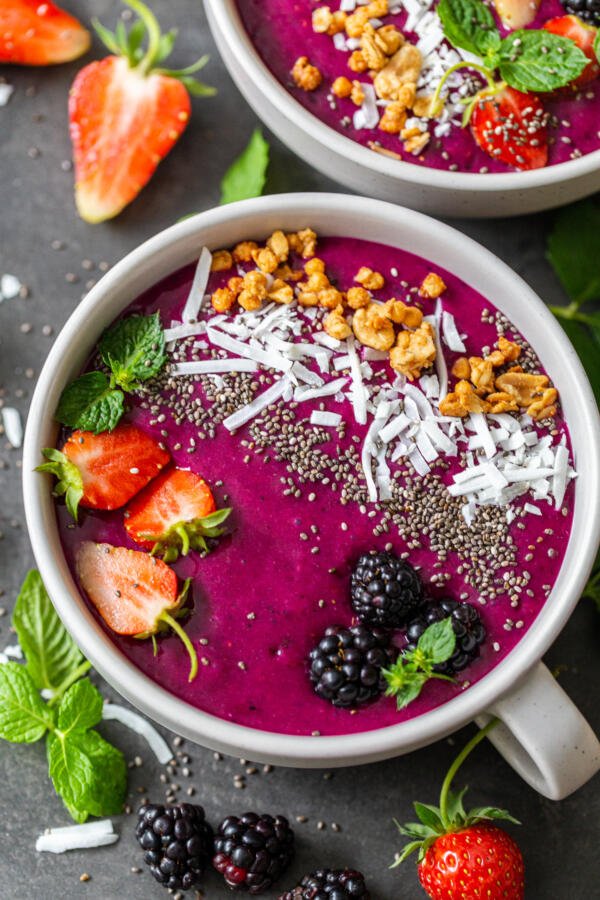 Our acai bowl obsession started when we took a trip to the Big Island in Hawaii. We found a shop near our resort and it was our go-to spot for breakfast the entire trip.
Now, I make the bowls at home and our boys just love them. It makes me so happy to see them chowing down because they are getting a ton of vitamins and nutrients.
Sometimes, I even blend in some leafy greens to sneak a serving of veggies in. Oldest "mom trick" in the book…
What Is An Acai Bowl Made Of?
The beauty of the acai bowl is in the eye of the beholder! You can get creative here and add the fruits, nuts and other toppings that you love. Typically, an acai bowl is made with a smooth foundation of blended acai berries, frutis and topped with chia seeds, granola, shredded coconut and banana slices.
Don't limit yourself! This of an acai bowl as your very own tropical parfait. Want to add a scoop of peanut or almond butter? Do it! What about some dried blueberries? Oh, yes! Whatever you do, try to add what's in season and use the freshest ingredients you can get your hands on.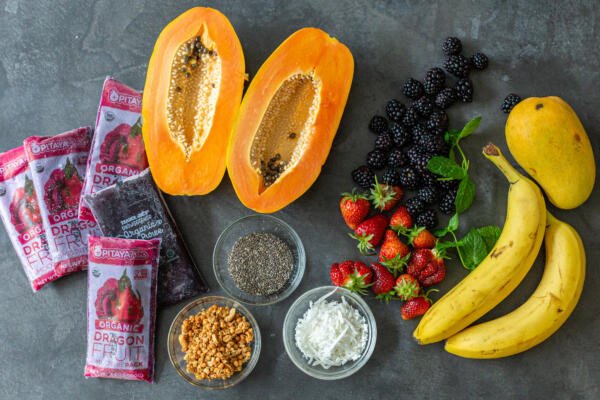 How Do You Make An Acai Bowl?
Acai bowls are super easy-to-make. With just a few more steps than a traditional smoothie, you will have a power packed weekday breakfast in no time!
Blend your acai packets with the fruits. Make sure to get the texture super smooth!
Top the bowl with as many goodies as you'd like. This can range from fresh to dried fruits, nuts or seeds, granola, nut butter, honey, agave or even some fresh mint.
Hot tip: If you really want to maximize your dollar and control your sugar intake, make your own coconut granola or chocolate granola granola to sprinkle on top! The store-bought stuff is typically packed with hydrogenated oils and corn syrup.
Tips For The Best Acai Bowl
Use Any And All Fruits or Veggies. Any berries, peaches, plums, papaya, pineapple, kiwi, mangoes — you seriously can't go wrong here! Blend in some spinach and kale to the acai to add a sneaky serving of veggies.
Use Acai Packets. Trader Joe's has an amazing, pure unsweetened acai packet in the frozen section that is both affordable and tasty. These packets are amazing little acai bowl starters and they add a nice, deep flavor and color.
Pull Out the Good Blender. Acai bowls are best when they are smooth in texture. Use a really good quality blender like a Blendtec or Vitamix.
Serve Right Away. Enjoy your acai bowl right away. The puckery flavors really pop when the acai is still frozen!
Are Acai Bowls Healthy?
Acai bowls are packed with vitamins and minerals. They are also high in antioxidants. Acai is a very coveted berry from the Amazon and is one of the most nutrient-dense foods out there. The blackish, purple berries are what give the acai bowl it's signature color.
Acai bowls are a great, light breakfast, lunch or snack when you are trying to watch your weight. However, beware, lots of acai bowls are high in calories, packed with sugar and triple the healthy serving size. Making them at home allows you to control the portions and ingredients!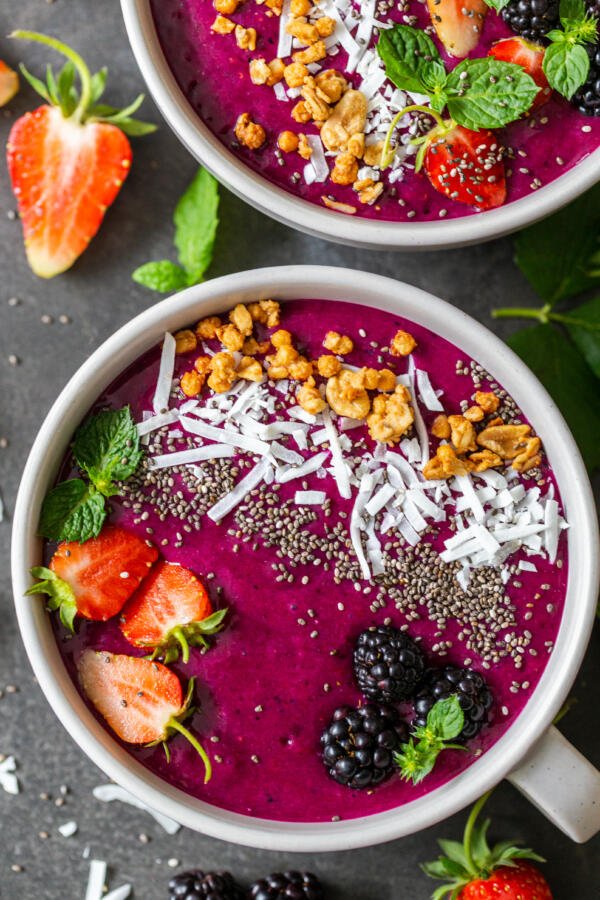 Few More Healthy Snacks
Recipe
Acai Bowls are a light and refreshing breakfast or snack. Smooth and creamy with chunks of fruits and seeds on top, it's one of the healthiest treats you can eat year round.
Ingredients
Acai
2

bananas

1

mango

1/2

papaya

1

cup

strawberries

4

packs acai mix
Acai Toppings
3

tbsp

chia seeds

1/2

cup

granola

1/4

cup

coconut flakes

1/2

cup

fresh berries
Instructions
Note: You can always switch out for frozen fruits.
Nutrition Facts
Acai Bowl
Amount Per Serving
Calories 272
Calories from Fat 90
% Daily Value*
Fat 10g15%
Sodium 13mg1%
Potassium 575mg16%
Carbohydrates 45g15%
Protein 5g10%
Vitamin A 959IU19%
Vitamin C 79mg96%
Calcium 95mg10%
Iron 2mg11%
* Percent Daily Values are based on a 2000 calorie diet.