This chia pudding is creamy, filling, & perfect for a healthy breakfast, after-school snack, or dessert. So easy to make, you can hardly call it a recipe!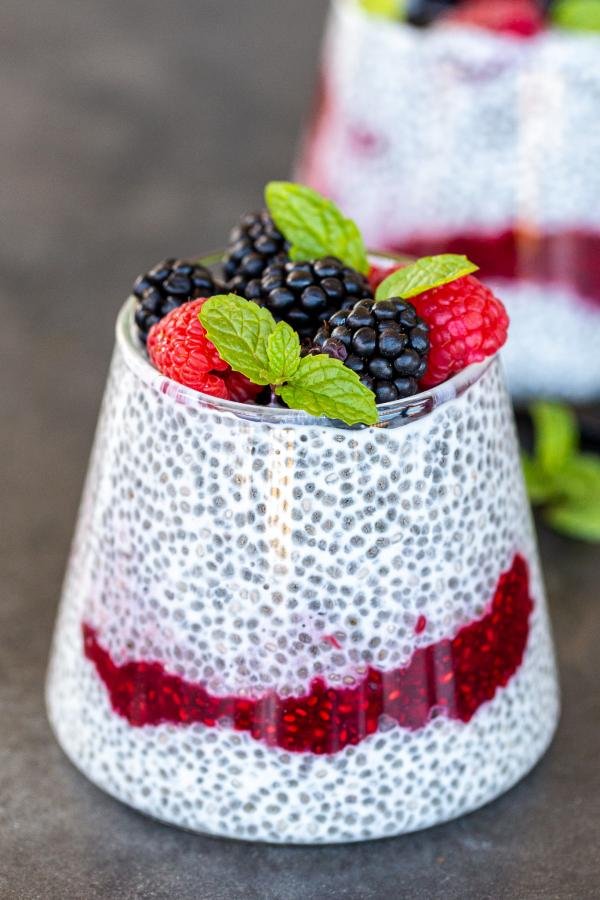 Chia pudding is all the rage right now and for good reason. It's crazy easy to whip up, super good for you, and just as customizable as a yogurt parfait. Whether you're already on the bandwagon or new to the game, this recipe is foolproof and sure to become part of your regular rotation.
Where can you find chia seeds? Chia seeds are so popular these days, you can find them in most conventional grocery stores. Our all-time favorite brand is Navitas Organics Chia Seeds.
What Does Chia Pudding Taste Like?
The flavor of unsweetened chia pudding is mildly earthy. This makes it the perfect neutral base to build things like breakfast bowls, fruit parfaits, and unique desserts. With so many different types of milk and sweeteners out there, you can find the perfect combination that fits your tastebuds. Half of the fun is experimenting!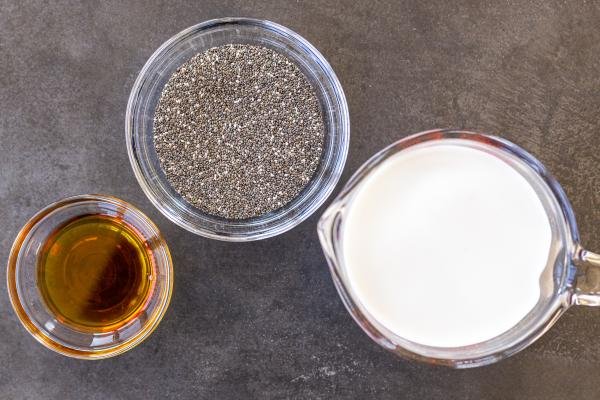 The Health Benefits of Chia Pudding
There are a million and one different health benefits you'll get from scarfing down a bowl of chia pudding. For starters, chia seeds are filled with omega-3 fatty acids that are widely believed to support heart health, joint health, and memory. In addition, these superfood seeds are packed with calcium, phosphorus, magnesium, and protein. You can also expect a nice boost of vitamins and minerals depending on the type of milk you opt for.
Chia Pudding Video
Making Chia Pudding from Scratch
The first step to making this pudding is to snag some airtight containers or Mason Jars. Feel free to use one big jar or portion out the pudding into single-serving containers.
Combine the Ingredients: Next, place the milk, chia seeds, and sweetener into your container(s). Seal with a lid and let the pudding sit for 3-4 minutes.
Shake or Stir the Pudding: After the pudding sits for several minutes, give it a good shake or stir to distribute the seeds and sweetener.
Refrigerate the Pudding: Finally, seal the container(s) and allow the pudding to sit in the refrigerator for at least 2 hours. Enjoy with your favorite toppings!
5 Pro Tips for the Creamiest Chia Pudding
Making chia pudding isn't rocket science, but a few helpful tips will go a long way.
Use whatever milk you like best. While coconut milk and almond milk tend to work best, there's no right or wrong milk for this recipe. Use any dairy or non-dairy milk you adore most. A couple of other great options include oat milk, soy milk, or even chocolate milk if you're craving chocolate chia pudding.
Allow the pudding to sit overnight. If you only have 2 hours to spare, your pudding will still be delicious. However, if you can let it sit overnight it will turn ridiculously creamy and thick!
Experiment with different sweeteners. Stevia, maple syrup, and honey all work great. Play around with different levels and adjust the sweetness to your preference.
Flavor the pudding with different powders. This pudding is great eaten plain, but you can up the ante by whisking in various flavored powders. Matcha powder, cocoa powder, and protein powder are all great options.
Add in some vanilla extract. For an earthy pop of flavor and natural sweetness, add a teaspoon of vanilla extract.
Tasty Toppings & Mix-Ins
Perhaps the most fun part of this trendy pudding is playing around with different toppings and mix-ins.
Fresh Fruit: A spritz of lemon, berries, sliced banana, mangoes, or pineapple
Nut Butters: Peanut butter, almond butter, sunflower butter, or cashew butter
Jams: Raspberry jam, strawberry jelly, orange marmalade, or fig jam
Granola: Coconut granola clusters or chocolate raspberry granola
Spices: Cinnamon, cardamom, or nutmeg
Best Practices for Storage
To keep the pudding on hand for up to a week, store it in an airtight container in the refrigerator. Only make as much as you can eat within 7 days, as it doesn't tend to freeze very well. Upon thawing, the texture becomes a bit gritty.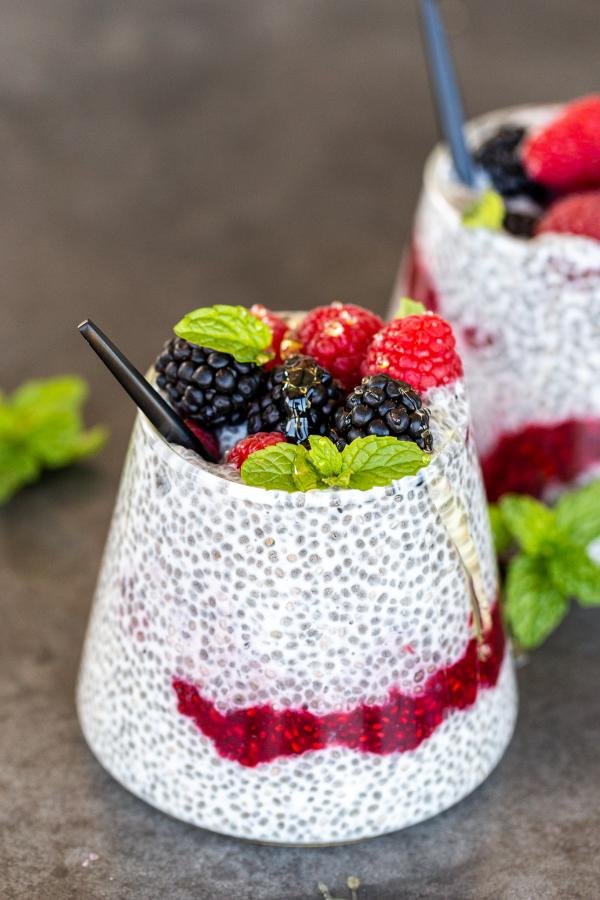 FAQ
Which is healthier oatmeal or chia pudding?
Both oatmeal and chia pudding are healthy for you. However, chia pudding packs significantly more protein.
Can you eat chia pudding every day?
It's perfectly safe to eat chia pudding every day. However, moderation is always key, so limit yourself to one serving.
Why is my chia pudding runny?
Your chia pudding is runny if you used too much milk or didn't let it sit long enough in the refrigerator.
Can chia pudding be eaten warm?
Yes, chia pudding is delicious eaten warm. To do so, warm it in a saucepan over low heat until warmed through.
More Healthy Sweet Treats
Recipe
This chia pudding recipe can be customized with your favorite toppings and milk. Perfect for healthy breakfasts, desserts, and snacking!
Ingredients
8

tbsp

chia seeds

2

cups

coconut or almond milk

2

tsp

honey or maple syrup
Instructions
Place all the ingredients into one large jar or four small, single-serving containers. Seal with a lid and allow the mixture to sit for 3-4 minutes.
Nutrition Facts
Crazy Easy Chia Pudding (3 Ingredients)
Amount Per Serving
Calories 146
Calories from Fat 72
% Daily Value*
Fat 8g12%
Cholesterol 3mg1%
Sodium 17mg1%
Potassium 140mg4%
Carbohydrates 14g5%
Protein 5g10%
Vitamin A 62IU1%
Vitamin C 1mg1%
Calcium 186mg19%
Iron 2mg11%
* Percent Daily Values are based on a 2000 calorie diet.