This chocolate granola with raspberries dish is so decadent, that you'll forget it's healthy. Serve it with yogurt or eat it straight as a snack!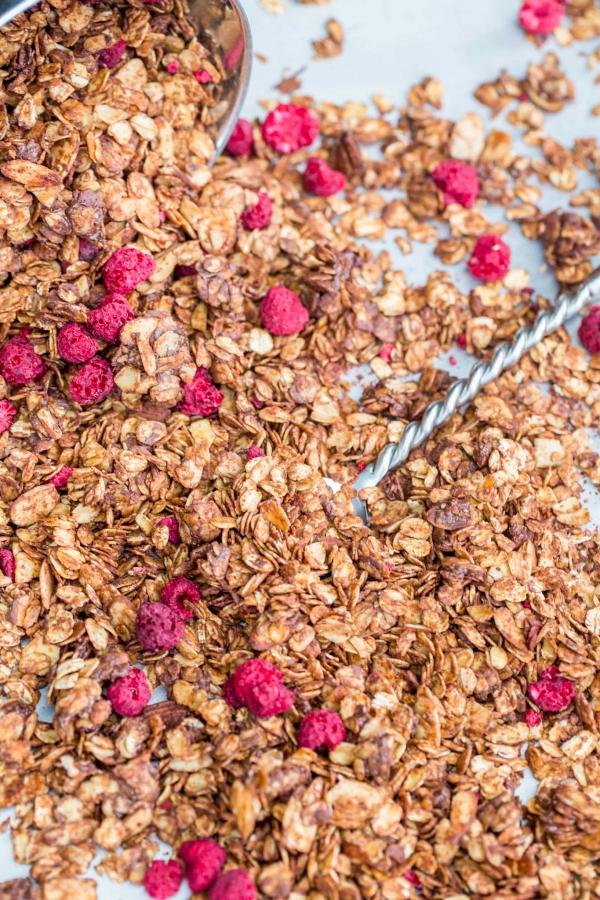 This chocolate granola recipe is so simple to make, you'll think twice before reaching for a bag at the grocery store. With under 10 ingredients and some of the world's easiest prep, you'll get a granola that's crispy, full of chocolate flavor, and packed with little nuggets of tangy raspberry.
Making Chocolate Granola Recipe from Scratch
Preparing this healthy chocolate granola recipe is really just a matter of mixing the wet ingredients and the dry ingredients and letting oven work it's magic. It's that easy!
Mix the Dry Ingredients: First, place the cacao powder, rolled oats, and sliced almonds into a large bowl.
Stir in the Wet Ingredients: Next, stir in the honey, coconut oil, and vanilla extract together.
Combine the Wet & Dry Ingredients: Pour the honey mixture over the oats and toss until well-combined.
Assemble the Granola: Next, spread the granola across a baking sheet in a single, even layer.
Bake the Granola: Pop the baking sheet in the oven at 350°F for about 30 minutes.
Coat the Granola in Chocolate: Next, remove the pan from oven and sprinkle chocolate chips on top. Give the chocolate chips about 5 minutes to melt and then stir the granola until it's evenly coated.
Cool the Granola: Next, spread the granola back out onto the baking sheet in a single layer. Allow it to cool to room temperature before tossing in the freeze-dried raspberries. Store in a sealed airtight container or enjoy it straight away!
3 Tips for Making the Tastiest Chocolate Granola
If this is your first time making homemade granola, a couple of tips will help you nail it like a pro.
Bake the granola in a single layer. To ensure that all the oats get as much attention from the heat as possible, lay the oat mixture out in a single layer on the baking sheet.
Allow the granola to cool to room temperature. Before storing chocolate granola, it's crucial that you let it cool down completely at room temperature before storing it. If it's hot before you pop it in the container, it will steam, the chocolate will melt, and the oats will become soft.
Decide what kind of clusters you want. If you are going to have this granola on hand for straight snacking, opt for larger clusters. If you are having it as cereal or a yogurt topper, opt for finer clusters.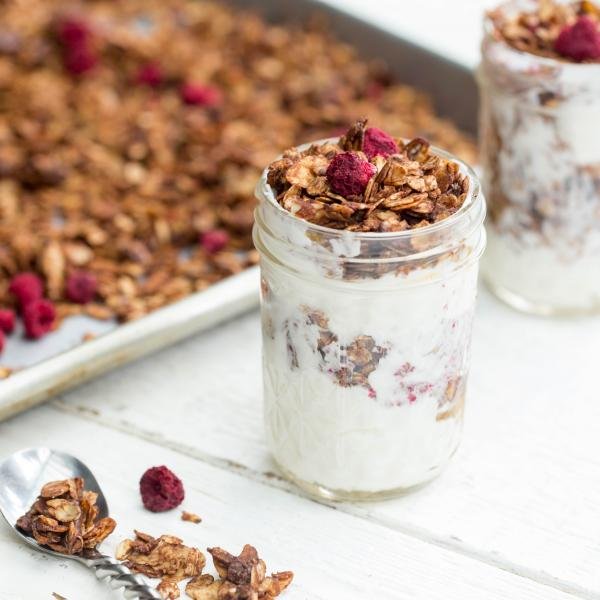 What You Can Eat With Granola Other Than Yogurt
While yogurt seems to be the sidekick of yogurt (a delicious one at that!), there are many different ways to enjoy your clusters. For instance, you can serve the granola in milk with sliced bananas on top. Alternatively, you can use it as a topping for acai bowls or chia pudding.
Different Variations
Looking to tweak this recipe into your own creation? Check out some ideas to inspire you.
Nuts: Add in chopped walnuts, pecans, or peanuts into the mix. You'll want to add them raw if you can so they toast in the oven alongside the other ingredients.
Coconut Flakes: Bring out the flavor of the coconut oil by adding in shredded coconut (you can do sweetened or unsweetened depending on your particular sweet tooth!).
Chia Seeds: Add in a couple tablespoons of chia seeds to the dry ingredients for extra protein and texture.
Sea Salt: If you're a fan of of sweet and salty flavors, add in a bit of sea salt to the granola. Just a half of tablespoon will give you that perfect balance of flavors!
Storing Chocolate Granola
The great thing about granola is that it has a long shelf life. Whether you want to keep it in the pantry or freeze a bag for a rainy day, here's all you need to know.
Room Temperature: If you want to keep granola on hand for up to 6 months, store it in an airtight container, sealable plastic bag, or Mason Jar. This will prevent the granola from turning stale and softening.
Freezer: If you'd like to keep some granola on hand in the freezer, pop it into a sealable plastic bag for up to a year. When you're ready to snack, simply remove a portion of the granola from the bag and let it thaw on the counter.
FAQ
How do you get chocolate granola to stick together?
The key to getting granola to stick together is twofold. First, you want to make sure that the clusters are covered in some kinds of sticky combination honey, sugar, or maple syrup. Secondly, you need to allow the granola to rest at room temperature long enough to dry out.
How can you get your homemade granola to clump?
If you want large clumps of granola, allow it to cool down completely in a single layer. It's key that you don't mess with it at all, or else it will have a hard time solidifying before you break up the clumps.
Can granola be eaten by itself?
Yes, you can snack on granola straight out of the bag. It's a wonderful treat to take along on hikes, car rides, and much more. You can also mix it with trail mix for a more filling snack.
Is granola healthier than cereal?
Neither granola or cereal are necessarily healthier than one another. This all depends on the variety and method of preparation.
More Light Breakfast Treats & Granola Recipes
Recipe
This chocolate granola with raspberries is so decadent, that you'll forget it's healthy. Serve it with milk or yogurt or eat it straight as a snack!
Nutrition Facts
Homemade Chocolate Granola with Raspberries
Amount Per Serving
Calories 175
Calories from Fat 72
% Daily Value*
Fat 8g12%
Cholesterol 1mg0%
Sodium 5mg0%
Potassium 144mg4%
Carbohydrates 24g8%
Protein 4g8%
Vitamin A 10IU0%
Vitamin C 1.7mg2%
Calcium 36mg4%
Iron 1.3mg7%
* Percent Daily Values are based on a 2000 calorie diet.