Asparagus with Bacon is the ultimate side dish. I mean, asparagus cooked in bacon grease?! What's not to love?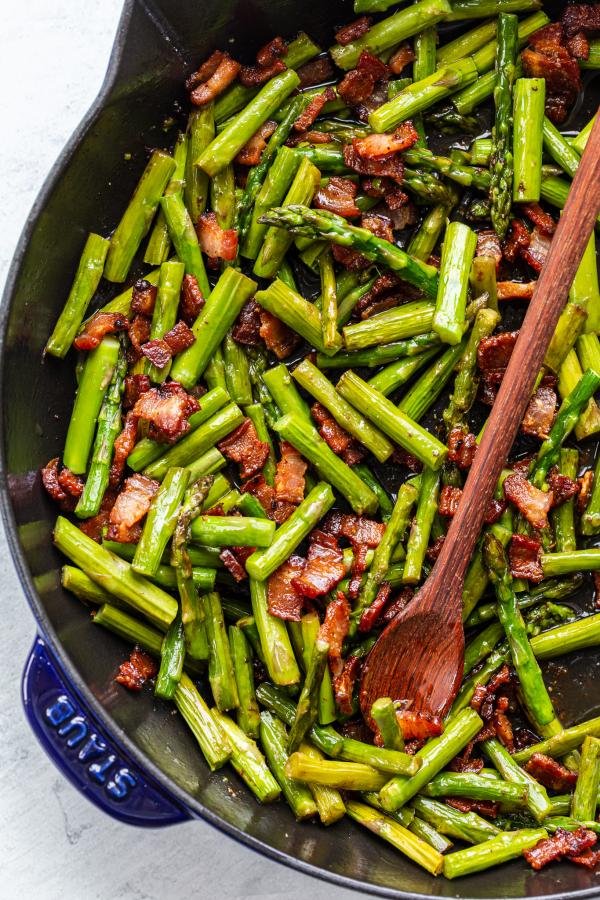 Asparagus with bacon grease is a low-carb and gluten-free recipe that pairs well with just about any entree. In about 15 minutes, you can round out any meal with this crowd pleaser!
Asparagus with bacon is one of the best ways to get kids to get their veggies. Most young ones can't get enough of this breakfast time favorite and are likely to hop on the veggie train if it's involved.
We love the classic combination of bacon and asparagus so much that we included another variation of this recipe towards the bottom — bacon wrapped in asparagus! Both styles are delicious, so choose the one that appeals to you or make both! No judgments here…
Why Is Asparagus Healthy?
Asparagus is low in calories, high in fiber and packed with essential vitamins and minerals. From folate to vitamin K, this filling veggie should definitely be a regular on your shopping list. This is also a great option for those that are following a keto diet! Just make sure you opt for the high-quality stuff — uncured and nitrate-free is the way to go!
How Do You Trim Asparagus?
So, you went to the store and you have your bundle of asparagus. But how do you get your spears trimmed and ready for cooking? Follow these easy steps:
Rinse your asparagus under cool water.
Trim the spears by cutting off the tough, woody bottom-half with a sharp knife. You can also do this by snapping the woody part off with your hand — it should break off naturally.
Toss the ends and get to cookin'!
Steps To Making Asparagus with Bacon
Trim your asparagus per the above instructions. Then, cut the spears into smaller, 2-inch long pieces.
Prepare your bacon by cutting your strips into small pieces and frying it in a skillet until crispy and brown. We like to make our own bacon crisps, but feel free to buy precooked bacon or air fryer bacon you have made in advance.
Toss your asparagus, cooked bacon and garlic parsley salt all together in a bowl.
Spread the bacon and asparagus evenly over a baking sheet lined with parchment paper or aluminum foil.
Bake for 15 minutes at 350 ℉.
Wrap Asparagus in Bacon
This is another delicious way you can prepare asparagus with bacon! Instead of making bacon crisps, wrap each spear in a strip of bacon for a pretty presentation! Here's how to do it:
Preheat the oven to 400 ℉. Place a wire rack on top on your baking sheet.
Trim the woody ends of your asparagus off. Toss the spears with olive oil and sprinkle them with a bit of salt and pepper. You can also add some garlic powder if that's your style.
Cut the bacon slices lengthwise with a sharp knife to make narrower strips.
Wrap each strip tightly around a spear, letting it slightly overlap as you wind it.
Place the asparagus seam side down on the rack.
Bake for 10 minutes. Use tongs to flip over. Bake for an additional 10 minutes, or until the bacon is to your desired crispiness.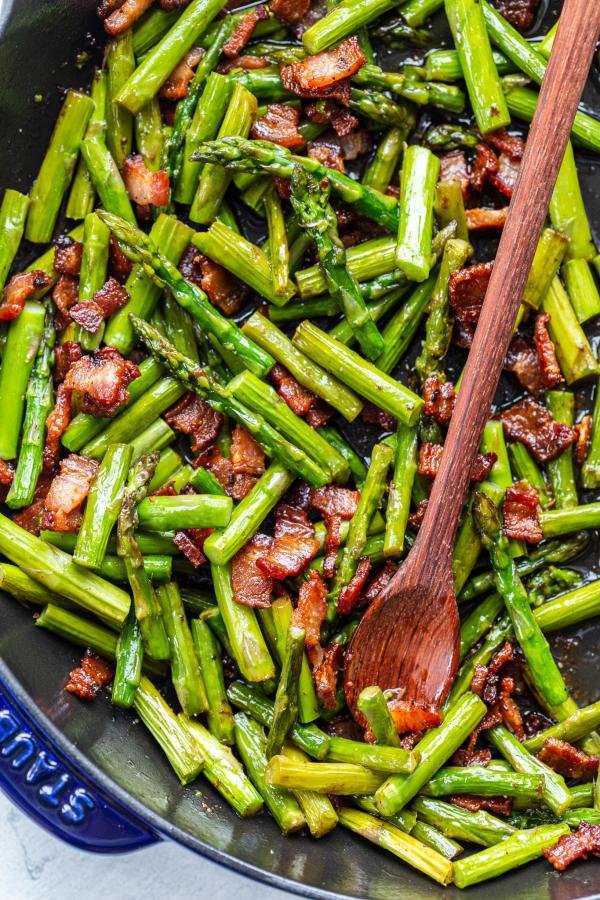 Other Sides You Will Love
Bacon Brussels Sprouts Salad: This hot salad is one of my go-tos for hosting. Sometimes it gets gobbled up quicker than the main dish!
Air Fryer Potato Chips: Potato chips are such a guilty pleasure. But not these ones! Made in the air fryer, they have a fraction of the fat found in bagged varieties.
Oven Roasted Asparagus: If you are a bonafide asparagus lover, try this other popular recipe out!
Recipe
Asparagus with Bacon is the ultimate side dish. I mean, asparagus cooked in bacon grease?! What's not to love?
Instructions
Prepare all ingredients for the recipe. Cut off and discard about 1 inch from the ends of asparagus. Cut them into preferred size pieces.

Cut bacon into bite-size cubes. Fry bacon on a preheated skillet, until it's completely cooked. Remove bacon and set aside.
Nutrition Facts
Asparagus with Bacon Recipe (So Easy)
Amount Per Serving
Calories 200
Calories from Fat 153
% Daily Value*
Fat 17g26%
Cholesterol 28mg9%
Sodium 1156mg48%
Potassium 313mg9%
Carbohydrates 5g2%
Protein 8g16%
Vitamin A 875IU18%
Vitamin C 6.4mg8%
Calcium 29mg3%
Iron 2.6mg14%
* Percent Daily Values are based on a 2000 calorie diet.