Air Fryer Bacon is a mess-free and quick way to prepare the perfectly crispy bacon. Freshly made crispy bacon a must for your breakfast.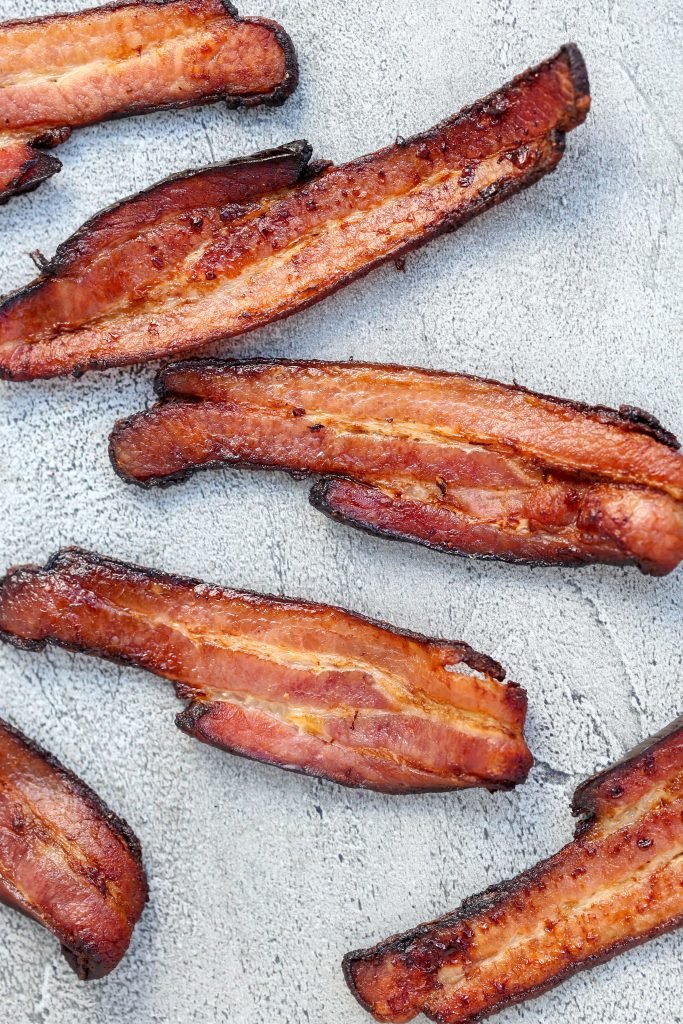 Air Fryer Bacon has changed my life. Making fresh bacon with no mess to clean, is music to my ears. There is no grease splattering or ruining your favorite shirt. That has happened to me many times.
We love the freshly made crispy bacon. The extra thick cut slices are our favorite. We used to only make it on rare occasions, because of the hassle. After getting an air fryer, our kids have a lot more of the freshly cooked bacon.
I wasn't sure which Air Fryer to get, so I got the most affordable one,Gourmia Digital Air Fryer. It's working great for me. I would recommend reading some reviews to see what would be the best fit for you.
Is Air Fryer Bacon Healthier?
The awesome thing about using an Air Fryer is that you use a fraction of the oil to get an uncanny "fried" effect. Instead of pan frying your bacon (which can get messy and greasy), you will simply add the bacon to the tray and let the appliance work its wonders. This significantly lowers the calories and fat content. But, at the end of the day, bacon is bacon. It's a high-fat and high-cholesterol meat that should be eaten sparingly.
What Are the Best Foods to Cook in an Air Fryer?
This blog is big on Air Fryer recipes. From chicken wings to fries to salmon, our test kitchen has done it all! But, I would have to say that THE BEST thing to make in this wonder appliance is bacon. It comes out crispy and perfect each time! Even my young sons use it to make themselves a quick BLT or breakfast sandwich. In fact, my 10-year-old told me the other day that it's "easy and mess-free". What better endorsement than that?

Can You Put Foil in An Air Fryer?
I would highly recommend that you not put foil in the Air Fryer tray. The way this appliance achieves the signature crispiness is by circulating extremely hot air around food. If you obstruct the air with foil, you will lose the crispiness and prevent the air fryer from doing its job.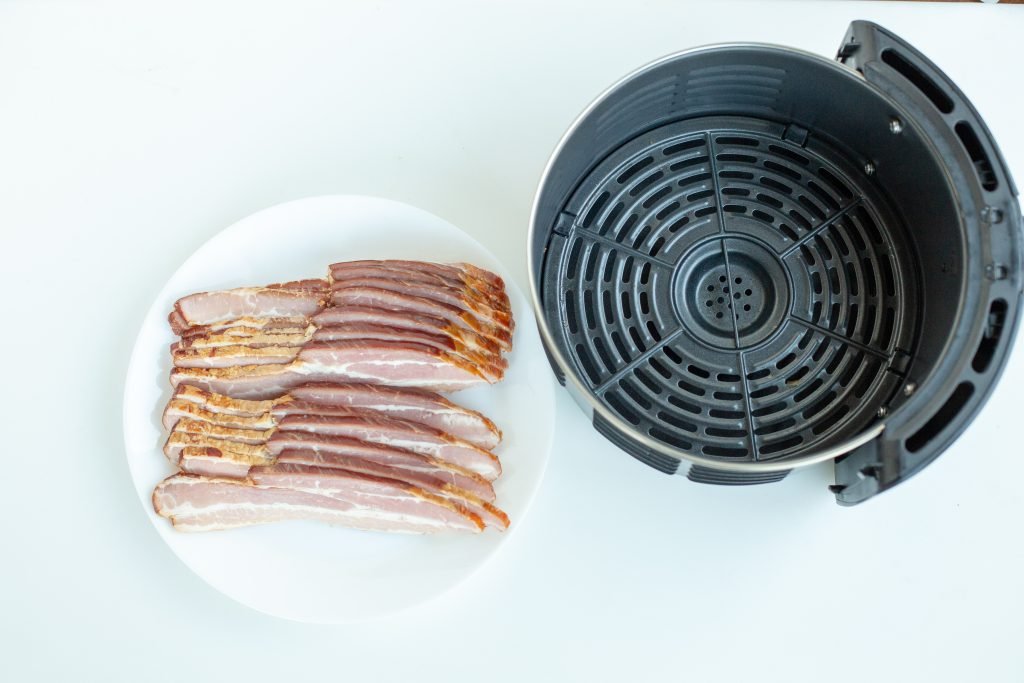 How to Make Bacon in an Air Fryer
Place one layer of bacon in an Airfryer. Turn the heat to 390F and bake for 4 minutes, turn bacon and cook for another 4 minutes. Depending on the thickness of the bacon you might need to adjust cooking time.
If you're making several batches at the same time, you may need to drain some of the fat that collects in the bottom basket.
Don't have an Air Fryer? Tryan oven made bacon recipe.
Try These Recipes with Bacon
Recipe
Air Fryer Bacon is a mess free and quick way to prepare the perfectly crispy bacon. Freshly made crispy bacon a must for your breakfast.
Instructions
Nutrition Facts
Air Fryer Bacon (Perfectly Crispy)
Amount Per Serving
Calories 315
Calories from Fat 270
% Daily Value*
Fat 30g46%
Cholesterol 50mg17%
Sodium 500mg21%
Potassium 150mg4%
Carbohydrates 1g0%
Protein 10g20%
Vitamin A 30IU1%
Calcium 4mg0%
Iron 0.3mg2%
* Percent Daily Values are based on a 2000 calorie diet.