Bacon Brussels Sprouts Salad is made in just one-pan and is absolutely binge-worthy! Served warm and made in under 30 minutes, it is the perfect wintertime salad.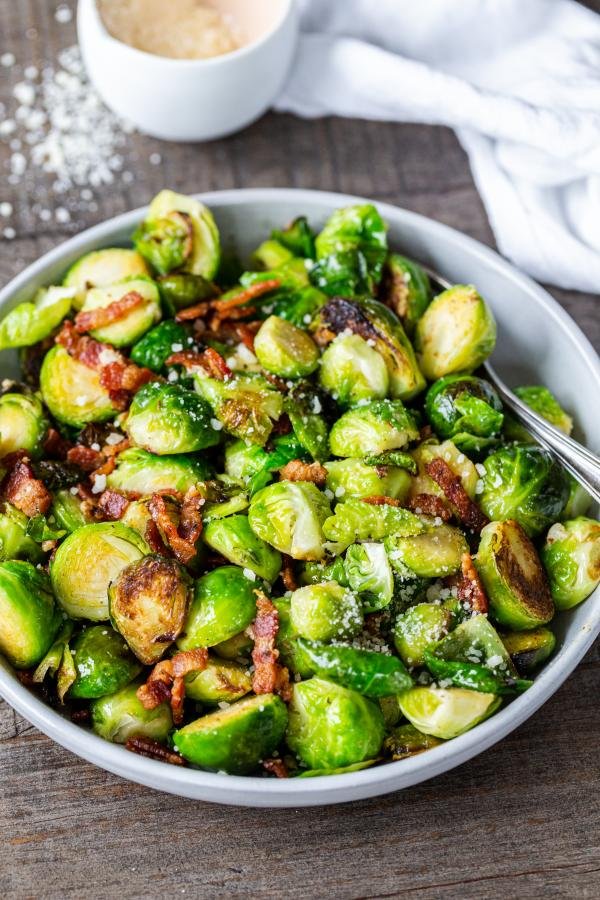 Brussels sprouts are tossed with crispy bacon bits for the perfect classic combination. There is something about the way the bacon absorbs into the brussels sprouts that makes them absolutely to-die-for.
Brussels sprouts are also super good for you! They look like tiny little cabbages, but they have a million times more flavor and texture. They are packed with fiber, vitamins and minerals. They also keep you full for little calories.
How To Make Brussels Sprouts?
There are two popular ways that brussels sprouts are made – pan-fried or roasted. Here's how to do both:
Pan-fried Brussels Sprouts
This quick and easy method is done all in one pan and is the way we will cook the brussels sprouts in this recipe. Over medium-heat, you will first cook your bacon bits until they are nice and crispy. Then, you will add in your brussel sprout pieces and saute them until tender. Then, finish them off with salt, pepper and parmesan cheese. Serve immediately!
Roasted Brussels Sprouts
If you have a bit more time and like your brussels sprouts with a nice char, opt for baking them in the oven. Toss your brussels sprouts with olive oil, salt and pepper and place them on a baking sheet. Sprinkle them with parmesan cheese. Heat your oven to 425F and bake your brussels sprouts for 15-18 minutes in the oven. The cheese will form a nice crust on your crispy sprouts! Yum!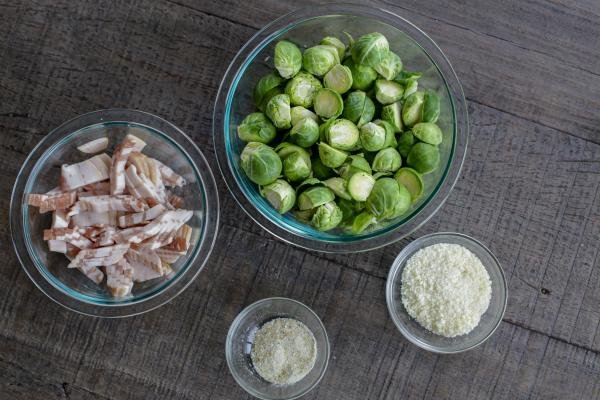 Tips for Cooking With Brussels Sprouts
If you haven't cooked with brussels sprouts before, they may look a bit intimidating. Rest assured, they are very easy to work with! Here are my tips and tricks so that they turn out perfectly each time:
Trim Brussels Sprouts Ahead of Time
Your brussels sprouts may come in a bag or on the stalk. Either way, you will want to trim off the stem end. This piece is rough and will not cook very well. Proceed by cutting the brussels sprouts into quarters if they are large and halves if they are small.
Cleaning Brussels Sprouts
After you have trimmed your brussels sprouts, it is time to clean them up. Do this by running them under cool water in a colander. Rinse them well to make sure you rinse out any residual dirt hanging out under the layers. Some of the outer leaves may fall off and that is perfectly normal. You can discard of these or keep them! When you roast them, they will char and crispy up. Some people like the crispy leaves, and others don't. I, for one, adore the heck out of them.
Cheese That Pairing for Brussels Sprouts
Cheese and brussels sprouts go together like peanut butter and jelly. Parmesan cheese is always my personal go-to, but blue cheese or feta adds a great flavor as well.
Serve Brussels Sprouts With
In my opinion, brussels sprouts go great with just about anything. Here are some of my favorite recipes to pair them with:
Recipe
Bacon Brussels Sprouts Salad is made in just one-pan and is absolutely binge-worthy! Served warm and made in under 30 minutes, it is the perfect wintertime salad.
Ingredients
1

lb

Brussel sprouts

shredded or half pieces

1/2

lb

bacon

1

tbsp

garlic parsley salt

1/2

cup

Parmesan cheese
Nutrition Facts
Bacon Brussel Sprouts Salad
Amount Per Serving
Calories 334
Calories from Fat 234
% Daily Value*
Fat 26g40%
Cholesterol 46mg15%
Sodium 2348mg98%
Potassium 565mg16%
Carbohydrates 11g4%
Protein 15g30%
Vitamin A 974IU19%
Vitamin C 96mg116%
Calcium 198mg20%
Iron 2mg11%
* Percent Daily Values are based on a 2000 calorie diet.