This panna cotta tastes as refreshing as it looks & is so easy to make. Somewhere in between a pudding and a custard, it's the perfect cap to an Italian feast.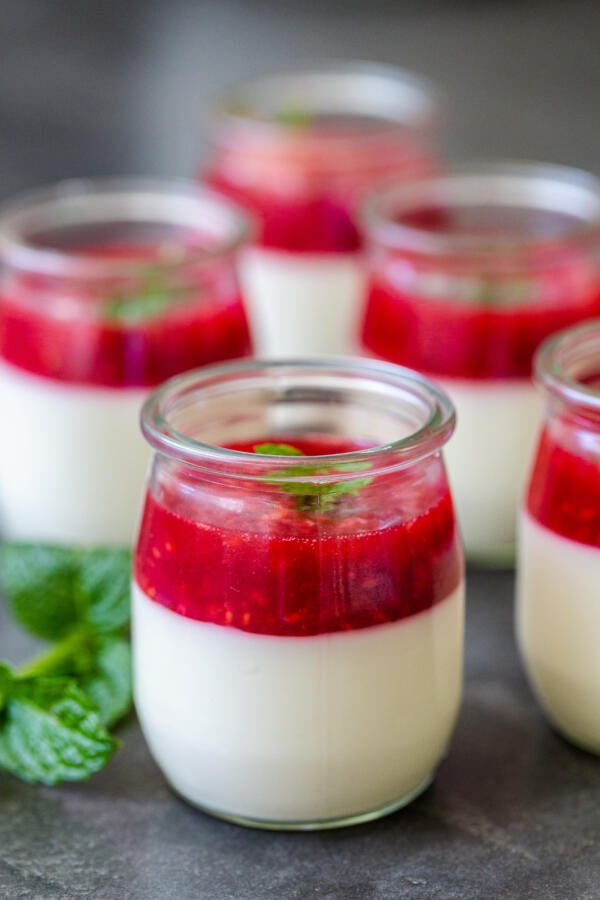 What is Panna Cotta Made Of?
Panna cotta is a jello-like dessert that is made mainly from cream, milk, gelatin and sugar. My recipe adds a twist of sour cream for a bit of tanginess and fresh raspberry compote topping.
The only thing that rivals panna cotta's taste is its texture. When properly chilled, this dessert has a melt-in-your-mouth, silky consistency that is truly unparalleled. Think of it as somewhere in between a pudding and a Mexican-style flan.
What is Panna Cotta?
You may not have heard of panna cotta before, but after trying this recipe, you won't be able to live without it. For those who haven't had the pleasure of enjoying this delicious treat, panna cotta is a traditional Italian dessert made of sweetened cream that is thickened with gelatin and molded into individual-sized servings.
The literal translation in Italian means "cooked cream", which might not sound all that appealing, but trust me it is. It has a smooth, creamy texture and is perfect to throw together either for a party, or just a relaxing night at home.
You can make the dessert plain, or flavor it in any way you want — kind of like what you would do with a basic ice cream recipe. The cream may be aromatized with coffee, vanilla, or other flavorings.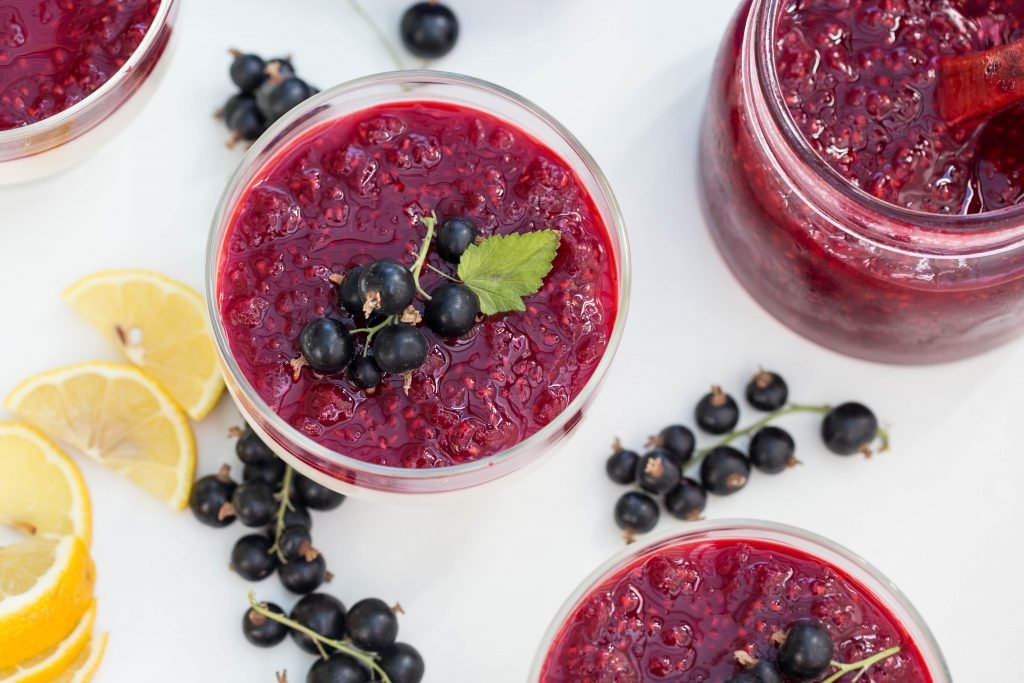 How To Make Panna Cotta
In a saucepan, combine together milk, whipping cream and sugar. Bring it to very warm temperature, but don't boil. Then in a small dish, combine gelatin with water and add the gelatin and vanilla extract into the milk mixture. Lastly, whisk in sour cream to the mixture.
Pour the mixture into serving dishes. Let it refrigerate for a few hours, until jello sets. While the mixture sets, prep the sauce to be served on top of the gelatin mixture.
Once it comes time to add the topping, this is where you can really adjust it to your own preference. You can serve it with fresh berries, blend canned fruit or make your own homemade jam. Here are some ideas:
Coconut Panna Cotta – To make this recipe a bit more tropical, you can replace the heavy cream with coconut cream. Top with toasted coconut and pineapple for a real pina colada effect.
Lemon Panna Cotta – For a slightly tart flavor addition, add the zest and juice of one lime into the gelatin mixture, then still top with the raspberry sauce for a summery treat you'll love.
Strawberry Panna Cotta – Just like the mango option, you can just simply change the raspberry topping to strawberry. You can also top it with premade strawberry pie filling to make things even easier.
Make Ahead Classic Panna Cotta
If you have an event you need to bring a dessert to and don't have time the day of to make something, this Italian panna cotta will be your new best friend.
The recipe is not make and eat immediately kind of dessert, it can be made up to 2 days prior to serving and still taste like you just finished making it as you walked out the door.
Follow the directions below for how to store panna cotta, and you'll be well on your way to a stress free entertaining.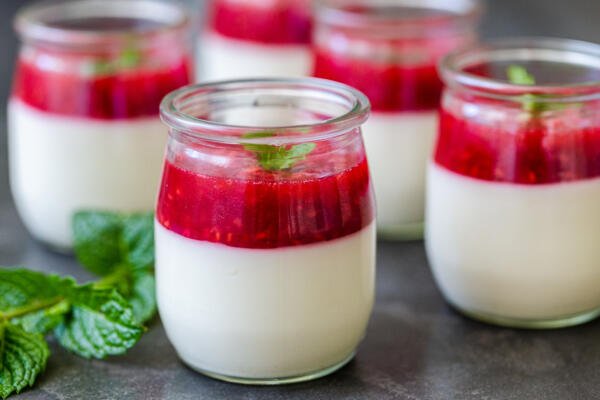 Best Place To Store Panna Cotta
Since this is a dessert made mainly with cream or milk, you'll want to keep it refrigerated if you plan on keeping any leftovers. It's best to store panna cotta in an airtight container, or on a plate and wrapped in plastic wrap or foil.
Once prepared, place in the refrigerator and eat within 5 days for best results.
Hot Tip: I personally wouldn't recommend freezing your panna cotta – it could easily spoil the perfect texture!
If you must, prepare it a day in advance. Once the gelatin sets, cover each individual panna cotta with plastic wrap tightly – this will prevent the tops from hardening and the dessert from absorbing the smells of the freezer. Remove the night before you plan to serve and allow the molds to thaw in the fridge. Decorate/top each mold according to your preference.
Other Jello Recipes
Recipe
Panna Cotta is an Italian dessert pudding that tastes as refreshing as it looks. Easy to make and perfect for preparing in advance, whip it up in the thick of summer when turning on the oven is out of the question.
Nutrition Facts
Easy Panna Cotta Recipe
Amount Per Serving
Calories 187
Calories from Fat 63
% Daily Value*
Fat 7g11%
Cholesterol 19mg6%
Sodium 42mg2%
Potassium 157mg4%
Carbohydrates 29g10%
Protein 4g8%
Vitamin A 250IU5%
Vitamin C 8mg10%
Calcium 100mg10%
Iron 1mg6%
* Percent Daily Values are based on a 2000 calorie diet.