This strawberry Jello cake recipe is a deliciously fun treat that only requires 3 ingredients. The perfect no-bake dessert for too hot to handle days!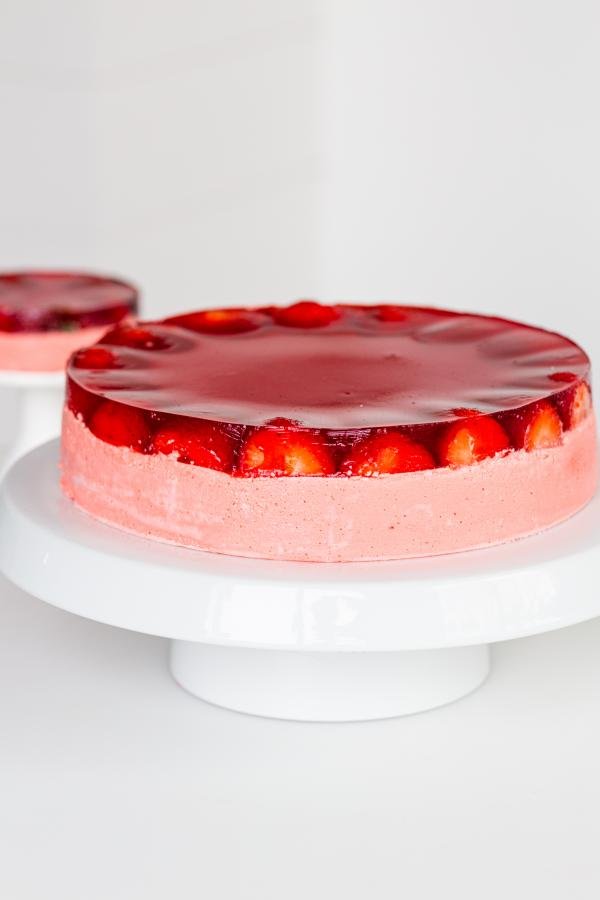 Strawberry Jello cake is perfect for any occasion and one of our go-to summer desserts! It's great for summertime barbecues, family gatherings, office pot-lucks or 4th of July. With just strawberry gelatin, Cool Whip, and fresh strawberries, it's full of fresh strawberry flavor and has the perfect creamy, refreshing bite to it.
Making Strawberry Jello Cake from Scratch
This layer cake couldn't get any easier to make and requires zero baking in the oven. It's the perfect refreshing treat when you don't want to spend a ton of time in the kitchen on a hot day!
Make the Jello: Place 6 ounces of jello mix in a large bowl and stir in one cup of hot boiling water, followed by one cup of cold water. Refrigerate the Jello mixture until it sets slightly.
Mix in the Cool Whip: Next, stir in the Cool Whip until the mixture is smooth and creamy.
Assemble the Cake: Coat a springform pan in cooking spray and transfer the whipped topping and Jello mixture inside it. Assemble the sliced strawberries around the rim of the cake and refrigerate the cake for 30 minutes.
Make the Jello Layer: Next combine 1 cup of boiled water with 3 ounces of Jello and pop it in the fridge until it cools to room temperature. Pour the mixture over the top of the cake and refrigerate the cake once more.
Remove the Cake: Lastly, remove the cake from the springform pan. Slice and enjoy!
3 Pro Tips for the Tastiest Strawberry Jello Cake
A couple of handy pro tips will help you make a perfect strawberry Jello cake.
Allow the Jello to cool before adding the top layer. When adding that top layer of Jello, make sure that the mixture cools completely to room temperature. If it's too hot, it will melt the creamy Cool Whip layer on the bottom.
Use fresh berries versus frozen. Fresh strawberries add such a nice texture to the cake. Frozen and thawed berries are simply not the same!
Keep the cake refrigerated until you plan to serve it. Jello is prone to melting at room temperature, so make sure the cake stays refrigerated until you're ready to serve it.
Different Fruits & Jello Flavors to Use
You can get very creative with this dessert. Go crazy, switch things up and use different fruits and flavors of Jello!
Pineapple flavored Jello with mango chunks
Lime flavored Jello with strawberry or raspberry pieces
Lemon flavored Jello with blueberries
Strawberry Jello with banana coins (be mindful that bananas brown faster, so plan to eat this cake within a day or two)
Cherry Jello with rainier or bing cherries
Orange Jello with canned mandarin oranges
Storing Best Practices
For best results, store the strawberry Jello cake in an airtight cake container so it doesn't absorb any lingering smells in your fridge or get damaged. If you don't have a cake container, cover it tightly with plastic wrap. When it's stored properly, it will keep for up to a week.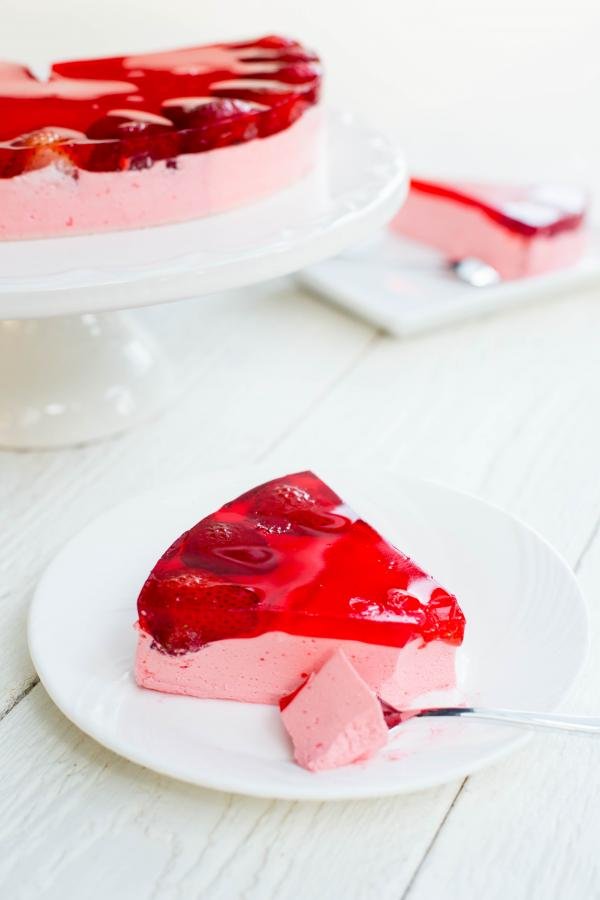 FAQ
Does strawberry Jello cake need to be refrigerated?
If Jello Cake is not refrigerated, it will turn into a mushy mess. It is important that you keep your cake in the refrigerator until you are ready to serve it. If you plan on taking it to a party, keep it in a cooler and transfer it into the fridge upon your arrival.
Can strawberry Jello Cake be frozen?
It's not a good idea to put a strawberry Jello cake in the freezer. It doesn't thaw well and the Jello will turn into a mushy mess upon thawing.
Why did my strawberry Jello cake separate?
If your Jello cake separated, it's likely due to the Jello not having enough time to firm up. You don't want to add that second layer of Jello until the whip cream layer has enough time to set.
Can you make strawberry Jello cake in a bundt pan?
Yes, you can make strawberry Jello cake in a bundt pan instead of a springform pan. That said, you'll need to make sure that it has plenty of time to set so it doesn't fall apart when you flip it over and remove it. To air on the safe side, let it set overnight.
Other Jello Desserts to Make
Still haven't had your fill of wiggly, sweet Jello? Here are a couple more of my favorite Jello recipes:
Recipe
This refreshing strawberry Jello cake is your new favorite n-bake dessert. With just Jello, Cool Whip, & fresh strawberries, it's summertime in a slice!
Ingredients
8

oz

Cool Whip or True Whip

9

oz

strawberry Jello mix

1

lb

fresh strawberries
Nutrition Facts
Strawberry Jello Cake (Only 3 Ingredients)
Amount Per Serving
Calories 121
Calories from Fat 9
% Daily Value*
Fat 1g2%
Cholesterol 3mg1%
Sodium 113mg5%
Potassium 78mg2%
Carbohydrates 27g9%
Protein 2g4%
Vitamin A 40IU1%
Vitamin C 22.2mg27%
Calcium 26mg3%
Iron 0.2mg1%
* Percent Daily Values are based on a 2000 calorie diet.