Strawberry Jello Cake is a deliciously fun treat that only requires 3 ingredients! Fruity Jello, creamy Cool Whip and fresh strawberries come together to make a cake that's oh-so refreshing.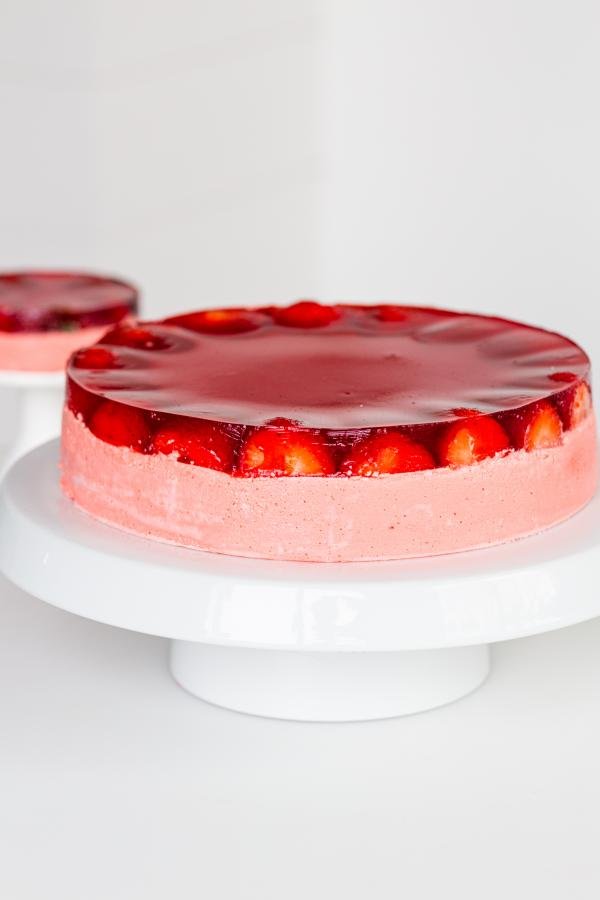 Jello Cakes are perfect for any occasion! They are great for summertime barbecues, office pot-lucks or on the 4th of July. Here at Momsdish, we are no stranger to a good, old-fashioned jello cake. Try out our Strawberry Jello Poke Cake and Jello Fruit Cake Dessert!
I know this cake screams summer, but don't limit yourself to it only during the warmer months. My kids LOVE this cake. In fact, they often request that I make it for their birthdays and school parties. Since it only requires three ingredients, I often make it for them during the week when I am in a good enough mood (haha!).
How to Make Jello Cake
This cake couldn't get any easier to make. First, you will mix up your Jello according to the package instructions. Then, you will allow the Jello to half-set in the refrigerator. Next, you will mix in your Cool Whip until your mixture is smooth and completely combined.
Grab a springform pan and fill it with your Jello and Cool Whip batter. Cut some fresh strawberries in half and place them in a ring alongside the inner edge of your pan on top of the cake. Allow the cake to set in the refrigerator for at least 30 minutes before serving.
Tip: If you don't have a springform pan, simply use a glass baking dish.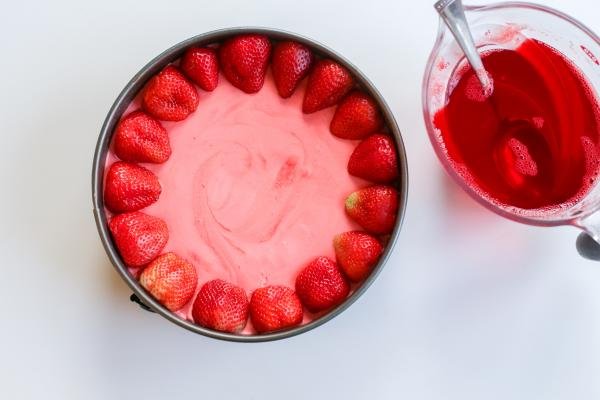 Does Jello Cake Need to be Refrigerated?
If Jello Cake is not refrigerated, it will turn into a mushy mess. It is important that you keep your cake in the refrigerator until you are ready to serve it. If you plan on taking it to a party, keep it in a cooler and transfer it into the fridge upon your arrival.
Tip: Make this cake the night before you plan to bring it to a party or pot-luck. Letting it set overnight will guarantee that it has the most stability for car travel!
How Long is Jello Cake Good for?
This cake will stay fresh for about a week when stored in an airtight container in the refrigerator. Since Jello and Cool Whip have long shelf lives, all you really need to worry about is the freshness of the fruit. If your fruit looks and tastes yummy still, don't hesitate to keep eating it past a week.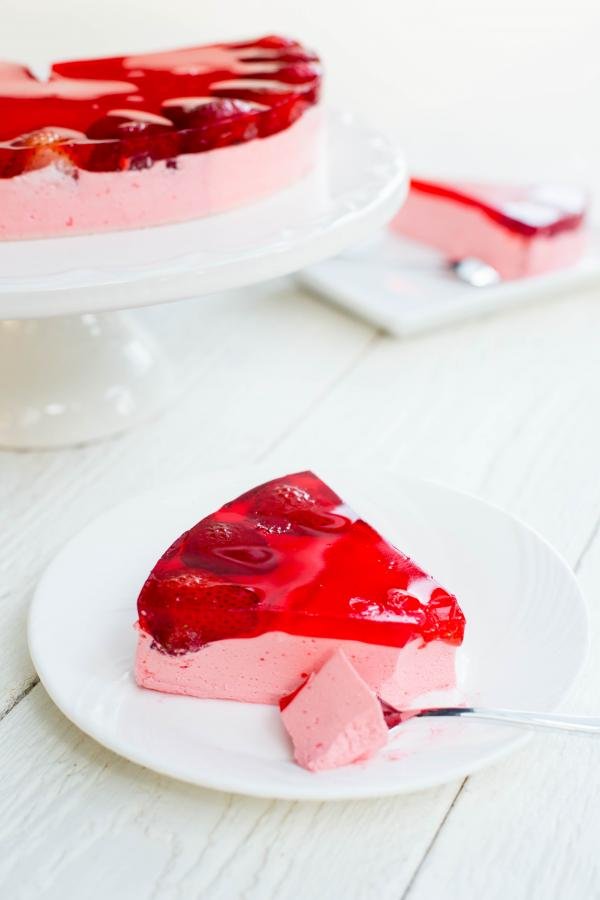 Fruits to Use in Jello Cake
You can get very creative with this dessert. Switch things up and use different fruits and Jello flavors! For my sons' birthdays, I like to make this cake using their favorite colors. It's hard to go wrong here, but I'll list a couple of my go-to flavor combinations below:
Pineapple flavored Jello with pineapple chunks
Pineapple flavored Jello with mango chunks
Lime flavored Jello with strawberry pieces
Strawberry Jello with banana coins (be mindful that bananas brown faster, so plan to eat this cake within a day or two)
Cherry Jello with Rainier or Bing cherries
Orange Jello with canned mandarin oranges
Other Jello Desserts to Make
Still haven't had your fill of wiggly, sweet Jello? Here are a couple more of my favorite Jello recipes:
Espresso Jello Shots: Layers of sweet milk and coffee Jello make for a perfect treat that will brighten up even the most gloomy day!
Panna Cotta Recipe: This is the perfect creamy dessert to make when you can't fathom turning on the oven during a hot summer day.
Birds Milk Jello Cake: A classic and refreshing Russian dessert made with sour cream and cocoa.
Recipe
Strawberry Jello Cake is a deliciously fun treat that only requires 3 ingredients! Fruity Jello, creamy Cool Whip and fresh strawberries come together to make a cake that's oh-so refreshing.
Ingredients
8

oz

Cool Whip

(or True Whip)

9

oz

strawberry Jello mix

1

lb

fresh strawberries
Nutrition Facts
Strawberry Jello Cake (Only 3 Ingredients)
Amount Per Serving
Calories 121
Calories from Fat 9
% Daily Value*
Fat 1g2%
Cholesterol 3mg1%
Sodium 113mg5%
Potassium 78mg2%
Carbohydrates 27g9%
Protein 2g4%
Vitamin A 40IU1%
Vitamin C 22.2mg27%
Calcium 26mg3%
Iron 0.2mg1%
* Percent Daily Values are based on a 2000 calorie diet.