This oatmeal raisin cookie recipe tastes just like grandma made them. They're the perfect blend of tangy raisins, spicy cinnamon, and hearty oats!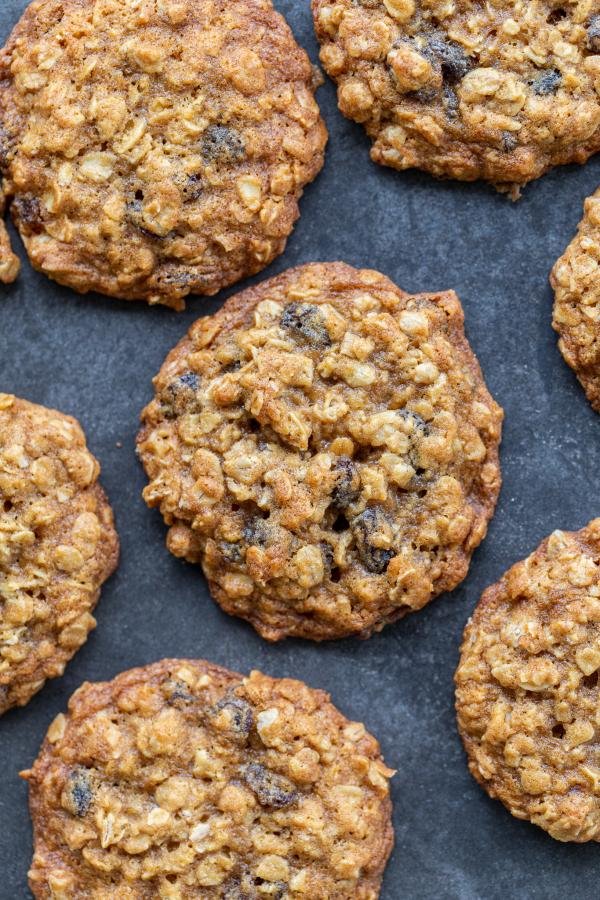 Nothing compares to the smells that will waft through your home as these cookies bake. Consider this recipe a candle and a plate of cookies all wrapped in one! As an avid baker and lover of all desserts with dried fruits and oats, I knew I had to figure out how to make the best oatmeal raisin cookies on the planet. It just had to be done. You're going to love just how moist and full of texture they are!
Using Applesauce vs. Butter
Before you get to baking, it's important to note that there are two different ways to approach this recipe: 1) using applesauce and 2) using butter. Both are equally delicious but using applesauce results in an overall healthier cookie. If you use butter, be mindful that if you over bake the cookies they will turn out especially crispy.
Choose the Right Kind of Oats
The key to making amazing oatmeal raisin cookies is choosing the right kind of oats. For the best texture, always opt old-fashioned oats or rolled oats. They hold up much better in the oven and yield a much nicer bite. A common mistake is using quick oats, which turn the texture of the cookies mushy due to their speedy cooking time.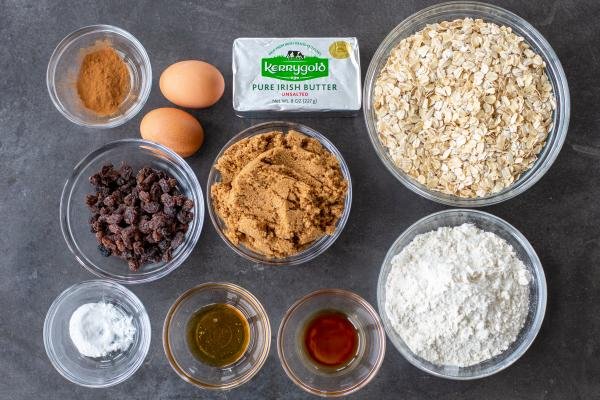 Making this Oatmeal Raisin Cookie Recipe
This 10-ingredient oatmeal cookie recipe comes together in a pinch. Below, find a simplified overview of the recipe before you dive in.
Get the Oven Ready: First things first, preheat oven to 350°F.
Mix the Wet Ingredients: Using an electric mixer, beat the butter or applesauce with the brown sugar in a large bowl, followed by the eggs, vanilla extract, and honey.
Sift in the Dry Ingredients: Using a fine-mesh sieve or flour sifter, sift the flour, baking soda, and cinnamon into the wet ingredients, mixing the flour mixture in with a spatula as you go. Lastly, stir in the rolled oats and raisins.
Portion out the Cookie Dough: Using a cookie scoop or spoon, portion out even-sized cookie dough balls and place them on a baking sheet lined with parchment paper.
Bake the Cookies: Bake the cookies for 10-15 minutes until golden brown. Place the cookies on a wire rack to cool. Enjoy!
Did you know? Most people don't know how to measure flour correctly. Instead of packing it tightly, fill the measuring cup with loose spoonfuls to prevent yourself from using too much.
3 Tips for Nailing this Oatmeal Raisin Cookie Recipe
​Sift the dry ingredients for better texture. Dry ingredients are prone to having lumps. To prevent dry pockets from forming in your cookies, sift the dry ingredients before incorporating them into the cookie dough.
Use brown sugar over granulated white sugar. Brown sugar is hands down one of the most key ingredients for any great oatmeal cookie recipe. Using it over white granulated sugar adds such a depth of flavor.
Experiment with different ingredients. If you want to add a bit more texture to your cookies, add in some chopped walnuts or pecans, or chocolate chips.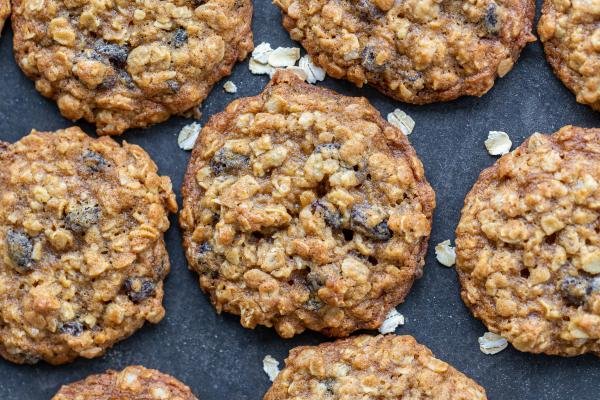 How to Store or Freeze Oatmeal Raisin Cookies
Whether you need to store a couple of leftover cookies or would like to freeze some for a rainy day, find all the top storage tips you need here.
Room Temperature: To keep cookies fresh for up to 5 days, store them in an airtight container or sealable plastic bag on the counter. This will keep them from turning stale and help them to retain their moisture.
Refrigerator (Raw): If you want to make the cookie dough a day or two in advance before baking, store it in a large bowl covered tightly with plastic wrap.
Freezer (Raw or Baked): To keep cookies on hand for up to 3 months, freeze the raw dough balls or baked cookies on a baking sheet lined with parchment paper. Once completely frozen, transfer them to a freezer-safe bag and label it with the day's date.
FAQ
Are oatmeal cookies healthy for you?
While oatmeal cookies do contain more fiber and less cholesterol and calories than most other cookies, they are still sweets at the end of the day and shouldn't be considered a health food.
Why did my oatmeal raisin cookies turn out so hard?
Overmixing the flour is a prime reason why your oatmeal cookies turned out hard. To prevent this from happening, fold the flour in with a spatula only until it's well incorporated into the wet ingredients.
Why did my oatmeal raisin cookies turn out so cakey?
A common mistake that results in cakey cookies is using too much flour or using a different flour than all-purpose (such as cake flour).
How do you know when oatmeal raisin cookies are done baking?
You'll know that the cookies are fully baked when they turn a shade of golden brown.
What gives cookies a chewy texture?
To get a perfectly chewy texture, avoid over baking the cookies. When prepared properly, they should have slightly crispy edges and a chewy center.
More Tasty Cookies to Bake
Recipe
This oatmeal raisin cookie recipe yields soft and chewy cookies each and every time. Packed with tender raisins and earthy rolled oats!
Nutrition Facts
Easy Oatmeal Raisin Cookies Recipe
Amount Per Serving
Calories 141
Calories from Fat 54
% Daily Value*
Fat 6g9%
Cholesterol 23mg8%
Sodium 85mg4%
Potassium 82mg2%
Carbohydrates 20g7%
Protein 2g4%
Vitamin A 176IU4%
Vitamin C 1mg1%
Calcium 17mg2%
Iron 1mg6%
* Percent Daily Values are based on a 2000 calorie diet.