Shortbread cookies are so simple, yet so tasty. Buttery, crispy and decadent, these cookies are perfect in their purest state or dressed up with your favorite ingredients.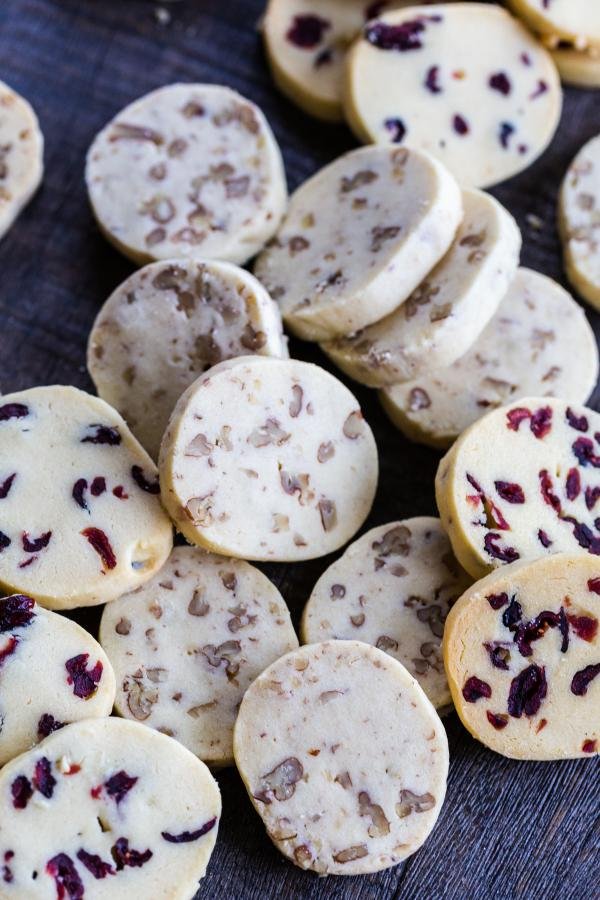 Shortbread cookies got their name because of the "short" development of the gluten. Typically, cookies have an added liquid (like milk) that creates a moist texture. But, since shortbread cookies don't require a liquid, they are tender and crumbly. Oh, and they melt in your mouth too 😊.
They are awesome paired with your favorite tea or coffee. Yes, I'm talking "tea time". And, since they are so simple, you can easily adapt these cookies by adding in your favorite nuts, dried fruits or chocolates. Read on to learn about some of my favorite variations!
Are Shortbread Cookies and Sugar Cookies the Same?
Both sugar and shortbread cookies are "hit-the-spot" simple and delicious. But what's the difference between the two? Well, sugar cookies have a higher ratio of flour to fat, giving them a sturdier texture. This makes them perfect for making those fun cut-outs of snowmen and Santa Claus during the holidays. On the other hand, shortbread cookies have a higher ratio of fat to flour, making them super buttery and flaky.
Tips for Shortbread Cookies
Don't overwork the dough. Overworking your dough will make for tough shortbread cookies instead of crumbly and tender ones. To prevent this, cream together the sugar and butter before you add it to the flour.
Use a good quality, European butter. European butters are great because they contain more fat than American brands. My favorite brands are Kerrygold and Pulgra.
Let your butter get soft. Use room temperature butter for easier mixing. But, don't use melted butter. It will result in spreading and shapelessness.
Don't skip the salt. The best of the shortbread cookie flavor is brought out by adding a touch of salt. I like to add about ¾ of a tablespoon, but feel free to add a little bit more if you especially like the contrast of sweet and salty.
Pierce your shortbread with a fork. You may have seen fork piercings in shortbread before. The reason for this is to promote even, internal cooking. Adding some holes before baking will ensure that some parts aren't underbaked, while others are dry and overcooked. It also just looks cute!
Different Varieties of Shortbread Cookies
Like I said above, shortbread cookies are the perfect base for switching things up! Here are some of my favorite variations:
Orange Zest: Add in the zest of two large oranges to make a citrusy variation to your standard shortbread.
Cranberry and Orange: Add in ½ cup of dried cranberries and the zest of one orange. This variation screams the holidays!
Chocolate Dipped: Allow your shortbread cookies to completely cool. Melt 1 cup of semi-sweet chocolate chips with 2 tablespoons of shortening in the microwave for 1 to 1 ½ minutes or until smooth. Dip half of your cookie in the chocolate and set it on a baking sheet lined with waxed paper to set.
Nut Bits: Follow the directions for chocolate dipped shortbread cookies, but dip the chocolate half in chopped nuts before placing it on wax paper to set. Use pecans, walnuts or hazelnuts.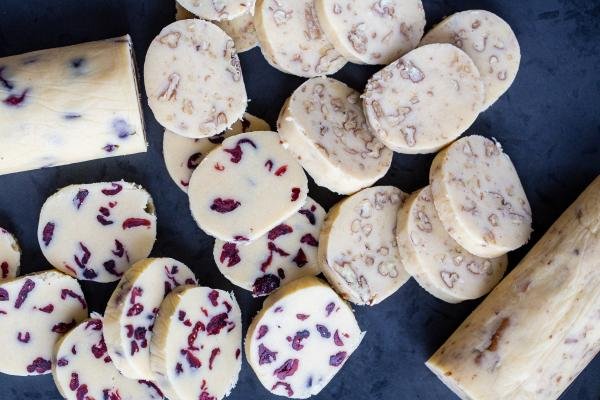 Other Holiday Cookies
Storing Shortbread Cookies
Shortbread cookies can be made ahead of time and stored in various different ways. Here's what you need to know:
Room Temperature
Store shortbread cookies in an airtight container on the counter. They will last up to a week.
Refrigerating
Store cooked shortbread cookies in an airtight container in the fridge for up to ten days. You can store uncooked dough in the fridge for 2-3 days before baking. Make sure you wrap the dough tightly in plastic wrap.
Freezing
You can freeze your shortbread cookie dough for later use by wrapping it tightly in plastic wrap and storing it in a freezer-safe bag or airtight container. It will last up to three months.
Recipe
These shortbread cookies are so simple, yet so tasty. Buttery, crispy and decadent, they're perfect during the holidays and year round!
Nutrition Facts
The Best Shortbread Cookies Recipe
Amount Per Serving
Calories 87
Calories from Fat 45
% Daily Value*
Fat 5g8%
Cholesterol 20mg7%
Sodium 8mg0%
Potassium 16mg0%
Carbohydrates 9g3%
Protein 1g2%
Vitamin A 138IU3%
Calcium 5mg1%
Iron 1mg6%
* Percent Daily Values are based on a 2000 calorie diet.