Sugar cookies just hit the spot. They always have! This recipe keeps it simple and yields the best sugar cookies each and every time.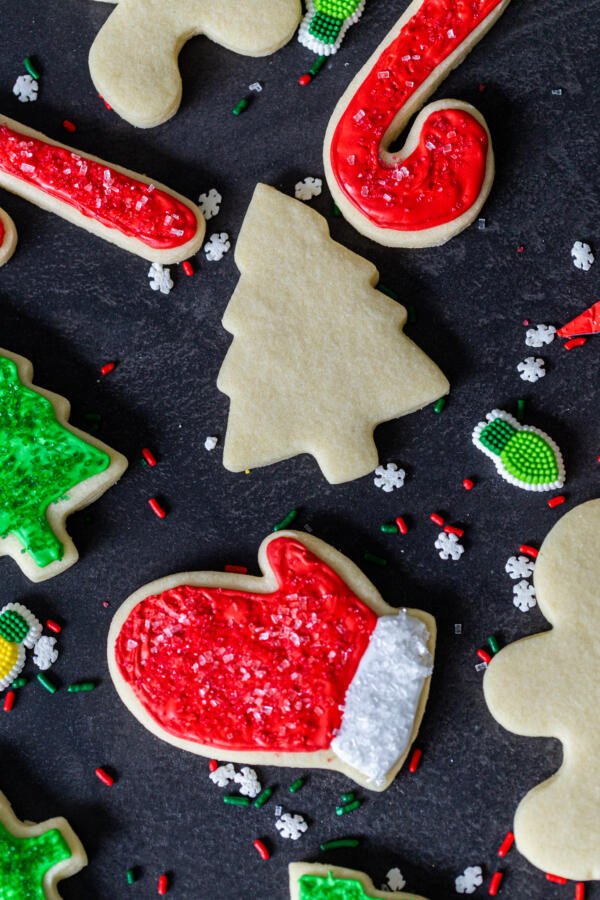 This is the ultimate sugar cookies recipe! It requires no chilling and the cookies keep their shape when baking.
Sugar cookies are sweet, simple and perfect for holiday baking. In under 15 minutes of prep time, you will have a dough that you can rely on for all that holiday baking you have to do.
Whether you are creating fun shapes or making a classic round cookies, sugar cookies are the most versatile cookies out there. You can dip them in chocolate and cover them in nuts, decorate them into snowmen or eat them plain. Whatever you do, be prepared to free your inner child!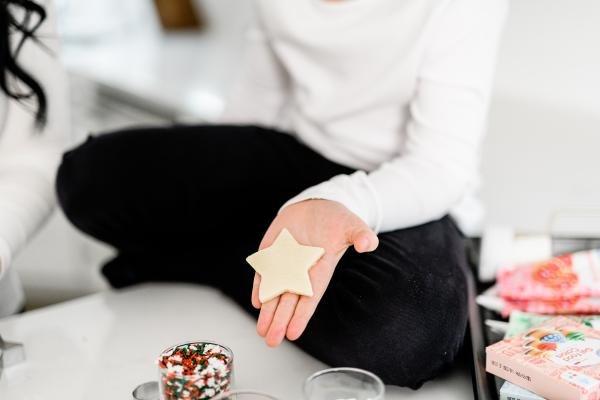 Sugar Cookies
There is rarely an occasion that sugar cookies don't fit seamlessly into. It is so important to have the perfect sugar cookies recipe in your back pocket. I love this recipe because it's easy, reliable and so darn tasty.
With Christmas right around the corner, you are probably planning on hosting or attending a party. Take the guesswork out of what to bring and make a batch of sugar cookies! Everyone loves them and you can get super festive and decorate them according to the season. Read on for my best tips and tricks for making this classic cookie!
How Sugar Cookies are Made
Prepare your ingredients and make sure your butter is softened at room temperature. In a small pan, combine the flour and baking powder.
Beat butter with sugar until smooth. Add in egg and vanilla extract and whip until combined.
Stir in flour mixture to butter mixture in small parts.
Beat until the dough turns crumbly.
Divide dough into small portions and roll to 1/4 inch thickness. Use a cookie cutter to cut your favorite shapes.
Bake cookies at 350°F for about 8 minutes.
Let cookies cool to a room temperature. Decorate and enjoy!
Tips for Making Sugar Cookies
Use real butter. Do not use any kinds of substitutes like margarine, vegan butter or spreadable stuff. Only real butter works in this recipe!
Fully mix batter. Be sure that the dough is full incorporated and smooth. You don't want any lumps of flour or butter!
Use room temperature butter. For a smooth and consistent dough, allow your butter to reach room temperature before you mix up you batter.
Don't over bake your cookies. It might seem short, but only bake your cookies for 8 minutes. They may look underbaked, but trust me, they will harden as they cool and reach room temperature.
Allow your dough to reach room temperature prior to baking. If you plan on refrigerating your dough for later use, make sure you bring it to room temperature before baking. If you don't, the cold dough will be shocked by the heat of the oven, causing uneven baking and burning.
If your dough is too crumbly, knead it with wet hands. If your dough is crumbly and falling apart, knead the dough with wet hands until it is nice and smooth.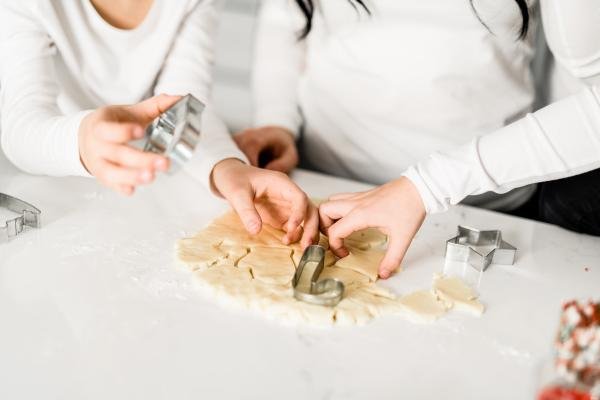 Freezing Sugar Cookies
There are two ways to freeze sugar cookies: baked or unbaked. I prefer freezing the unbaked dough because you will preserve that freshbaked flavor. But, you can definitely freeze baked cookies as well. Here's how to do both:
Baked Cookies
First, bake your cookies according to the instructions. Then, allow them to cool completely. Store cookies between layers of parchment paper in an airtight container. You can freeze cookies for up to 2 months. Allow them to thaw in the refrigerator overnight when you're ready to eat them.
Unbaked Cookies
To freeze your dough, simply roll it into a ball or a log. Wrap it tightly in plastic wrap and store it in an airtight container. Freeze the dough for up to 2 months. When you are ready to bake, allow the dough to thaw in the refrigerator overnight. Then, make sure it reaches room temperature before you shape your cookies and bake them.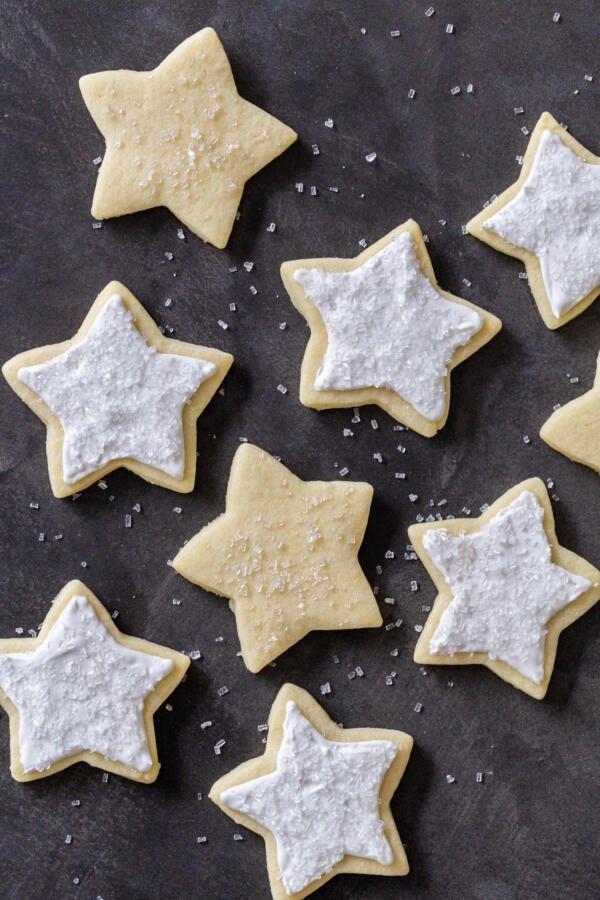 FAQ
What thickness should sugar cookies be?
Roll your sugar cookies to about 1/4-inch thickness. Keep in mind that the thicker you roll them, the longer they will take to bake. Add a couple minutes and keep a close eye for when they turn slightly golden.
What do sugar cookies mean?
Sugar cookies are classic, standard cookies made with a sweet and neutral dough. They are perfect eaten plain or decorated with frosting and sprinkles.
Why are my sugar cookies puffy?
Adding too much sugar and butter can cause your cookies to spread and lose their shape. This creates a puffy texture that can result in a cookie that's hard to decorate.
How long in advance can I make sugar cookies?
See instructions above for freezing your dough ahead of time. Always try to bake your cookies day-of for the freshest flavor. However, the day before will be just fine too.
Other Amazing Cookies You Will Love
Recipe
Sugar cookies just hit the spot. They always have! This recipe keeps it simple and yields the best sugar cookies each and every time.
Nutrition Facts
THE Perfect Sugar Cookies
Amount Per Serving
Calories 96
Calories from Fat 45
% Daily Value*
Fat 5g8%
Cholesterol 16mg5%
Sodium 3mg0%
Potassium 43mg1%
Carbohydrates 12g4%
Protein 1g2%
Vitamin A 150IU3%
Calcium 16mg2%
Iron 0.5mg3%
* Percent Daily Values are based on a 2000 calorie diet.