These angel wing cookies, aka Polish "chrusciki", are the perfect combination of crunchy, airy, and sweet. Perfect for a holiday tray or year-round!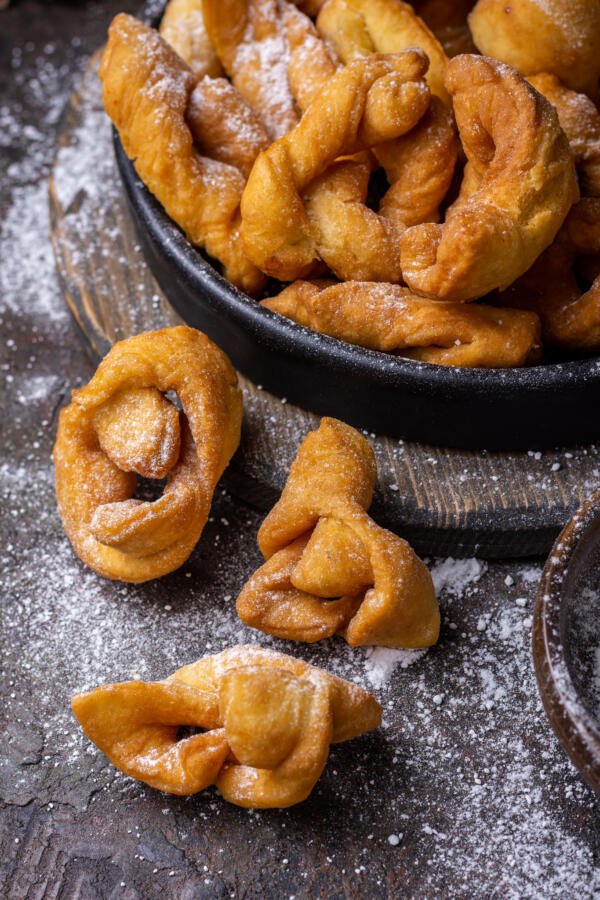 Angel wing cookies, aka chrusciki or kruschiki, are popular Polish cookies typically served around Christmas time or before the start of Lent. In English, chrusciki translates into "crunchies" – a perfect description for these sweet, deep-fried morsels!
I'm a huge fan of traditional Polish recipes, but these angel wing cookies have to be one of my favorite treats to make. Not only do they look like little adorable bow ties, but they also melt in your mouth. They are the epitome of simple, delicious baking!
What are Angel Wing Cookies Made of?
Angel wing cookies, or chrusciki or kruschiki, are made with a simple dough of sour cream, eggs, milk, sugar, flour, baking soda, and salt. Then, the dough is rolled out into a thin piece, formed into bow tie shapes, and deep-fried. After coming out of the frying oil, they are dusted with a generous sprinkling of powdered sugar.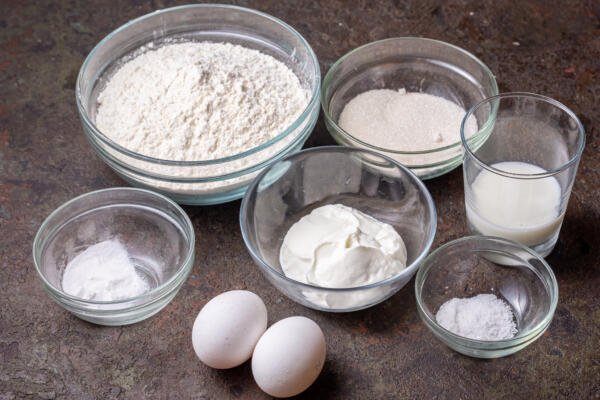 Polish Chrusciki Video
How to Make Polish Chrusciki
Making angel wing cookies requires a couple of simple steps and a little technique. Below, find a quick overview of the recipe before you hop in.
Mix the Dry and Wet Ingredients: In a large bowl, stir the flour, sugar, baking soda, and salt together. Set aside. Next, whisk the eggs, milk, and sour cream together in another bowl. Then, slowly add the wet ingredients to the dry ingredients until well-combined.
Work the Dough: Using your hands, work the dough on a floured surface until you get a smooth texture. Set it aside for 15 minutes.
Preheat the Oil: To prep for deep-frying, preheat a deep skillet with oil over medium-low heat.
Shape the Cookies: Next, roll the dough out into a thin, flat piece on our floured surface. Using a sharp knife, slice it into long, 1-inch thick strips. Slice across the strips horizontally so you get 4-inch long strips and cut a slit into the center of each. Finally, take one end of each strip and thread it through the slit to form the cookie.
Fry the Cookies: Deep-fry the cookies in small batches until they turn golden brown. Then, remove them and place them onto a plate covered with a paper towel to drain.
Dust them with Sugar: Dust the cookies with a generous amount of powdered sugar/confectioner's sugar. Enjoy!
Tips & Tricks
Below, find a couple of tips and tricks to help you make chrusciki as good as a Polish grandma.
Sift the dry ingredients. To remove any lumps that could affect the texture of your cookies, use a flour sifter or a fine mesh sieve when combining the dry ingredients.
Let the cookies dry for a couple of minutes before powdering. Give the cookies a couple of minutes to drain of any excess grease on the paper towel before you dust them with powdered sugar. This will ensure you get a pretty, white dusting versus having the grease soak up the sugar.
Eat the cookies immediately. Like most deep-fried sweets, these cookies are best eaten as fresh from the fryer as possible.
Finish them with a lemon zesting. For a citrusy, summertime spin on these cookies, toss them with a bit of lemon zest.
How to Store Angel Wing Cookies
Room Temperature: Store chrusciki in an airtight container lined with parchment paper or wax paper at room temperature. They should keep for up to a week.
Freezer: You should never freeze deep-fried chrusciki, as they don't thaw well. However, you can freeze raw chrusciki. To do so, assemble them on a baking sheet lined with parchment paper. Next, pop the baking sheet into the freezer. Once completely frozen, transfer the cookies into a freezer-safe bag and store them for up to 3 months. Fry them as directed.
Reheating Tip: While eating fresh-out-of-the-fryer chrusciki is always recommended (you just can't beat it!), you can always reheat them by popping them in the oven or air fryer for 5 minutes for optimal crispiness. Never microwave them or they will turn soggy!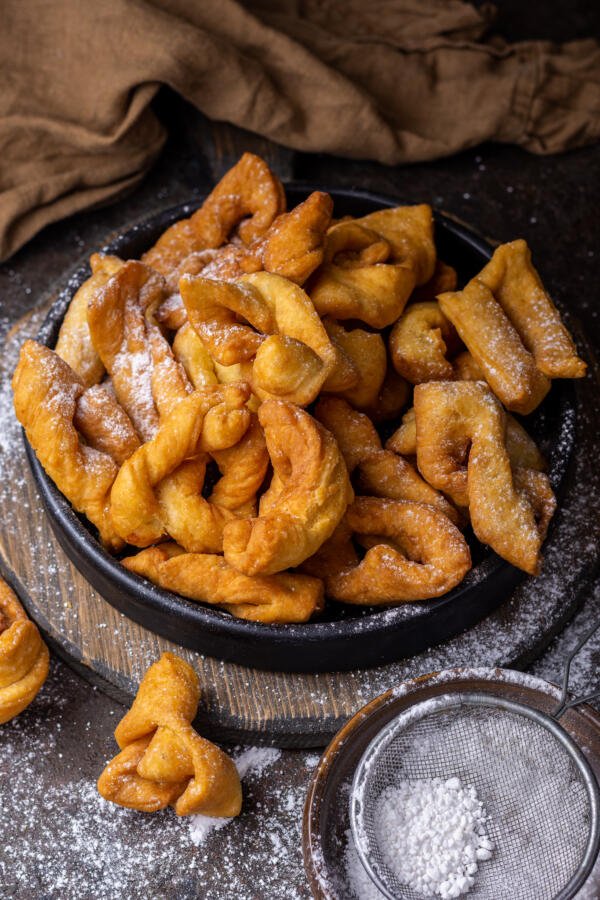 FAQ
What country is chrusciki from?
Chrusciki originated from Poland. They are closely associated with the feasting of Tłusty Czwartek or Fat Thursday before Lent begins.
What are some other names that chrusciki go by?
Polish chrusciki are also called kruschiki, chrust faworki, faworki, chrusty, angel wing cookies, crisps, crullers, and bow tie cookies.
How long does it take to make chrusciki?
It takes just under an hour to make chrusciki. The most time-consuming part of the process is making the dough and forming the cookies.
Can I make chrusciki with store-bought puff pastry?
You can make chrusciki with store-bought puff pastry if you're looking for a shortcut. You'll need to roll the dough out as thinly as possible and opt for baking the chrusciki versus deep-frying them.
Can I bake chrusciki instead of deep-frying them?
You can bake chrusciki, but they won't have as good a texture or taste. To do so, assemble them 2 inches apart on a baking sheet lined with parchment paper. Bake at 375º for 13-15 minutes or until they turn golden brown. After you take them out of the oven, dust them with powdered sugar immediately.
Other Eastern European Cookies to Try
Recipe
These angel wing cookies, aka Polish "chrusciki", are the perfect combination of crunchy, airy, and sweet.
Nutrition Facts
Angel Wing Cookies
Amount Per Serving
Calories 43
Calories from Fat 9
% Daily Value*
Fat 1g2%
Cholesterol 8mg3%
Sodium 73mg3%
Potassium 15mg0%
Carbohydrates 8g3%
Protein 1g2%
Vitamin A 26IU1%
Vitamin C 1mg1%
Calcium 6mg1%
Iron 1mg6%
* Percent Daily Values are based on a 2000 calorie diet.