These decadent Nutella cookies are gooey, crunchy, and scrumptious. Each chocolate cookie is filled with a generous dollop of Nutella and sprinkled with nuts!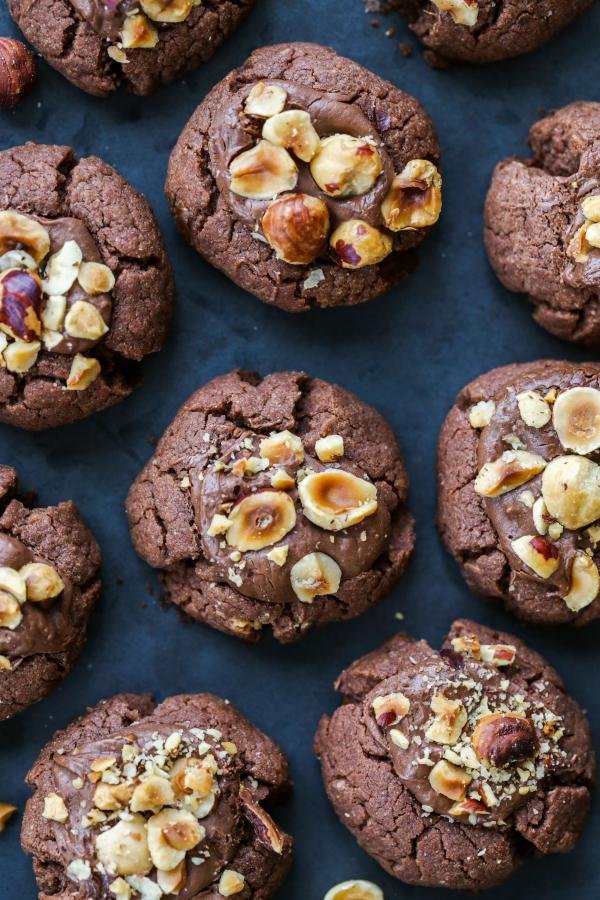 Nutella is so awesome to bake desserts with because it holds its shape and taste in the oven so wonderfully. It won't melt or spill over the sides of your cookie, making it the perfect filling to stand up to heat. This is just one of the many, many reasons that you'll fall fast and hard for each bite of these crazy easy Nutella cookies!
What is Nutella? Nutella is a super popular European chocolate hazelnut spread. You'll find it sold in a jar near the peanut butter in most grocery stores.
How to Make Chewy Nutella Cookies with 4 Ingredients
The best part of making this Nutella cookie recipe is that you don't even have to bust out your stand mixer. All you need is a large bowl and a wooden spoon to make a batch!
Make the Quick Dough: In a bowl, combine the egg, all-purpose flour, and Nutella until smooth. Next, cover the bowl of dough with plastic wrap and let it rest for 15 mins at room temperature.
Shape & Assemble the Cookies: Roll the cookie dough into evenly sized balls in your hands. Using your thumb, press a well into the center of each dough ball. Fill it with a bit of Nutella and chopped nuts.
Bake the Cookies: Pop the cookies in the oven at 350°F for 10 minutes. Allow the cookies to cool a bit and gobble them up!
3 Top Tips & Tricks
A couple of handy tips and tricks will help you make bakery-worthy Nutella cookies.
Mix the dough until it's completely smooth. You'll want to make sure to stir the dough until it's completely smooth and consistent throughout. You'll want to avoid any pockets of flour, as they will affect the overall texture of the baked cookies.
Make sure the dough balls are similar in size. To promote even-baking, portion out the dough balls into as evenly-sized pieces as possible. If you want to take the guesswork out completely, enlist the help of a cookie scoop.
Don't over bake the cookies. To prevent the cookies from losing that chewy texture, avoid over baking them. They might look a little undercooked after 10 minutes, but they will harden at room temperature.
Different Variations for Nutella Cookies
Looking to make these Nutella cookies your own? There are so many fun little variations you can play around with each time you make them.
Chocolate Chips: Add in your favorite chocolate chips to the cookie dough – we like semi-sweet chocolate chips or dark chocolate chips the most!
Sea Salt Flakes: Add a sprinkle of coarse sea salt on top of the cookies to create a nice sweet and salty flavor. Maldon is our favorite brand!
Sprinkles: If you're making the cookies for kids, swap out the chopped hazelnuts for rainbow sprinkles.
Storing & Freezing Nutella Cookies
There are three different ways you can store your Nutella cookies – on counter, in the fridge, or in the freezer.
Room Temperature: If you plan to eat your cookies within 5 days (trust me, it's not hard!), store them on the counter in an airtight container.
Refrigerator: If you want your cookies to last longer, you can store them in the fridge in an airtight container for up to 10 days.
Freezer: To freeze your baked cookies, first allow them to cool completely at room temperature. Next, assemble them in a single layer on a baking sheet lined with parchment paper. Pop the sheet in the freezer until the cookies are completely frozen. Transfer them to a plastic storage bag for up to three months. To thaw, allow the cookies to sit at room temperature for a couple of hours.
FAQ
Can you make Nutella cookie dough a day in advance?
Yes, you can whip up the dough for Nutella cookies a day in advance and chill it in the refrigerator overnight in a covered bowl. The next day, pull the chilled dough of the fridge and give it at least 30 minutes to sit at room temperature before shaping the cookies.
What's the key to baking gooey Nutella cookies?
The key to getting gooey Nutella cookies is to not over bake them. The longer they are in the oven, the more prone they are to drying out and turning hard.
Can you freeze the the dough for Nutella cookies?
Yes, you can freeze the dough for Nutella cookies by rolling it into a log and wrapping it tightly in plastic wrap. To prevent freezer burn, pop the wrapped log into a plastic storage bag. To thaw it, simply place the log in the fridge for a couple of hours. When stored properly, the dough will last up to a month.
What should you like the baking sheet with when making Nutella cookies?
When baking Nutella cookies, line the baking sheet with either parchment paper or a silicone baking mat. This will prevent the Nutella from burning and sticking to the bottom of the pan.
More Tasty Nutella Treats to Try
Recipe
These Nutella cookies only require four, simple ingredients – flour, egg, Nutella, and chopped nuts. The perfect dessert to whip up on those lazy days!
Ingredients
For the Filling
1/2

cup

Nutella

1/2

cup

chopped hazelnuts
Instructions
Cover the bowl of dough with plastic wrap and let it rest for about 15 minutes on the counter at room temperature. In the palm of your hands, roll evenly sized balls of dough. Using your thumb, form a well in the center of the dough. Fill it with a dollop of Nutella and top it off with some chopped nuts.
Nutrition Facts
Easy Nutella Cookies (Only 4 Ingredients)
Amount Per Serving
Calories 146
Calories from Fat 72
% Daily Value*
Fat 8g12%
Cholesterol 8mg3%
Sodium 11mg0%
Potassium 99mg3%
Carbohydrates 17g6%
Protein 2g4%
Vitamin A 10IU0%
Calcium 25mg3%
Iron 1.2mg7%
* Percent Daily Values are based on a 2000 calorie diet.