Bacon Wrapped Asparagus is so effortless and will be your new favorite side dish. With just a few ingredients, you get the most simple, yet delicious flavor.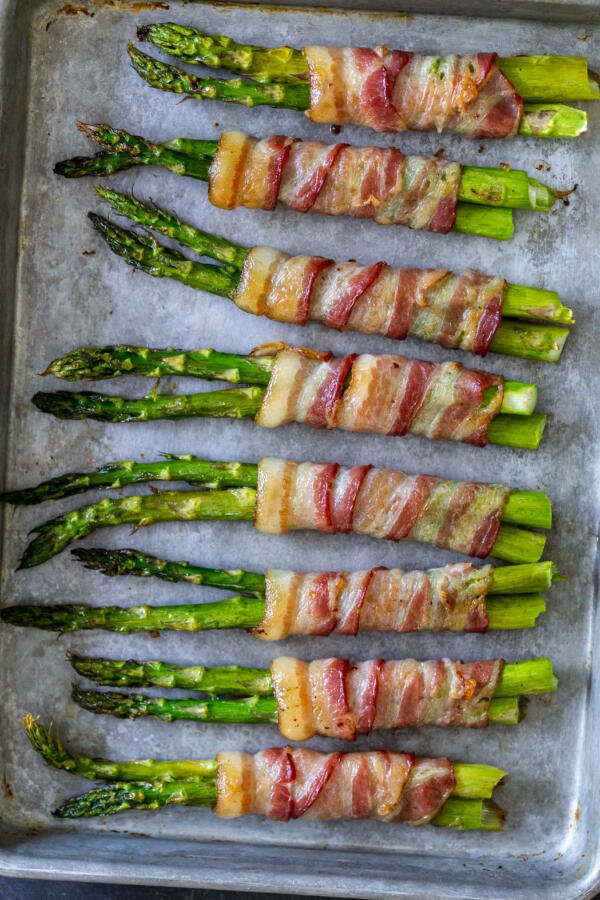 The pairing of bacon and asparagus is a classic match made in heaven. There's just something so perfect about the balance of fat with the early flavor of this quintessential summertime veggie.
Bacon wrapped asparagus are the perfect accompaniment to a fancy steakhouse dinner at home. Whether you are cooking for your loved one on Valentine's Day or trying to impress important guests, pair these delicious bites with pan-fried rib eye and mashed potatoes.
Now that you have your 5-star restaurant menu planned, let's get started!
Tips For Bacon Wrapped Asparagus
Trim or Snap Off the Ends – Either cut off or snap off the raw, lightly colored ends of each asparagus stalk. Since the stalk gets weaker at the point where you want to cut it off, the snapping method is preferred as it will result in a natural break.
Pairing Bacon with Asparagus – Some asparagus stalks are thin, while others are much more thick. Depending on the size, you may want to add more or less asparagus to each bacon wrap. It's perfectly fine if you're a bacon addict and want to use a one-to-one ratio here. No one is judging you here…
Seasoning – you can season with paprika, pepper, garlic or onion powder but no need to season with salt, it will come from the bacon.
Toppings – Serve your bacon and asparagus straight up, or serve it with a sprinkle of parmesan cheese or crunchy shallots. You could even use a drizzle of a balsamic glaze.
Swap Out Bacon – If you happen to have prosciutto on hand, it will work great too. Just know that prosciutto cooks much quicker than bacon. Roast your asparagus for 15 minutes on its own, then pull it out of the oven. Let it cool down a bit before you wrap it with the prosciutto (you don't want to burn your hands!). Then, wrap it with the prosciutto and finish it in the oven for 8 more minutes.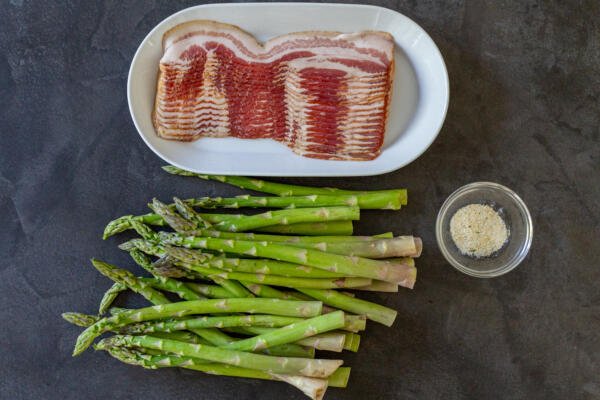 How to Make Bacon Wrapped Asparagus
As stated above, there are a few different approaches to making your bacon wrapped asparagus. Here's how to pull it off perfectly each time:
Preheat your oven to 400℉. Line a baking sheet with parchment paper for an easy clean-up.
Cut or snap off the ends of each stalk. Place your spears in a large bowl and toss with olive oil, salt and pepper until evenly coated.
Count your spears and divide them into even piles (2-3 stalks per bunch). Starting at the center, wrap each bundle with a raw bacon strip, overlapping the layers and tightly securing the end piece. Again, feel free to wrap a single spear in bacon if you prefer!
Place the bacon-wrapped asparagus seam-side down on the parchment paper.
Bake for 20-25 minutes in the oven, or until the bacon is nice and crisp. Serve hot or at room temperature. Alternatively, you can also cook your bacon-wrapped asparagus in the air fryer or on the stovetop.
Air Fryer Bacon Wrapped Asparagus
If you have an air fryer, preheat it to 400℉ and cook your bacon wrapped asparagus for 15 minutes. This method is awesome for nights when you want minimal clean-up.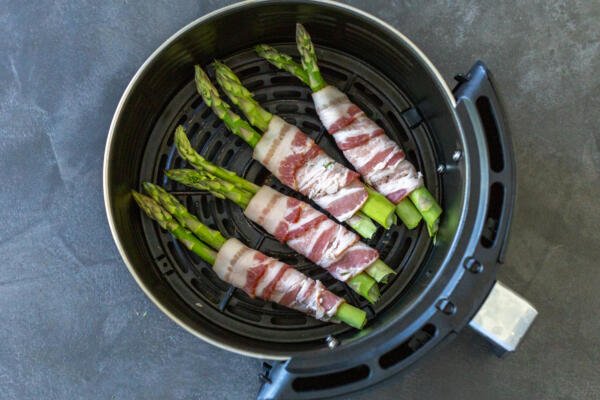 Stove Top Bacon Wrapped Asparagus
You can also pan fry your bacon wrapped asparagus directly on the stove top. This method is quick, but beware, you might have to deal with a bit of bacon splatter! Use a deep, cast iron skillet with a lid if you have one. Crisp up the bacon (about 5 minutes per side) and keep the lid on while frying so your asparagus steams and softens.
More Asparagus Recipes
Oven Roasted Asparagus – Everyone needs a go-to, simple oven roasted asparagus recipe. With just three ingredients, this side dish is delicious in its simplicity.
Air Fryer Asparagus – Crispy, quick and perfect every time. Your air fryer will prove its weight in gold with this recipe.
Chicken and Mushrooms with Asparagus – Looking for a simple weeknight dinner that's healthy and satisfying? This quick dinner packs a punch and hits the spot.
Recipe
Bacon wrapped asparagus is so effortless and will be your new favorite side dish. With just a few ingredients, you get the most simple, yet delicious flavor.
Instructions
Nutrition Facts
Bacon Wrapped Asparagus
Amount Per Serving
Calories 265
Calories from Fat 207
% Daily Value*
Fat 23g35%
Cholesterol 37mg12%
Sodium 668mg28%
Potassium 341mg10%
Carbohydrates 5g2%
Protein 10g20%
Vitamin A 878IU18%
Vitamin C 6mg7%
Calcium 30mg3%
Iron 3mg17%
* Percent Daily Values are based on a 2000 calorie diet.