This chicken asparagus mushroom stir-fry is a low-carb dinner you'll crave. With a tasty seasoning of garlic & lime, it's a dish worthy of being on repeat.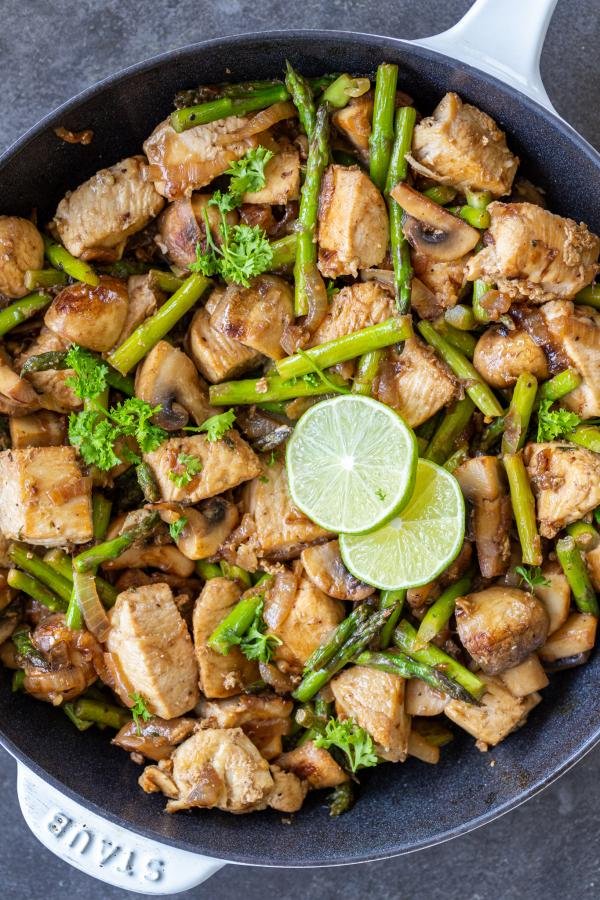 If you're looking for a simple dinner that's packed with enough protein and veggies to keep you full, this chicken asparagus mushroom stir fry fits the bill. Serve it as-is for a healthy carb-free meal or on top of your favorite bowl of steamed grains.
Choosing the Right Kind of Chicken
Before you dive into the recipe, let's chat about a couple of cuts of chicken that work best for this recipe.
Chicken Tenders (Our Favorite!): We love using chicken tenders for this recipe because they're ridiculously juicy and tender.
Boneless Skinless Chicken Thighs: Our next favorite cut, chicken thighs have a good amount of dark meat and add a richness to the stir fry.
Chicken Breast: Chicken breast is also a great option, but be extra careful not to overcook it. It's prone to drying out and getting tough!
Hot Tip: The safe internal temperature of chicken is 165°F. If you're unsure about doneness or you kept your chicken slices a bit thicker, use an instant-read meat thermometer.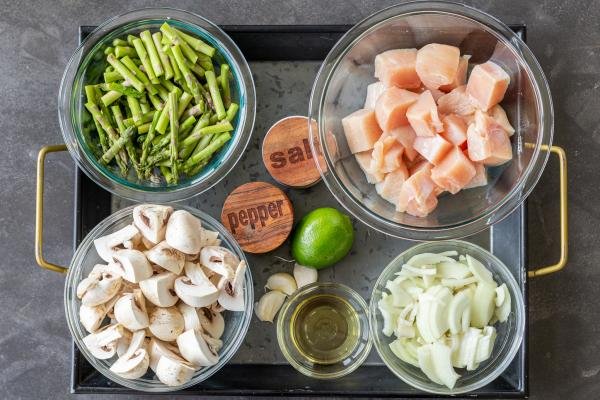 Preparing this Chicken Asparagus Mushroom Stir Fry
To whip up this simple stir fry, you'll cook the ingredients in heats to make sure they don't over or undercook.
Slice & Brown the Chicken: First, slice the chicken into even-sized pieces. In a skillet over medium heat, brown the chicken in a bit of olive oil. Remove the chicken from the pan and set it
Dice the Veggies: Next, dice the mushrooms, onion, and asparagus into large pieces.
Sauté the Veggies: Pop the veggies in the skillet and brown them with sea salt and black pepper. Stir in the asparagus to the mixture and cook the veggies for about 2 minutes longer.
Add in the Chicken: Next, stir in the browned chicken, press in the garlic cloves, and squeeze in the lime juice. Cook for an additional 5 minutes to meld the flavors together and enjoy!
3 Tips for the Best Chicken Asparagus Mushroom Stir Fry
To help you make the best chicken stir fry, follow a couple of tried and true tips.
Brown the chicken for extra flavor. Browning the chicken adds SO MUCH flavor to the dish and also locks in a wonderful texture to the chicken. Don't skip this step!
Tweak the seasoning as you see fit. Depending on how you're serving the dish, tweak the seasoning accordingly. If you want it Italian-style, add in some dried oregano and a bit of white wine and finish the dish with a sprinkle of parmesan cheese. If you want it to be Asian-inspired, add in some soy sauce and sesame oil.
Add in different vegetables. This dish is perfect for clearing out your produce box, so go crazy! A couple of great options include green or red bell peppers, broccoli, carrots, or cabbage.
Ideas for Serving
Serve the dish as-is or on top of your favorite grain or starch. Steamed white rice, quinoa, buckwheat, or farro are our favorites. If you want to go more decadent and comforting, pair the dish with creamy mashed potatoes.
Storage Best Practices
To keep the dish fresh for up to 5 days, store it in an airtight container in the fridge. To reheat, pop it in the microwave for a couple of minutes or back in the skillet with a bit of oil until warmed through.
FAQ
Can you use lemon juice instead of lime juice in chicken asparagus stir fry?
Yes! You can swap lemon juice in for the lime juice in chicken asparagus stir fry for the same citrusy effect. This is especially good if you're going for an Italian-themed dinner!
What other cuts of meat can you use in stir fry besides chicken?
If you aren't in the mood for chicken, swap in skirt steak, ribeye, pork tenderloin, or even shrimp. The sky's the limit and you can't go wrong!
Does chicken asparagus mushroom stir fry have any carbohydrates?
If you follow the recipe to the T, it is 100% carb-free. Go ahead and have that second serving with zero guilt, friend!
More Chicken Dinners to Try
Recipe
This delicious chicken asparagus mushroom recipe is a simple, yet delicious stir fry recipe. Perfect for hectic weeknights, low-carb diets, and then some!
Ingredients
2

lbs

boneless skinless chicken

1

lb

mushrooms

1

yellow onion

quarter ring

1

lb

asparagus

1

tbsp

salt

to taste

1

tsp

ground black pepper

1

tbsp

oil

for frying

3

garlic cloves

1

lime

juiced
Nutrition Facts
Chicken and Mushrooms with Asparagus Recipe
Amount Per Serving
Calories 246
Calories from Fat 81
% Daily Value*
Fat 9g14%
Cholesterol 144mg48%
Sodium 1304mg54%
Potassium 812mg23%
Carbohydrates 9g3%
Protein 34g68%
Vitamin A 616IU12%
Vitamin C 11mg13%
Calcium 47mg5%
Iron 3mg17%
* Percent Daily Values are based on a 2000 calorie diet.