This baked oatmeal recipe is somewhere in between a classic oatmeal and a decadent bread pudding. The perfect make-ahead breakfast and so customizable!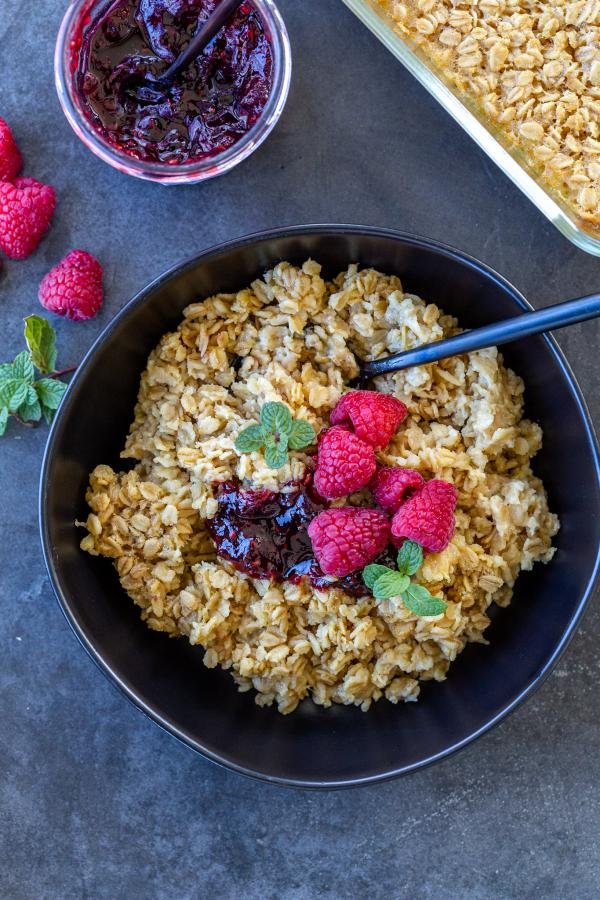 This recipe for baked oatmeal is so, so comforting. Instead of cooking individual servings each morning, you can cut down on prep by preparing one big batch of oatmeal and tossing it in the oven instead. Then, all you have to do is scoop a portion out, warm it up, and top it with your favorite nuts and fruits throughout the week. If you have a few ripe bananas on hand, make this banana baked oatmeal.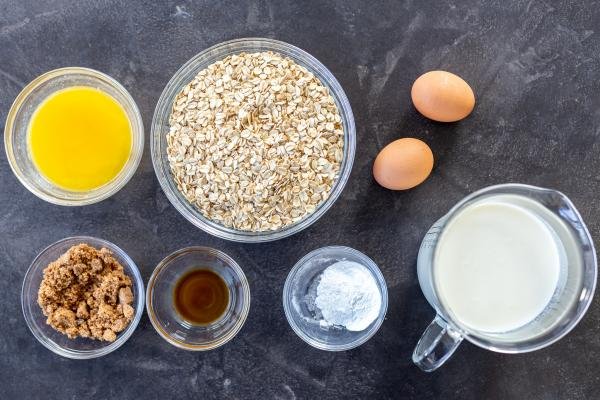 How to Prepare Baked Oatmeal
Making baked oatmeal is as easy as stirring all the ingredients together and popping them in the oven until golden brown.
Combine the Ingredients: In a large bowl, whisk the milk, eggs, brown sugar, melted butter, vanilla extract, and baking powder together. Next, add in the oats and stir until well-combined.
Butter a Baking Dish: Drag a stick of butter all over a baking dish until it's well-coated.
Bake the Oatmeal: Finally, pour the oat mixture into the oven and bake it at 375°F for about 30 minutes, or until the top turns a golden brown color and the oatmeal is fully-cooked. Scoop, serve, and enjoy with your favorite toppings!
Helpful Tips for the Best Baked Oatmeal
While this recipe is so easy a kid could pull it together, a few handy tips will help you knock it out of the park.
Use quick oats if you like creamy. If you like a creamier, finer texture, quick oats are your best bet.
Use rolled oats if you have more time and like more texture. If you like a bit more bite, use rolled oats instead.
Opt for whole milk for maximum creaminess. While you can use your favorite non-dairy milk or a lower fat dairy milk, nothing compares to the texture whole milk brings to the table.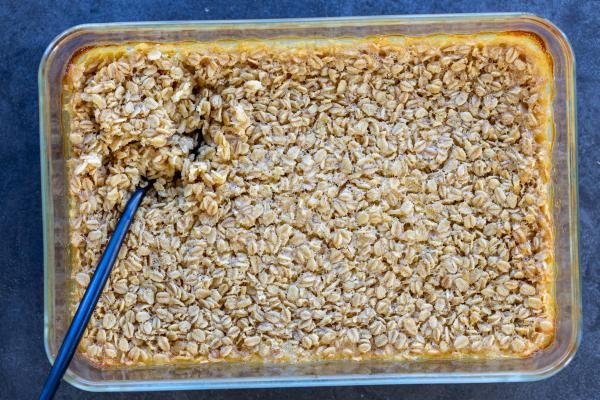 Different Mix-Ins & Toppings
This baked oatmeal is tasty as-is, but why not throw in some of your favorite mix-ins to take it next level?
Blueberry Muffin: Mix in 1/2 cup of fresh blueberries, a 1/4 cup of poppy seeds, and a squeeze of lemon juice.
Apple Pie: Dice two apples and mix them into the oat mixture alongside a a tablespoon of cinnamon and 1/2 cup of pecans. Optionally, swap the brown sugar for maple syrup.
Banana Bread: Add 1/2 cup of walnuts and a tablespoon of cinnamon to the oat mixture. After it comes out of the oven, garnish with sliced banana.
Tropical Paradise: Add 1 cup of shredded coconut to the oat mixture. Once it comes out of the oven, top with fresh fruits like banana, mangoes, kiwi, and pineapple and a dollop of greek yogurt.
Almond Joy: Mix in 1 cup of shredded coconut, 3 tablespoons of cocoa powder, and 1/2 cup chopped almonds. Once it comes out of the oven, top with chocolate chips.
PB&J: Mix in your favorite jam and 1/2 cup of peanut butter before baking.
Savory: Skip the brown sugar and mix in bacon bits before baking. Top each serving with a fried egg and a drizzle of hot sauce.
Storing, Freezing, & Reheating Best Practices
Baked oatmeal is the perfect make-ahead breakfast because it can be stored in the fridge or frozen for quick breakfasts on the fly.
Storing: To keep baked oatmeal on hand for up to a week, store it in an airtight container in the fridge so it doesn't dry out.
Freezing: You have two options here: 1) freeze the entire baking dish covered with a lid or plastic wrap or 2) freeze the oatmeal in individual portions. To thaw, remove the dish(es) and place them in the fridge overnight.
Reheating: The best way to reheat your baked oatmeal is in the microwave for a minute or two.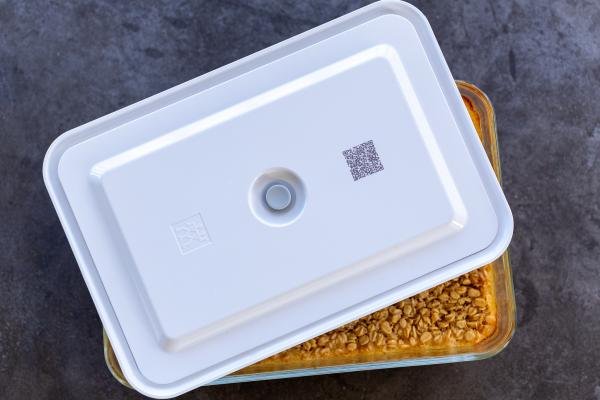 FAQ
Can you make baked oatmeal the night before?
Absolutely! You can whip up the oatmeal the night before and either bake it and reheat it or keep it raw and pop it in the oven (it will only need 15 minutes in the oven after sitting in the fridge overnight).
Can you make baked oatmeal for one?
Yes! If you have oven-safe ramekins (the same ones you'd use for French onion soup), pop a portion in and bake it for one.
How do you know when baked oatmeal is done?
You'll know the baked oatmeal is done when the top is a slight shade of golden brown and the oatmeal looks completely set (no raw oats in sight).
What kind of milk can you use besides whole milk?
If you don't like whole milk, use coconut milk, almond milk, or oat milk instead. The end result won't be as creamy, but it'll still be super tasty.
What level should the oven rack be at?
To prevent the top from burning too quickly, place the baking dish on the middle rack.
More Healthy Breakfast Options
Recipe
This recipe for baked oatmeal is full of tender oats, creamy milk, and just the right amount of sweetness. Customize it with your fav toppings and mix-ins!
Nutrition Facts
Crazy Easy Baked Oatmeal Recipe
Amount Per Serving
Calories 352
Calories from Fat 144
% Daily Value*
Fat 16g25%
Cholesterol 88mg29%
Sodium 56mg2%
Potassium 402mg11%
Carbohydrates 43g14%
Protein 9g18%
Vitamin A 493IU10%
Calcium 169mg17%
Iron 2mg11%
* Percent Daily Values are based on a 2000 calorie diet.