The Best Guacamole EVER. That's right — and I mean it. Grab a bag of your favorite tortilla chips because it's time to get to dippin'!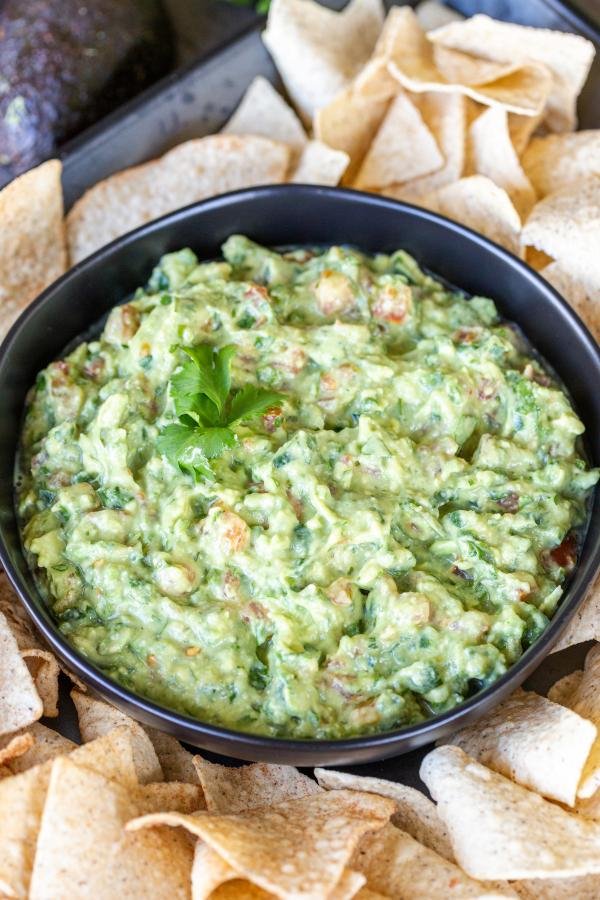 Guacamole is an art form. It's the perfect balance of salt, fat and citrus. Every chef has a different way of whipping up their guacamole and it truly can be delicious with so many different variations. I, for one, love to keep it classic.
Authentic guacamole represents what I love most about summer eating — simplicity. You don't need a ton of ingredients to make a great dish. In fact, you don't even need to turn on the oven!
Whether you slather it on a burrito or scoop it up with fresh cut veggies, guacamole is tasty with just about everything. I've been known to sneak it by the spoonful every now and then…
How to Make Guacamole
Gather all your ingredients, a large bowl and a potato masher or fork.
Remove avocado flesh from the skin. Place all the avocados in a bowl and mash them up with a fork or potato masher.
Add your chopped tomato, cilantro and jalapenos. Season to taste with salt.
Place the avocado seed back into the guacamole. This will keep it from browning!
How to Keep Guacamole Fresh
Hang onto the avocado seeds and pop them directly into the guacamole to keep it from turning brown. Other than that, if you are planning to store your guacamole for a couple of hours up to overnight (not recommended), do so by placing it in an airtight container. I will be honest with you here — guacamole doesn't keep too long. It's best to eat it as fresh as possible!
Is Guacamole Healthy?
Guacamole is packed with everything from heart-healthy monounsaturated fats to a ton of fiber. Sometimes, store bought dips contain sour cream, cream cheese or mayonnaise, making them higher in calories. Making your own dip at home side steps any issues with additives or fillers!
It is important to keep in mind that while avocados are healthy, they are higher in calories than other fruits and veggies. Stick to a healthy portion and you will reap all the health benefits without going overboard!
Picking The Perfect Avocado for Guacamole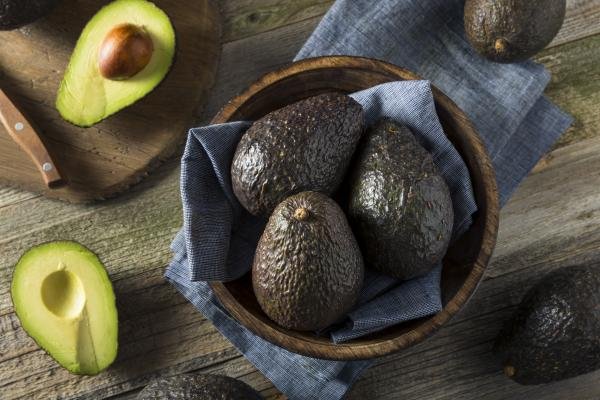 The riper your avocados are, the easier they will be to mash into guacamole. Typically, avocados that yield to pressure when you squeeze them a bit are ready to rock. Also, a darker outer skin typically means they are ripe.
How to Serve Guacamole
There are so many different ways to enjoy guacamole. Here are some of my favorites:
Easy Carne Asada – Guacamole and carne asada were made for one another. Slather some right on top and have yourself a low-carb dinner.
Mexican Stuffed Bell Peppers – Pop a dollop of the green stuff right on top of these bell peppers. YUM!
Easy Breakfast Burrito – Bacon, cheese and egg breakfast burritos are only made even more delicious by one thing. You guessed it — guacamole!
Other Avocado Recipes
At Momsdish, we are crazy about avocados! Check out some of our other recipes using this fruit (yes — avocados are indeed fruits!):
Fresh Avocado Salad – Consider this guacamole in salad form. Top it with grilled chicken or steak and have yourself a well-rounded lunch or dinner.
15-Minute Avocado Hummus – The perfect spread for a summer sandwich! I love making this dip when I know vegetarians are coming over. But, honestly, I see the meat eaters gobbling it up too.
Corn Tomato Avocado Salad – This. Salad. Is. Delicious. Grilled corn really pairs well with fresh avocado.
Recipe
The Best Guacamole EVER. That's right — and I mean it. Grab a bag of your favorite tortilla chips because it's time to get to dippin'!
Ingredients
4

medium Avocados

1

large Tomato

2

small Lime

1/4

cup

Jalapeños

fresh or canned

1/4

cup

chopped Cilantro

Salt

to taste
Nutrition Facts
The Best Guacamole Ever
Amount Per Serving
Calories 169
Calories from Fat 135
% Daily Value*
Fat 15g23%
Sodium 8mg0%
Potassium 541mg15%
Carbohydrates 11g4%
Protein 2g4%
Vitamin A 317IU6%
Vitamin C 17mg21%
Calcium 19mg2%
Iron 1mg6%
* Percent Daily Values are based on a 2000 calorie diet.