Carne asada is absolutely mouth watering. Whip out the outdoor grill, flex your home cook muscle and throw a fiesta for the books.
You can now make your own Street Tacos with this recipe!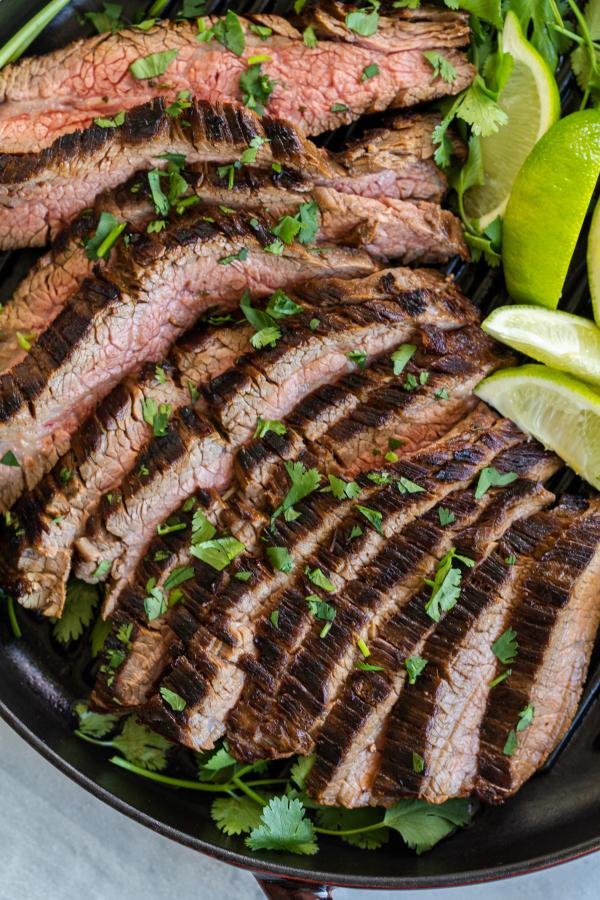 Carne asada is a great dish to make when you are hosting a large crowd. Grab as much flank steak as you need to feed your guests and marinate it overnight.
Carne asada might already be one of your favorite dishes to order from your local taqueria. From tacos to nachos to burritos to salads, this beef can be used in so many different ways.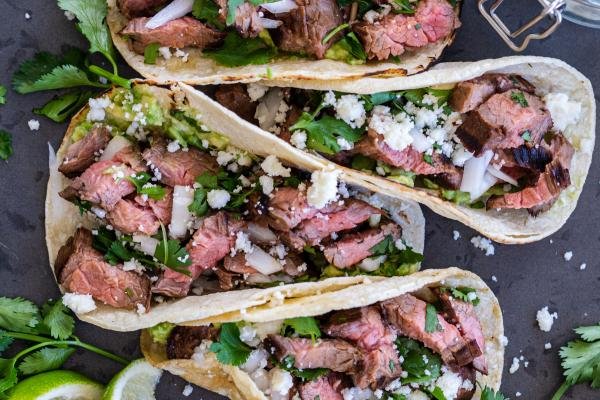 What Exactly is Carne Asada?
Carne asada, or "grilled meat" in Spanish, is a Mexican BBQ dish of grilled and sliced beef. This dish is a real budget bite, as it calls for flank or skirt steak — two notoriously cheap cuts. Since you marinate these traditionally tough cuts overnight in herbs, citrus and soy sauce, they tenderize wonderfully. This results in a melt-in-your-mouth flavor experience!
Marinade for Carne Asada
When I say it's all in the marinade, I mean it! Great carne asada starts with a super flavorful marinade. For this recipe, you will combine parsley, orange slices, lime juice, soy sauce and green onions.
How to Make Carne Asada
Slice your orange into thin pieces, rind intact.
Place flank steak with oranges, cilantro and green onions into a ziplock bag. Drizzle with soy sauce.
Squeeze lime juice all over the top.
Remove the steak from the marinade. Grill the beef on each side until golden brown and internal temperature reads 145 °F.
Place the meat on a cutting board. Allow it to rest for at least 10 minutes of minutes before slicing it into strips. Serve right away!
Tips for Making Carne Asada
Over the years, I have learned all there is to know about making the perfect carne asada. Follow my tips below to prevent making any rookie mistakes:
For perfect strips, cut your beef against the grain. Don't know how to spot the grain? It's easy — there are natural lines that run along a cut of beef. These lines are fibers. If you cut across them, your strips will come out more uniform and maintain a nice tender bite.
Use a Ziploc bag for marinating the beef. You can also marinate the beef in a bowl, just make sure that it is completely covered and airtight.
Crank your grill up to high-heat. Carne asada needs a perfect crust on the outside to be considered top-notch. Also, this is a thin cut of meat, so it will cook extremely fast!

Hot tip: Don't have a grill? Snag a grill pan and make carne asada right on your stove top. I mean — you shouldn't have to miss out on the fun, right? About 5 to 7 minutes over medium-high heat should do the trick.

If you don't like second-guessing yourself, use a meat thermometer to check the doneness. A 145 °F internal temperature makes for a perfect medium-rare.

Hot tip: Refrain from overcooking your carne asada. Anything past medium-rare will result in an unpleasantly tough bite.
What Should I Serve my Carne Asada with?
From healthy to more indulgent, carne asada pairs well with just about anything. I mean…I have been known to nibble on it straight off the grill, but if you have the self-control make it a well-rounded meal…
If you are going the taco route, snag some corn tortillas, pico de gallo and avocado. I don't have to tell you what to do from here…
Whip up my Black Bean Corn Salad and use it as a side or a salsa.
Trying to keep things keto or low-carb? Top a Tortilla Salad with carne asada.
Other Mexican Food to Try
Recipe
Carne asada is absolutely mouth watering. Whip out the outdoor grill, flex your home cook muscle and throw a fiesta for the books.
Ingredients
3

lb

beef

flank

1

cup

soy sauce

1

bn

fresh cilantro

1

medium orange

2

small limes

4

green onions
Nutrition Facts
Easy Carne Asada Recipe
Amount Per Serving
Calories 464
Calories from Fat 306
% Daily Value*
Fat 34g52%
Cholesterol 121mg40%
Sodium 1735mg72%
Potassium 584mg17%
Carbohydrates 6g2%
Protein 33g66%
Vitamin A 113IU2%
Vitamin C 15mg18%
Calcium 53mg5%
Iron 4mg22%
* Percent Daily Values are based on a 2000 calorie diet.