Challah Bread is sweet, fluffy, and one of the best breads! Challah isn't just for Jewish holidays, it's also perfect for breakfast, jelly sandwiches, and even simply with butter.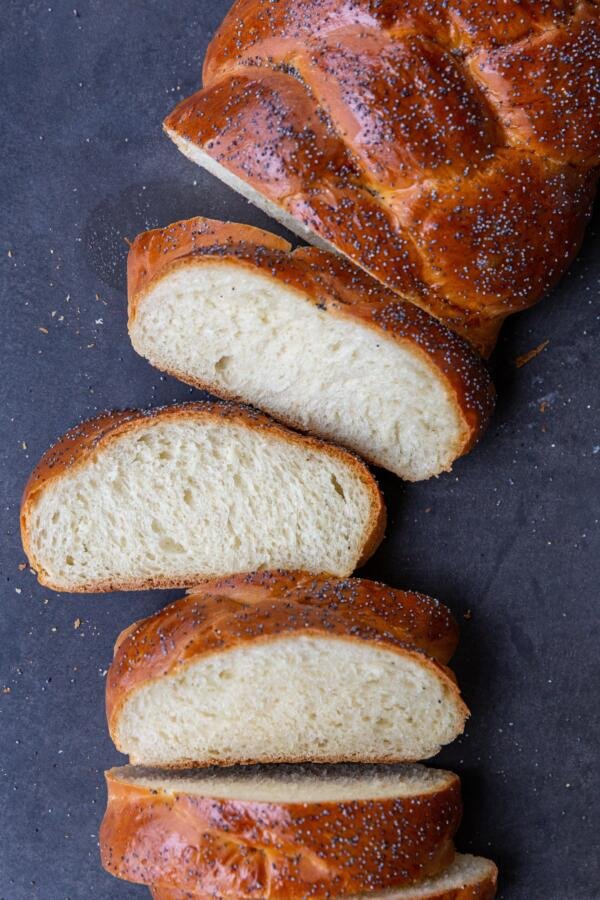 Challah Bread is a braided, white yeasted bread. It is traditionally Jewish and is baked to celebrate the sabbath and other occasions.
What Makes Challah Bread Different
The beautiful braiding is what makes Challah so special. Although it looks complicated, even a simple 3 or 4 strand braid provides beautiful results.
Challah bread also has rich cultural significance. The term "challah" derives from a reference in the Torah where Moses is instructed to use a portion of each loaf as an offering. Observant home bakers today still follow this practice by incinerating a piece of dough in the oven first before baking.
Because Challah does not use dairy, it is considered Kosher and included in Jewish rituals. The shape of challah bread can vary depending on the occasion. For example on Rosh Hashanah, the Jewish New Year, challah loaves are braided in a circular shape instead to represent continuity.
In other parts of the world, Challah can go by different names. In Russia, it is often known as chalka. In Belarus, Russia, and Ukraine it is sometimes called khala.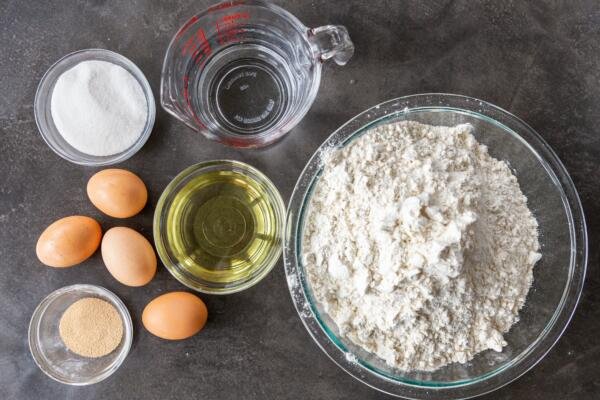 How to Make the Best Challah Bread Dough
In the bowl of your stand mixer, combine water, tablespoon of sugar, and yeast. Let sit until the yeast bubbles.
Whisk in the eggs and oil. Slowly stir in the flour one cup at a time.
Knead the dough using your stand mixer, fitted with the dough hook (or by hand) until the dough is elastic and smooth. If the challah dough is sticky and wet, you can add additional flour.
Allow the dough to rise in a large oiled bowl that is covered with a towel. After an hour, punch down the dough and let it rise for an additional 30 minutes.
Shaping Challah Bread
Here are the steps to make two 4-piece braided loaves. You can also make one large loaf or braid with a different number of strands.
Divide the dough into 8 pieces. Roll each piece into a long rope.
Line up 4 pieces and pinch the top ends together. Form into a braid, pinch the ends together and tuck under the loaf.
Repeat with the second loaf.
Note: This recipe makes one very large loaf, or 2-3 medium/large loaves. Depending on the size, you may need to adjust the baking time.
Baking Challah Bread
Preheat the oven and place the shaped challah loaves on a baking sheet to rise for 30 minutes. Brush the loaves with whisked egg — the egg wash gives it the shiny, golden coat.
Bake the challah in the preheated oven for 30-40 minutes. The baked challah will be beautiful and golden.
Did you know? Leftover Challah bread makes the BEST french toast.
FAQ
Is Challah bread the same as brioche?
Challah bread is not the same as brioche, but they are similar. Both challah and brioche are rich, eggy, yeasted breads. The main difference is that brioche is made with butter while challah uses oil (so it is Kosher).
What does challah taste like?
Challah is rich tasting and slightly sweet. The texture is soft, fluffy, and spongy.
Which flour is best for challah?
Either all-purpose flour or bread flour is best for challah. My favorite brands to use are King Arthur Flour or Bob's Red Mill.
How do I make my challah Fluffy?
The key to a fluffy challah is to not rush the rising time. It's important to be patient and let the yeast do its magic.
What is special about challah bread?
Challah bread is special because it is Kosher and it comes in a beautiful braided form. It is pale yellow in color and has a delicious, rich flavor.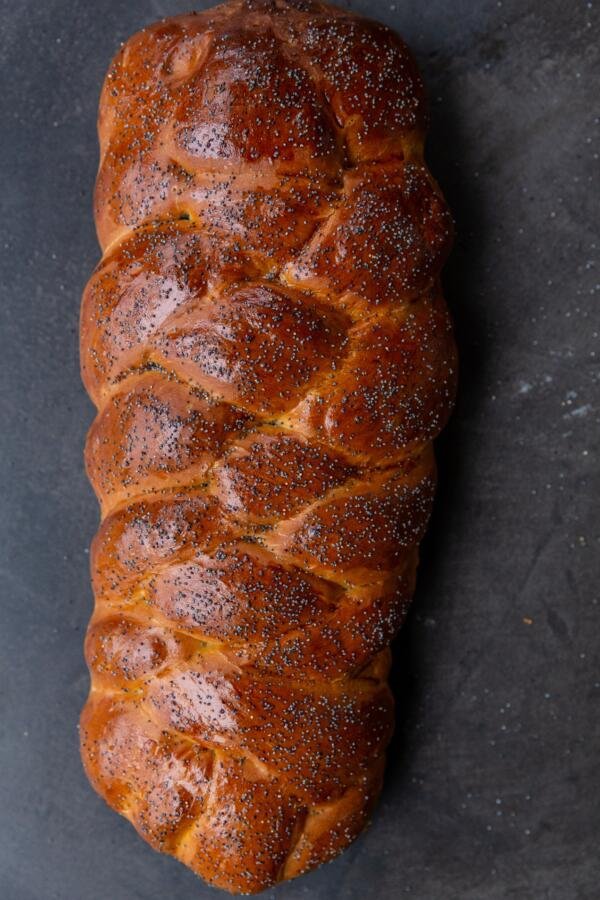 Making Challah Bread In Advance
Challah Bread can be made in advance by braiding the loaves and freezing before baking. Place the unbaked braided challah on a baking sheet and freeze. Once frozen you can transfer to an airtight container. Challah will stay fresh in the freezer for up to 3 months.
Hot Tip: To bake the frozen challah, allow it to thaw for at least 4 hours before baking.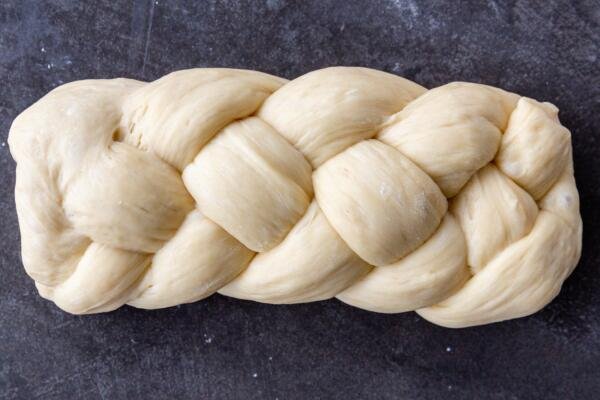 More Sweet Breads to Try
Recipe
Challah Bread is sweet, fluffy, and one of the best breads! Challah isn't just for Jewish holidays, it's also perfect for breakfast, jelly sandwiches, and even simply with butter.
Ingredients
1 3/4

cup

water

lukewarm at 110F

3 1/2

tsp

active dry yeast

1/2

cup

sugar

1/2

cup

vegetable oil

4

large eggs

1

tsp

salt

7

cup

flour

depending on the brand of flour, you may need less or more

1

large egg

brushing of tops

1

tsp

poppy seeds

for the tops
Nutrition Facts
Challah Bread Recipe
Amount Per Serving
Calories 340
Calories from Fat 81
% Daily Value*
Fat 9g14%
Cholesterol 51mg17%
Sodium 169mg7%
Potassium 112mg3%
Carbohydrates 55g18%
Protein 9g18%
Vitamin A 74IU1%
Vitamin C 1mg1%
Calcium 21mg2%
Iron 3mg17%
* Percent Daily Values are based on a 2000 calorie diet.