Poppy Seed Rolls make for the perfect breakfast, snack or dessert. This recipe is amazing because it requires NO rising time.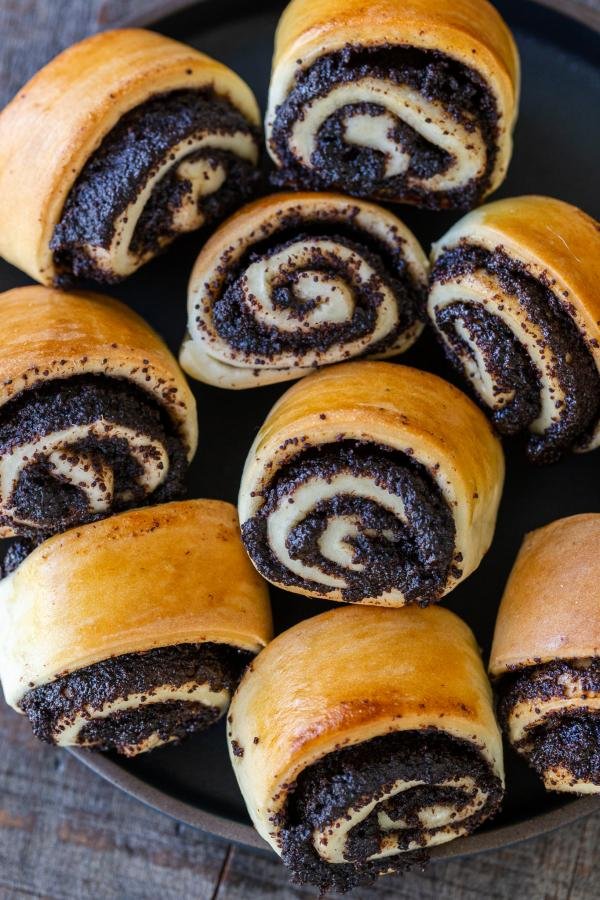 Poppy Seed Rolls in a flash? That's right. Without having to wait for the rising time, you can have bakery fresh pastries on the table in under an hour!
Poppy Seed Rolls are stuffed with a sweet and crunchy filling that is seriously to-die-for. While poppy seeds are no stranger to American baking, they are IMMENSELY popular in Polish and Ukrainian baking.
Some of the best memories I have as a child include gobbling up these delicious rolls. Now that I am an adult, I like to pair them with a nice cup of coffee or mug of tea. I'm looking forward to hearing your thoughts and feedback in the comments below!
How to Make Poppy Seed Rolls
Use fresh yeast. A common mistake I see bakers make is using yeast that has been sitting around for too long. It's important to keep tabs on the expiration dates on your yeast to prevent your rolls from turning out dense and flat.
Make sure your milk is at perfect temperature. To make sure all the sugar dissolves and you set the stage for a nice, custardy texture, get your milk to the right temp before dissolving in your sugar.
Add your flour slowly. Add your flour in small portions for easier mixing. Depending on the brand you use, you may need more or less. The dough should be sticky, yet elastic and easy to to work with!
Get your "knead" on. Knead the dough long enough to achieve the desired texture. When using a standing mixer, like a KitchenAid, this takes about 10 minutes.
Give the rolls space! When placing your rolls on the baking sheet, make sure to leave some space in between. They will double in size and you don't want them sticking together.
Make it golden. Brush the tops of your rolls with egg to give them a nice and shiny, bakery-worthy top!
Poppy Seed Filling
A great poppy seed filling really makes or breaks this recipe. In my opinion, the more filling the better! You will find, however, that some bakers like a thin layer. Whatever suits your taste buds is the route you should follow!
If you have never tried poppy seed filling before, you are probably wondering what the heck it is! Simply put, it's a custard like filling made with, you guessed it, poppy seeds! It also contains sugar, eggs, butter and a pinch of salt. The end result is delectably sweet and earthy filling. Be prepared to get some poppy seeds stuck in your teeth! But, trust me, it's worth it…
Depending on the energy and time you want to spend, you have TWO options for making your way to a great filling. Try your hand at making my poppy seed filling recipe or head to the nearest Eastern European grocery store. You can also purchase some filling online.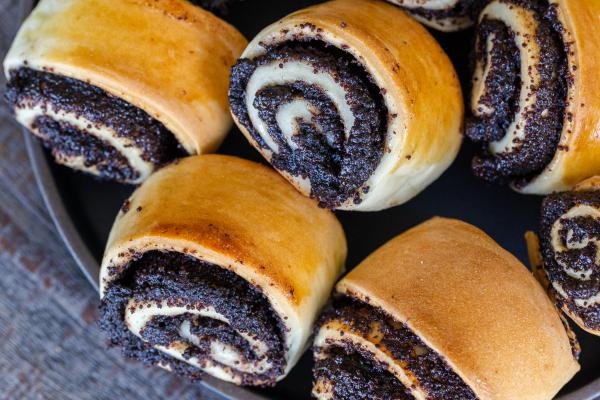 Storing Poppy Seed Rolls
Room Temperature
After you bake your poppy seed rolls, let them cool down completely. Store them in an airtight container or Ziploc bag to keep them fresh for longer. Leave 'em right on the counter and they will stay fresh for up to five days.
Hot Tip: If your rolls become stale faster, reheat them in the microwave or oven to soften them up again!
Freezing Piroshki
After forming your poppy seed rolls, freeze them raw on a baking sheet. Once they are completely hard and frozen, remove them from the baking sheet and store them in a Ziploc bag or airtight container. When you are ready to bake, allow the rolls to completely thaw in the fridge overnight. Then, bake according to directions!

Other Russian Piroshki to Try:
Fruit Piroshki Recipe – a childhood classic filled with jam or any other fruit filling!
Savory Piroshy – These fried Piroshki are amazing, filled with ground meat and onions.
Vatrushka Buns– They are to die for, filled with farmers cheese and raisins.
Recipe
Poppy Seed Rolls make for the perfect breakfast, snack or dessert. This recipe is amazing because it requires NO rising time.
Nutrition Facts
Quick Poppy Seed Rolls
Amount Per Serving
Calories 228
Calories from Fat 90
% Daily Value*
Fat 10g15%
Cholesterol 6mg2%
Sodium 77mg3%
Potassium 149mg4%
Carbohydrates 29g10%
Protein 6g12%
Vitamin A 151IU3%
Vitamin C 1mg1%
Calcium 212mg21%
Iron 3mg17%
* Percent Daily Values are based on a 2000 calorie diet.