Poppy seed buns are so soft and filled with an abundance of delicious filling. An Eastern European classic, these are just to die for.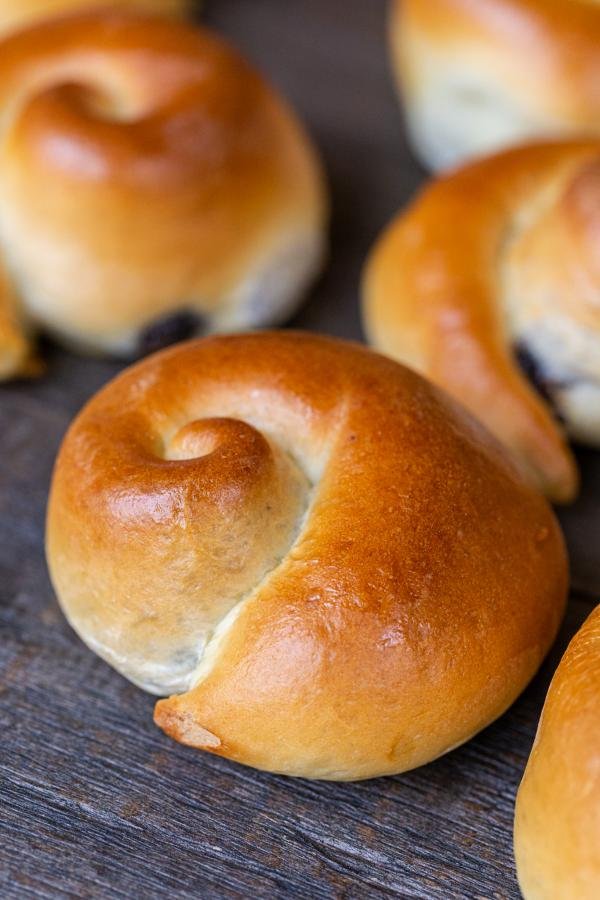 Poppy seed buns, aka poppy seed "piroshki", are so addicting. At our old house, we had a Russian bakery just a few minutes away. Each and every time I drove by that place, I was extremely tempted to stop by and grab a dozen. Let's just say nine times out of ten, I would give in.
Now that we have moved, I had to learn to make them all by myself! I have seen my mother and grandma do it for years, but never tried my hand at it. After practicing the family recipe several times, I am confident enough to share it with you!
You're well on your way to a lifelong love affair with poppy seed buns — sorry in advance to the dieters out there! Let's get started…
Dough for The Poppy Seed Buns
We have been using this perfect yeast dough recipe for years. It comes out perfectly each and every single time. You can use it for so many different recipes, including as the base for your poppy seed buns!
Filling for the Poppy Seed Buns
Chances are, you have probably had poppy seed muffins a time or two before. But, it's also likely that you have never experienced the glory that is poppy seed filling. It's earthy, sweet and perfectly crunchy. I use it for so many different family desserts. You can also find me sneaking a spoonful from time to time.
Simply put, poppy seed filling is a lot like a custard. It's made with a ton of poppy seeds, butter, sugar, milk and eggs. Make your own poppy seed filling or hop over to your local European market and find a jarred version.
Making the Perfect Poppy Seed Bun
Prepare your perfect yeast dough. Divide the dough evenly and roll out the dough into long, flat and oblong pieces. Place the poppy seed filling in the center of each piece.
Fold the dough over and pinch the edges and seal the end, forming a tube-like shape. Roll the dough into a spiral shape. Repeat until you use all your dough up.
Place buns next to each other on a baking sheet. Let the buns rise for an hour.
Brush with butter and bake in the oven at 350 ℉ for 30 minutes until golden brown.
Making Poppy Seed Buns in Advance
Here is everything you need to know about preparing your buns ahead of time:
Refrigerating: Prepare your poppy seed buns all the way up until you let them rise. Store them in the fridge overnight and bake them right before you plan to serve them.
Freezing: If you want to save your buns for later, allow them to rise. Then, place the baking sheet in the freezer and allow the buns to freeze. Once they completely harden, remove them from the baking sheet and place them in a freezer-safe bag. When you are ready to bake them, allow them to thaw overnight. Bake according to instructions.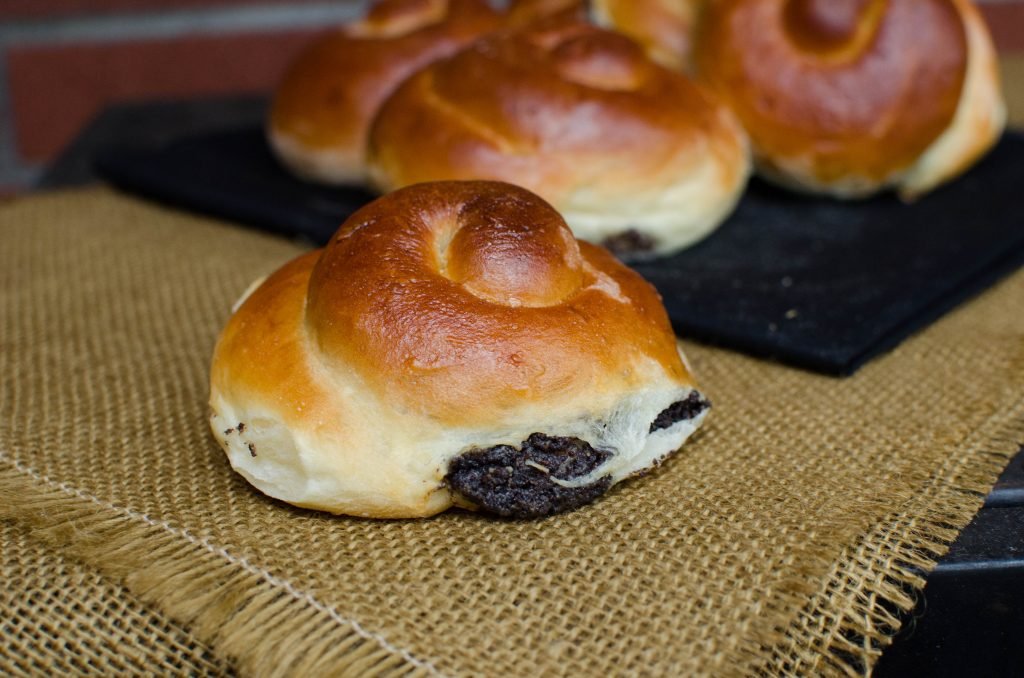 A Few More Piroshki Recipes
Recipe
Poppy seed buns are so soft and filled with an abundance of delicious filling. An Eastern European classic, these are just to die for.
Nutrition Facts
Poppy Seed Buns
Amount Per Serving
Calories 172
Calories from Fat 9
% Daily Value*
Fat 1g2%
Cholesterol 7mg2%
Sodium 57mg2%
Potassium 11mg0%
Carbohydrates 6g2%
Protein 1g2%
Vitamin A 10IU0%
Calcium 3mg0%
Iron 1mg6%
* Percent Daily Values are based on a 2000 calorie diet.