This homemade brioche bun recipe is super light & fluffy. Stuff them with pulled pork, slather them with peanut butter & jelly, or snack on 'em straight!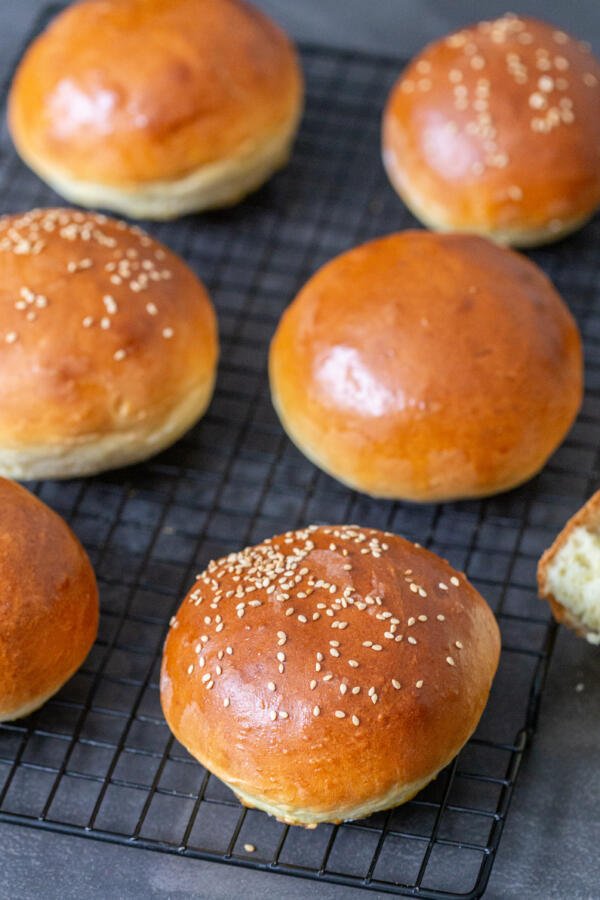 This brioche bun recipe is easier to make than you think! Instead of buying buns at the store, try your hand at making them homemade. I like to make a couple of batches and have them on hand for a last minute BBQ (hello, meaty sandwiches!).
Note: You can make these buns by hand or use a stand mixer with a dough hook attachment.
What is Brioche Bread?
Made with eggs and butter, this brioche bread recipe has a rich and beautiful yellow color to it. Hailing from France, this bread is similar in flavor to the croissant with much less work. Slightly sweet and buttery, brioche works well with both sweet and savory recipes.
How to Make this Brioche Bun Recipe
Making this brioche bread recipe only requires 6 ingredients and the help of stand mixer (although you can make these buns by hand).
Hot Tip: Make dividing the dough a million times easier by using a dough scraper (also commonly called a bench scraper) versus a knife or your hands.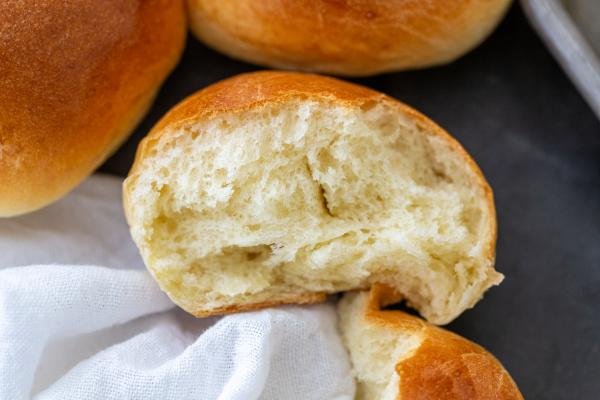 Tips for Making this Brioche Bun Recipe
A couple of foolproof tips will help you nail this brioche bun recipe and get the fluffiest rolls possible.
Ideas for Serving
You can use this brioche bun recipe for homemade hamburger buns for grill night and serve the burgers alongside some crispy air fryer french fries or air fryer potato wedges. If you're looking for something more fresh, use the brioche burger buns to make deli sandwiches for a picnic. They are also great for serving alongside a piping hot bowl of minestrone soup.
Storing Brioche Buns
We love making a large batch and storing these buns for a rainy day. Double, triple or quadruple the recipe!
Hot Tip: Bring your buns back to life by zapping them for a few seconds in the microwave or for a few minutes in the oven.
FAQ
What makes brioche buns different from traditional bread?
Brioche bread has fluffy, airy sweet layers of dough. Traditional bread is made with water, flour, yeast and salt. This results in a lighter, more mild flavor dough. Brioche, on the other hand, is made with eggs, butter and milk.
What are the key ingredients in homemade brioche buns?
They key ingredients in any recipe for brioche buns are flour, butter, yeast, milk, and a ton of eggs. In fact, the eggs are what make a brioche a brioche and can be credited for that beautiful yellow hue to the bread.
What are some good toppings for brioche buns?
If you want to spruce up your brioche buns, some good toppings include a dusting of flour or a sprinkle of flakey kosher salt, sesame seeds, poppy seeds or flax seeds.
Other Simple Bread Recipes
Recipe
This homemade brioche bun recipe is great for everything from hamburger buns to dinner rolls. You'll love the fluffy texture and the beautiful yellow color!
Note: The dough texture should still be soft and slightly sticky. You may need to add more flour, depending on the brand you use.
Nutrition Facts
Homemade Brioche Buns
Amount Per Serving
Calories 319
Calories from Fat 108
% Daily Value*
Fat 12g18%
Cholesterol 90mg30%
Sodium 38mg2%
Potassium 110mg3%
Carbohydrates 45g15%
Protein 8g16%
Vitamin A 414IU8%
Calcium 49mg5%
Iron 2mg11%
* Percent Daily Values are based on a 2000 calorie diet.