Homemade Brioche Buns are so light and fluffy. Stuffed with pulled pork or slathered with peanut butter and jelly, these buns are the perfect conduit for just about anything.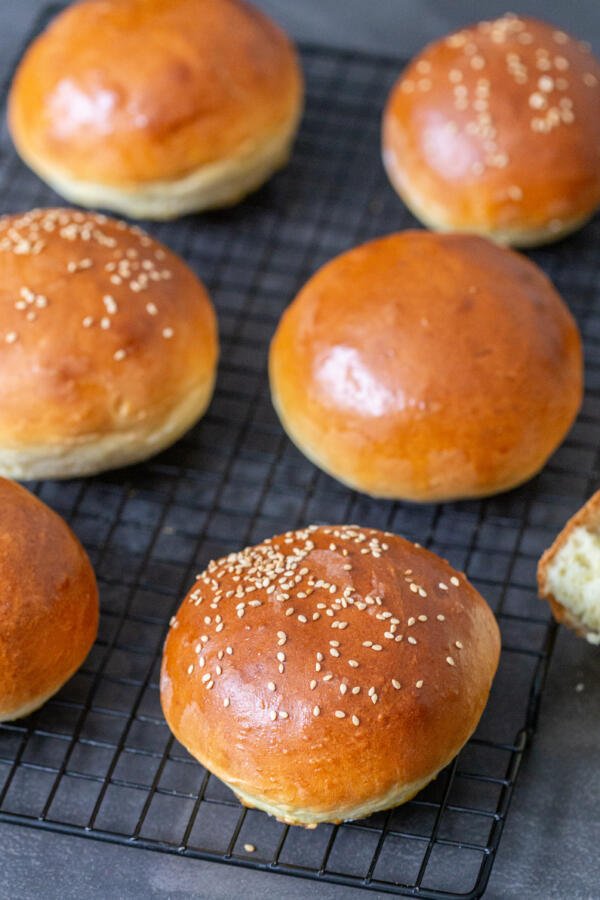 Brioche buns are easier to make than you think! Instead of buying buns at the store, try your hand at making them homemade. I like to make a couple of batches and have them on hand for a last minute BBQ.
Brioche buns are wonderful for burgers as well! Just sprinkle them with some sesame seeds before you pop them in the oven. Trust me, these will elevate your burger to the next level. I myself love a protein burger with a simple lettuce wrap, but brioche buns will make me indulge in carbs!
Whether you do this by hand (get prepared to knead the dough and get an arm workout) or use a standing mixer with a dough hook, you will be well on your way to some of the best homemade brioche buns I've ever had. Get ready to get your hands dirty and let's get started!
How to Make the Brioche Bread
What is Brioche Bread?
Made with eggs and butter, brioche bread has a rich and beautiful yellow color to it. Hailing from France, this bread is similar in flavor to the croissant with much less work. Slightly sweet and buttery, brioche works well with both sweet and savory recipes.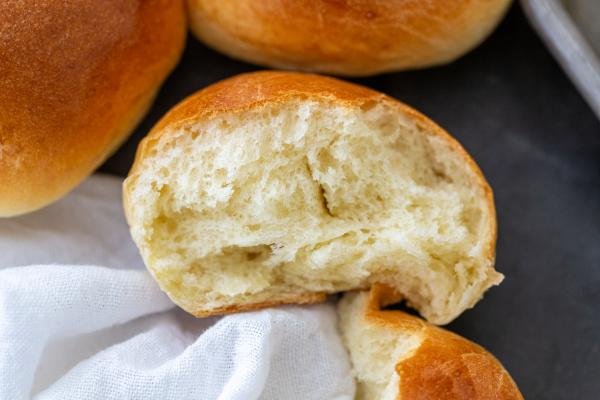 What Makes Brioche Different from Traditional Bread?
Brioche bread has fluffy, airy sweet layers of dough. Traditional bread is made with water, flour, yeast and salt. This results in a lighter, more mild flavor dough. Brioche, on the other hand, is made with eggs, butter and milk.
Tips for Making Brioche Buns
I've made these buns a TON of times. And like with any other recipe, there are going to be sometimes when you nail it and some other times when your baked goods fall flat. Here are all my best tips so you don't have to make the same mistakes!
Make sure the temperature of your milk is right. 110 ℉ is the ideal temperature to help with rising.
Use eggs to get that bakery-worthy, shiny top. Brush the tops of your buns with whisked eggs to add a nice glossy top! You can also sprinkle some sesame seeds on top for a nice crunch and pretty presentation.
Quality flour goes a long way. Great quality flour goes a long way. I have two favorites that I like to go between — the Canadian brand, Roger's, and Bob's Redmill of Oregon. These flours have a higher protein content, making baked goods richer in flavor.
Allow the dough to "proof" itself. Proofing, or proving, is the process of letting the bread dough rise. Specifically, it refers to the specific time that the fermentation process needs to take place. Simply put, don't take shortcuts. Your yeast needs enough time to expand your bread and create enough carbon dioxide bubbles to make it rise into fluffy goodness. The fermentation process also allows for the yeast to create a natural alcohol that gives the bread its flavor and aroma. Generally speaking, the more time you ferment your dough, the tastier it will be.
Make sure the dough is the perfect texture. Soft and sticky dough is totally normal! In fact, it is what makes the buns taste so good.
Storing Brioche Buns
We love making a large batch and storing these buns for a rainy day. Double, triple or quadruple the recipe!
Room Temperature: These buns have a propensity to get a bit stale, so make sure to store them in a Ziploc bag or airtight container.
Freezing: When kept in an airtight container, these buns will stay good for up to two months.
Hot Tip: Bring your buns back to life by zapping them for a few seconds in the microwave or for a few minutes in the oven.
Other Bread Recipes
Recipe
Homemade Brioche Buns are so light and fluffy. Stuffed with pulled pork or slathered with peanut butter and jelly, these buns are the perfect conduit for just about anything.
Note: The dough texture should still be soft and slightly sticky. You may need to add more flour, depending on the brand you use.
Nutrition Facts
Homemade Brioche Buns
Amount Per Serving
Calories 319
Calories from Fat 108
% Daily Value*
Fat 12g18%
Cholesterol 90mg30%
Sodium 38mg2%
Potassium 110mg3%
Carbohydrates 45g15%
Protein 8g16%
Vitamin A 414IU8%
Calcium 49mg5%
Iron 2mg11%
* Percent Daily Values are based on a 2000 calorie diet.