These four ingredient date snickers are a guilt-free alternative to satisfy your chocolate candy bar cravings. Why not indulge yourself?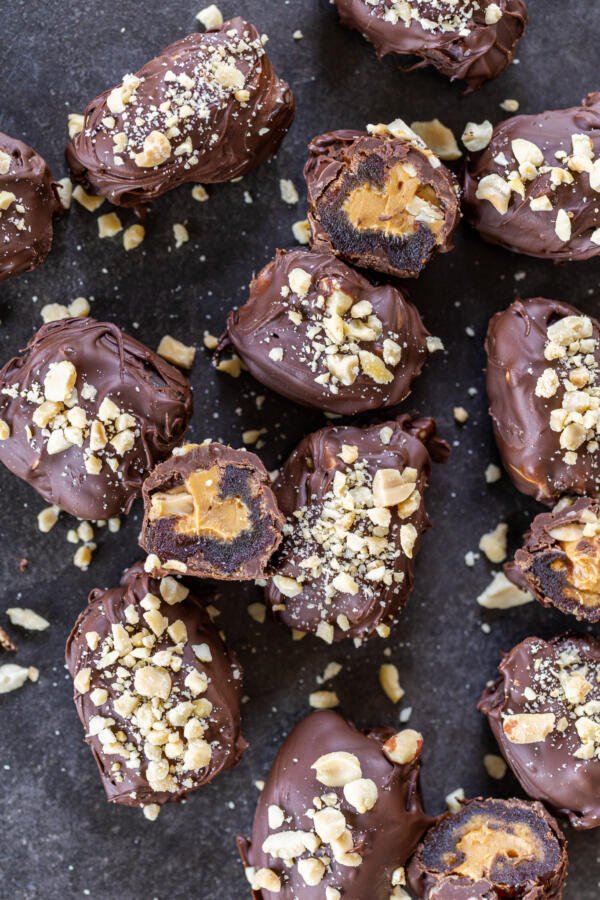 What are Date Snickers?
Date snickers are peanut butter stuffed dates. After being filled, the dates are dipped in melted chocolate and crushed peanuts are sprinkled on top. It's an alternative to a regular snickers candy, and it's crazy easy to make! Keep a handful of these treats to snack on during the day, eat as a dessert, or even give as a gift!
Making Date Snickers
All you need to make date snickers is ten minutes and a craving for chocolate goodness.
Cut the dates: Using a small knife, cut a slit in each date to remove the pit. We love using a small paring knife for this job.
Fill the dates: Fill the dates with peanut butter and a sprinkle of crushed peanuts. Place the dates into the freezer for about five minutes.
Melt the chocolate: Place a chocolate bar or chocolate chips into a small microwave-safe bowl and heat until fully melted. Stir every 20-30 seconds.
Dip into the chocolate: Dip each date into the melted chocolate, then sprinkle more crushed peanuts on top. Refrigerate until the chocolate is firm. Enjoy!
Hot tip: Trader Joes has amazing medjool dates, usually found in the fridge section. Whole Foods also carries these delicious dates.
Snicker Variations
Why stick with only one version of date snickers when you can have multiple? Serve a variety of flavors with very little extra effort.
Almond butter: Use almond butter along with a sprinkle of crushed almonds. This is especially great for those with a peanut allergy.
Nutella: Swap out the peanut butter with Nutella for more chocolatey goodness! Add crushed hazelnuts for a crunch.
Other nuts: Use any nut you have on hand. Pecans, cashews, hazelnuts, and almonds are all great alternatives to peanuts.
Salt: For a sweet and salty taste, sprinkle a small pinch of salt after covering the dates in melted chocolate.
Tips from the Kitchen
Perfection is not elusive with these easy-to-follow tips and tricks! You'll be "snick"-in these candies at every chance you get.
Add oil: if the chocolate isn't melting well, add one tablespoon of olive oil or coconut oil to make it more runny.
Buy medjool dates: The best dates for date snickers are medjool dates. They are large, sweet, chewy, and are the perfect substitutions for the caramel and nougat flavor in snickers.
Use non-runny nut butter: A non-runny nut butter fills the date best without oozing out too easily. We love peanut butter (or any nut butter) that has only one ingredient.
Stir the chocolate: It is best practice to stir the chocolate while it is melting or at short intervals during the melting process. When it is not stirred, the chocolate develops a grainy texture.
Stick a toothpick in: For easy dipping, stick a toothpick into the dates when dipping into the melted chocolate. This helps keep your hands clean and the date snickers looking top-notch.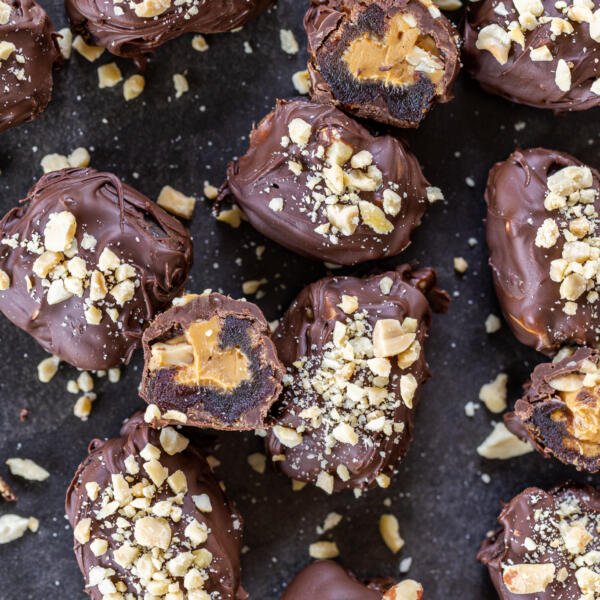 Storage Tips
If you make a large batch of date snickers (who wouldn't?!), avoid leaving them out on the counter too long. When left on the counter, the chocolate melts and the dates soften. Instead, place the dates in the fridge or freezer, depending on how many you have and how quickly you'll devour them.
Fridge: To store for up to one month, place the dates in an airtight container in the refrigerator.
Freezer: To keep for up to three months, freeze the chocolate-covered dates in a single layer on parchment paper on a baking sheet. Once frozen, transfer to a freezer safe container or ziplock bag. Frozen date snickers become a delicious frozen treat!
Hot tip: To thaw frozen date snickers, transfer to the fridge to slowly thaw overnight or let them sit at room temperature for a few minutes.
FAQ
Are date snickers healthy?
Date snickers are a healthier option than regular snickers. There is less sugar, with all of the sweetness coming from the dates, nut butter, and melted chocolate.
Is there a limit on how many dates I can eat per day?
It is best not to extremely overdo it with eating dates. A few a day is absolutely fine, but too many can lead to high sugar levels. Everybody's limit may vary.
What kind of nuts are in Snickers bars?
Snickers are most often made with peanuts, just like these date snickers.
More Chocolate Covered Goodies
Recipe
These four ingredient date snickers are a guilt-free alternative to satisfy your chocolate candy bar cravings. Why not indulge yourself?
Ingredients
10

medjool dates

1/3

cup

peanut butter

1/3

cup

chopped peanuts

4

oz

dark chocolate

bar or chocolate chips
Note: If the chocolate isn't melting well, add one tablespoon of olive oil or coconut oil to make it more runny.
Nutrition Facts
Date Snickers (Only 4 Ingredients)
Amount Per Serving
Calories 213
Calories from Fat 108
% Daily Value*
Fat 12g18%
Cholesterol 0.3mg0%
Sodium 40mg2%
Potassium 333mg10%
Carbohydrates 26g9%
Protein 5g10%
Vitamin A 40IU1%
Calcium 33mg3%
Iron 2mg11%
* Percent Daily Values are based on a 2000 calorie diet.