This chocolate strawberry pops are going to be the sweetest ending to your Valentine's Day. But let's be honest, they're delicious year around!
Looking for homemade strawberry popsicles? Head over to our healthy popsicles recipe and make them using popsicle molds.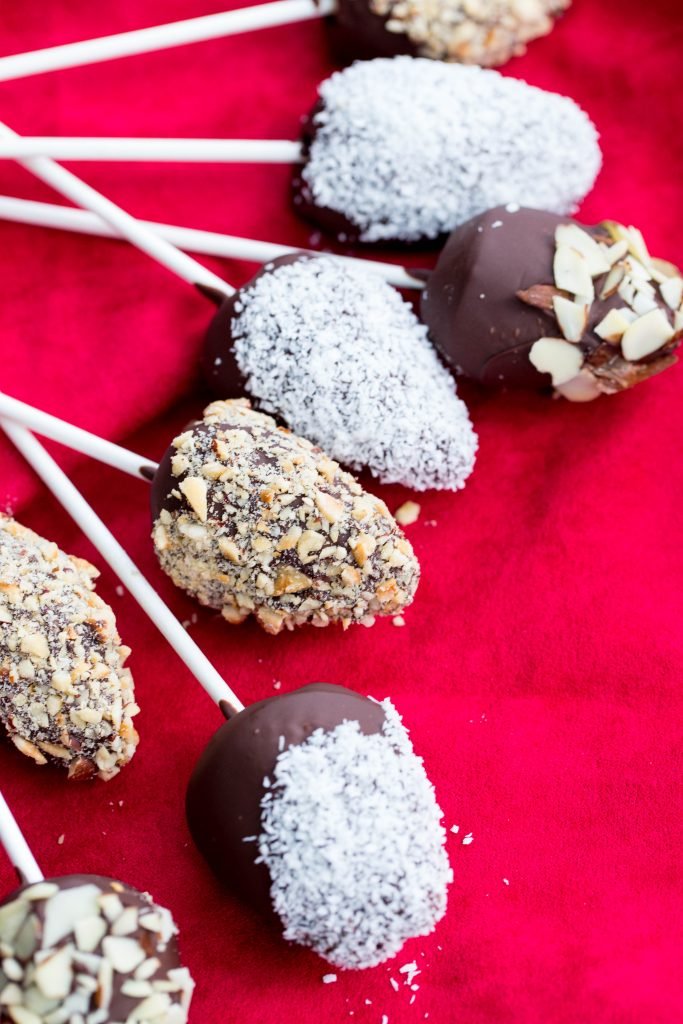 What's more festive and simple to make than a chocolate covered strawberry? With just 3 simple ingredients, they look so fancy and romantic. With the recent explosion of cake pops recipes, there are so many different decorative stands you can store them in for everything from gifts to parties. There's also always room for chocolate pops after that special Valentine's Day dinner with your loved ones…
Note: You'll need lollipop sticks to make this recipe. You can find a huge pack on Amazon or at most crafting stores.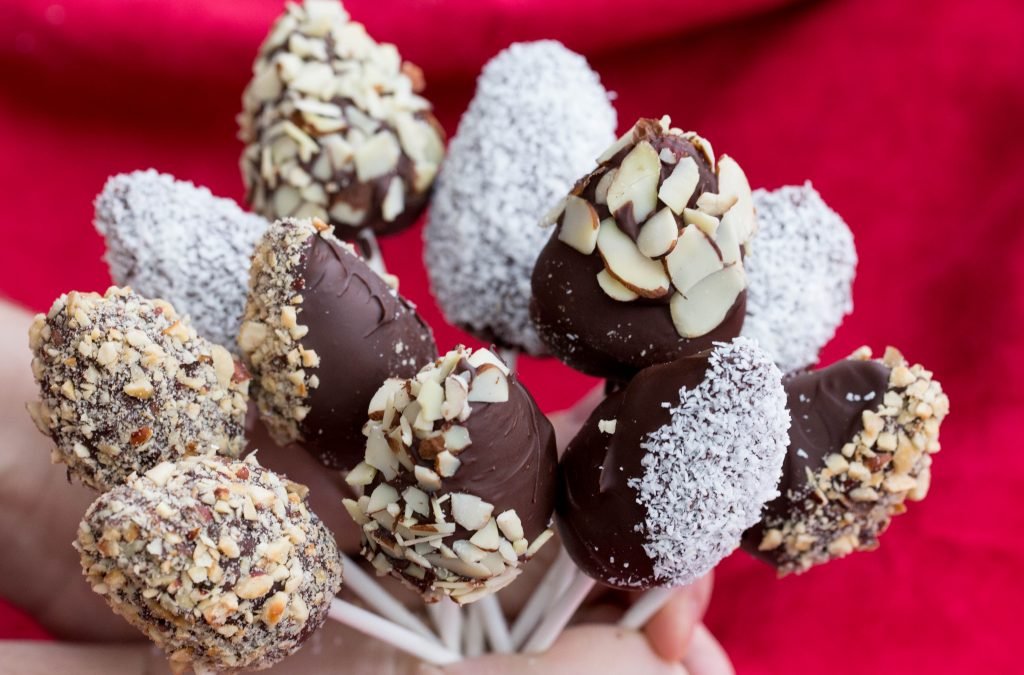 Getting Chocolate to Stick to a Strawberry
Ever take the time to make chocolate covered strawberries just to have the chocolate fall off the berry? Follow these key tips and you'll be golden.
Make sure the strawberries are dry before coating them in chocolate. This is one of the most common mistakes people make when preparing chocolate covered strawberries – trying to dip wet berries! After you wash them, pat them completely dry with a paper towel and lay them out in a single layer to dry even further.
Use shortening to make the chocolate more "sticky" and shiny. Shortening will help the chocolate create a solid shell and dries really nicely.
Give the strawberries time to set at room temperature. Before you attempt to bite in the berry, allow them to set at room temperature for at least 30 minutes.
Don't have a microwave? Bring a pot of water to boil and place a small saucepan over the top. Pop the chocolate chips and shortening in the saucepan whisk with a spoon until smooth.
Whipping Up Homemade Strawberry Pops
Making strawberry pops is pretty straightforward and requires no heat at all.
Prepare the Strawberries: First, rinse the strawberries under cold water. Pat them dry, cut off the ends, and pierce each one with a lollipop stick.
Melt the Chocolate: Next, melt the chocolate chips with shortening in the microwave in 20 second rounds. Stir between each until smooth.
Dip the Strawberries: Finally, dip each strawberry in chocolate and immediately roll it in coconut flakes or chopped nuts.
Allow the Strawberries to Set: Stick the strawberries upright in a foam block or cake pop stand for 30 minutes at at room temperature before serving. If you don't have a stand and don't mind one of the sides of the strawberry being flat, place them on a baking sheet covered in wax paper to set. Enjoy!
Tips & Tricks for the Best Strawberry Pops
There are a handful of tips and tricks that will help your get bakery-worthy strawberry pops.
Always use fresh strawberries. Never use frozen and thawed strawberries – the chocolate will never stick! Fresh strawberries are best.
Be swift with dipping and topping the berries. Work quickly once you dip the strawberry in chocolate – you want to add the toppings while it's still wet so they have the best chance of sticking.
Swap in your favorite kind of chocolate. Feel free to use milk chocolate, white, or dark chocolate chips.
Different Toppings & Decorations
If you're not into coconut flakes or chopped nuts, there are a wide variety of other fun toppings you can use.
Mini chocolate chips
Crushed Oreo Cookies
Ground graham crackers
Sprinkles
White chocolate, dulce de leche, or honey drizzle
Yogurt Dipped Strawberries Hack: Use white chocolate chips instead and stir in 1/4 cup of greek yogurt and a squeeze of lemon juice once the chocolate is melted for a tangy, summertime appropriate dipped berry!
The Best Way to Store Strawberry Pops
Whether you're prepping the cake pops ahead of time or just looking to stow away your leftovers, the best way to do so is to keep them upright in a cake pop stand in the fridge for up to 3 days. If you can fit the stand in an airtight cake container, that's even better and will prevent the pops from absorbing the smells in your refrigerator.
FAQ
Can you make the strawberry pops the night before?
Yes, these strawberry pops are the perfect make-ahead dessert. Whip them up the night before and store them in fridge until right before you're ready to serve them.
How long do chocolate strawberries last?
Chocolate covered strawberries last anywhere between 2-3 days when stored in the fridge.
Can you freeze chocolate covered strawberries?
No, it's not a good idea to freeze chocolate covered strawberries. The chocolate and fruit will turn hard as a rock in the freezer, making them impossible to bite.
Can you use butter instead of shortening?
Butter doesn't have the same "sticking" power as shortening does, nor does it provide that essential sheen. Stick with shortening for the best results!
What other kinds of fruits can you use?
You can use pineapple, apples, peaches, mangos, blueberries, or bananas if you're not a fan of strawberries.
More Strawberry Desserts to Try
Recipe
Chocolate and strawberries just belong together and this easy strawberry pop recipe proves it! With just 3 ingredients, they look bakery-worthy!
Ingredients
Toppings
1/4

cup

finely chopped nuts

hazelnuts, almonds, walnuts, or pistachios

1/4

cup

coconut flakes
Nutrition Facts
Chocolate Strawberry Pops
Amount Per Serving
Calories 205
Calories from Fat 90
% Daily Value*
Fat 10g15%
Cholesterol 5mg2%
Sodium 23mg1%
Potassium 135mg4%
Carbohydrates 27g9%
Protein 2g4%
Vitamin A 76IU2%
Vitamin C 45mg55%
Calcium 48mg5%
Iron 1mg6%
* Percent Daily Values are based on a 2000 calorie diet.