Chocolate dipped figs are the new chocolate-covered strawberry. This seasonal treat is simple, satisfying and beautiful to look at.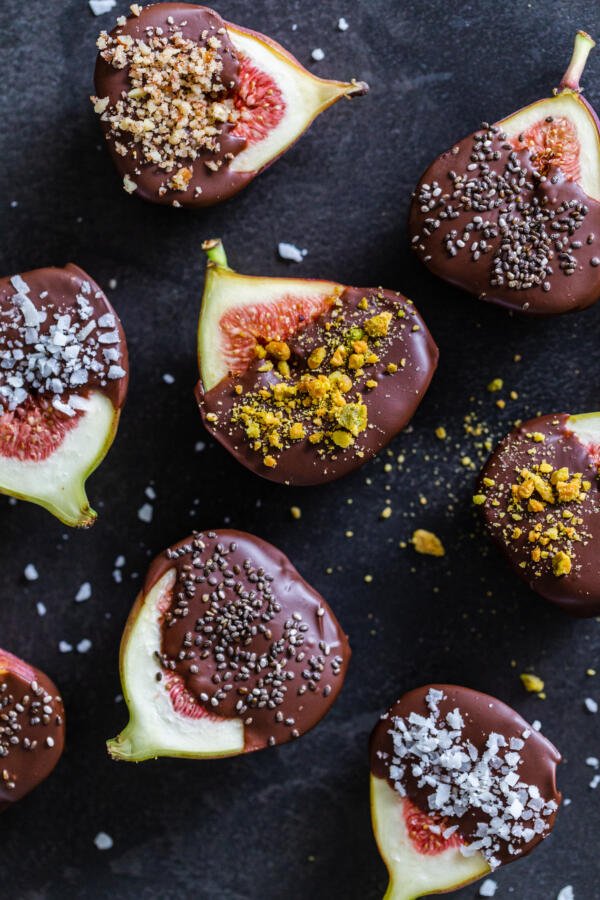 Chocolate covered figs are extremely versatile. Use whatever chocolate your love or have on hand. You can also get creative with the toppings. Everything from crushed nuts to sea salt to coconut flakes fits the bill. Our personal favorite is a sprinkling of chia seeds!
Pop these decadent morsels onto your next cheese board or dessert platter and watch your guests' eyes grow big.
How to Make Chocolate Covered Figs
Gather all your ingredients
Combine coconut oil with chocolate chips and zap in the microwave over 20-30 second intervals. Stir in between and continue the process until the texture is even and smooth
Slice your figs into halves or fourths
Dip your figs into the melted chocolate mixture. Place them on a baking sheet lined with parchment paper and sprinkle with your topping of choice
Allow dipped and decorated figs to chill in the fridge for a couple of hours until the chocolate hardens. Enjoy!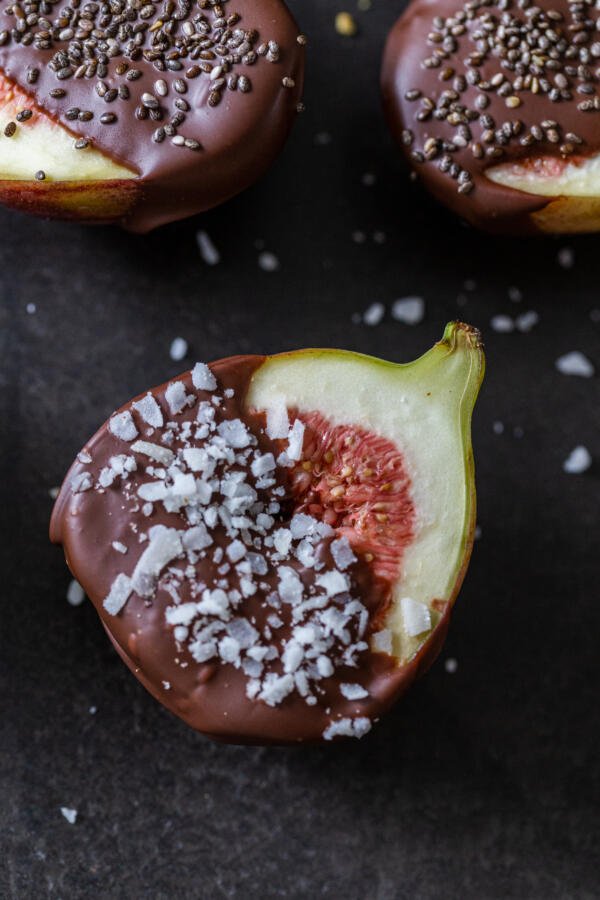 Toppings For Chocolate Covered Figs
Sea Salt – Coarse sea salt works the best.
Coconut Flakes – Pulse coconut flakes 1-3 times in the food processor or blender to create a coarser texture that will stick better to the chocolate.
Chia Seeds – Raw chia seeds will absorb some of the moisture from the chocolate coating and soften just a touch, but not so much that they lose all their crunch. This is texture at its finest!
Crushed Nuts – You can use any nut you fancy. Chopped pistachios add a great buttery flavor and a pretty color contrast. Almonds, walnuts and hazelnuts will work great as well.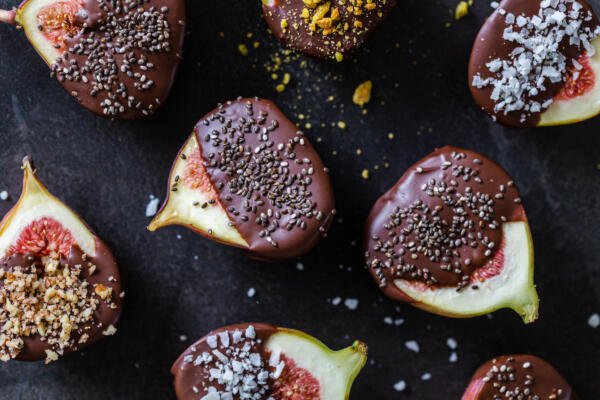 What Kinds of Figs Should I Use?
Fresh Black Mission or Brown Turkish figs work best. Most grocers have Black Mission figs readily available year around.
For all the dried fruit fans out there, you can easily swap in dried figs for fresh. The texture is awesome and the taste is special it its own way.
Other Chocolate Desserts
Chocolate Raspberry Truffles – Chocolate and raspberry just belong together. These easy truffles are perfect for your next dinner party.
Baked Pears Dessert – These baked pears are stuffed with ricotta cheese and sweetened condensed milk mixture that is to die for. Did I mention they are sprinkled with chocolate shards and fresh raspberries, too?
Easy Chocolate Mousse Recipe – When a chocolate craving calls, nothing quite hits the spot like a decadent mousse. This is easier to make than you think!
Recipe
Chocolate dipped figs are the new chocolate-covered strawberry. This seasonal treat is simple, satisfying and beautiful to look at.
Nutrition Facts
Chocolate Dipped Figs
Amount Per Serving
Calories 377
Calories from Fat 126
% Daily Value*
Fat 14g22%
Cholesterol 3mg1%
Sodium 21mg1%
Potassium 598mg17%
Carbohydrates 65g22%
Protein 5g10%
Vitamin A 370IU7%
Vitamin C 4.5mg5%
Calcium 173mg17%
Iron 2.1mg12%
* Percent Daily Values are based on a 2000 calorie diet.