These tasty chocolate cake pops only require chocolate sponge cake, heavy whipping cream, sugar & chocolate melts. A foolproof guide to cake pop glory!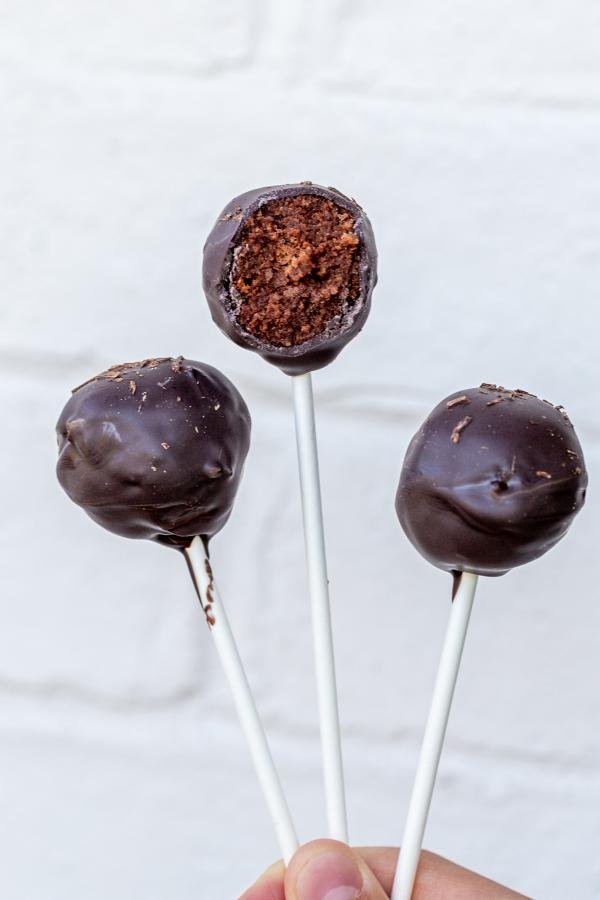 Do you love a chocolate on chocolate dessert? If so, these scrumptious cake pops are right up your alley. Consider this post both a recipe and a how-to guide that will teach you all you need to know about making perfect chocolate cake pops. All you have to do is decide how many you are willing to share!
Note: You'll need to bake a chocolate sponge cake in the oven for this recipe. You can also use boxed cake mix!
Everything You Need to Make Cake Pops
To make the cake pop process streamlined, you'll want to invest in a couple of tools and candy melts. Here's all you need: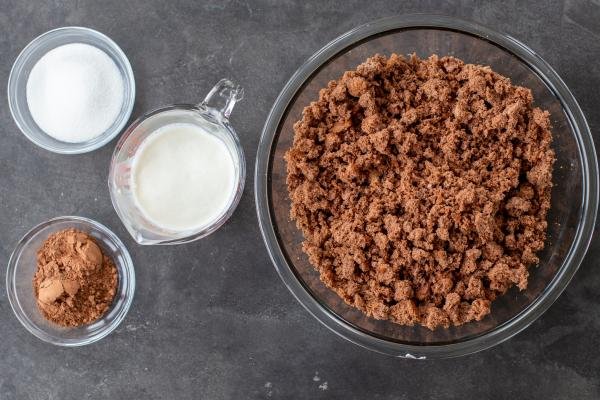 How to Prepare the Best Chocolate Cake Pops
Preparing these chocolate cake pops requires that you bake a sponge cake and make homemade whipped cream. Other than that, it's all about the assembly!
Crumble the Cake: First, break the sponge cake up into cake crumbs in a large bowl.
Make the Whipped Cream: Next, beat the cold whipping cream, cacao and sugar in a stand mixer until you get stiff peaks. If you're a chocolate fanatic, feel free to beat it with some cocoa powder to make chocolate frosting.
Make the Cake Pop Batter: Stir the whipped cream and cake crumbs together until perfectly smooth.
Portion the Cake Balls: Next, use a cookie scoop or tablespoon to portion out the cake mixture into bite-sized balls. Roll each in the palm of your hand to make a perfect circle and place them on a baking sheet lined with parchment paper as you go.
Pop the Sticks In: Melt a small portion of the chocolate melts in a bowl. Dip the end of a cake pop stick into the chocolate and stick it into the cake ball immediately. Set the cake pops aside at room temperature until the chocolate hardens.
Coat the Cake Pops: Next, melt the rest of the chocolate melts in a bowl. Dip each cake pop into the melted chocolate and transfer them to a cake pop stand as you go.
Refrigerate the Cake Pops: Refrigerate the cake pops until you're ready to serve them. Happy snacking!
Hot Tip: Be extra careful not to over beat the heavy whipping cream. If you go past stiff peaks, it will start to turn into butter!
5 Tips for the Bakery-Worthy Cake Pops
Consider these your 5 commandments to cake pop-making. Follow these pointers and you'll be golden.
Make sure the cake balls don't have any cracks. When you roll the cake balls, make sure they are as near to perfect circles as possible. Any cracks and they will fall apart!
Opt for extra cold whipping cream. For fluffy whipped cream, make sure to use extra cold heavy whipping cream. To ensure it's cold enough, pop it in the freezer for 10-15 minutes beforehand.
"Glue" the stick into the cake ball. Reserve some of the chocolate melts to use as a "glue" between the cake pop and cake pop stick. This will ensure the cake balls don't slide right off!
Use a circular motion to coat the cake pops. When you're doing the final dip in the chocolate melts, use a circular motion to smoothly coat all the sides. To remove any excess chocolate, simply hold the cake pop upside down to let it drip off.
Don't use too much whipped cream. Although tempting, don't overdo it with the frosting. If you use too much, the cake balls will be too flimsy and fall apart!
Decorating Tip: If you want to decorate the cake pops in sprinkles, make sure to do so immediately after you coat them in chocolate to help them stick.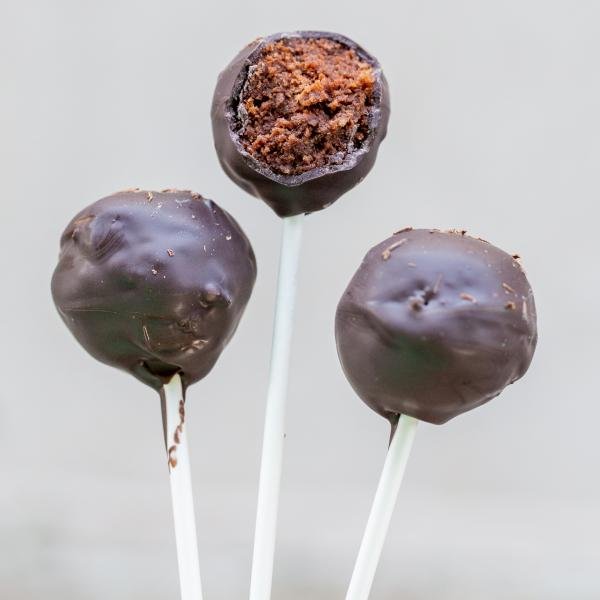 How to Store Cake Pops
Whether you are prepping your cake pops a couple days in advance or freezing some leftovers for later, here's all you need to know:
Refrigerator: To keep your pops fresh for up to 10 days, store them in the fridge covered tightly with plastic wrap. This will keep them from absorbing any smells lingering around in your fridge.
Freezer: To freeze your pops for up to 3 months, place the entire stand in the freezer for 1-2 hours. Once the individual pops are completely frozen, transfer them to a freezer-safe bag or airtight container. To thaw, place them in the fridge overnight.
FAQ
What chocolate melts are best for cake pops?
Wilton Candy Melts are the most readily available brand of chocolate melts, but feel free to use any kind you'd like to make cake pops. Any brand should give you that sheen and smooth coating that you're looking for!
Can you use chocolate chips instead of candy melts for cake pops?
It's not a good idea to use traditional chocolate chips for cake pops. Unlike candy melts, they lack the amount of vegetable oil it takes to get a smooth, candy coating.
Why did the chocolate on my cake pops crack?
The chocolate on your cake pops likely cracked if you didn't allow them to set in the refrigerator. It's important that they are chilled so that the chocolate doesn't melt and break at room temperature.
How far in advance can you make chocolate covered cake pops?
You can prepare you chocolate covered cake pops up to three days in advance. It's actually best to prep them ahead of time so you give them ample time to set and become sturdy.
What's the best way to melt candy melts for cake pops?
The best way to melt candy is on a steam bath or double-broiler. This will keep the melts liquified as you work, making the dipping process a breeze. Alternatively, you can keep nuking them in the microwave every so often.
More Cake Pops to Try
Recipe
This foolproof guide on chocolate cake pops will help you make bakery-worthy treats. With just 4 ingredients, they are super simple to make & crazy good!
Nutrition Facts
The Best Chocolate Cake Pops
Amount Per Serving
Calories 92
Calories from Fat 45
% Daily Value*
Fat 5g8%
Cholesterol 7mg2%
Sodium 11mg0%
Potassium 5mg0%
Carbohydrates 11g4%
Protein 1g2%
Vitamin A 100IU2%
Vitamin C 1mg1%
Calcium 19mg2%
Iron 1mg6%
* Percent Daily Values are based on a 2000 calorie diet.