These low-carb, gluten-free lasagna stuffed peppers bring you all the joy of gooey lasagna without the noodles. Perfect for meal prepping or a quick weeknight dinner, you'll soon find them in your regular rotation.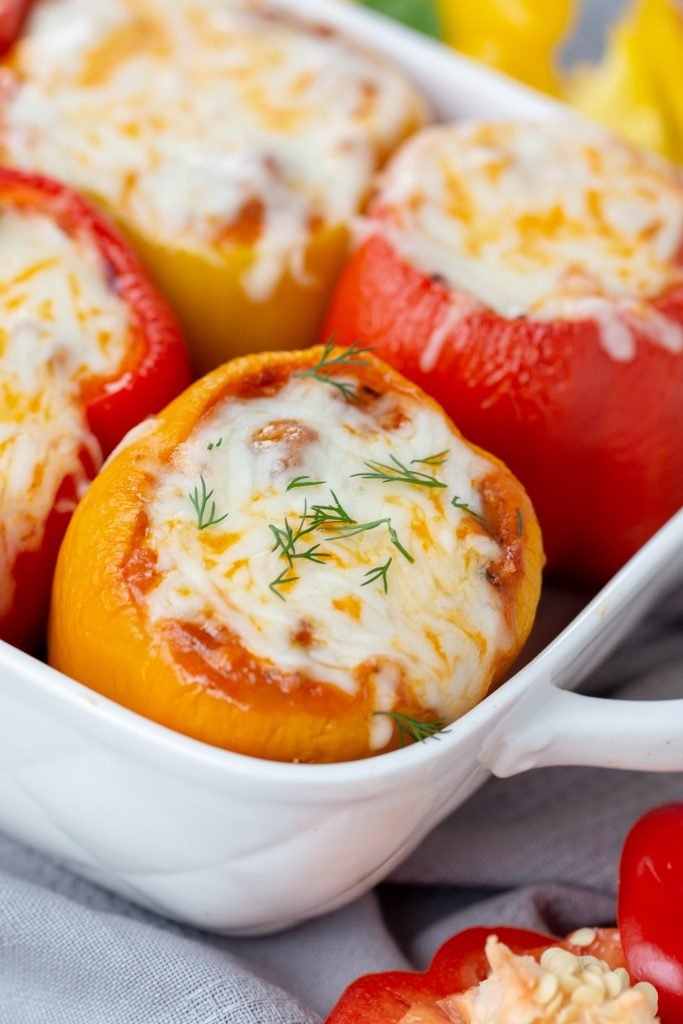 This stuffed peppers recipe was born from the first time I tried the ever-popular keto diet. While brainstorming new and exciting keto recipes to keep the diet interesting, I thought what better way to satiate my craving for lasagna than by stuffing all the fixins into a roasted bell pepper?
Even if you're not strictly watching your carbs these peppers will still find their way to your dinner table. Why? They make for such a simple weeknight dinner and are excellent candidates for meal-prepping weekday lunches. You're going to love how delicious and easy they make getting a hefty serving of veggies into your diet.
And talk about decadence. During the baking process, all the sweet juices from the bell peppers seep into the marinara sauce making the filling taste like it was slow-cooked on the stovetop all day long. At first bite, you'll forget why you thought cutting out the noodles was such a sacrifice…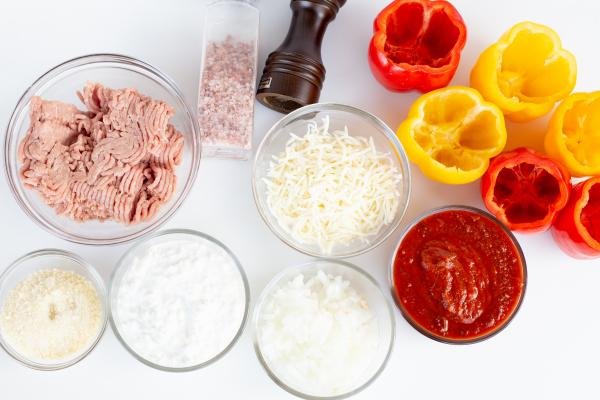 What are Low-Carb Lasagna Stuffed Peppers?
Low-carb lasagna stuffed peppers feature all the great flavors of lasagna without the flat noodles. Below, find quick hitter details on the flavor, texture, and cooking time for this recipe.
Flavor: Sweet tomatoes, savory ground turkey, and loads of cheese make these stuffed peppers taste ultra-savory. Ever find yourself eating meat sauce with a spoon? If so, this recipe has your name written all over it.
Texture: The chunky meat sauce filling is perfectly balanced by the soft, roasted bell pepper. Each bite will be a texture overload!
Time: From prep to table, this recipe takes about 45 minutes to make.
How to Make Lasagna Stuffed Peppers
Making low-carb, lasagna stuffed peppers only requires a few easy steps and a handful of wholesome ingredients. Check out the recipe overview below to get a better sense of the process.
Prep the Veggies: Using a sharp knife, cut the tops off the bell peppers and remove the seeds. Dice the onion.
Make the Filling: In a deep skillet, brown the ground turkey until cooked through. Add in the onions and sauté until translucent and golden brown. Pour in the marinara sauce and allow the mixture to come to a simmer for a couple of minutes. Next, add in the parmesan and cottage cheese. Season the filling to taste with salt and pepper.
Stuff the Peppers: Spoon in the meat mixture to each bell pepper one by one. As you fill, carefully place the stuffed peppers into a baking dish side by side.
Top with Cheese & Bake: Place a generous handful of mozzarella on top of each stuffed pepper. Bake at 350°F for about 30 minutes. Enjoy!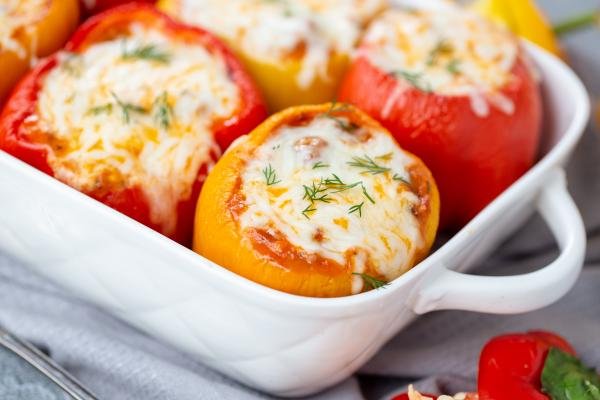 Tips for Making the Best Lasagna Stuffed Peppers
Below, find a handful of tips and tricks to help you make the best lasagna stuffed peppers possible.
Make the filling a day ahead of time for extra flavor. If you have the time, whip up your filling the day before and let it marinate in the fridge overnight. This will pack an extra punch of flavor and make assembling the peppers the next day that much easier!
Use cottage cheese instead of ricotta for healthier peppers. Traditionally, lasagna is made with ricotta cheese. This recipe calls for cottage cheese to keep it light. Don't worry, the peppers will still be just as creamy…
Use lean ground turkey. Lean ground meats produce much less oil when browned. This will prevent your filling from becoming too watery. If you use ground meat with higher fat content, make sure to strain out as much liquid fat as possible before adding your marinara sauce.
Don't overstuff the peppers. When spooning in the meat mixture, leave some space at the top to prevent the filling from boiling over the sides of the pepper. A couple of centimeters will do the trick.
Stack the peppers side by side. To keep the peppers upright when baking, stack them side by side. There's nothing worse than a pepper toppling over in the oven!
Hot Tip: Gauge the size of the baking dish you will use by stacking empty, raw peppers in the dish before stuffing. Since peppers come in all shapes and sizes, you may need a bigger or smaller dish.
Serving Lasagna Stuffed Peppers
You can serve your lasagna peppers as a quick weeknight meal or packed in your lunch. Although filling enough to be eaten all on their own, they pair wonderfully with a variety of different side dishes. If you're being mindful of carbs, serve them alongside a homemade caesar salad for a well-rounded meal. If you're not watching your carbs closely, bake a baguette to sop up all that wonderful sauce. They also go great with some smashed potatoes.
Storing Lasagna Stuffed Peppers
Refrigerator: Store stuffed bell peppers in an airtight container in the refrigerator. They should last for an entire week.
Freezer: Freeze stuffed bell peppers by allowing them to cool completely. Wrap each individual bell pepper tightly in plastic wrap. Pop them into the freezer-safe bag and enjoy them for up to three months.
FAQ
Do you have to cook the ground meat before stuffing the peppers?
You should always cook the ground meat before stuffing your peppers. While raw meat will likely cook in the oven, it's hard for it to cook evenly within the sauce. Always stay on the safe side by browning it first.
Why are my stuffed peppers watery?
Your stuffed peppers are likely watery if you used fattier ground meat. To prevent watery peppers, always use lean ground meat and drain your pan of any excess liquid before mixing it into your sauce.
How long does it take for peppers to get soft?
It takes peppers about 30 minutes at 350°F to get soft. If your peppers are still too tough after 30 minutes, bake the peppers in 5-minute increments until desired texture is reached.
How long does it take to parboil bell peppers?
It takes only 2-3 minutes to parboil peppers. Although this step is not required for this recipe, feel free to parboil the peppers before stuffing them if you like them extra soft.
Other Low-Carb Recipes to Try
Recipe
These low-carb, gluten-free lasagna stuffed peppers bring you all the joy of gooey lasagna without the noodles.
Ingredients
1

lb

ground turkey

1

yellow onion

10

oz

pasta sauce

10

oz

cottage cheese

1/2

cup

parmesan cheese

6

bell peppers

1

cup

mozzarella cheese

1

tbsp

salt

adjsut to taste

1

tsp

black pepper

adjust to taste
Nutrition Facts
Low-Carb Lasagna Stuffed Peppers (quick & easy)
Amount Per Serving
Calories 276
Calories from Fat 90
% Daily Value*
Fat 10g15%
Cholesterol 70mg23%
Sodium 1877mg78%
Potassium 733mg21%
Carbohydrates 14g5%
Protein 32g64%
Vitamin A 4209IU84%
Vitamin C 157mg190%
Calcium 255mg26%
Iron 2mg11%
* Percent Daily Values are based on a 2000 calorie diet.