This cheesy Philly cheesesteak casserole is perfect for a low-carb meal or a speedy filling for brioche buns. Crazy easy, savory, and 100% kid-friendly!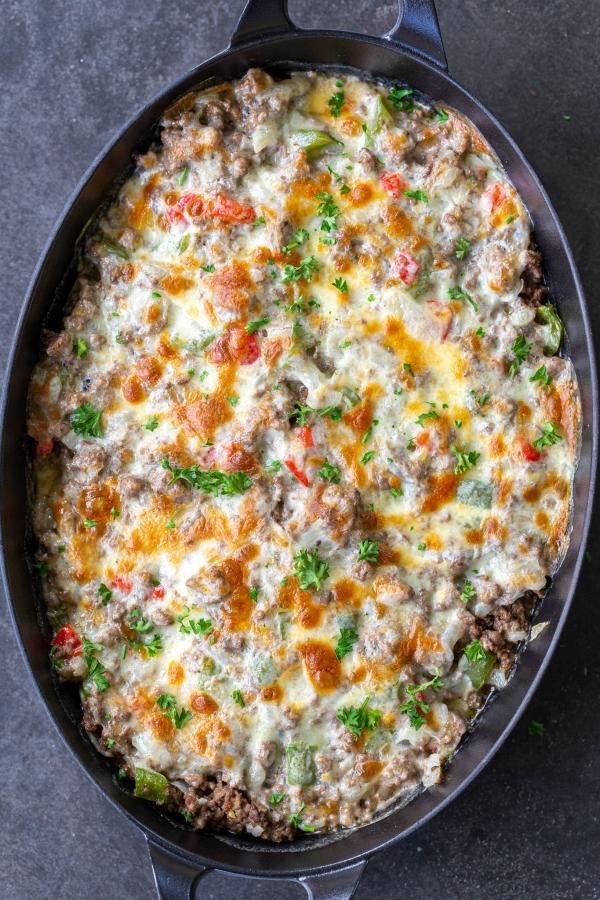 If you're a fan of foolproof, no-hassle casserole recipes, this gooey, beefy Philly cheesesteak casserole has your name all over it. Whip it up to stay true to your keto or gluten-free diet, or make a pan for quick, sloppy joes-style Philly cheesesteaks sandwiched between fluffy brioche buns.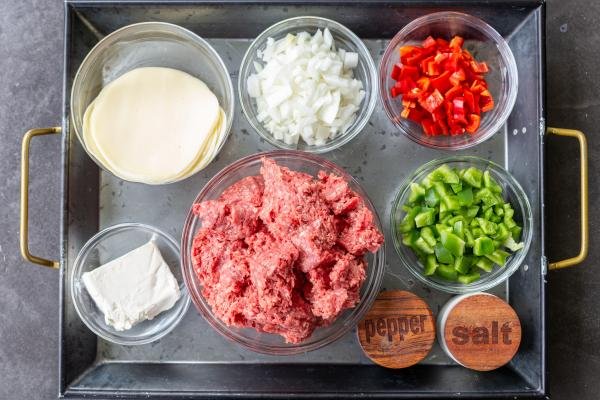 What is a Philly Cheesesteak Casserole?
This casserole has all the same components of traditional Philly cheesesteak sandwiches, minus the bread. We also used ground beef instead of thinly sliced ribeye and cook it down with bright green red bell peppers and onions. To finish it off, the skillet is topped with provolone cheese slices and baked until bubbly in the oven.
Making this Philly Cheesesteak Casserole Recipe
To prepare this simple casserole all you need is an oven-safe skillet or baking dish and a handful ingredients. We recommend using a cast-iron if you have one (we love this one from Lodge).
Prepare the Ground Beef: In a skillet preheated over medium heat, brown the ground beef and season it with salt and pepper.
Add in the Veggies: Add in the diced onions and peppers and sauté the ground beef mixture until the veggies soften.
Stir in the Cream Cheese: Stir in the cream cheese and remove the skillet from heat.
Top with Provolone: Cover the top of the casserole with slices of provolone cheese.
Bake the Casserole: Bake the casserole in the oven at 350°F for about 15 minutes or until the top is golden and melty. Dig in and enjoy!
Hot Tip: Opt for grass-fed, high-quality ground beef. The meat is what brings most of the flavor front and center in this dish, so treat yourself to the good stuff. Costco has some really affordable grass-fed ground beef if you need a good suggestion!
5 Tips for Nailing this Philly Cheesesteak Casserole
This simple casserole couldn't be any easier to throw together, but these 5 foolproof pointers will help you nail it.
Opt for lean ground beef. To prevent your casserole from turning out too greasy, opt for lean ground beef. The sweet spot is 85% lean or leaner. If a good amount of grease still pools at the bottom of the skillet, drain it before you add the veggies and cream cheese.
Slice the veggies into equal-sized pieces. To promote even-cooking, slice the veggies into equal-sized pieces before adding them into the skillet. Make this a no-brainer by using a veggie slicer if you have one.
Add extra cheese. Make the casserole extra cheesy by adding in cheddar cheese or provolone cheese directly into the meat mixture – not just on top.
Add in some mushrooms. If you want to double up on your serving of veggies, add in some sautéed mushrooms to the meat mixture as well.
Swap in a different kind of ground meat. If you want the dish to be a bit lighter, swap in ground turkey or ground chicken instead.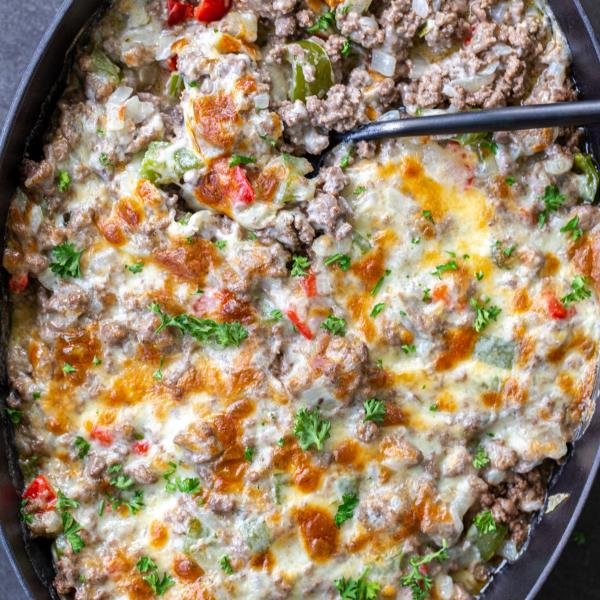 Serving Suggestions
This Philly cheesesteak casserole is super versatile and can be eaten as-is or in a couple of different styles. Here's some ideas to inspire you…
Cheesesteak Sandwich-Style: Sandwich the filling in between hamburger buns or French bread for a quick sandwich.
Nacho-Style: Serve the filling alongside air fryer tortilla chips and use the casserole as a fun party dip.
Pasta-Style: For a kid-friendly meal, top some egg noodles with a hefty scoop of the casserole and serve it alongside cheesy bread.
Low-Carb Bowl: Serve the casserole on top of a bowl of riced cauliflower.
Storage Tips & Tricks
To keep the filling fresh for up to a week, store the leftovers in an airtight container in the fridge. The kicker? As a the casserole marinated in storage, it will continue to develop its flavor and make for some really tasty reheating throughout the week. To warm it back up, simply pop it in the microwave for 45 seconds to 1 minute.
Make-Ahead Tip: You can prepare this casserole 2-3 days in advance by assembling it all the way up until the baking step. Store it in the fridge covered and pop it in the oven to finish it off for a quick weeknight meal.
FAQ
What cut of meat is best for Philly cheesesteak casserole?
The best cut of meat for Philly cheesesteak casserole is lean ground beef. You'll want to go 85% lean or higher so the casserole doesn't come out too greasy to eat. Alternatively, you can use ground chicken or turkey.
What is the secret to a good Philly cheesesteak casserole?
The secret to a good Philly cheesesteak casserole is to cook the mixture in an oven-safe skillet. You'll want to keep all the flavors locked in before popping the casserole into the oven for the final bake.
What's the best cheese for Philly cheesesteak casserole?
The best cheese to use for Philly cheesesteak casserole is provolone. It's the same cheese used in traditional Philly cheesesteak sandwiches and it melts so well. Alternatively, you can use cheddar cheese or mozzarella cheese.
Can you freeze a Philly cheesesteak casserole?
Philly cheesesteak casserole is great for freezing. To do so, assemble the casserole in an oven-safe, freezer-safe airtight container and hold off on popping it in the oven for a final bake. When you're ready, remove the lid and pop the frozen casserole directly into the oven uncovered. Bake at 350°F for about 25 minutes or until the top is golden brown and bubbly.
More Tasty Philly Cheesesteak Recipes to Try
Recipe
If you're a fan of Philly cheesesteak sandwiches, this Philly cheesesteak casserole is a foolproof way to get your fix of beefy, bell pepper goodness.
Ingredients
2

lbs

ground beef

85% lean or leaner

1/2

tsp

ground black pepper

1

tsp

salt

1

large green bell pepper

cut into cubes

1

large red bell pepper

cut into cubes

1

large onion

diced

4

oz

cream cheese

8

slices provolone cheese
Nutrition Facts
Philly Cheesesteak Casserole (The Very Best)
Amount Per Serving
Calories 417
Calories from Fat 297
% Daily Value*
Fat 33g51%
Cholesterol 108mg36%
Sodium 551mg23%
Potassium 430mg12%
Carbohydrates 4g1%
Protein 26g52%
Vitamin A 879IU18%
Vitamin C 32mg39%
Calcium 184mg18%
Iron 2mg11%
* Percent Daily Values are based on a 2000 calorie diet.