Chicken Fajitas are the perfect one-pan meal. The chicken is juicy, flavorful and is loaded with a ton of colorful veggies. The best part is that you can have it ready in under 30 minutes!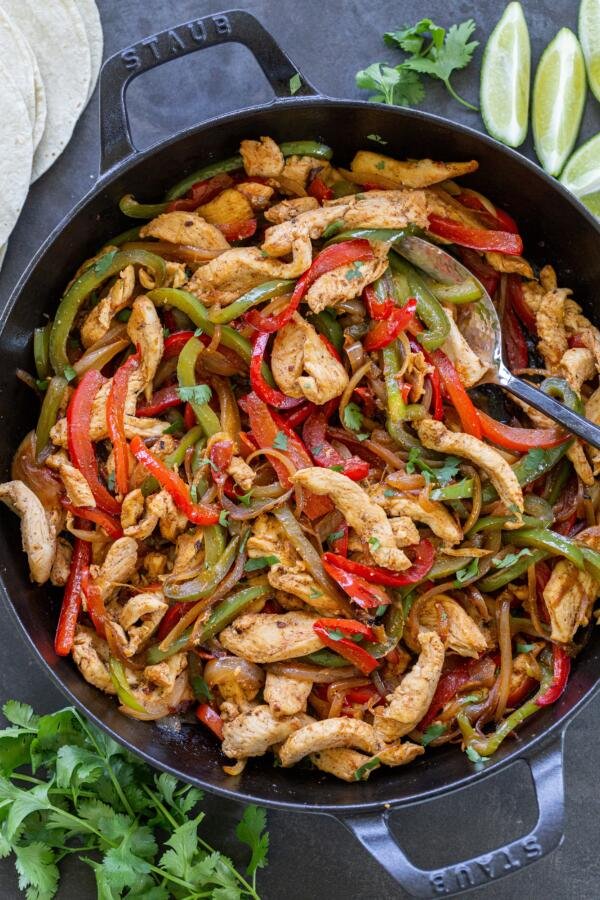 Chicken Fajitas make for an incredible feast day when you are hosting. Make a large batch, keep it in a warmer and have everyone make their version of the meal.
Looking for a swap? Fajitas can easily be made with shrimp or steak instead if you prefer a seafood or beef entree!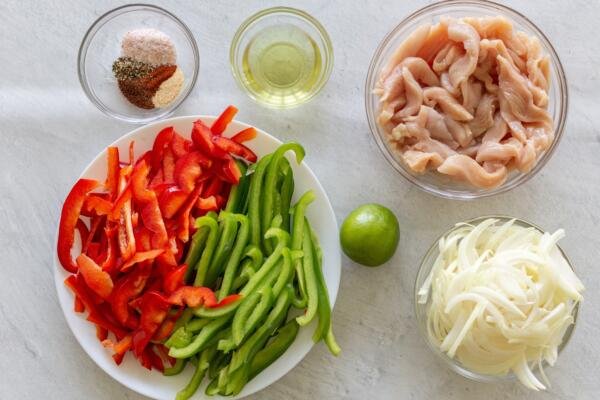 How to Make Chicken Fajitas
Chicken Fajitas are so easy to make. All you need to do is to prep the ingredients and put them all together! Follow the steps below to make Chicken Fajitas.
Combine the seasonings in a bowl.
Cut chicken into strips and season.
Cook the chicken in a hot pan until sizzling, set aside.
Slice up the onions and peppers, cook until sizzling.
Add the chicken back into the pan, drizzle with lime juice and serve with flour tortillas!
Serving Chicken Fajitas
My favorite way to serve Chicken Fajitas is with homemade tortillas. Once the Chicken Fajitas are mixed and ready, scoop some onto a warm tortilla and wrap it up. The bigger the tortilla the more filling you can fit!
If tortillas are not your thing, Chicken Fajitas go very well with a side of rice and beans. Add fresh avocado and tomatoes for a boost of nutrients and flavor. For an extra spice to your Chicken Fajitas, top it with pickled onions or pickled jalapeños.
Make it fun by adding a variety of sauces! Try the classic guacamole, salsa, sour cream or pico de gallo.
Making Chicken Fajitas in Advance
Preparing Chicken Fajitas can be done in advance so it's perfect for meal planning. You can double or triple the recipe without any extra work.
Prepare the chicken as indicated in the recipe and place in a sealed container. Do the same thing with the veggies, and place them in a separate container. These can stay in the fridge for up to 5 days. Once you are ready to serve, combine both chicken and veggies in a heated skillet.
Hot Tip: It is best to reheat Chicken Fajitas on a hot skillet for a few minutes to bring that bright color back to the food.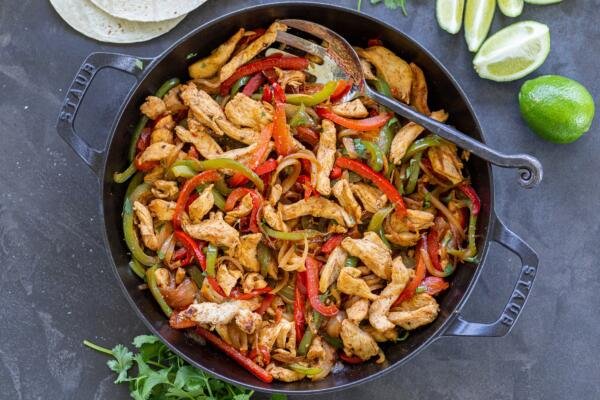 FAQ
What is the difference between taco seasoning and fajita seasoning?
The difference between taco and fajita seasonings is marginal and both seasonings can be used interchangeably if in a pinch. Fajita seasonings contain citric acid granules which imitate the flavor of lime; that's what gives fajitas their sour-y tang. Taco seasonings often contain dehydrated tomato powder, which works better for taco meat mixes.
What makes a fajita a fajita?
A fajita originally referred to a skirt steak, the cut of beef first used in the dish. Now fajitas are commonly known as grilled meat that is usually served with grilled vegetables, fillings, and served with tortillas on the side.
Whats in a homemade fajita seasoning?
Homemade fajita seasoning contains several staple ingredients. These include chili powder, salt, paprika, garlic powder, and a bit of pepper. Other spices can be added for variety.
What is the best pan for cooking fajitas?
A cast-iron pan is best for cooking fajitas. Since this pan gets so hot and retains heat well, it gives the meat and vegetables that signature fajita-charred look.
Other Mexican Recipes to Try
Mexican Stuffed Bell Peppers – This dish doesn't just look good, it's a perfect way to implement veggies in your meals!
Street Tacos – Have kids involved with making their own taco creations!
Carne Asada – From tacos to nachos to burritos to salads, this beef can be used in so many different ways!
Recipe
Chicken Fajitas are the perfect one-pan meal. The chicken is juicy, flavorful and is loaded with a ton of colorful veggies. The best part is that you can have it ready in under 30 minutes!
Nutrition Facts
Easy Chicken Fajitas Recipe
Amount Per Serving
Calories 212
Calories from Fat 45
% Daily Value*
Fat 5g8%
Cholesterol 109mg36%
Sodium 1076mg45%
Potassium 729mg21%
Carbohydrates 4g1%
Protein 37g74%
Vitamin A 713IU14%
Vitamin C 36mg44%
Calcium 19mg2%
Iron 1mg6%
* Percent Daily Values are based on a 2000 calorie diet.