This recipe for Ukha (Russian fish soup) is light, herby, and full of tender salmon. It's so simple and made in one pot!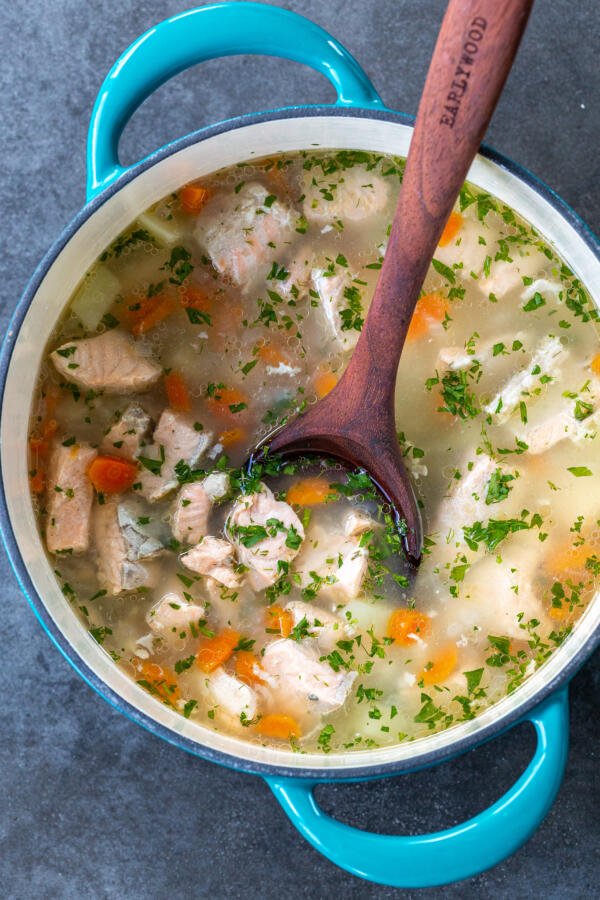 This recipe for Russian fish soup, or ukha, is true comfort. There's nothing like the contrast of the herby broth with the tender chunks of salmon, carrots, and potatoes. The kicker? You don't have to deal with any fish bones like you would with more traditional white fish ukha.
Whether you're looking for a warm bowl of soup to lift your spirits or watching your waistline, uhka is a great dish to add to your regular rotation. It's healthy, affordable, and super simple to make. In this one-pot recipe, you'll learn everything you need to know to make it just like a Russian grandmother.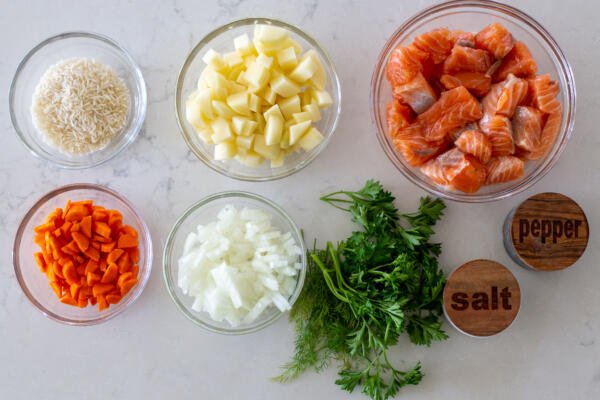 What is Ukha?
Ukha (Russian: "Уха") is an extremely popular Russian fish soup. Throughout the country, you'll find different variations of it, with many restaurants serving it the traditional way with fish heads. Below, find an overview of the flavor, texture, and cooking time of this ukha made with boneless salmon.
Flavor: Ukha is light, herby, and full of fresh fish flavor.
Texture: The texture of ukha consists of sliky broth, tender salmon, and chunky veggies. Consider it the chicken noodle soup of fish soup!
Time: From start to finish, the soup takes about 50 minutes to make.
How to Make Ukha
Making Russian fish soup only requires a few wholesome ingredients and one pot. Below, find a quick overview of the recipe before you dive in.
Prep the Veggies: Slice up the onions, carrots, and potatoes.
Cook the Veggies & Rice: In a large soup pot, bring water to boil. Then, add in the rice and season with salt, followed by the carrots and onions. Turn the soup down to a simmer.
Add Salmon & Potatoes: Add in the salmon and diced potatoes and simmer until cooked through.
Top with Herbs & Serve: Finally, add the fresh herbs and immediately remove the soup from heat. Serve hot and enjoy!
Love making soups? If so, you need a solid soup pot. I love my Staub. It has a sturdy lid, can fit a ton of soup, and doubles as a Dutch oven.
Tips for Making the Best Ukha
Below, find some pro tips to help you make the best Russian fish soup.
Use fresh fish versus frozen fish. Ukha tastes best when made with fresh fish. If you must use frozen, increase the salt accordingly to compensate for the moisture the frozen fish will release as it cooks.
Opt for fresh herbs over dried herbs. Fresh herbs really elevate this soup. Dried herbs just don't compare!
Experiment with different fish. If salmon isn't your favorite, feel free to use any other fish you love. Rainbow trout, snapper, and bass are all great options.
Use different cuts of fish. You can make ukha with filets, fish heads, or even an entire fish. Experiment with what cuts you like best or mix a couple different kinds together. Remember, this soup is really forgiving!
Use homemade fish stock for extra flavor. If you have homemade fish stock on hand, swap it in for the water for an extra punch of flavor.
Serving Ukha
You can serve ukha for lunch or dinner as a healthy, low-calorie meal all on its own. If you want to be ultra traditional, serve it alongside a chunk of buttery rye or wheat bread, or with a platter of fresh potato pierogi (tiny cheese and potato filled boiled dumplings).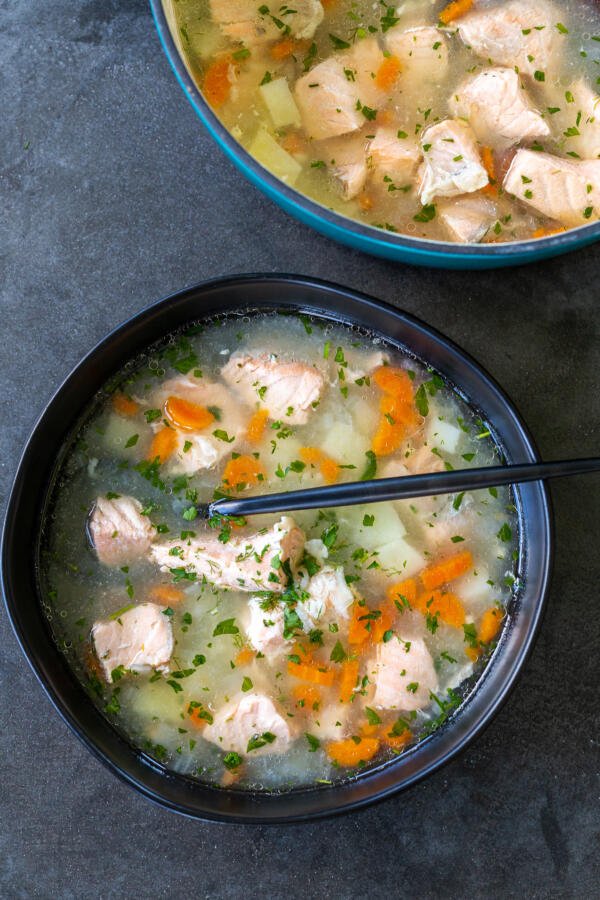 Storing Ukha
Refrigerator: Store leftover ukha in an airtight container in the refrigerator. It should keep for up to 3 days. The kicker? The flavors continue to develop as it marinates in itself, making for killer leftovers!
Freezer: Not recommended. Ukha contains potatoes, which typically don't freeze and thaw very well.
FAQ
How do I cook ukha?
You cook ukha by placing the ingredients in a large soup pot in batches. First, you'll cook the onions, carrots, and rice in boiling water. Next, you'll add in the fish pieces and potatoes. Once all the ingredients are cooked, you'll remove the soup from heat and top it with fresh herbs.
What does ukha taste like?
Ukha tastes very similar to an American-style chicken noodle soup, but with fish instead of chicken. It's light, herby, and full of plump salmon.
What kind of fish is ukha traditionally served with?
Traditional Russian ukha is served with white fish, such as pike. Typically, it's made with fish heads which carry a ton of flavor and marrow.
What is fish head soup good for?
Fish head soup is eaten in many countries throughout the world for its healing benefits. It's packed with vitamins and minerals and often eaten to fend off the common cold and flu.
Other Traditional Russian Soups to Try
Recipe
This recipe for Ukha (Russian fish soup) is light, herby, and full of tender salmon. It's so simple and made in one pot!
Ingredients
1

lb

salmon filets

1/4

cup

rice

1

carrot

1/2

onion

2

small potatoes

1/3

cup

parsley

chopped

1/3

cup

dill

chopped

1

tbsp

salt

adjust to taste

1

tsp

ground black pepper

adjust to taste
Nutrition Facts
Fish Soup aka Ukha (Russian Classic)
Amount Per Serving
Calories 73
Calories from Fat 18
% Daily Value*
Fat 2g3%
Cholesterol 21mg7%
Sodium 604mg25%
Potassium 234mg7%
Carbohydrates 4g1%
Protein 8g16%
Vitamin A 1107IU22%
Vitamin C 4mg5%
Calcium 14mg1%
Iron 1mg6%
* Percent Daily Values are based on a 2000 calorie diet.