This cabbage soup recipe is light, filling, & so comforting. It's hard to believe it's a popular "diet soup" with all the tender, juicy meat & savory broth!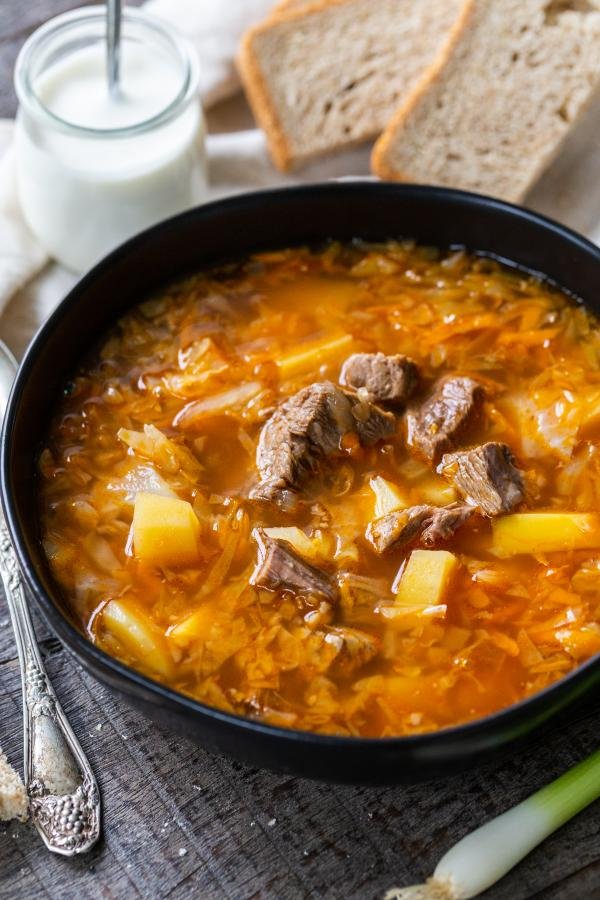 Even though cabbage soup is considered a diet food these days, many eastern Europeans grew up knowing it as a comfort food. Think of it as the Russian version of America's chicken noodle soup. Every chef makes it a bit different and adds his or her own personal touch. It just so happens that the soup is low calorie and healthy for you!
Preparing this Easy Cabbage Soup Recipe
Putting together this protein-rich cabbage soup recipe only requires some minimal prep and just under an hour's time.
5 Tips for Making this Cabbage Soup Recipe
Follow these handy tips to take your cabbage soup to the next level.
Different Cabbage Soup Varieties
There's a couple of fun ways to switch up the foundation of this soup and keep things fresh.
Hot Tip: Garnish your cabbage soup with a dollop of sour cream and some fresh chopped parsley or dill.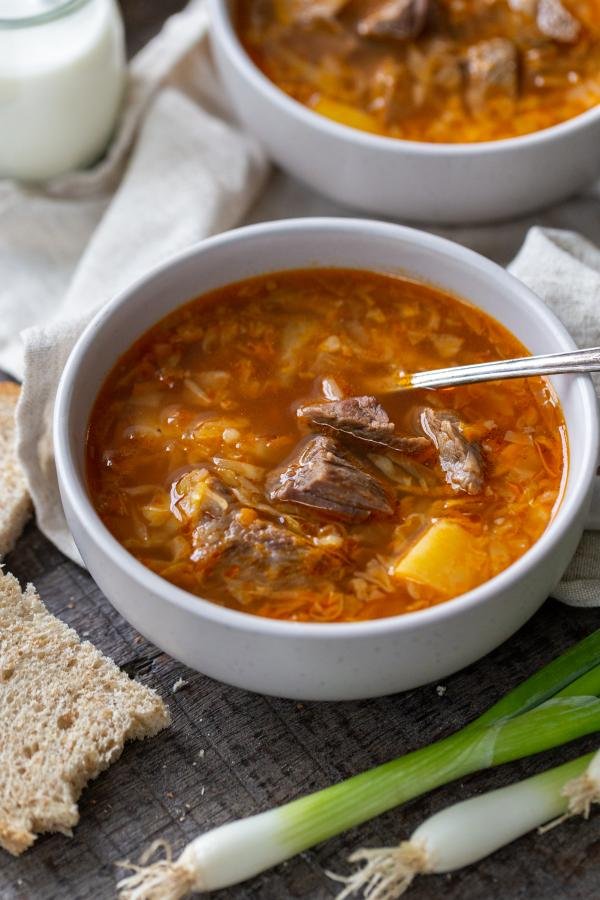 A Couple Sides for Pairing
For a complete meal, pair the cabbage soup with some no-knead dinner rolls to sop up all that wonderful, marrowy broth. If you want some extra greens, serve it alongside a beet salad with garlic (another Slavic staple that's naturally low in calories and high in fiber!).
Storing, Reheating, & Freezing Tips
Cabbage soup is the perfect dish for meal prepping. Find all you need to know how to store it here:
Reheating Tip: Reheat the soup by popping it back into a saucepan over medium-low heat until warmed through.
FAQ
Which cabbage is best for cabbage soup?
Green cabbage is best for cabbage soup. It's milder in flavor and less fibrous than purple cabbage, making it easier to cook down in a shorter amount of time.
Is cabbage soup good for weight loss?
Yes, cabbage soup is naturally low in carbohydrates, high in fiber, and full of nutrition. It's packed with potassium, calcium, vitamin C.
What potatoes work best in cabbage soup?
Yellow potatoes work best in cabbage soup. They have a super smooth texture and the flavor is naturally buttery. They also don't have as much starch as russets, keeping the soup more brothy.
How can you flavor bland cabbage soup?
If your cabbage soup is a little dull, spruce it up with some salt and pepper to taste. If you don't want to add any more sodium, stir in some fresh lemon juice to help brighten the soup.
Other Tasty Soups, Stews, & Chilis to Try
Recipe
This cabbage soup recipe features tender, juicy bone-in meat, veggies, and a savory broth. It's the perfect comfort soup for any time of day!
Nutrition Facts
Cabbage Soup Recipe
Amount Per Serving
Calories 60
Calories from Fat 36
% Daily Value*
Fat 4g6%
Sodium 892mg37%
Potassium 208mg6%
Carbohydrates 7g2%
Protein 1g2%
Vitamin A 1371IU27%
Vitamin C 26mg32%
Calcium 40mg4%
Iron 1mg6%
* Percent Daily Values are based on a 2000 calorie diet.