Nowadays, cabbage soup has gained popularity as a go-to diet food. Light, healthy and filling, my rendition of cabbage soup is guilt-free and incredibly comforting.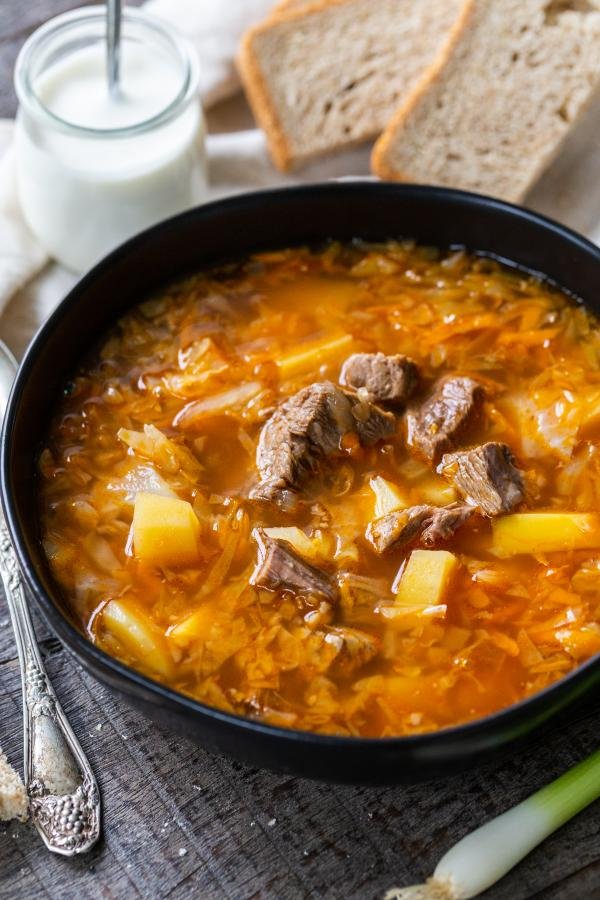 Even though cabbage soup is considered a diet food these days, many eastern Europeans grew up knowing it as a comfort food. Think of it as the Russian version of America's chicken noodle soup. Every chef makes it a bit different and adds his or her own personal touch. It just so happens that the soup is healthy for you! That's a "win-win" in my book.
How Long Does Cabbage Soup Last?
Cabbage soup is the perfect dish to prep for the week. It lasts 4-5 days in the refrigerator when stored in an airtight container. The kicker? The flavor gets better as it sits in the fridge and marinates in itself. Each bowl just gets tastier and tastier!
Can you Freeze Cabbage Soup?
Making a big batch of this soup is the way to go! It freezes super well and lasts up to 3 months. Let the soup cool down completely, ladle it into an airtight container, place it in the freezer and have it on hand throughout those cold winter months.
Tips for Making Cabbage Soup
Meats to Use in Cabbage Soup: You can get pretty creative with what meat you use for your cabbage soup. Fatty and bone-in cuts are the best because they enrich the broth with a silky, marrowy flavor. I like to use pork spare-ribs, beef spare-ribs or oxtail.
Hot tip: Add in 4-5 slices of diced bacon or ham hock to the soup for an extra flavor boost!
Cutting your Cabbage: Long, ¼ inch thin slices of cabbage work best in this soup. However, it is more important to cut your cabbage into uniform pieces so it cooks evenly within the soup.
Sauté your Carrots, Onions and Tomatoes: Before adding your carrots, onions and tomatoes to the soup base, it is important that you first sauté them in a skillet. This unlocks the flavors of the veggies and adds some great texture to your soup.
Precook Meat Until It's Tender: This recipe requires you to boil your meat for 30 minutes before adding in any vegetables for a reason. This step ensures that your meat will be fall-off-the-bone tender. It also seasons your broth by infusing it with the flavors from the bone marrow and collagen.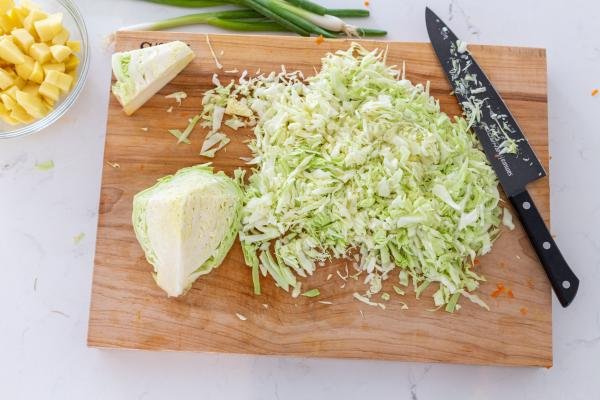 Different Cabbage Soup Varieties
Vegetarian Cabbage Soup
You can easily make this soup vegetarian-friendly by skipping the meat and substituting mushrooms and swapping the beef broth for vegetable broth.
Sausage Cabbage Soup
In a time crunch? Speed up the process by substituting smoked sausages for meat. You can get your broth going and add in the sausages alongside the veggies for a faster and just as delicious soup. I recommend using a smoked Polish kielbasa.
Polish Cabbage Soup
Traditional Polish cabbage soup calls for a meat trifecta of pork spare ribs, ham hock and bacon slices! Toss in a pound of fresh sauerkraut to the mix to make the Polish proud.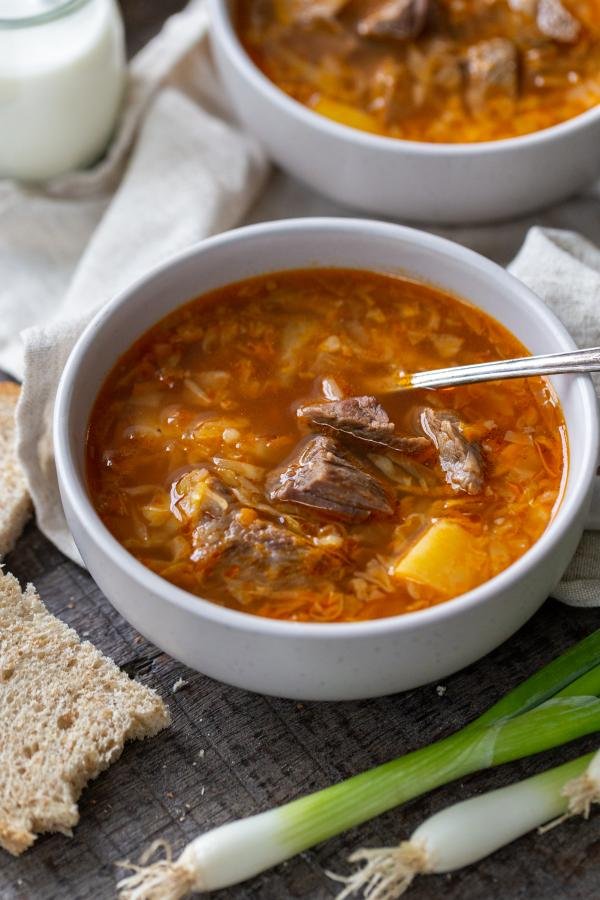 My Grandma's Ukrainian Cabbage Soup
My grandma loved to pack in the fatty cuts of meat to her version of this soup. Typically, she would use the bits and pieces of leftover meat she used for other dishes throughout the week. She would also always add a hefty amount of sauerkraut to the mix.
Hot Tip: Garnish your cabbage soup with a dollop of sour cream and some fresh chopped parsley or dill!
Other Traditional Russian Soups to Try
Recipe
Nowadays, cabbage soup has gained popularity as a go-to diet food. Light, healthy and filling, this rendition of cabbage soup is guilt-free and incredibly comforting.
Nutrition Facts
Cabbage Soup Recipe
Amount Per Serving
Calories 60
Calories from Fat 9
% Daily Value*
Fat 1g2%
Sodium 72mg3%
Potassium 430mg12%
Carbohydrates 13g4%
Protein 3g6%
Vitamin A 1097IU22%
Vitamin C 28mg34%
Calcium 51mg5%
Iron 3mg17%
* Percent Daily Values are based on a 2000 calorie diet.