This classic borscht recipe is just the way my Ukrainian grandma and mother made it. Easy to make, flavorful and filling, this soup will have you hooked at first slurp.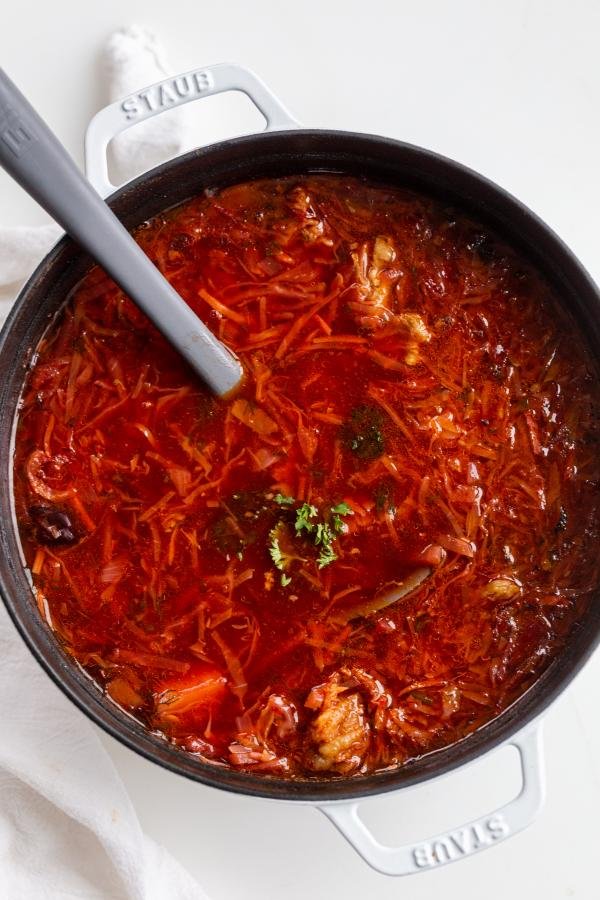 Borscht is a sour soup (credit: vinegar) with a beautiful fuschia color (credit: beets). It was a staple growing up in my Eastern European home and It's a comfort food I will always absolutely love. There is truly nothing like a steaming bowl of borscht on a cold winter day.
Borscht is always top of my mind when I am traveling through Europe and trying new restaurants. It's one of those dishes that has so many different variations. It's inspiring to see how others make it, but to be honest, this is the best version I have had!
Borscht is awesome for meal prepping. My family likes to get together and make a big batch that we can slowly eat through during the week. Bonus: The longer it sits and marinades it itself, the better it tastes. I think day 3 borscht leftovers are particularly amazing…
So, is Borscht Russian or Ukrainian?
Alright, I might be asking for a fight here. There has always been a bit of back and forth on this question, so I am interested to hear your opinions in the comments! I might be biased, but my vote is Ukrainian!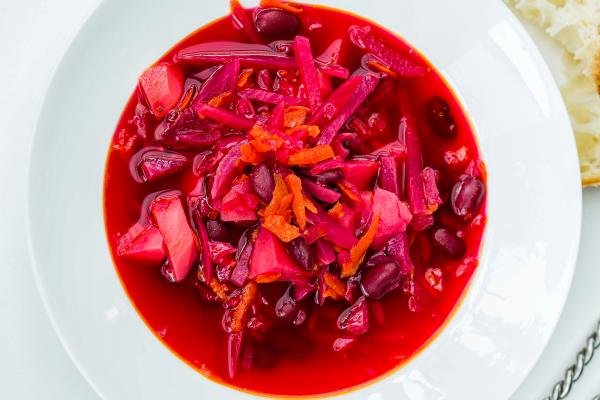 What Does Borscht Taste Like?
Borscht is a savory, sour and hearty soup that is packed with beef, beets, carrots, potatoes, kidney beans and cabbage. It can be made completely vegetarian (skip the beef), or for an extra punch of flavor you can swap out the water for beef broth or beef stock. The end result is the perfect soup to warm up to on a cold day.
Why is Borscht so Healthy?
Whenever anyone in my family would show any signs of sickness, my mother or grandma immediately started whipping up some borscht. All the veggies, especially beets, are packed with vitamins that are perfect for keeping wintertime colds at bay. Borscht is also naturally low in calories and cholesterol.
Serve with Borscht
No-Knead Bread: My mom always baked homemade bread to go with borscht. But, being as busy as I am, I really enjoy the ease of this no-knead bread.
Sour Cream: This is the classic way to serve borscht. Pop a hefty dollop on top for a nice, creamy texture.
Green onions and Garlic: If you love garlic, I recommend adding some marinated, chopped cloves right into your soup. A nice touch is also some chopped green onions.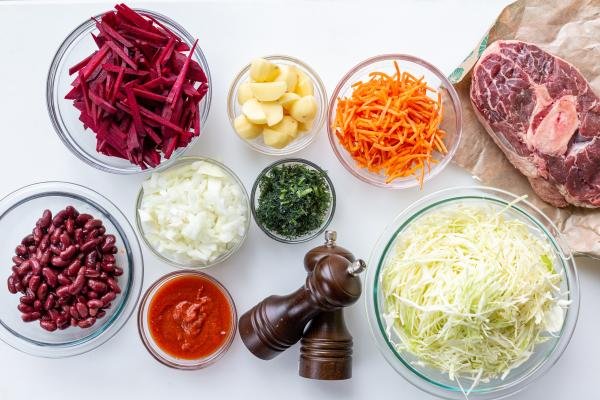 Borscht Ingredients
Cabbage: Shred your cabbage with a mandoline slicer or slice it as thinly as possible with a sharp knife.
Meat- beef bone-in is always my favorite, oxtail (cow tail) is going to be my #1 option. But, if you prefer chicken or pork, I would highly encourage using bone-in cuts for the extra fat and marrow flavoring.
Potatoes: Good old-fashioned russet potatoes will do the trick. But, feel free to use any potatoes you have one hand.
Beets: You can slice your beets into cubes, strips or even grate them. My favorite ways is slicing them into french fry-sized strips.
Carrots: Grate or cut into tiny cubes.
Onion: Dice it into tiny pieces or cook an entire cube in the soup and remove it at the end.
Kidney Beans: These are totally optional. I LOVE them in borscht and if you are sticking to vegetarian, they add a good amount of protein.
Vinegar & Ketchup: My grandma always used sauerkraut to get the signature sour flavor, but I have grown to love ketchup and vinegar for that kick. .
Other Classic Soups to Try
Recipe
This classic borscht recipe is just the way my Ukrainian grandma and mother made it. Easy to make, flavorful and filling, this soup will have you hooked at first slurp.
Ingredients
1

lb

bone-in beef

4

tbsp

oil

1

large beet

grated or sliced thinly

1/2

large onion

finely chopped

2

medium carrots

grated

16

oz

canned kidney beans

rinse them trough and let them drain

3

medium potatoes

sliced into bite-sized pieces

1/4

head of medium cabbage

thinly chopped

1

tbsp

salt

adjust to taste

1/4

tbsp

ground pepper

1

tbsp

vinegar

2

tbsp

ketchup
Nutrition Facts
Classic Borscht Recipe
Amount Per Serving
Calories 251
Calories from Fat 108
% Daily Value*
Fat 12g18%
Cholesterol 24mg8%
Sodium 1110mg46%
Potassium 777mg22%
Carbohydrates 24g8%
Protein 14g28%
Vitamin A 2595IU52%
Vitamin C 22mg27%
Calcium 63mg6%
Iron 4mg22%
* Percent Daily Values are based on a 2000 calorie diet.