This classic borscht recipe is just the way my Ukrainian grandma and mother made it. Easy to make, flavorful and filling, this soup will have you hooked at first slurp.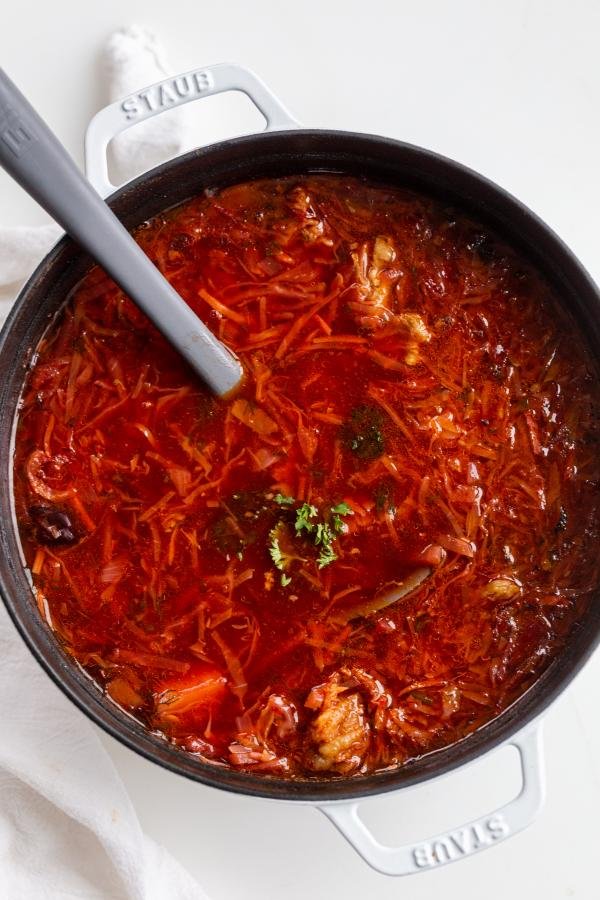 Borscht is a classic beet soup loaded with veggies and bone-in beef swimming in a savory and sweet broth. It was a staple growing up in my Eastern European home and It's a comfort food I will always absolutely love. There is truly nothing like a steaming bowl of borscht on a cold winter day.
The Ingredients for Borscht Explained
Each ingredient for borscht plays a key part in developing it's perfectly savory and sour flavor. Here's the lowdown on each ingredient and the ideal way to treat it in this recipe.
Cabbage: Shred your cabbage with a mandoline slicer or slice it as thinly as possible with a sharp knife for the best possible texture.
Meat: Bone-in beef is always our favorite, with oxtail (cow tail) being the primo option. If you prefer chicken or pork, we highly encourage using bone-in cuts for the extra fat and marrow flavoring.
Potatoes: Good old-fashioned russet potatoes will do the trick. But, feel free to use any potatoes you have on hand.
Peeled Beets: You can peel and slice your beets into cubes, strips or even grate them. We like slicing them into french fry-sized strips.
Carrots: Grate or cut into tiny cubes.
Onion: Dice it into tiny pieces or cook an entire cube in the soup and remove it at the end.
Kidney Beans: These are totally optional, but they works so well in this soup. If you're sticking to vegetarian, they add a good amount of protein and can be doubled and swapped in for the meat all-together.
Vinegar & Ketchup: My grandma always used sauerkraut to get the signature sour flavor, but I have grown to love ketchup and vinegar for that kick. In a pinch, you can use tomato paste instead of ketchup and add a bit more vinegar to compensate.
Optional Ingredients: Add in some chopped celery, bay leaves, or a couple of cloves garlic if you'd like.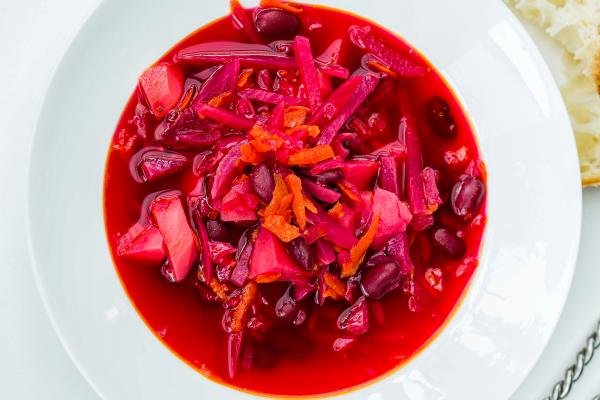 How to Prepare Borscht from Scratch
Preparing borscht is a game of layering – you'll add in a couple ingredients here, let the soup come together, and repeat the process until it's perfect.
Boil the Meat: In a large pot, boil some water. Slice the beef and simmer it in the water for 20 minutes to create a nice bone broth.
Sauté the Veggies: Next, sauté the carrots, onions, and cut beets in olive oil until soft and add them into the beef broth.
Add the Beans: Drain and rinse the canned kidney beans and add them into the pot. Cook the soup for 20 minutes.
Add in the Potatoes: Next, add in the sliced potatoes to the pot and simmer the soup for 15 minutes.
Add in the Cabbage: Once the potatoes are nearly finished, stir in the cabbage. Season the soup with black pepper, salt, vinegar, and ketchup. Allow the soup to simmer for 10 minutes.
Garnish & Serve: Next, serve the borscht with a dollop of sour cream or mayo. Ladle a big bowl up and enjoy!
Handy Tips & Tricks
A few foolproof tips will help you make a beet soup with fall-off-the-bone meat and tender veggies with every slurp.
Prepare the soup in a Dutch oven. If you have a Dutch oven, use it! Nothing compares to how well this pot maintains heat and moisture in soups.
Keep the soup over medium heat. To prevent overcooking the ingredients and not giving them enough time to develop their flavors, keep the soup over medium heat throughout the cooking process.
Season the soup to taste before serving. Like a tangier soup? Add in some lemon juice or more vinegar at the end of cooking. Not salty enough? Give the soup a few cracks of salt. Before you ladle up a bowl, make sure the flavors are where you want them to be!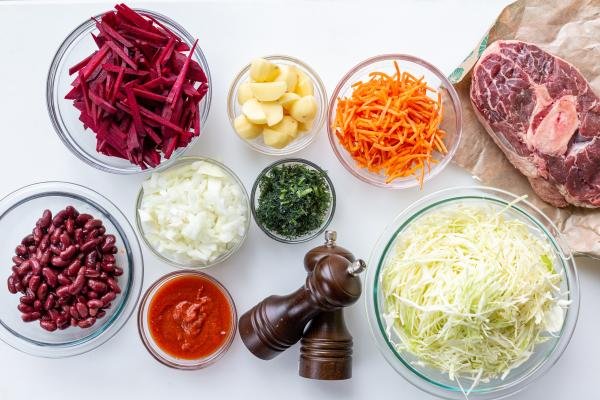 What to Serve with Borscht
Serve borscht alongside a hunk of no-knead bread to dip into the savory broth. If you like a heartier bread, a rye or honey wheat will do the trick. In terms of garnish, we like to serve borscht with a dollop of sour cream or mayo, minced green onions, and fresh dill/fresh parsley. If you're a garlic-lover, you can also add marinated chopped cloves right on top.
Storing & Reheating Your Leftovers
The most amazing thing about borscht is that it continues to develop its flavors as it marinates in the fridge. In my opinion, day #3 borscht is the best! Oftentimes, I'll make it the day before and will eat it the next day. To keep it fresh for up to a week, store it in an airtight container in the fridge. Avoid freezing borscht, as the potatoes and beets tend to turn mushy and gritty upon thawing.
Reheating Tip: To reheat borscht, place it in a soup pot or sauce pan over medium heat until warmed through.
FAQ
Is borscht Russian or Ukrainian?
There's always been a big debate on whether borscht originated from Russia or Ukraine. In so many ways, the food in Slavic countries is almost identical – so it's safe to say it originated from both regions!
What does borscht taste like?
Borscht is a savory, sour and hearty soup that is packed with beef, beets, carrots, potatoes, kidney beans and cabbage. It can be made completely vegetarian (skip the beef), or for an extra punch of flavor you can swap out the water for beef broth or beef stock. The end result is the perfect soup to warm up to on a cold day.
Is borscht healthy?
Borscht is super healthy, as it's packed with protein, nutrients and fiber. All the veggies, especially beets, are packed with vitamins (especially vitamin C and potassium) that are perfect for keeping wintertime colds at bay. Borscht is also naturally low in calories and cholesterol.
Can you can borscht?
Yes, you can can borscht and store it in a cool place for up to a year depending on what method you use. It's best to can it in large pint jars so you can reheat enough for a couple servings at a time.
Is borscht better the next day?
Yes, borscht is always better the next day. Giving the soup time to develop it's flavors in storage overnight is always a good move. You can totally eat it day-of preparation, but waiting a day is where it's at.
More Classic Slavic Soup Recipes
Recipe
This super simple recipe for classic borscht is packed with tender bone-in beef, beets, potatoes, & veggies. Hearty & healthy, the leftovers are to-die-for!
Ingredients
1

lb

bone-in beef

4

tbsp

oil

1

large beet

peeled, grated or sliced thinly

1/2

large onion

finely chopped

2

medium carrots

grated

16

oz

canned kidney beans

rinsed and drained

3

medium potatoes

sliced into bite-sized pieces

1/4

head of medium cabbage

thinly chopped

1

tbsp

salt

adjust to taste

1/4

tbsp

ground pepper

adjust to taste

1

tbsp

vinegar

2

tbsp

ketchup
Nutrition Facts
Classic Borscht Recipe
Amount Per Serving
Calories 251
Calories from Fat 108
% Daily Value*
Fat 12g18%
Cholesterol 24mg8%
Sodium 1110mg46%
Potassium 777mg22%
Carbohydrates 24g8%
Protein 14g28%
Vitamin A 2595IU52%
Vitamin C 22mg27%
Calcium 63mg6%
Iron 4mg22%
* Percent Daily Values are based on a 2000 calorie diet.