These Russian pelmeni are traditional dumplings stuffed with juicy ground meat, onions, and simple seasoning. Serve them on a cold winter's day with sour cream or melted butter!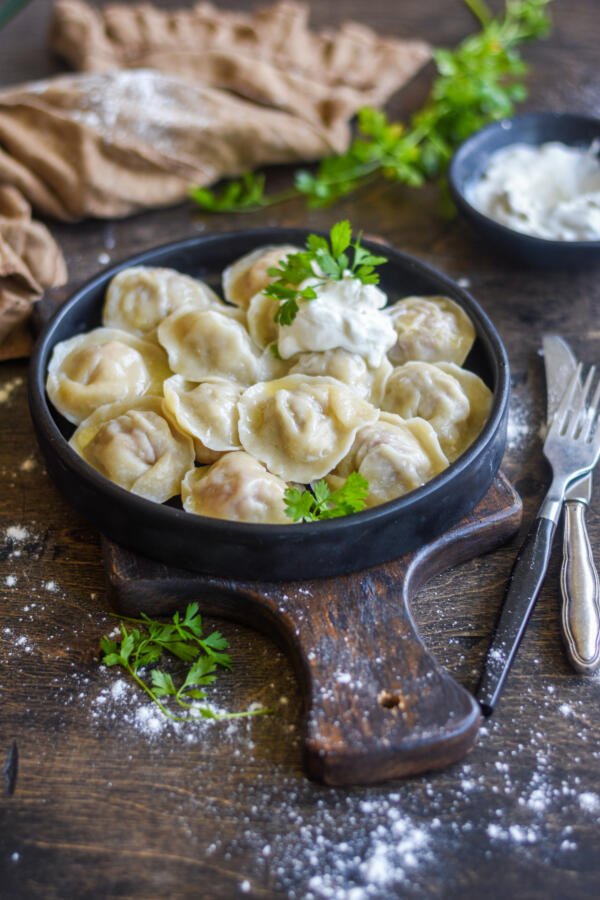 Pelmeni originated from Siberia, the eastern-most region of Russia. It's no wonder my husband loves them so much! He immigrated to the US from Siberia at nine years of age and lights up with joy any time I work up the energy to make pelmeni homemade.
In this recipe, you'll learn how to make these Russian dumplings by hand or by using a special mold. In Russian, the pelmeni mold is called a "pelmenitsa". To make the process easier, you can snag one for yourself on Amazon. You'll be amazed at how much it streamlines the process!
What are Russian Pelmeni?
Pelmeni are traditional Russian dumplings made with a simple dough of flour, water, eggs, and salt. Typically, they are stuffed with a filling of ground pork, chicken, turkey, or beef seasoning with onions and salt and pepper. Largely considered the national dish of Russia, you will find these tasty dumplings served in homes, cafes, and fancy restaurants throughout the country.
Flavor: Mild non-leavened boiled dough is contrasted with a rich and savory filling of ground meat and onions.
Texture: The soft boiled dough is filled with a ground meat filling, making for an explosion of texture in your mouth.
Time: From prep to table, these dumplings take just under an hour and a half to make.
How to Make Pelmeni Using a Pelmeni Mold
Below, find a quick overview of how to make these traditional Russian dumplings using a specialized mold.
Roll the Dough Out: With a rolling pin, roll out a flat piece of dough and place it on a well-floured pelmeni mold. Fill each hole with the meat mixture. Next, roll out another piece of dough and lay it directly on top of the first.
Shape the Dumplings: Using a rolling pin, roll over the top dough several times until each dumpling is separated.
Flip the Mold: Flip the mold over and gently shake the raw dumplings out. Dust them with flour and freeze them for later or cook them straight away!
How to Make Pelmeni by Hand
If you don't have a mold or prefer the true classic pelmeni, find a brief overview of how to shape the dumplings by hand.
Roll the Dough Out: Using a rolling pin, roll out the dough into a flat piece. Next, use a circular cookie cutter to cut out small circles from the dough.
Shape the Dumplings: Top each dough circle with a spoonful of the meat mixture. Fold over the sides to create a half-moon shape. Next, pinch the pointy edges together, securing them tightly with your fingers. Dust with flour and freeze for later or boil to eat straight away!
Serving Pelmeni
Pelmeni can be served as a meal all on their own or as an appetizer dish before a traditional Russian meal of cabbage rolls and cream mushroom potatoes. They are delicious eaten plain or topped with sour cream, melted butter, and fresh dill.
Storing Pelmeni
Refrigerator: Store leftover dumplings in an airtight container in the refrigerator. They should keep for up to a week.
Freezer: To freeze raw dumplings, generously coat each dumpling in flour. Place them on a baking sheet dusted with flour and pop it into the freezer for a couple of hours or until the dumplings are completely frozen. Transfer the dumplings to a freezer-safe bag and store them for up to 3 months.
FAQ
Can I pan fry pelmeni?
Like pierogi, you can finish pelmeni by pan frying them if you want a nice outer crispy. To do so, place them in a skillet with a bit of butter and fry each side until golden brown.
What is the difference between pelmeni and pierogi?
Pelmeni are meat-filled boiled dumplings while pierogi are typically boiled and pan-fried and can be filled with an assortment of sweet and savory fillings.
What are pelmeni traditionally made with?
Pelmeni are meat dumplings that are traditionally filled with ground beef, pork, or lamb.
How long does it take to make homemade pelmeni?
It takes just under an hour and a half to make homemade pelmeni.
Can you freeze cooked pelmeni?
Yes, you can freeze cooked pelmeni. To do so, first let them cool completely. Next, place them on a baking sheet lined with parchment paper. Pop the entire baking sheet in the freezer until the pelmeni are completely frozen. Transfer to a freezer-safe bag and store them for up to 3 months. To reheat, cook them in boiling water until they float to the top.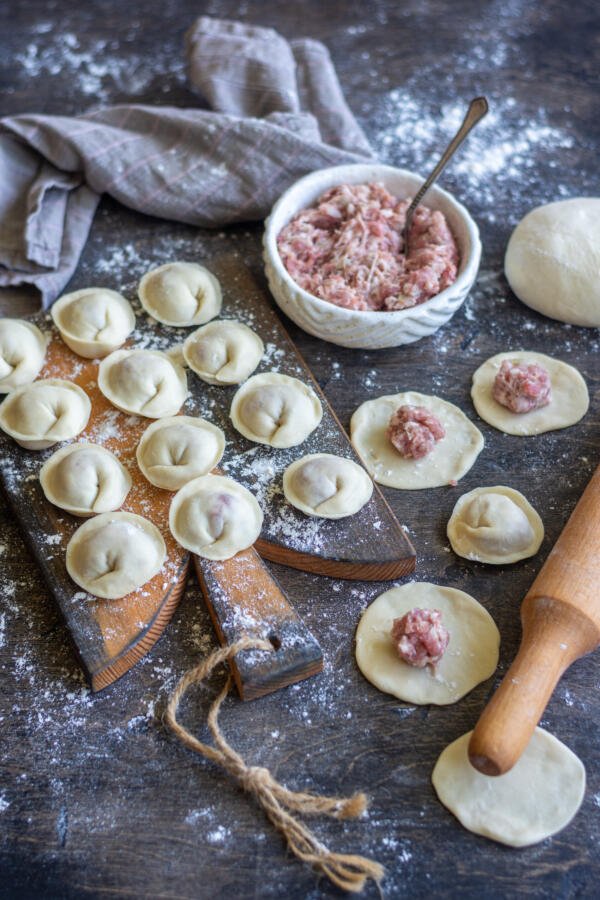 Other Russian Recipes to Try
Recipe
Pelmeni are the Russian version of dumplings. They're mostly served on cold winter days with sour cream or just butter.
Ingredients
Ingredients for Pelmeni Filling
Serving Pelmeni
sour cream

Unsalted Butter
Instructions
Nutrition Facts
Pelmeni (Russian Dumplings)
Amount Per Serving
Calories 279
Calories from Fat 126
% Daily Value*
Fat 14g22%
Cholesterol 81mg27%
Sodium 474mg20%
Potassium 230mg7%
Carbohydrates 21g7%
Protein 15g30%
Vitamin A 52IU1%
Vitamin C 1mg1%
Calcium 24mg2%
Iron 3mg17%
* Percent Daily Values are based on a 2000 calorie diet.