Homemade chicken broth is a game-changer. Make it once and you are sure to make it time and time again!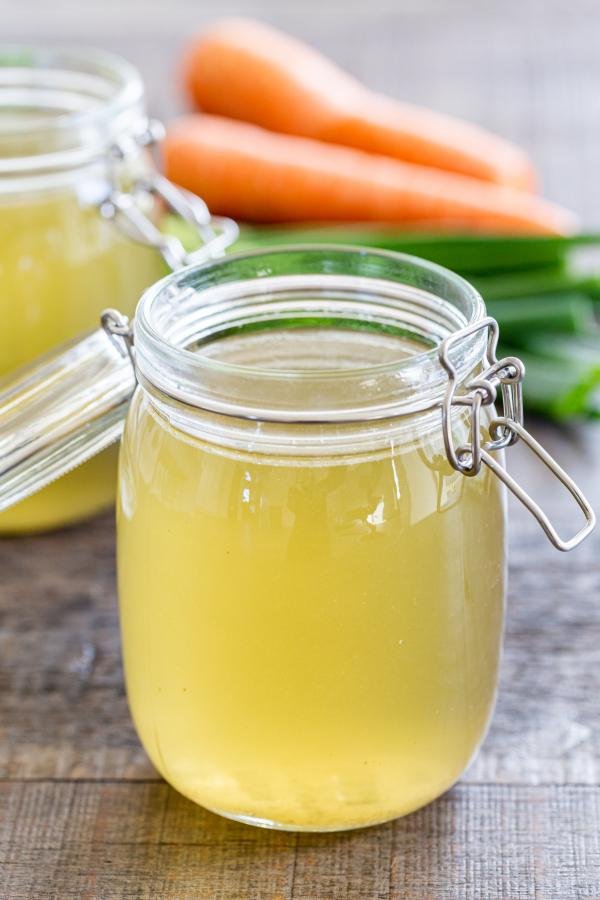 Homemade chicken broth used to intimidate me. From concentrates to cans to boxed varieties, there are so many great broths you can purchase at the store. While these are all awesome, nothing compares to the kind you can make at home.
Homemade chicken broth is the best base for so many different types of soup. Make a huge batch and freeze your leftovers so you have broth on hand at all times!
Chicken broth is pure comfort food. When someone in my family gets sick (myself included), I love to warm up a cup of chicken broth for them to drink like tea. It's light, soothing and so flavorful.
What Goes into Basic Chicken Broth?
Carrots: There's no need to peel your carrots. Just wash them super well!
Onion: Leave the skin on your onion! It adds more color to the broth.
Celery: Wash your celery well. Keep it in large chunks to prevent it from becoming soggy and hard to strain out.
Bay Leaves: Bay leaves add a subtle bitterness to your broth. Somewhere between pepper and pine, these herbs are a must when it comes to rounding out the flavors in your broth.
Bone-In Chicken: I strongly recommend using organic chicken. It's so much more flavorful than the varieties that have been stuffed with antibiotics and other chemicals. Also, don't use boneless chicken. All the flavor is born out of slow cooking the marrow out of the bones!
Fresh Herbs: Dill, parsley, rosemary and thyme are all amazing herbs to add to the mix! Get creative and add the ones you love the most.
Garlic: Add an entire head of garlic right to the pot. You don't have to bother with peeling the individual cloves!
Filtered Water: If you can, use cold, filtered water to build your broth. The filtered stuff isn't muddied up with extra minerals or chemicals from the tap. This allows for all that delicious chicken flavor to shine through.
Chicken Broth Video
How to Make Chicken Broth
Place all your ingredients directly into a large stock pot. Remember: You don't need to peel any of your veggies! You will strain them out after your broth is all done, so don't waste your time. Also, feel free to use fresh or frozen chicken.

Hot tip: Have a rotisserie chicken hanging out in the fridge? Remove the meat from the bone, shred it and set aside. (You can add it to soup later!) Then, throw the chicken carcass directly into your pot! All the bones will add amazing flavor and fats. It would be a shame to let the carcass go to waste…

Fill your pot with filtered water. Bring it to a boil, then turn down the heat to a low and simmer uncovered for 3-4 hours.

Hot tip: You can also use a crock pot to cook your broth. This is a great option when you can't be at home during the cooking time and don't feel comfortable leaving the house with the stove on. Cook the broth on the low setting for 6-8 hours instead. Strain and store per usual.

Strain the broth into a colander lined with a paper towel.
Save the chicken to make soup with! Discard all the veggies.
Are Chicken Broth and Chicken Stock the Same Thing?
Typically, chicken broth is made with more meat, while chicken stock is made with more bones. Therefore, broth is more runny, while stock tends to be thicker and more fatty. Feel free to experiment here and add more or less bones as you see fit.
Ways to Use Chicken Broth
Aside from drinking it like tea, here are some of my favorite ways to use homemade chicken broth:
Chicken Gizzard Soup: Chicken gizzards and mushrooms team up to make an insanely rich soup. Using homemade chicken broth will take this family recipe to the next level!
Chicken Noodle Soup: This classic is always delicious. When you or your loved ones are feeling under the weather, make a big batch of soup and cozy up.
Homemade Clam Chowder: Living in Seattle means I get to have amazing clam chowder. Use the freshest clams you can find (or canned if you are in a pinch) and homemade chicken broth to make this classic in the comfort of your own home.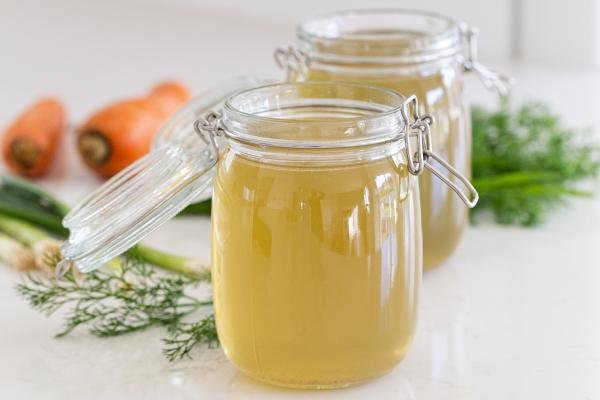 Freezing Chicken Broth
Let's just say I have made a few mistakes in my day when it comes to storing chicken broth. One time, I stored the broth in mason jars and the glass shattered because the water expanded when it froze! I like to think I made these mistakes so you don't have to…
My best tip is to use freezer bags or reusable plastic containers to store your broth. This will make your life much easier!
Recipe
Homemade chicken broth is a game-changer. Make it once and you are sure to make it time and time again!
Ingredients
6

Chicken Drumsticks

3

medium Carrots

1

medium Onion

1

Garlic Head

2

tbsp

Salt
Nutrition Facts
Easy Homemade Chicken Broth
Amount Per Serving
Calories 282
Calories from Fat 126
% Daily Value*
Fat 14g22%
Cholesterol 139mg46%
Sodium 4852mg202%
Potassium 586mg17%
Carbohydrates 10g3%
Protein 28g56%
Vitamin A 10260IU205%
Vitamin C 6.6mg8%
Calcium 44mg4%
Iron 1.2mg7%
* Percent Daily Values are based on a 2000 calorie diet.