Chocolate macarons are perhaps my favorite of all my macaron recipes (yes, I have quite a few!). They are rich in flavor and adorable in their appearance!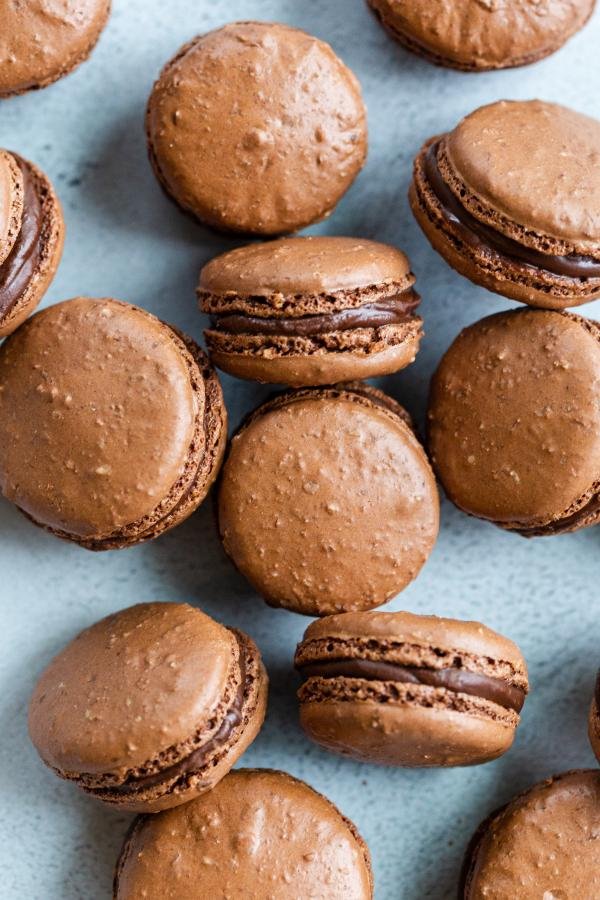 Chocolate macarons are quite popular in high-end bakeries. But, where did they come from? There is much debate about whether macarons originated in France or Italy. I'll tell you, there is no definitive answer here. But, for this recipe, we will be using the French macaron technique.
Want to learn all the tips and tricks (and a little bit of history) on the macaron? Read my guide for The Perfect French Macarons to go more in depth on this delicious little cookie.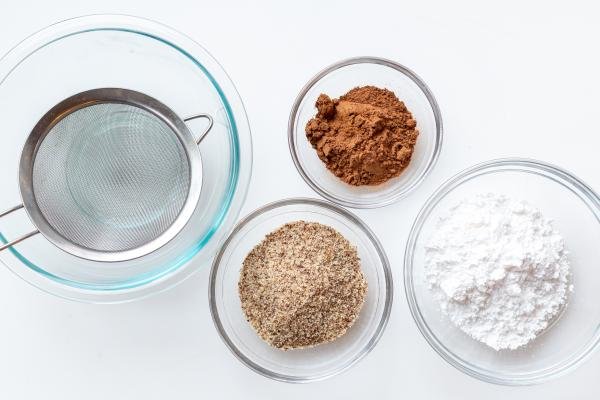 How to Make Macarons
In the recipe I will explain how to make macarons in depth. But here is a brief overview of the process so you can see that this impressive cookie is actually not that hard to make:
First, you will beat your eggs with sugar in an electric mixer until you see soft peaks form.
Next, you will sift your cocoa powder and almond flour with a sieve to remove any lumps. This is a crucial step in making your macarons smooth and uniform.
Then, you will lightly fold the sifted dry ingredients into your meringue. Be careful not to over mix! This will result in flat discs, versus light and fluffy wafers.
Transfer the macaron batter to a pastry bag (also called a piping bag).
Pipe small, circular discs onto a baking sheet lined with parchment paper. Allow the wafers to "dry out" at room temperature for around 20 minutes before baking.
Preheat your oven. Bake for at least 13 minutes. Depending on the oven, I have had to go up to 20 minutes.
Make your ganache filling. Allow it to cool. Then assemble your macarons!
Note: Macarons are best when they have been refrigerated for at least 24 hours (or up to two days) before serving. They are never eaten straight out of the oven. This process is called "maturing", but what it means in plain terms is allowing your cookies to develop the best flavors possible!
Use Almond Flour for Macarons
Almond flour is what gives macarons their signature texture and flavor. For most recipes, you will be asked to use blanched almond flour, which means the skins of the nuts were removed before they were milled (or ground into a fine flour). This type of almond flour will result in the silkiest and most uniform of macarons. If you used unblanched almond flour (which is totally fine), you will get a more coarse texture and a cute, speckled appearance.
You may have an allergy to almond flour or are simply wondering if there is any other type of flour you can substitute. I know some people have used pumpkin seed flour, but to be honest, I don't have any experience or tips here.
Why are my Macarons Cracking?
There are a couple of reasons why your macarons are cracking. The main one is most likely that you didn't let them dry out at room temperature long enough before baking them. I recommend a minimum of 20 minutes. You will notice that this allows them to form an outer shell, which will protect them from cracking in the oven.
Tip: After piping your macarons, tap the outer edge of your baking sheet lightly a couple of times. This will release any air bubbles that may be lurking within your macaron batter. During the baking process, these pesky bubbles will expand and crack through the top of your cookie.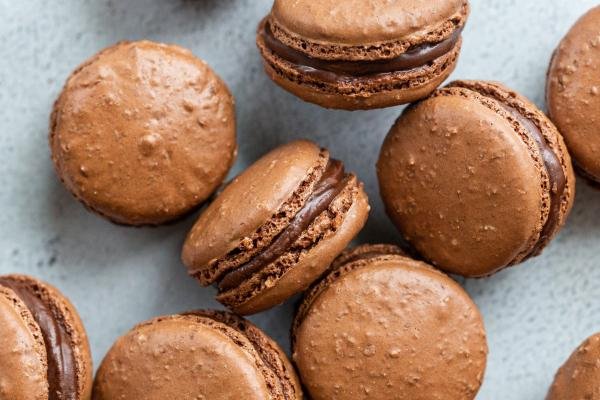 Chocolate Ganache Filling
I absolutely love this ganache. Why? Because it is DELICIOUS and it only requires two ingredients to make. This is a relief after making the delicate (and at times fickle) sandwich wafers.
To make the ganache, melt butter and chocolate chips together in a small saucepan over medium-heat. Continue to stir the ingredients together with a rubber spatula until fully incorporated. After you allow your filling to cool to room temperature, carefully spoon the ganache onto the flat side of one wafer and then place another on top. And, ta-da, you have a macaron!
Macarons Recipes
Cranberry White Chocolate Macarons: These pretty macarons are perfect for the holiday season!
Coffee Macarons: If you are a coffee lover, these macarons are for you. The wafer is made with coffee grounds and the filling is chocolate. Can you say mocha macaron?!
Dulce de Leche Macarons: I love dulce de leche and will find any reason to use it. It adds such a nice caramel-y flavor to these macarons!
Recipe
Chocolate macarons are perhaps my favorite of all my macaron recipes (yes, I have quite a few!). They are rich in flavor and adorable in their appearance!
Instructions
Macaron Chocolate Cream
Nutrition Facts
Chocolate Macarons
Amount Per Serving
Calories 136
Calories from Fat 63
% Daily Value*
Fat 7g11%
Cholesterol 6mg2%
Sodium 28mg1%
Potassium 65mg2%
Carbohydrates 17g6%
Protein 2g4%
Vitamin A 74IU1%
Calcium 14mg1%
Iron 1mg6%
* Percent Daily Values are based on a 2000 calorie diet.