These coffee-flavored macarons are about to become your new obsession. The coffee-speckled macaron shells are held together with a rich chocolate ganache, creating a decadent bite that will surely wake up your tastebuds.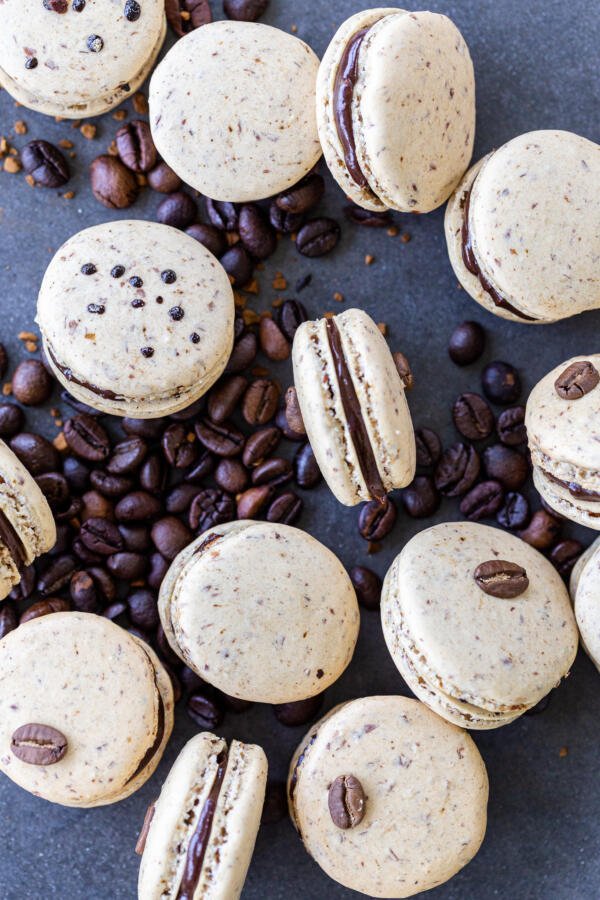 Our coffee macarons are as cute as they are delicious. If you're an avid reader of Momsdish, you might have noticed we have quite the collection of coffee-flavored sweets, including our espresso Jello shots, chocolate mocha cookies, and chocolate coffee mousse. You can blame our time living in Seattle for our coffee obsession!
These coffee macarons consist of rich coffee-spiked chocolate ganache sandwiched between two coffee-speckled macaron shells. As all great macarons do, they have a crunchy shell with a melt in your mouth center. You can even go as far as to say that the texture of a well made macaron is just as important as the flavor itself.
If you're an avid baker, you know that baking macarons is somewhat of a rite of passage in the pastry world. While there is much talk surrounding the "difficulty" of pulling off a successful batch of macarons, they are actually quite simple to make. In this recipe, you'll learn all the tips and tricks to nail the process. Let's get started!
Looking for Kid-Friendly Macarons? If you're looking to feed little mouths, try out our dulce de leche macarons instead. They are closest in taste, and loved by kids!
What are Coffee Macarons?
Coffee macarons are a popular flavor variety of this beloved French cookie. Typically, they are quite pricey to buy at a bakery and can be made at home for a fraction of the cost. Below, find a quick overview of the flavor, texture, and estimated cooking time.
Flavor: The flavor of these coffee macarons is a balance of rich chocolate and brewed coffee. They certainly pack a punch!
Texture: Like all great macarons, these have a perfectly crunchy outer shell and a decadently chewy center. All macaron lovers can attest to the fact that the texture of the cookie is as addicting as the flavor!
Time: From prep to finish, these macarons take about an hour to make.
Aging Egg Whites: Before you dive into making macarons, age the egg whites used for the batter for at least 24 hours (48 hours preferred). Do this by separating the yolks out and storing the egg whites in a glass container, uncovered in the refrigerator. This relaxes the egg protein and yields a perfect meringue.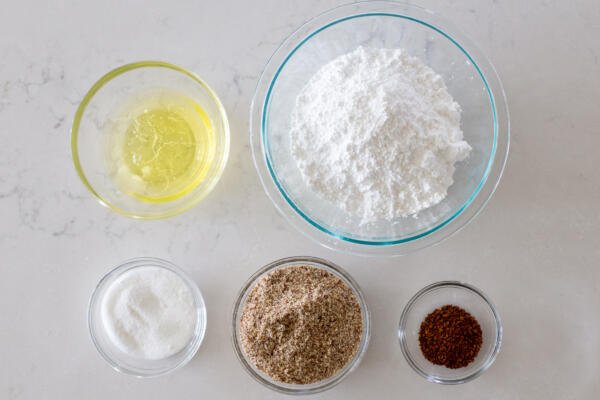 How to Make Coffee Macarons
Making coffee macarons requires two separate processes: making the shells and whipping up the ganache filling. Below, find an overview of the recipe.
Ganache Filling
Bring Whipping Cream to Near Boil: Pour heavy whipping cream in a saucepan and heat it up to a near boil. Remove from heat and pour into a bowl filled with chocolate chips and instant coffee.
Whisk Until Smooth: While the heavy whipping cream is still hot, whisk the ingredients together until you get a smooth, shiny ganache.
Got ganache? For more tips on making ganache or ideas on how to use it, check out this ganache guide!
Macaron Shells
Tips for Making the Best Coffee Macarons
Below, find a couple of tips to help you make the best coffee macarons on the planet.
Sift the dry ingredients for the best texture. It's important to sift the dry ingredients to remove any lumps. If you skip this step, you will get misshapen macaron shells.
Use a piping bag to portion out the ganache and batter. A piping bag will not only help you uniformly portion the ganache, but it will also help you get perfectly round macaron shells. Don't try to apply ganache or portion batter by hand!
Resist over mixing your batter. Only mix the batter until the flour and egg mixture are just combined. Over mixing will result in flat macaron shells.
Allow the macarons to set in the refrigerator. After you form your macarons, allow them to set in the refrigerator. This will not only make them more sturdy, but it will also further develop all the rich chocolate and coffee flavors.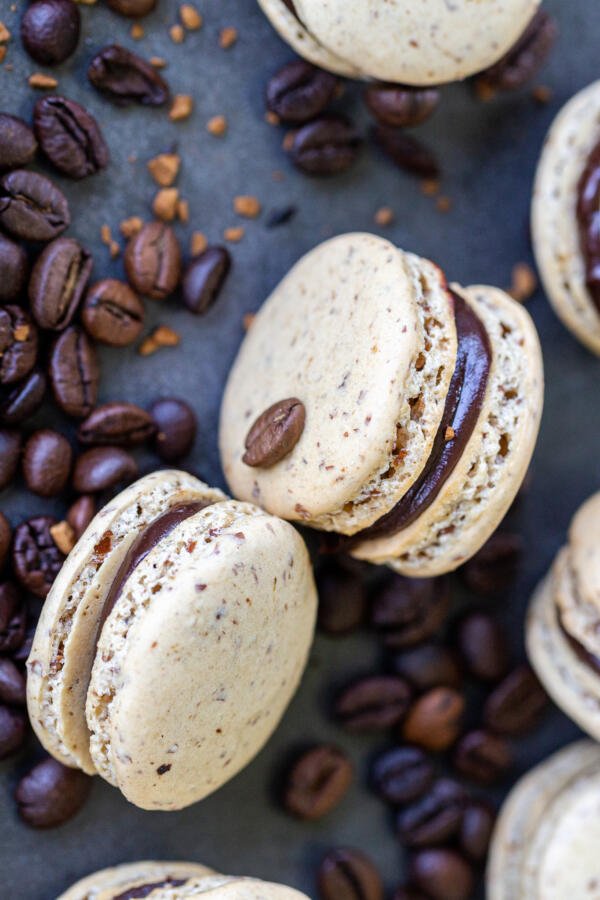 Storing Coffee Macarons
Refrigerator: Store leftover macarons in an airtight container in the fridge. They should last up to two weeks. Never, ever store macarons at room temperature! They will go stale fast and lose their signature chewiness.
Freezer: Freeze macarons by placing them in a single layer on a baking sheet lined with parchment paper. Pop the baking sheet into the freezer. Once frozen, transfer the macarons to a freezer-safe plastic bag. They should stay fresh for up to three months. When you're ready, allow them to thaw in the refrigerator overnight.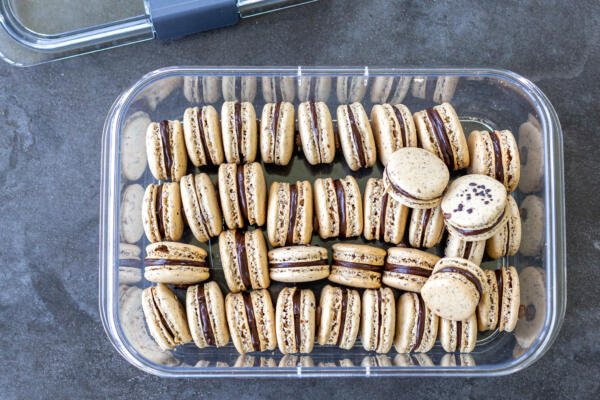 FAQ
How big should I pipe the macaron batter?
Pipe the macaron batter 1.5 to 2 inches in diameter.
What does "aging the egg whites" mean?
Aging egg whites means to allow them to sit in the refrigerator uncovered for a minimum of 24 hours (48 hours preferred). This allows the egg proteins to relax, making it easier to whip them up and create volume.
What is the difference between a macaron and a macaroon?
Macarons are delicate French sandwich cookies made with almond flour, while macaroons are haystack-style cookies made with coconut shreds. Although the spelling is similar, they couldn't be more different.
Do you have to use cream of tartar to make macarons?
You do not have to use cream of tartar to make macarons. Some recipes call for it to strengthen the egg whites. However, if you follow the "aging" process, you should be just fine.
Other Macaron Recipes to Try
Recipe
These coffee macaron shells are held together with a rich chocolate ganache, creating a decadent bite that will wake up your tastebuds.
Instructions
Chocolate Ganache
Nutrition Facts
Coffee Macarons Recipe
Amount Per Serving
Calories 137
Calories from Fat 63
% Daily Value*
Fat 7g11%
Cholesterol 7mg2%
Sodium 9mg0%
Potassium 67mg2%
Carbohydrates 17g6%
Protein 2g4%
Vitamin A 77IU2%
Vitamin C 1mg1%
Calcium 19mg2%
Iron 1mg6%
* Percent Daily Values are based on a 2000 calorie diet.