Homemade raspberry jam is super easy to make. With just three ingredients, you will have jam so tasty and tart you will never buy it from the store again.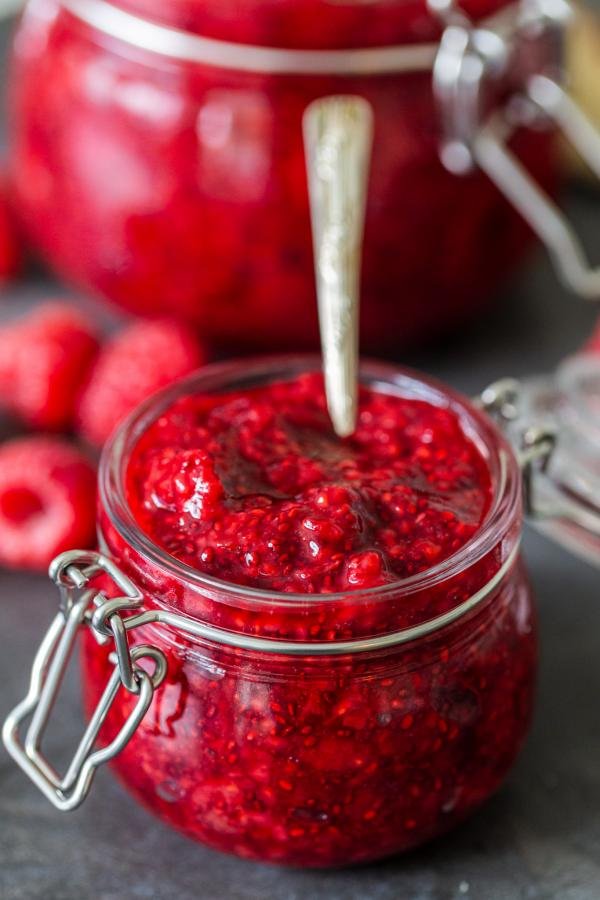 Raspberry jam is my kid's favorite! They love it so much and beg for me to add it to their peanut butter sandwiches.
Store bought jams and jellies sure are delicious, but they are often packed with an amount of sugar that is just ridiculous. We like to make our own jam (like our blackberry jam) to control the quality. Plus, we load it up with chia seeds to make it extra healthy!
I love adding raspberry jam on top of my oatmeal or a piece of buttery breakfast toast. To be honest, sometimes I just steal a spoonful to satiate a craving for something sweet. Our boys demand it slathered on their buttermilk waffles or cottage cheese pancakes.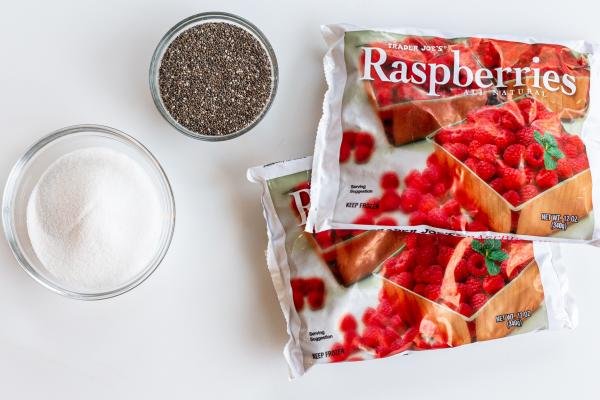 How to Make Raspberry Jam
Making your own jam might sound intimidating at first, but trust me, the process couldn't be more simple or approachable. The kicker? You can do it all in one sauce pan! Gotta love that, right? Follow these simple instructions:
Place raspberries, sugar and chia seeds into a heavy saucepan.
Bring it to medium-heat and let it simmer for about 30 minutes. Stir jam every 5 minutes so it doesn't burn.
Remove from heat and let the jam cool down completely. Then, place it in an airtight jar and store it in the fridge.
Note: If you have any canning jars lying around, those will work perfectly for storing your homemade jam!
Can Frozen Raspberries be Used to Make Jam?
Frozen raspberries are perfect for this recipe! In fact, that is exactly what I use. One of the best places to get good quality, frozen berries for cheap is Trader Joe's. I always have a couple bags in my freezer for a rainy day.
Sugar Substitutes for Your Jam
Don't want to use regular sugar? Honey, maple syrup, or artificial sweeteners will work fine as well. If you do go the artificial route, make sure to check the ratios. Sometimes low-calorie sweeteners are much sweeter to the tablespoon than traditional sugar.
Refrigerating Raspberry Jam
Without any preservatives, homemade raspberry jam will last for up to a month when stored properly. That's right — you will never have to buy store bought jam ever again! The homemade stuff is not only healthier, it will save you some hard earned cash in the long run.
Freezing Raspberry Jam
Just when you thought homemade raspberry jam couldn't get any better, you find out you can freeze it for later use! Okay, that just might be my obsession with freezing my favorite foods peeking through. But seriously, having jam on deck has saved me on countless last-minute brunch parties, impromptu slumber parties and holiday bake-offs.
Other Jam Recipes you Must Try
Apricot Jam – From baking to snacking, apricot jam is the perfect summertime jam. You can also use it for my Jam Layered Honey Cake. Oh, yeah…
Strawberry Jam – Two ingredients, no pectin required! Use up those farm-picked berries for the best homemade jam.
Jam and Nuts Rugelach – These pretty little cookies are perfect for potlucks. I love to make them for a summertime BBQ.
Pierogi with Farmer's Cheese – My family's recipe for pierogi will knock you off your feet. Put a pot of coffee on, garnish these morsels with your jam and watch the rain fall from your couch. That's HEAVEN!
The Perfect Crepes – Crepes are my favorite breakfast food! The cheesy filling in this recipe is perfectly complemented by jam.
Cream Jam Tarts – Make these for your next get together. These tarts are not only beautiful, they are simply delicious.
Recipe
Homemade raspberry jam is super easy to make. With just three ingredients, you will have jam so tasty and tart you will never buy it from the store again.
Instructions
Note: Sugar can be replaced by honey or maple syrup.
Nutrition Facts
Easy Raspberry Jam (3 Ingredients Only)
Amount Per Serving
Calories 51
Calories from Fat 9
% Daily Value*
Fat 1g2%
Sodium 1mg0%
Potassium 63mg2%
Carbohydrates 10g3%
Protein 1g2%
Vitamin A 11IU0%
Vitamin C 9mg11%
Calcium 26mg3%
Iron 1mg6%
* Percent Daily Values are based on a 2000 calorie diet.