This Nespresso latte recipe is the perfect balance of caramel and chocolate. In under 5 minutes, you'll have a perfect latte that rivals any coffee shop!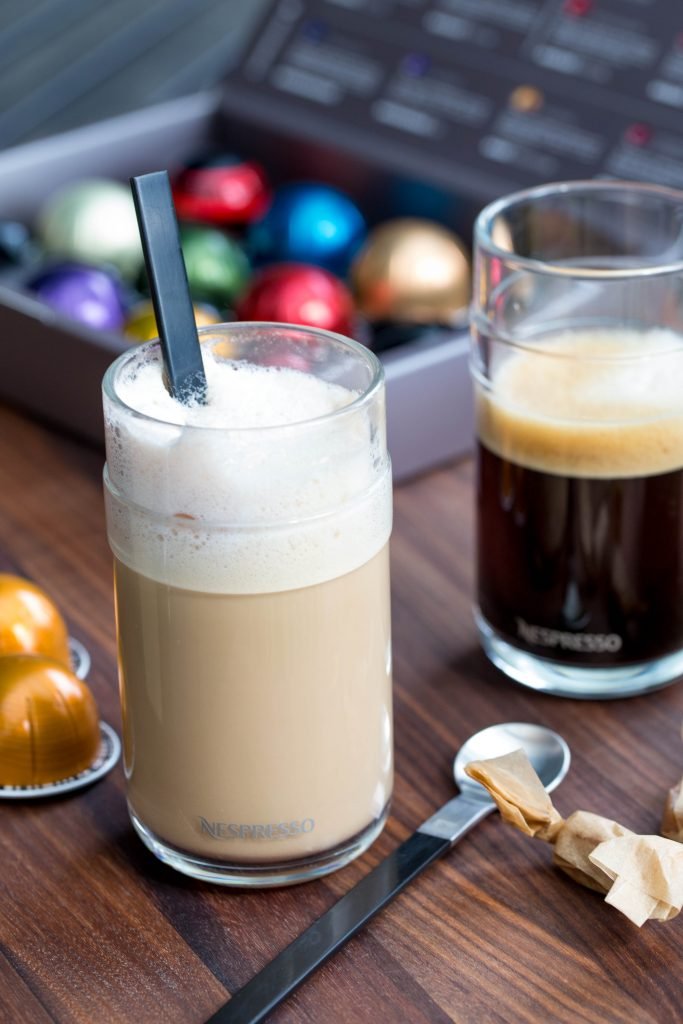 After spamming you all with my Nespresso photos and vlogs on social, I've realized that so many of you own one as well and are equally obsessed! It's no surprise that this appliance has spread like wildfire – it's that good. That's why I've decided to share a simple, yet luxurious Nespresso latte recipe with caramel and chocolate that you can whip up in under 5 minutes!
If you have the Nespresso Vertuo and haven't tried the Caramelizio coffee pods yet – they're a must-try! It's the perfect foundation to create this decadent caramel and chocolate latte. And you know what? It's much better than a $5 drink from your local coffee shop. Saving money has never been more delicious.
Now it's time to create a perfect cup of comfort…
How to Make this Nespresso Latte Recipe
Making this Nespresso latte recipe only requires 4 ingredients and a handful of steps. It's so easy, you'll be saving money on coffee shop drinks before you know it.
Froth the Milk: Pour the milk into the frother cup and combine it with the ground chocolate and cocoa. Next, use the steam nozzle on the Nespresso machine or the Aeroccino milk frother to froth the milk. If you're using the Aeroccino, froth the milk on the cappuccino setting.
Assemble the Latte: Pour the syrup into the bottom of the glass. Next, pour the heated cocoa milk into the cup and stir to combine. Pop the Nespresso Nespresso Caramelizio capsule into the machine and brew it directly into the cup. Finally, top the latte with a spoonful of leftover milk foam on top, serve, and enjoy!
Iced Latte Hack: If you prefer a cold coffee, simply pop the latte in a bigger glass and fill it with ice.
Tips & Tricks
Here find a handful of tips and tricks to help you make the most out of this Nespresso latte recipe.
Use whole milk for thicker foam. The fat in whole milk makes for such luscious, creamy foam. If you opt for 2% or non-fat milk, this Nespresso latte recipe will still turn out delicious but the foam will be much airier.
Top the latte with foam. Finish the top of the latte with a spoonful of leftover foam from the frothed milk. This will make for a coffee shop-worthy presentation!
Work quickly to keep the latte warm. Much like a barista at a coffee shop, you'll want to work relatively quickly to ensure your drink is nice and warm. Prep ahead by pouring the syrup into the cup and making sure your capsule is ready to go in the chamber.
FAQ
Which Nespresso capsule is best for a latte?
The Nespresso Caramelizio is the best for caramel-flavored lattes. However, feel free to use whatever capsule you like the most.
Can all Nespresso machines make lattes?
All Nespresso models can be turned into latte-making machines, so long as you purchase one that comes with Aeroccino or a milk steamer. This is the milk frother component that you'll need to warm up the milk. If you don't have one, any milk frother will do!
Which Nespresso machine makes the best crema?
All of the Nespresso models will give you a dense crema. You can't go wrong!
Why is my Nespresso coffee so watery?
Your Nespresso coffee likely turned out watery due to air bubbles being caught in the pump. This happens when you let the water chamber completely empty, allowing the machine to suck in air versus water. To start fresh, brew a cup of hot water with no capsule to push out any air pockets.
Can I use Nespresso pods twice?
For best results, you should not use Nespresso pods more than once. They are meant to be single-use and will come out watery if you use them twice.
Serving this Nespresso Latte Recipe
Serve this Nespresso latte alongside breakfast for a nice boost of energy. It's also wonderful served as a light dessert after a heavy meal. To prevent giving your guests a rush of caffeine after dinner, swap in your favorite decaf Nespresso pod.
Other Tasty Coffee Recipes
Recipe
This Nespresso latte recipe is the perfect balance of caramel and chocolate. In under 5 minutes, you'll have a perfect latte that rivals any coffee shop!
Ingredients
20

oz

milk

1

tsp

Cocoa

such as Ghirardelli

1

tsp

chocolate syrup

1

capsule

Nespresso Caramelizio
Nutrition Facts
Latte with Nespresso (Caramel and Chocolate)
Amount Per Serving
Calories 362
Calories from Fat 171
% Daily Value*
Fat 19g29%
Cholesterol 57mg19%
Sodium 248mg10%
Potassium 748mg21%
Carbohydrates 31g10%
Protein 18g36%
Vitamin A 920IU18%
Calcium 641mg64%
* Percent Daily Values are based on a 2000 calorie diet.