Savory and sweet, this chicken lo mein is perfect for slurping. Get ready to swear off takeout for good (or at least tonight)!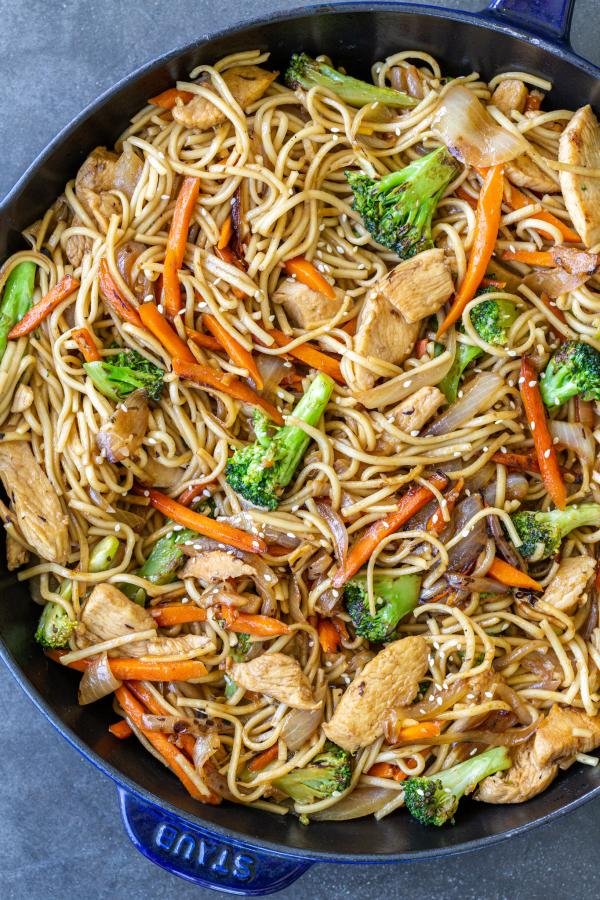 This chicken lo mein recipe is 90% of the reason why I've decided to recycle my takeout menus. For so long, my family leaned on takeout to get us through hectic weeknights or weekends full of errands. But here's the thing, snagging takeout didn't even really save us that much time. Case in point with this chicken lo mein dish. It takes just 10 minutes of prep time and 20 minutes of cook time!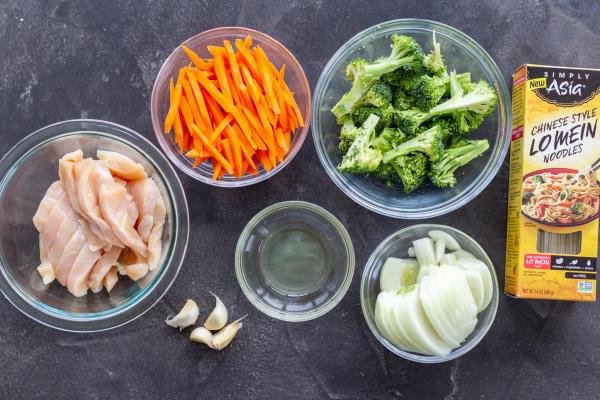 The Difference Between Chow Mein & Lo Mein
For most, Chinese takeout means chow mein. But what about its lesser-known and just as delicious cousin lo mein? While the dishes are similar, they do have some key differences. Lo mein is a dish of soft egg noodles, protein, and veggies that are tossed in a thick, savory sauce. On the other hand, chow mein starts with the same components but calls for a longer frying time to turn the egg noodles slightly crispy.
An Easy Step-By-Step for Chicken Lo Mein
To kick the process off, first whisk the brown sugar, chicken broth, and soy sauce together. Then, set the sauce aside to give it time to marinate and develop its flavors.
Prepare the Veggies & Chicken: Next, slice the carrots, broccoli, and onion. Then, slice the chicken breasts into similar-sized thin strips.
Sauté the Chicken: In a wok, sauté the chicken with sesame oil. Remove it from the pan and set it aside.
Sauté the Veggies: Next, sauté the onions in the chicken drippings and remove them from the pan. Add in the carrots, cooking them until they begin to soften. Add in the broccoli and sauté for a couple of more minutes. Press in the garlic and stir to combine.
Add in the Chicken & Noodles: Add the chicken back in, pour the sauce in, and simmer for a couple of minutes. Finally, add in the cooked noodles and toss to combine. Grab your chopsticks and dig in!
Need a good wok recommendation? I've been using this one for years for everything from beef stir fry to japchae. If you don't have a wok, simply use a large skillet.
3 Pro Tips for the BEST Chicken Lo Mein
Making these noodles isn't rocket science, but a couple of key tips will help you nail it.
Slice the veggies and chicken into similar-sized pieces. To promote even cooking, slice the veggies and chicken into similar-sized pieces.
Cook the ingredients in heats. The key to a great lo mein is to cook the different components separately before bring them all together. This prevents overcooking and yields the best texture.
Boil the noodles according to the package instructions. No matter which noodles you use, make sure you boil them according to the package instructions.
Need to control your salt intake? Use low sodium soy sauce and chicken broth instead. Now you're really escaping the takeout trap!
Different Vegetables for Chicken Lo Mein
Chicken lo mein is a great dish to help you clear out your produce drawer. Below, find a couple of different produce options to inspire you.
Red bell pepper
Snow peas
Mushrooms
​Ginger
Bean sprouts
Green onions
Bok choy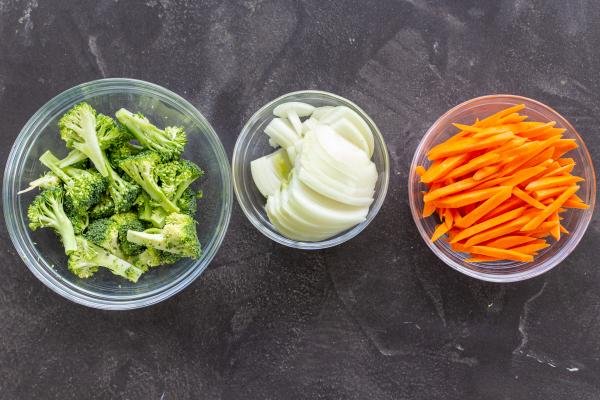 Ideas for Serving Chicken Lo Mein
​Chicken lo mein is filling enough to be eaten as a meal all on its own. Serve it on hectic weeknights when you're low on time. Or, whip it up for your next dinner party and serve it alongside crispy crab puffs, Korean air fryer pork ​ribs, and spring rolls with salmon.
Storing & Reheating Tips
To keep lo mein on hand for up to a week, store it in an airtight container in the fridge. Avoid freezing the noodles, as they'll turn to mush upon thawing. To reheat, place them back in a pan with a bit or sesame oil or microwave them for a couple of minutes until warmed through.
FAQ
What is lo mein sauce made of?
What gives lo mein sauce its signature taste is a balance of savory ingredients (chicken broth, soy sauce, and sesame oil) and brown sugar (a key ingredient in Chinese cooking that helps sauces thicken and caramelize).
What are lo mein noodles made of?
Lo mein noodles are made with egg and wheat flour. Typically, chow mein calls for the same exact noodles.
What is the smoky flavor in lo mein?
The smokey flavor of the lo mein comes from cooking the veggies and chicken over medium-high heat until golden brown. The crisp that forms on the ingredients adds smokiness.
Which is healthier chow mein or lo mein?
Chow mein requires a bit more oil than lo mein to make the noodles crispy. This likely makes it a bit unhealthier but not by much.
How can you make lo mein spicy?
To make your lo mein spicy, add in a couple of shakes of red pepper flakes or a squirt or two of sriracha.
More Tasty Asian-Inspired Dishes
Recipe
This chicken lo mein features strips of chicken, sauteed veggies, and tender noodles tossed in a savory and sweet sauce. Crazy easy!
Ingredients
Lo Mein Ingredients
Nutrition Facts
Chicken Lo Mein (Crazy Easy)
Amount Per Serving
Calories 295
Calories from Fat 90
% Daily Value*
Fat 10g15%
Cholesterol 27mg9%
Sodium 767mg32%
Potassium 312mg9%
Carbohydrates 38g13%
Protein 14g28%
Vitamin A 3798IU76%
Vitamin C 6mg7%
Calcium 47mg5%
Iron 2mg11%
* Percent Daily Values are based on a 2000 calorie diet.