This sparkling mango drink is crisp, healthy, and refreshing. Great for cooling down in summer heat or as a part of your next BBQ spread!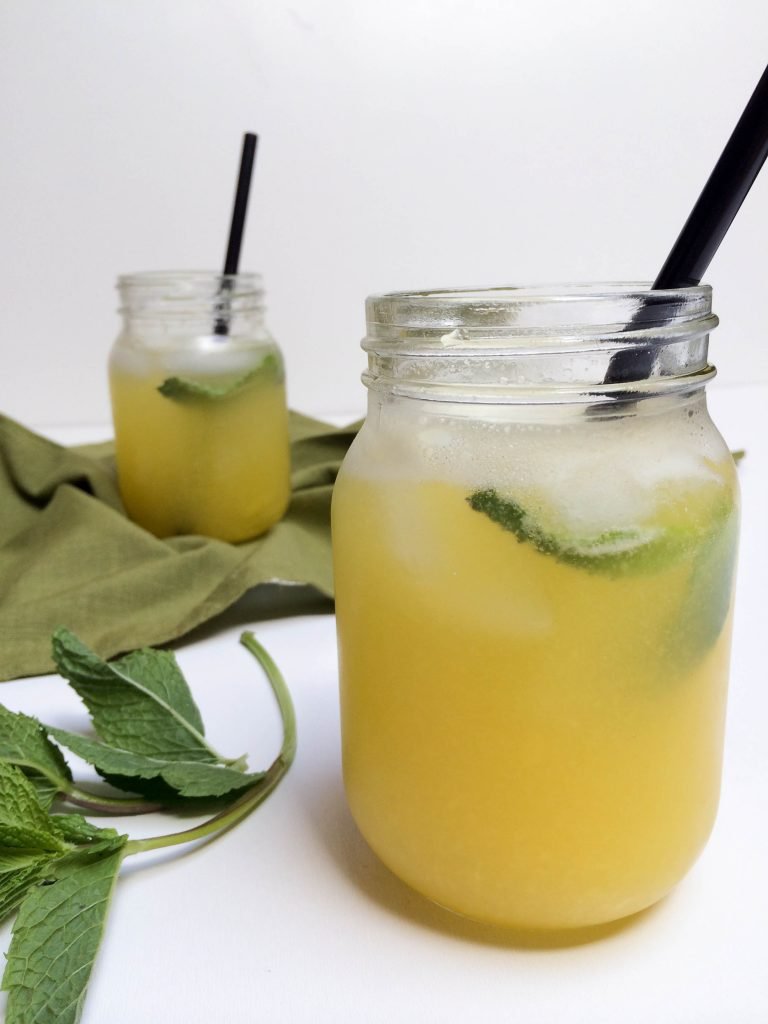 This mango drink is paradise in a glass. Made with fresh mango puree, it's a little pulpy and refreshing from the bubbly club soda. With a little hint of lemon juice and fresh mint leaves, it will transport you to a white sand beach. Sit back, relax, and sip!
The Best Kind of Mangos to Use
There are tons of different kinds of mangos out there, but the following two are our favorite to use for this sparkling drink.
Yellow Flesh Mangoes: The mango you're most familiar with and sold at most grocery stores. It contains a vibrant yellow flesh and a green and reddish skin. Super juicy!
Honey or Champagne Mangoes: The second most common mango. Contains a pale yellow skin and a similar colored flesh. It's less tangy and more sweet. These typically are much smaller than yellow mangos, so you'll likely need 6 of these instead of 3.
How to Make this Sparkling Mango Drink
Putting together this sparkling mango drink only requires 5 wholesome ingredients and 10 minutes of prep time.
Prepare the Mangoes: First, peel the skins of the mangos with a potato peeler. Dice into small mango chunks.
Puree the Mango: Next, place the mango into a blender or food processor with lemon juice and sugar and puree until nice and smooth.
Assemble the Mango Drink: Pop a couple of tablespoons of the puree into a glass. Next, add in some mint leaves, top with club soda, and give the drink a good stir. Drink as-is or add in a couple of ice cubes. Sip and enjoy!
A Couple of Handy Tips
From our kitchen to yours, find a couple of handy tips to nail this drink recipe.
Use fresh mangos, not frozen ones. Frozen mangos have a much higher water content and will yield a watery puree.
Add the sparkling water into the glass last. The club soda will naturally stir up the puree and mint leaves. Always add it last so your puree doesn't float on the very top.
Double the lemon juice for extra tartness. If you love tangy, use two lemons instead of one for the puree.
Fun Variations to Experiment With
Love a good sparkling mocktail? Below, find some easy variations to inspire you.
Use different fruits. Swap out the mango puree for strawberries, pineapple, oranges, or peaches.
Add in chia seeds. For extra fiber and texture, let the puree sit overnight with 1/4 cup of chia seeds.
Pop in a splash of coconut water. For a tropical twist, add in a splash of coconut water on top of the club soda.
The Best Way to Store Your Mango Drink
For best results, store the puree in a separate airtight container in the fridge and keep the club soda tightly sealed in the liter bottle. While the mango puree can last for up a week, each drink should be assembled right before serving to prevent the club soda from turning flat. If you're serving the drink up to a large group, whip it up in a pitcher.
FAQ
What other fruits mix well into this mango drink?
Feel free to throw in fresh strawberries, blueberries, or pineapple.
Can you use mango juice instead of mango puree?
Mango puree yields the freshest flavor, but you can definitely use mango juice in a pinch. Opt for 100% juice with no added sugar.
Should you peel the mango before juicing it?
Yes, you should peel the mango before juicing it. The skin tends to be on the tougher side and doesn't blend well.
Can you use anything else besides sugar?
Yes! If you prefer honey, maple syrup, simple syrup, or agave, go ahead and substitute them for sugar in equal parts.
Can you use tonic water instead of club soda?
Tonic water is really sweet and will overshadow the natural flavors of the mango. It's best to stick with plain club soda or sparkling mineral water.
Other Refreshing Drinks to Try
Recipe
This super simple sparkling mango drink is made with homemade puree, sparkling water, and fresh mint leaves. The perfect, hot summer day refreshment!
Nutrition Facts
Sparkling Mango Drink Recipe
Amount Per Serving
Calories 118
Calories from Fat 9
% Daily Value*
Fat 1g2%
Sodium 43mg2%
Potassium 124mg4%
Carbohydrates 30g10%
Protein 1g2%
Vitamin A 679IU14%
Vitamin C 28mg34%
Calcium 20mg2%
Iron 1mg6%
* Percent Daily Values are based on a 2000 calorie diet.