This effervescent blend of cranberry juice, pink lemonade, and sparkling water is perfect for hosting a crowd. Quench your thirst with a glass of this sparkling cranberry punch!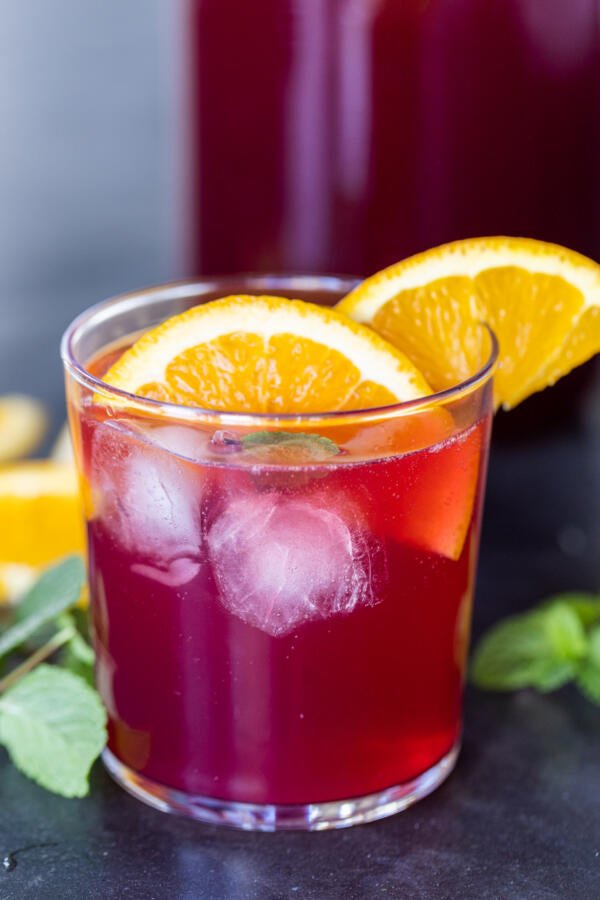 What Is Sparkling Cranberry Punch?
Sparkling cranberry punch is a beverage made from cranberry juice, sparkling water, and pink lemonade concentrate. It has a sweet and refreshing taste with a vivid red color from the cranberries. This punch is alcohol-free, so the whole family can enjoy it!
How To Make Sparkling Cranberry Punch
Our sparkling cranberry punch only takes five minutes and two steps to make. Let's get mixing!
Combine the juice and lemonade: In a large punch bowl or pitcher, combine the cranberry juice and thawed pink lemonade concentrate.
Add the rest of the ingredients: Stir in the sparkling water, orange slices, and any other garnishes you prefer. Serve and enjoy!
Hot tip: Look for frozen pink lemonade concentrate in your grocery store freezer section.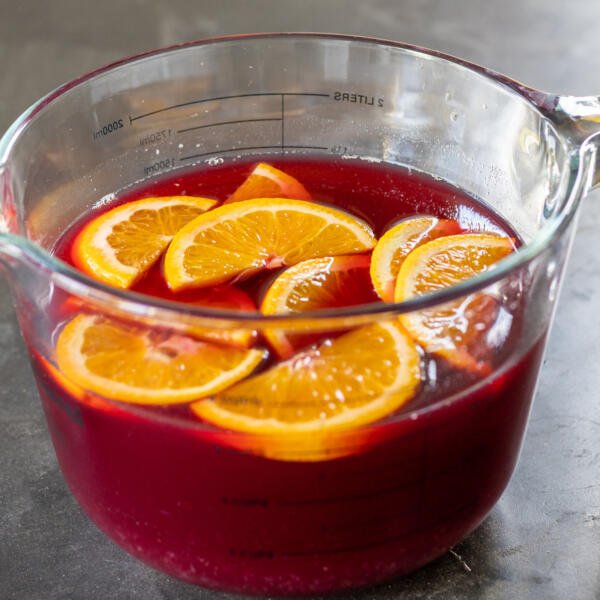 Mix-ins and Variations
Are you ready to get groovy? Experiment with any of these switch-ups to add a burst of flavor to your sparkling cranberry punch.
Ginger ale: Pour in ginger ale for a citrusy, peppery flavor.
Coconut water: Add a splash of refreshing coconut water for an electrolyte boost. Bonus points if you get it from a real coconut!
Juice: Taste the tropics by mixing in fresh pineapple juice — it's tart, sweet, and hydrating. Another option is to add orange juice for a sweet and citrusy flavor.
Berries: Mix in whole fresh cranberries to amp up the cranberry taste. If you prefer a more summer-y flavor on warmer days, then opt for strawberries or raspberries.
Fresh herbs: Add mint leaves for a pop of green and a more refreshing flavor. Or, throw in a fresh rosemary sprig for an amazing piney aroma.
Citrus slices: Stir in orange, lemon, or lime slices for a bright citrusy flavor.
Tips From the Kitchen
Do you want a refreshingly sweet and addictively fizzy drink? Take note of these tips to make a perfect sparkling cranberry punch.
Use high-quality ingredients. Look for 100% pure cranberry juice without any added sugar to ensure the strongest cranberry flavor. Pick a good quality sparkling water as well — avoid the additives.
Keep everything cold. Cold ingredients are key to creating a wonderfully fizzy drink. Avoid allowing the punch to get warm, as it may become flat.
Dilute to your liking. If the punch is too sweet for you, add more sparkling water or cranberry juice to balance the taste.
Serve immediately. Sparkling drinks have the most carbonation and fizzy taste when served immediately, so enjoy the punch quickly after making it!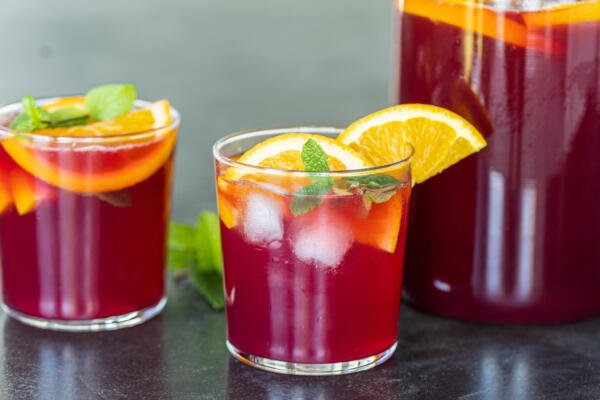 Ways To Serve
Homemade sparkling cranberry punch is an impressive beverage to serve when you're hosting. Fill up a drink dispenser with the punch, ice cubes, and your choice of garnishes, like fresh cranberries or mint leaves. For an undeniably fun serving hack, wet the rim of a glass and dab it in sugar — a sugar rim adds a touch of sweetness and elegance. Serve this sparkling cranberry juice with a spread of appetizers such as a fruit charcuterie board or baked brie and cranberry bites. Mushroom bruschetta, or whipped feta dip with crostini bread would be equally delicious. For a heartier meal, pair with your favorite main dishes like creamy chicken pasta or braised beef short ribs. It's sure to be a hit at your next party!
Storage
We recommend enjoying sparkling cranberry punch within three hours after making it for the best fizzy taste. Store the punch in a covered glass jar in the refrigerator to keep it chilled and fresh.
Other Drink Recipes
Recipe
This effervescent blend of cranberry juice, pink lemonade, and sparkling water is perfect for hosting a crowd. Quench your thirst with a glass of this sparkling cranberry punch!
Ingredients
10

cups

cranberry juice

cold

6

oz

pink lemonade concentrate

30

oz

sparkling water

1

orange

sliced
Instructions
Nutrition Facts
Sparkling Cranberry Punch (Nonalcoholic)
Amount Per Serving
Calories 66
Calories from Fat 2
% Daily Value*
Fat 0.2g0%
Monounsaturated Fat 0.03g
Sodium 12mg1%
Potassium 110mg3%
Carbohydrates 17g6%
Protein 1g2%
Vitamin A 72IU1%
Vitamin C 15mg18%
Calcium 15mg2%
Iron 0.3mg2%
* Percent Daily Values are based on a 2000 calorie diet.