This green smoothie will supercharge your day. Made with spinach, kale, and a rainbow of fresh fruits, it's healthy and delicious!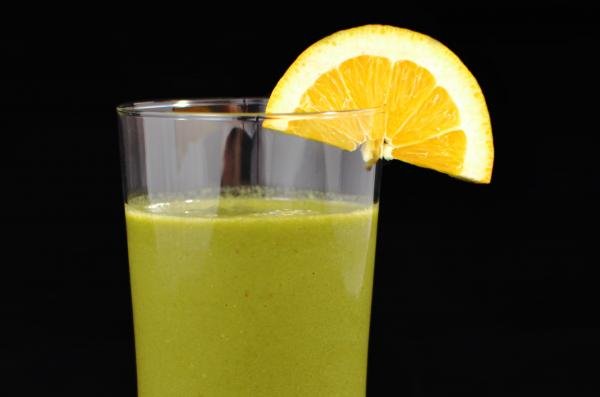 It's more likely than not that you've heard about the elusive wonders of the green smoothie. Well friend, the rumors are true! In this recipe, you'll learn everything you need to know to not only achieve that perfectly creamy texture, but to also mask the flavor of the raw greens with fruit.
The Benefits of Drinking a Green Smoothie
Before we get to blending, let's chat about the health benefits of drinking green smoothies. With the perfect balance of fiber-packed greens and nutrient dense produce, each cup is full of essential vitamins and minerals to kickstart your day. What's better? Drinking a green smoothie can help even the most produce-adverse get hefty serving of veggies into their diets…and fast!
How to Blend the Perfect Green Smoothie
The best part about this green smoothie recipe is that it's made with just two simple steps.
Toss in the Ingredients: Throw all the ingredients into the blender. That's right – you don't even have to chop the veggies!
Pulse & Blend the Ingredients: Next, blend the smoothie until it's creamy and well-combined. BAM – you're done!
Looking for a killer blender? The Blendtec blender is second to none and so powerful. We love making everything from smoothies to soups to salsas with it!
3 Tips & Tricks for Blending Smoothies
Here you'll find our top tips and tricks for making the tastiest green smoothie possible.
Skip the ice cubes. You read right! There's no need to add any ice to this smoothie. In fact, it will water the smoothie down significantly. Instead, use cold, refrigerated fruit, produce, and juice.
Pulse before you blend for a creamier smoothie. Pulse the blender 3-5 times to break up the bigger chunks of fruit. Then, blend the ingredients until smooth.
Balance the greens with sweet and sour fruits. The key to the best green smoothie recipe is balancing out the leafy greens with a combination of sweet (think: apples, bananas, strawberries, blueberries, etc) with sour fruits (think: mangos, pineapple, grapes, oranges, etc). Getting this ratio right will cover up the bitterness of the greens and hide them from even the most seasoned tastebuds!
Tasty Add-Ins & Tweaks for Your Green Smoothie
The most fun part of making a smoothie is tweaking it to fit your specific tastebuds. Here, find some ideas to inspire you…
Go Creamy: Swap the green juice out for non-dairy milks like almond milk, cashew milk, oat milk, or coconut milk for an even creamier texture.
Ginger Burst: Blend in a tablespoon of minced fresh ginger to boost your immune system and give the smoothie a spicy kick.
Protein-Packed: To add some protein to the mix, blend in 1/4 cup of greek yogurt, a spoonful of your favorite protein powder, or half of an avocado.
Super Seed: For a more filling and fibrous smoothie, blend in a tablespoon of chia seeds or flax seeds.
Herb it Up: Add an extra pop of flavor by blending in some fresh mint.
FAQ
Can you prep green smoothies ahead of time?
Green smoothies are great for meal prep. To do so, prep smoothies by placing the fruits and veggies in pre-portioned freezer-safe bags. Store the bags in the freezer for up to 3 months and blend them on-demand.
Can you leave the green juice out of a green smoothie?
Yes, you can leave the green juice out of a green smoothie and swap in your favorite juice instead. Alternatively, you can add filtered water and a little honey or stevia for sweetness.
Can you taste the spinach and kale in green smoothies?
No! If you balance the earthy greens with sweet and sour fruits, you'll virtually mask the spinach and kale flavors altogether.
Is spinach or kale better for smoothies?
Spinach and kale are both great choices for green smoothies. Using a combination of the two is ideal, but you can always opt for a straight up spinach smoothie if your sensitive to the taste of kale.
More Tasty Drink Recipes to Try
Recipe
This green smoothie recipe will supercharge your day and refresh your taste buds. Made with spinach, kale, & a rainbow of fruit, it's healthy and delicious!
Ingredients
4

large strawberries

1/2

banana

1/2

cup

green juice

1/2

small apple

1/4

small orange

1

cup

fresh kale

1

cup

spinach
Instructions
Nutrition Facts
Green Smoothie Recipe (10 Minutes)
Amount Per Serving
Calories 100
Calories from Fat 9
% Daily Value*
Fat 1g2%
Sodium 27mg1%
Potassium 540mg15%
Carbohydrates 25g8%
Protein 3g6%
Vitamin A 4867IU97%
Vitamin C 90mg109%
Calcium 88mg9%
Iron 1mg6%
* Percent Daily Values are based on a 2000 calorie diet.